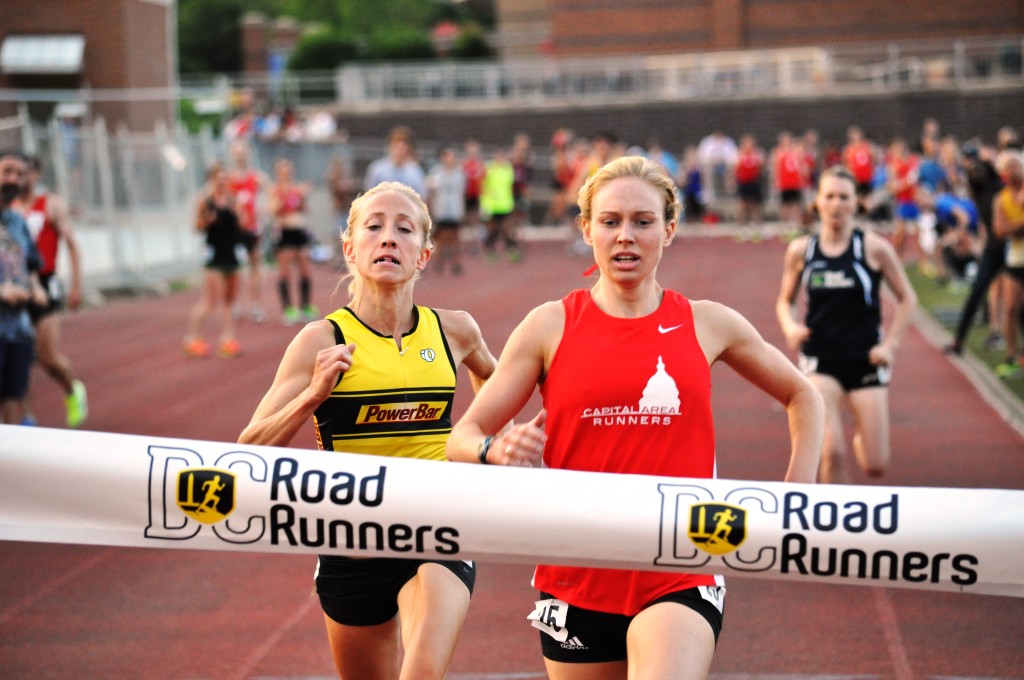 Track isn't over once you leave school.
There might not be as many opportunities to race on the track as there are on the roads, but the DC Road Runners Track Championship remains a mid-summer option with some panache. And some shock for the legions of marathon runners who switch it up for an evening. The race tactics on display for everyone to see throughout the entire meet, the consistent lap splits and the energizing sound of the bell on the final lap, all of the elements of great track races were on display at Washington-Lee High School.
No more dramatically than during the elite women's mile. Making a move with a lap to go, Susanna Sullivan pulled away from Kristin Anderson and Claire Hallissey and seemed ready to stake her claim to first place. Anderson wasn't done, though, and gave one last effort before falling just a hundredth of a second short at the finish line, with Sullivan taking the win in 5:00.0.
The Falls Church resident, who finished second in the same race last year and won the 2012 3k race later that evening, was nervous before the race.
"I know it's weird to be nervous before something so short, but it got better as soon as the race started," she said. She had no idea how close Anderson was until the finish.
Sullivan will focus on the Rock 'n' Roll Philadelphia Half Marathon in September. She was one of 61 of Capital Area Runners athletes who bathed the track in red.
David Chorney came from Boston to visit his girlfriend in Arlington, and while he was here, picked up a comfortable 4:13.67 win in the men's mile against Germantown's Joe Wiegner, who held off Arlington's Chris Mills, 4:17.18 to 4:17.7.  A graduate of Muhlenburg College in Allentown, Pa., Chorney will return to eastern Pennsylvania to race the Lehigh Valley Marathon in September, right before registration opens for the Boston Marathon. Chorney runs for the Boston Athletic Association and needs a qualifier.
The track meet had 14 heats of mile races, which allowed runners to seed themselves for exciting and challenging races.
Anthony Lambkin of Arlington tore through his heat to finish second in 5:11.49. The race itself was straightforward compared to his usual conditioning — touch rugby (it's apparently very popular in the D.C. area). The Australian native got into running three years ago thanks to his fiancé, Mary Doman. He has since run a marathon, a half and a smattering of 5ks.
"I don't feel great now that the race is over, but I enjoyed it," he said. "That last lap hurt."
Doman didn't have that problem, cruising through her heat to win in 6:12.03.
"I didn't run in the right heat, but I really didn't feel like coming in last today," she said. "That's no fun."
Jennifer Adams was another Massachusetts resident who ran away with a mile heat victory. Between school years coaching cross country at Mount Holyoke College, she spends the summers in Maryland with her boyfriend and runs with the Capital Area Runners.
"I went out a little fast today," she said. "My PR in the 400 is 68 seconds and I was out in 73. I was all over the place. Longer races are more my thing, more time to think."
Her three-second victory in 5:17.12 at least gave her a few seconds for thoughts.
Chris Carney of Falls Church used the race as a comeback from a series of injuries including plantar fasciitis and a quadriceps tear. He's aiming for the Marine Corps Marathon.
"It felt good to get out there," he said. "It's much different than a lot of races I run."
[button-red url="http://www.dcroadrunners.org/races/race-results/2013-results/2103-2013-track-championship-mile-heats.html" target="_self" position="left"] Mile Results [/button-red] [button-red url="http://www.dcroadrunners.org/races/race-results/2013-results/2104-2013-track-championship-3k.html" target="_self" position="left"] 3k Results[/button-red] [button-red url="http://youngrunner.smugmug.com/Race-Photo-Galleries/DCRRC-Mile-3k-7-24-2013″ target="_self" position="left"] Photos [/button-red]
2
Comment