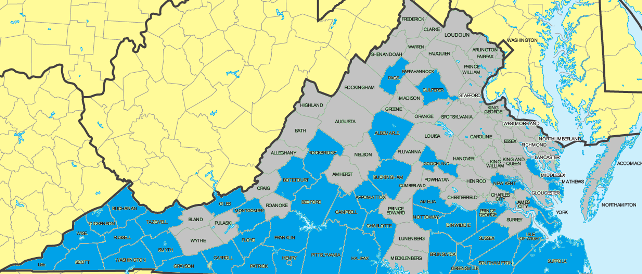 ---
Update: As of May 2016, Ed Kelleher is up to 117 counties and independent cities.
---
Running bucket lists, in some form or another, seem to come naturally to runners. Races they want to do, parks they want to run in, athletes they want to meet. The 50 States Marathon Club has quite a following; it even has a website for its hundreds of aspiring members. But one Alexandria man is working on a running goal that is at the same time simpler and more ambitious.
Ed Kelleher is running in every county and independent city in Virginia, and tracking his progress online. He was looking for a challenge, a long- term goal to focus on. In the Old Dominion, he found one. With 95 counties and 39 independent cities, some of which are comparable to counties in their size and complexity, he has enough targets to keep him exploring for a while.
"I try to get in three runs a month, so at this rate it should take me another two and a half years," he said. "I'm thinking about finishing up in Richmond in 2015."
As of early April 2014, he has tackled 52 counties and 22 cities.
The commonwealth is home to only six marathons, so he's widened his scope and aims to run at least a 5k race, and, if none are available, do at least 5k of running in each county or city. Though he wants to reach his goal of those 134 different runs, he doesn't want to be too dogmatic about his project.
"More of the 'Slice of Life' type of history that I happen to run into than anything serious or academic," he said.
His sense of humor resounds in many posts, such as his visit to Rockingham County, near James Madison University:
"The 50-or-so participants in the James Madison Eta Sigma Gamma race to benefit Habitat for Humanity were largely undergrad women in decent physical shape," he wrote. "I figured I might finish first in my age group (if there had actually been age groups), in the top five in my gender AND last overall."
His wife Colleen often accompanies him on his trips, which adds an incentive to seek out an interesting local cultural event, such as the maple syrup festival they attended while hitting Highland and Bath counties, along the border with West Virginia.
"Some of these places would be a long trip to just go running," he said. "I make sure there's some other destination besides a place to run. This is an opportunity to learn about where I live. Virginia has so many historical sites that it's hard not to learn something when you travel. The Civil War follows you everywhere."
He supplements his travelogue with dozens of photos, often with funny comments.
"I swear, I thought there was a redheaded woodpecker in this shot," he wrote about a photo of bare tree branches in Madison County.
Covering southwestern Virginia, six hours from D.C. and home to many counties and a few cities, will be daunting.
"That might have to be a longer trip," he said.
As he has explored Virginia, Kelleher's had a few surprises. A trip to a Surry County park once led, thanks to his GPS, to a nuclear power plant. While visiting Augusta County, he discovered a Hershey's chocolate plant, "Hersheytown South" as he dubbed it.
He also heard, for the first time, that the Dutch tried to invade in 1667, and they were repelled at Gloucester Point.
"The only commemoration of its history is a small park," he noted.
Across the Potomac River, Noah Wood knows what Kelleher faced. Wood, now a special education teacher for Prince George's County schools and a Calvert County resident, reflected in 2007 after running the Race to Impact 10k.
"I was thinking not only did I run a good race, I ran a race in Queen Anne's County," he said. "There aren't many races there."
Thus began a quest–run a race in each of Maryland's 23 counties within the year.
He scoured race calendars and welcomed recommendations from everyone who had something to offer.
"It ended up being an important part of my growth," he said. "I was pretty shy, but I discovered I really learned to like talking to people. I listened to their stories, asked the questions and made a lot of new friends. If I meet someone new, the first thing I ask is where they're from, try to find some common ground."
He had some trouble hitting Worchester County, home of Ocean City, with work schedules and race postponements stymying him at seemingly every step. When he finally made it out to a race, in a deluge, the timing company eventually settled on letting him run a 5k by himself on the track.
"I explained that I had driven a few hours and that I was trying to race in every county," Wood said. "So they figured as long as I was the only person to show up that I might as well race."
Wood also blogged about his journey: http://ranineverymdcounty.blogspot.com.
---
Why do counties matter to runners?
Counties are more than just items on a checklist for Ed Kelleher or Noah Wood. They provide many essential services, including administration of courts, basic record keeping and jail and hospital administration. Even if none of that appeals to you, counties do make a difference to runners. They manage the law enforcement agencies that close roads for races, maintain roads and manage parks.
The counties in the Washington area all make great contributions to the running scene, including:
Arlington County, Va.- Saturday Morning Track and Field workshops offer children ages 6-14 a chance to learn the fundamentals of a variety of track events during the spring. In addition, the county runs the Thomas Jefferson Community Center, with an indoor track that has played host to a marathon.
Fairfax County, Va. – Burke Lake and Lake Accotink are two of the most enjoyable running venues in the area, but the Cross County Trail, which spans 40 miles, is worth checking out at almost every segment.
Prince George's County, Md.- The Prince George's Sports and Learning Complex in Landover has been home to national championship high school track meets, college conference championships and all- comers meets.
Montgomery County, Md.-The Agricultural History Farm Park played host to the 2009 USA Cross Country Championships, drawing Olympic silver medalist Meb Keflezighi, among other luminaries. Don't care about the elites? Cabin John Regional Park is a fine place for a run regardless of who's watching to see how fast you are.
April is National County Government Month, and while that means any number of things to people who work in the delivery of vital services or government administration, it boils down to recognizing that counties in the area contribute a lot toward making running pleasant and safe.
This article originally appeared in the April/May 2013 RunWashington.
0
Comments