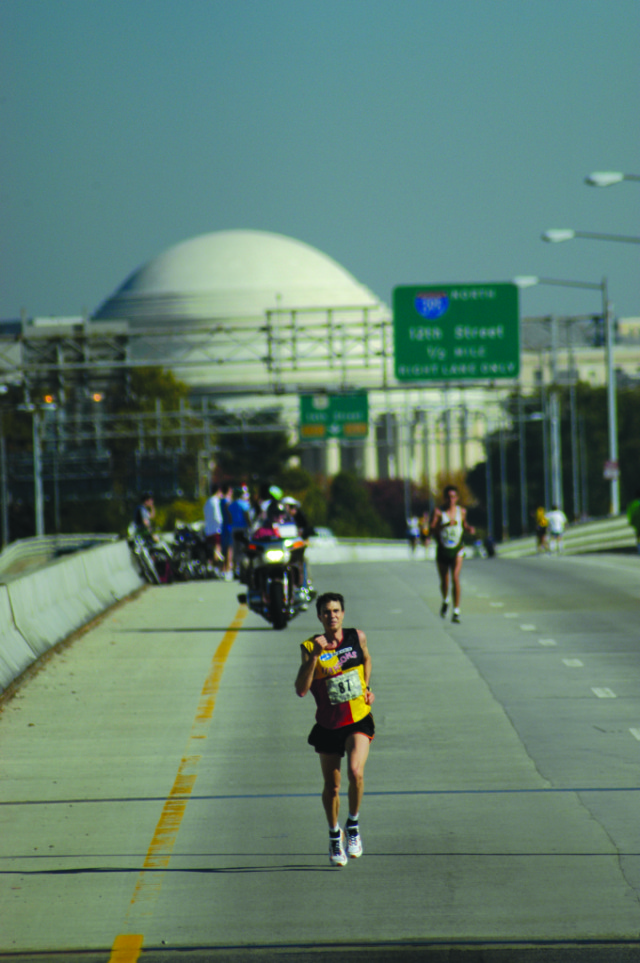 He could have cashed in at any number of marathons.
Instead, Carl Rundell chased a victory at the Marine Corps Marathon for four years, one that would have been lucrative only if wealth was measured in glory, honor and satisfaction from personal achievement.
It just so happens those rewards were right up his alley.
"Not running for prize money didn't bother me," he said, almost 10 years after his first attempt. He still lives in Birmingham, Mich. "If you're chasing the money, you're never going to be happy. If you're doing it for your true passion, that's what you'll remember."
Fifth place finishes in 2004 and 2007 bookended two runner-ups, one by just eight seconds in 2005. Rundell remembers his father, Reid, joking with him while he was still catching his breath after crossing the finish line, "You couldn't have run eight seconds faster?"
The lack of prize money at Marine Corps never dissuaded Rundell and may have emboldened him when he looked for racing opportunities while training and competing with the Hansons-Brooks Distance Project. His training partners were often focused on domestic marathon majors — New York, Chicago, Boston — but he had his sights set on the People's Marathon.
"There's certainly a place for prize money in road racing; it certainly helps professional runners support themselves and makes races competitive and interesting. But that didn't figure into my plans," he said. "It just seemed like a great race to run."
He loves the race for its focus on "everyday runners."
"There are people who you'd never think, if you knew them casually, that they'd be marathon runners, but those people show up on the starting line and you realize how much the masses mean to this sport," he said. "Marine Corps does a good job of showing everybody a great experience."
He never minded, at least in retrospect, waiting in long lines for the bathrooms before running in the low 2:20s.
Reid Rundell spent two years living in Arlington working on federal public school reform policy in the early 1990s. Carl, 10 years away from hitting his stride as a marathoner, would visit his father and hear about the race.
"I saw the course, heard about it from people who lived in Washington and knew the place it held in the community," he said. "When I started developing as a competitive marathoner, I knew I wanted to race here."
On top of his own experiences during the races, he appreciated the opportunities for Marine Corps spectators.
"My parents could come and watch the race and see me a few times," he said. "A lot of races I feel bad that they've come and they're going to be bored for a few hours until I'm done. They'll see me once and that's it. You can get around the Marine Corps course a lot easier than others."
His first try, in 2004, was hindered by heat, which broke him down after 23 miles, which he spent mostly in the lead. In 2005, he challenged eventual champion Ruben Garcia with a 5:10 mile in the middle of the race, and along the way ran his best time for the course — 2:22:26. In 2006, he again lost to Garcia, that time by more than a minute.
In 2007, he skipped the U.S. Olympic Trials to make another attempt.
"Everybody kept telling me that it's once in a lifetime to run the trials," Rundell told the Washington Post that year. "I was like, 'Yeah, well, to win the Marine Corps Marathon would be once in a lifetime.' . . . I'm not giving up."
After a fifth place finish in 2007, when he again led early before fading to fifth, he dialed back his running to focus time on developing his relationship with the woman who is now his wife, managing his business and volunteering.
Many bridesmaids complain that they will never want to wear their dress again after the wedding. Not Carl. Despite falling short, he relishes the experience. He helps coach the cross country team at Seaholm High School in Birmingham, Mich., his alma mater, and he has found that when regaling the 53 kids on the team with his racing experiences, they're most spellbound by stories from Marine Corps.
"Those are the stories that stick with me, running up to Iwo Jima and still thinking I had a chance to win," he said. "I never want to tell them about some time I ran and won a thousand bucks, and they don't really want to hear it. That's not why they're getting into the sport at that age, anyway.
"The kids who go on to run a marathon someday, I have a feeling half are going to want to make that happen at Marine Corps."
0
Comments