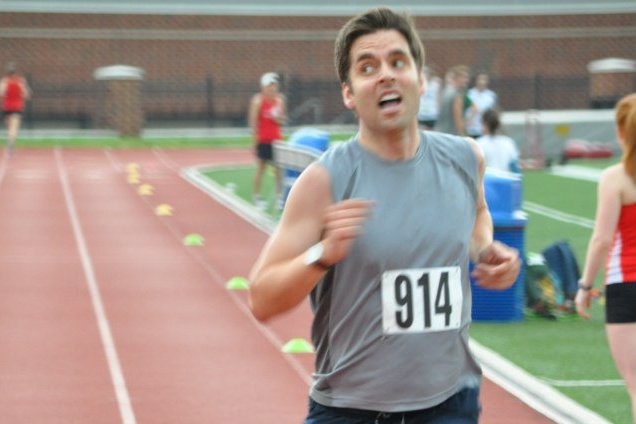 The fastest miler at the DC Road Runners One Mile and 3k Track Championships knew the area well, but a five-hour drive preceded his win.
Sandy Roberts broke the meet record (4:13.67, set in 2013 by David Chorney) with his winning time of 4:09:35 in the men's elite heat.
[button-red url="http://www.dcroadrunners.org/races/race-results/2014-results/2412-2014-dcrrc-track-championships-mile-heats.html" target="_self" position="left"] Mile Results [/button-red]Roberts raced collegiately for the Georgetown Hoyas, including an All-American status as part of the distance medley relay. He'd just arrived back in familiar territory from Raleigh, N.C.
His brother and coach, Logan, ran as a rabbit for the early part of the race. He said the mile proceeded as planned.
"Because he's racing hard next week, we wanted to get a simulation, go through 1,000 at race pace," Logan said. "He executed pretty well. Ideally, he would have been able to cruise a little more on that middle 400, but he had some competition."
Roberts out-kicked Dan Quigley, of Eugene, Ore., in the final 200 meters to secure the victory.
"We've been working on the final kick," Roberts said. "I think Dan's a really talented runner. I didn't know who that was, just like, holy cow, there's someone here."
The celebration will be short-lived for the Roberts brothers. They headed for the car after the meet to drive to a race in Charlottesville in preparation for Sandy's shot at breaking an elusive track mark.
"All this is moving toward a sub-four mile attempt next Friday night in Raleigh," he said. "Hopefully, in little over a week from now, I'll have conquered a sub-four. That's the goal."
The new men's meet record continues a trend of dropping times every year for the past three, said race director Brian Danza.
On the women's side, Susanna Sullivan missed the meet record (4:48.70, by Alisa Harvey) by less than a second after an unusually short warm up.
Her professor granted her an absence for 80 minutes in the middle of a four-hour graduate class at Marymount University. In that short time, she traveled to the race, pulled on a bib and jersey, and proceeded to run away from the competition for a 4:49:65 finish and a win for the second year in a row at the championships.
"I was a bit surprised," she said. "I thought it would hurt more. I knew what the record was, and I wanted to give it a shot. But when I got here and only had a couple minutes to warm-up, that basically went out the window and the goal was just to compete. It's a track PR."
Sullivan has run faster but did so on a road course with a slight downhill in Winchester.
"We'll call this a legitimate PR," she said, with a laugh. "I feel really good about it. I'm in the middle of marathon training right now. It's real encouraging to see that I can turn over even when my body should be dead. I've been feeling really good throughout the marathon training."
Sullivan has already qualified for the Olympic marathon trials with a B standard. She's preparing for the Medtronic Twin Cities Marathon, in Minnesota, in what will be her first full 26.2 and an attempt at the Olympic A standard.
Her success was partially responsible for Sullivan's excused absence.
"That was in the email today. 'Hey, I qualified for the Olympic trials. Can I run a mile tonight?' He was really understanding. This is always a really fun event. I'll know next year I can't have class on Wednesday."
Due to conflicts with other Arlington County sites, this year's meet was held at T.C. Williams High School track in Alexandria instead of the usual site at Washington-Lee High School in Arlington.
Danza estimated the move created a 20- to 30-percent drop in participation but that the competitive races still pleased him.
"We had a great night," he said. "I think it's an event that caters to people who like running for the race aspect. They can come here, toe the line, and go out really hard for four minutes for the elite guys or seven minutes for some other people, and push themselves."
Track meets don't happen in the DC metro area as often as garden-variety 5ks or even nationally known marathons.
That's what makes the meet so important.
The future stars opened the night in the kids mile, and several returned to the start line to run against women their mother's age and men with white hair in the various heats of the mixed miles that ran before the elites.
Other athletes jumped into the four-lap test wearing everything from compression club kits to cheap shorts and race shirts from area events.
"Coming to a mile and going all out is a good way to determine how fit you actually are," Danza said. "It's a good place for local runners to come run a fast mile."
Will Viviani said the fitness aspect appealed to him.
"I didn't know where I was fitness-wise," he said. "I wanted to see where everyone else was before I made a move."
Viviani pulled into first with 300 meters to go and ran to the heat win in 4:35.96. He used the race as a way to jump back into competitive racing after a hiatus from hard training of more than two years.
Other racers learned how the mile can dish out disappointment. Ben Garthwaite tried to break five minutes in his heat.
"I was on it through three laps," he said. "I knew it when I tried to kick it in at 200. I'm like, OK, you just need to finish hard and you got this. My legs just didn't do what they were supposed to."
He crossed the line in 5:01.80 behind the heat winner Mark Walchinsky, who did break five minutes, in 4:58.07.
"That was the goal in the back of my head," Walchinsky said, "but if I didn't break five, that was cool. But I actually met my expectations. It was a short enough race that the humidity didn't come in and kick me like it does if you do a half marathon in these conditions."
Eunja Rau won the master's division for women in her first track mile in 8:30.34. She's getting ready for the Marine Corps Marathon, which will be her first at that distance.
"i've done some track training, but not just the one mile," she said. "It's always hard to run fast, but it was doable because it was short."
Rau started running two years ago when she met members of the DC Road Runners club at a library event for a couch-to-5k program.
And in the spirit of the track championships, Rau not only raced but also volunteered during the meet, giving back as much as she's receiving from the sport.
0
Comments
By: Charlie Ban
Money itself doesn't make people run faster, but its lure has a way of drawing the swift out of the woodwork.
Following an anemic few years for the DC Road Runners summer track championships, the club offered cash prizes for record-breaking races in its headlined mile and came away with a new men's standard at Washington-Lee High School in Arlington on Wednesday night.
[button-red url="http://www.dcroadrunners.org/races/race-results/2012-results/1784-2012-dcrr-track-championships-mile-and-3k.html" target="_self" position="left"] Results [/button-red]A drier and cooler summer evening and a robust promotional attempt caused the track to swell with competitors from not only the DC Road Runners, but also the Georgetown Running Company, Pacers Racing Team, Capital Area Runners, the Washington Running Club, and the Potomac Valley Track Club.
Alexandria's Sean Graham of the Pacers Racing Team, 32, continued a lucrative week with a $200 bonus for running 4:16.2, four days after he broke the tape at the Crystal City Twilighter. Injury setbacks in the spring eroded some of his confidence in going after Bert Rodriguez's 4:21 record, but his 61-second quarter ended the race against Joey Wiegner, 30, who trailed in 4:19.4.
"I came through the half right on pace, so I went for it," Graham said. "I was in better shape than I thought."
Women's mile winner Hanna Bartholomew, 29, had no such confidence.
"I didn't feel comfortable until I crossed the line," she said of her 4:57.0 race, a six-second margin over Susanna Sullivan, complete with a 71-second kick. She opened up a small lead with two laps to go, coming through in 2:30. She raced at a friend's suggestion while she was in town from her native Sweden to visit her mother-in-law in Woodbridge.
Though she later won the 3K in 10:12.3, Sullivan, 22, of Falls Church, was much happier with her 5:03.3 mile runner-up.
"I've run under five minutes in practice (for 1600), but this matched my best mile race," she said.
Her victory in the 3K was physically easy, if not mentally. She felt comfortable leading through two kilometers, but wanted to be sure of her place in the co-ed race before she made her move.
She ran an abbreviated spring track season at Notre Dame after recovering from a stress fracture in her foot.
Romain Mareuil benefited from the competitive field to set a five-second PR in 4:43.9. It followed a series of five straight mile PRs over the summer. He was one of a flood of Capital Area Runners, a crowd coach George Buckheit estimated at 50, including Sullivan.
"The local support was amazing," he said, noting that the team uses the Washington-Lee track for regular workouts.
Not every runner laced up spikes or tapered for the race. Michael White, 39, lives down the street in Arlington and came down to the track looking to put a few miles away. When he arrived and saw the free track meet, he thought it was as good a time as any to run his first track race.
"It was brutal," he said of his 5:33.3, run in board shorts he bought on sale. The banana patterns on his socks reflected his emotional state as he grappled with the physical consequences of going out fast and trying to hold on.
"I was swimming against the tide and people were passing me like flotsam and jetsam in a river," he said. "I kept pushing–every sinew, every muscle, every fiber, every gasping breath, I felt them all."
The breaths hurt a little more than he expected and his thirst remained unquenchable minutes after he crossed the line.
White resumed running after years of competitive bicycling and found running to be a lot more efficient of a workout.
0
Comments
By Brenda Barrera
Fredericksburg, VA
May 20, 2012
For the Washington Running Report
There was much to celebrate at this year's fifth anniversary of the Marine Corps Marathon Historic Half held in Fredericksburg, VA on May 20, 2012. The event has grown every year and had close to 6,000 finishers, compared to 3,800 from the inaugural 2008 event. For starters, it was a commanding victory for hometown favorite Bert Jacoby who came to the starting line with one goal: to win. And that he did in 1:11:33, almost three minutes ahead of defending champion Wyatt Boyd, from Washington, DC, who finished in 1:14:27. Brandon Dick, 25, from Fredericksburg took the final podium spot with his 1:15:36 finish.
What a far cry from Jacoby's 2011 race experience when he was the very last person to cross the start line and he raised money for charity for each person he passed.
"This time I was focused," smiled Jacoby. "Time did not matter; it was all about place." He stayed at the finish area with his mother who used her iPhone and the MCM Runner Tracking options to follow his sister, Anne. She completed the race in 1:35:27.
Next up for the Jacoby is a move to Charlottesville for graduate school at the end of the summer. "I'm looking forward to training with the group out of Ragged Mountain Running."
Courtney Chapman, 28, is juggling a heavy load at medical school in Norfolk, VA and yet still able to improve her race times. Chapman is best described as a tough competitor with a wide smile that is easy to spot whether she is clipping along at a fast pace or flying up a hill. And fly she did at the famous hospital hill on her way to a 1:21:56 victory. That is a big leap from her 2010 MCM Historic Half race when she posted a 1:31:10 finish.
Arlington's Katherine Marden, 31, fresh off last weekend's Ragnar Relay Cape Cod ("I had the longest leg") finished in 1:26:44. She was followed by Marine Capt. Erin Demchko, 27, from Dumfries, VA who was pleased with her 1:29:02 finish.
"The hill wasn't as bad as the hype," said Demchko, "I had a riot and got a PR!"
Top masters division finishers were Lt. Col. Thomas Blackwell, 41, of Vienna, VA in 1:19:58 and Alexandria's Stefani Watterson, 42, of Alexandria, VA who crossed the line in 1:33:41.
Mike Collotta, 58, (left) from Washington, DC has been running races for more than two decades and still finding interesting events like this one. "I especially liked the historical parts of the course," said the DC Road Runners member. "The Marines provided extra inspiration."
Deanna Cabrey, running for Team Fisher House, was pleased with her finish of 1:41:43. "I surpassed my goal of running a 7:45-8:10 pace," said the 20-year-old college student. Cabrey started supporting the Fisher House when she was just ten and began giving 10% of her allowance to the charity.
Wedding bells will be ringing soon for John Swift and Sarah Longava (right) from Bristow, VA who crossed the finish line together just under two hours. Swift presented her with an engagement ring. And she said, "Yes!"
NBC's "Biggest Loser" is a reality show about overweight contestants trying to lose weight and also adopt a healthy lifestyle. It has inspired not only contestants and viewers, but also First Lady Michelle Obama.
A highlight for many runners was to share the field with two familiar faces from the hit show. Contestant Lauren Lee, 27, from Poolesville MD, (right) sporting her yellow "Biggest Loser" tank top finished in 2:14:33 and the TV show's host, Alison Sweeney, wearing bib#1,not only had duties firing the starting pistol but jumped in and ran 2:05:30.
"The show really makes you believe in the human spirit and overcoming whatever your obstacles," said Sweeney who looked unfazed and fresh after the uphill finish. "I never would have dreamed of doing this [half marathon] before the Biggest Loser," smiled the host. As with many finishers she was pleased that she had beaten her projected time.
New Course Records Set in Semper Fred 5K
Kenyan Reuben Mwei, 26, living in Lithia Springs, GA  is planning on racing the MCM 10K this fall and wanted to check out the "Marine Corps" experience. Not familiar with the course, Mwei picked a good competitor to tuck behind, defending champion Jordan Zwick.
"I was off my goal of 14 minutes," said Mwei, an Academic All-American at Adams State. He crossed the finish line in 15:27, beating the 2010 course record of 15:59. Arlington's Zwick, 25, was anxious to stretch out his legs having driven 11 hours from Rochester, NY the night prior. He finished with an impressive 15:36. Stephen Harrison, 23, from Fredericksburg was third in 16:19.
Reigning women's champion Molly Roohi should probably listen to her coach, or maybe not. The advice for this day was not to race but Roohi did it anyway. It paid off as she clocked 19:03, setting a new course record (old course record 19:37 from 2009) and knocking 38 seconds off her 2011 time. Masters standouts Michelle Dolby, 44, from Fredericksburg finished next in 20:57 and Alexandria's Kristin McCann, 40, took third place in 21:49.
0
Comments