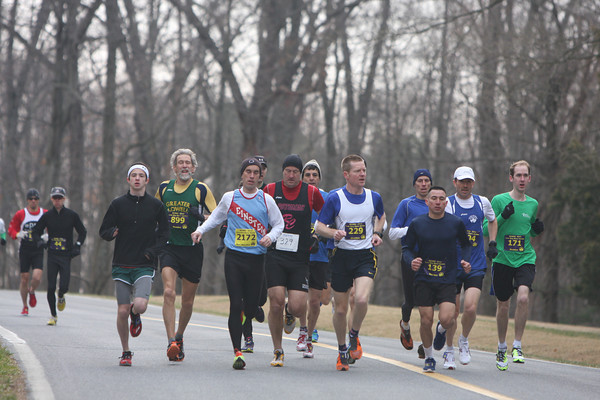 When runners registered for the most recent Montgomery Country Road Runners Club race, they were mistaken if they thought it would be a "piece of cake." Little did they know that they would have to conquer tough-rolling hills through Seneca Creek State Park in order to cross the finish line.
"It's a very challenging course," said Carol English of Germantown, Md. "But it's good. It builds character."
Since 1997, English has been involved with the Montgomery County Road Runners Club. She is currently enrolled in the club's speed development program, which included the club's Piece of Cake 10k.
"The club is an amazing group," English said. "They put on well-organized races."
MCRRC's Piece of Cake 10k, one of several races of the MCRRC championship series, attracted nearly 350 runners. The Piece of Cake title actually comes from the annual cake contest the MCRRC holds in celebration of the club's birthday. This year's race marked the club's 35th anniversary.
[button-red url="http://www.mcrrc.org/piece-cake-10k-cs-2″ target="_self" position="left"] Results [/button-red]
The race brought out several talented competitors, including Douglas Woods of Gaithersburg, Md. Woods trailed behind second-place finisher Eric DaSilva until the last 800 meters, when he passed DaSilva. "I just ran on his shoulder, he didn't want any help," Woods said. "I kicked the last half mile."
[button-red url="http://www.mcrrcphotos.com/2013Photos/Race-Photos/Piece-of-Cake-10K-2013/i-vLhX2nC" target="_self" position="left"] MCRR Photos [/button-red]Aside from the first-place title, Woods may have had another motivating factor waiting for him at the finish.
"Cake. Where's the cake?" Woods asked as he looked around.
But not all runners were able to reward themselves with delicious cake in celebration of the club's birthday.
"I gave up sweets for lent," said Tommy Young of Brookville, Md., who had just completed his first 10k.
Unlike sweets, Young was able to enjoy quiet roads through the woods near Clopper Lake during the race. His girlfriend,Katherine Young of Silver Spring (they're not related—they just happen to have the same last name), "pulled" Tommy in with the club earlier this year. Katherine has been involved with the club for two years.
Both of them plan on competing in the upcoming 10 Mile Cherry Blossom.
Cindy Conant of Kensington Md. was the first female finisher to cross the finish line with a time of 40:29. With Conant competing in races nearly every weekend, including the 10 Miler Cherry Blossom and the Boston Marathon, Conant said she prefers the low-key club races.
"I don't have to pick up my race-packet the day before," Conant said. "I want to end where I start."
As the club wrapped up it's 10k race, it was only the beginning of its annual meeting and awards brunch. Among the awards presented, four outstanding high school runner college scholarships were divvied up between Benjamin Withbroe of Einstein High School, Nick Simpson of Einstein High School, Isabelle Latour of Quince Orchard High School and Laura Nakasaka of Bethesda-Chevy Chase High School.
"We'll be living up to what they saw in us these past four years and will be working hard academically, in the community and in our sports," Nakasaka noted.
Though the club rarely hands the award out, Dee Nelson of Gaithersburg, Md. was presented a life-time achievement award. With 45 years of running under her belt, the Piece of Cake 10k marked her 1,487th race.
"I have found over the years that training less is actually working out," Nelson said.
Nelson is nearing her goal of hitting 1500 races and averages nearly 60 races per year.
Among other impressive award-winning runners was Joe Sangillo of Rockville, Md. He received the most improved runner of year award. Sangillo may look like another other seasoned runner, but that wasn't always the case. In two years, Sangillo weighed more than 100 pounds heavier and could barley complete a 12-minute mile. But just last year, after completing the MCRRC first time marathon program, Sangillo accomplished his goal: completing the Marine Corps Marathon in 3:40. Since 2006, Sangillo has lost a total of 130 pounds.
"Just don't underestimate yourself," Sangillo said. "I smashed any expectations that I had for myself."
0
Comments
By James Moreland
Rockville, MD
November 6, 2011
For the Washington Running Report
The Rockville 10K big claim to fame is that it is the longest running event in Montgomery County. As noted by Maryland State Senator Jennie Forehand, the event started as a ten mile race. For many years the race was run from Montgomery College as only a 10K. After racing in the local neighborhoods until 1991, the race raced south on the Pike to the Rockville Town Center, which was still in an earlier iteration.  In 1995, the race added a 5K that circled the campus, while the 10K stayed on a similar path, though there were minor variations. That year the random prize was a week vacation and it was hoped that would bring the numbers up. The race had usually stayed around 500 finishers in good weather or bad.
By the late 90s the race moved to Piccard Drive near today's 2 mile mark in the 10K. King Farm was still really just a farm. The course meandered back and forth between Gude Drive and Gaither Road. Then King Farm was completed and the event raced back and forth through the new community. The course has changed a number of times for both the 5K and the 10K. Mercifully, the 5K starts after the 10K now and takes a different route so there is no longer as much confusion as runners get to the finish line.
The finish corral has its own balloon arch.
Now the race began to grow and in 2008 finally cracked 1,000 finishers in the combined events. The next year the race fell back to below 800 finishers before rebounding last year to a record 1206. In 2011, the weather was racing perfect at 40 degrees with a bright sun and no wind and the event cracked 1,000 finishers for the third time.
Parking became a tougher commodity this year. Runners who forgot to set their watch had an extra hour to secure the prime spots. The start/finish and the balloon arch by the awards stand started to fill with runners later but hundreds of runners gathered together in the back of the Safeway parking lot, effectively blockading the road. The race started promptly at 8:30 a.m. and whipped around the corner onto King Farm Boulevard. Jack rabbit Dee Nelson, 68, was among the early leaders. After more than 1400 races she still enjoys the thrill of starting the race. She would easily win her age group.
For the men, even before the next turn onto Gaither Road the top finishers were being decided. The gentle climb to Shady Grove is about ¾ mile. Andre Orr and Daniel Miranda came bolting back down the hill side by side as if it were the final mile. Thirty meters behind them Karsten Brown was loping along saving effort for the later push in the race. The race is a series of long up and down slopes, the stiffest being on Gude Drive.  Robin Lerner berated the course with, "Why is the fourth mile always the hilliest?" on the final steps of the climb the brought runners to Rockville Pike. We know Lerner changed her clock because she did her warm-up at the Anything is Possible 5K in Bethesda earlier that morning at 1:50 a.m. That syndicated event promotes the cutesy idea of finishing before you began, thanks to the change back to standard time.
Meanwhile, Brown was already more than halfway back down the hill and had already changed to a stiffer arm swing and a more frenzied pace. He had bolted away into the lead and he wanted to have some space by the time he crested the final hill at the corner of Piccard and Redland. Then it would be a final half way victory parade. Brown, who races about 100 races and close to a 1,000 race miles a year, had just raced his fastest 5 miler the day before finishing third overall at the Down's Park race in Pasadena, MD in 27:04. (That is slighter faster than his PR Rockville Rotary 8K in 26:55 this summer). Yesterday the top two finishers were out of his league. Today he paced himself to his first sub 34:00 10K, winning it all in 33:26.
Place four through six were all top masters runners. Dave Haaga, 50, was holding tight to Mark Neff, 49, at 4 miles with Jean Christophe Arcaz, 50, looking unhappy that he could not quite join the party.  Neff ran a very credible 35:38 to take the fourth spot by seven seconds with Haaga rounding out the top five.  Arcaz earned the masters title in 36:18. The oldest racer Jack McMahon, 80, still looks good, finishing in 59:10.
For the woman, homegrown talent Julie Sapper ran away with the race from the very beginning with an excellent 41:16. There was some confusion later as a man had mistakenly worn a tag assigned to a woman but that was fixed by the time awards were handed out. As with the men, top masters runners ran well with four of the top six being masters. Liliana Baron, 53, seemed to relish the hills bounding along to the runner-up spot in 44:58. Leah Birdwell, 17, finishing eight seconds ahead of Shelli Beard, 42 in 45:42 though both had identical net time. Gun times decide the top five while net times decide the age groups.
When they finish revising the results Phyllis Sevik, 47, will move up to fifth overall from top masters and Jen Norris, 40, will become the masters award winner. Alice Franks, 63, (in photo) joined Nelson as shoe-ins in the sixties. Barbara Scoggins may have had the best race at age 59 with a very nice 47:04.  Eighty-year-old Yvonne Aasen won the senior division.
The 5K is the younger brother for the event and though it is usually just as large, it does not draw as much recognition. Brown, who also races in Westminster, would recognize the race winner Greg Jubb, 21, who ran a nifty 15:58, which may be near Brown's next 5K goal of breaking 16:00. Bennett Stackhouse, 27 was the runner-up in 16:26. Two Gaithersburg residents, Paul Jacobson, 48, and Dan Lawson, 56 battled for top masters honors. Jacobson's eight-year difference was just enough to prevail by three seconds in 18:12.
Robin Stanley, 30, of Derwood, MD made it look easy winning in 20:07 with Teah Devan, 38, two minutes behind her. MCRRC president since 2009 Jean Arthur, 48, continues to astound this year with a third overall finish in 23:42.
After the race we met with racing legend Lou Shapiro, a sub 42:00 10K racer at age 69. This year he injured his hip and claims maybe by spring he will be able to run a 12 minute mile. Do not count out a much better comeback.
The 10K portion of the race is also one of the races in the Maryland RRCA series where running clubs from across the state compete.
0
Comments
By James Moreland
Fairfax, VA
October 30, 2011
For the Washington Running Report
After all these years could this perennial race be doomed to success? Competing against the massive Marine Corps Marathon with its little sister race 10K with nearly seven thousand finishers, the 'gallop' keeps roaring along, for equestrians note that of the four gears-–walk, trot, canter, and gallop–gallop is the fastest. With nearly five hundred races in the region between Labor Day and Veterans Day, the Goblin Gallop expanded again to nearly 20% more finishers than last year. Maybe it is because discerning runners and walkers alike see that the race has what it takes.
Tons of free parking close by is a wish come true. As soon as you get out of your car you already hear the Spark Plugscranking out tunes. While the songs are mostly from my generation, they are so lively that people could easily forget the first white Halloween. Naturally, the media made it seem scarier than the scores of hundreds of costumes worn by the participants. Everybody from Fairfax east ducked the near freezing soaking that cut many of Saturday events' participation in half. Nine inches in western Maryland barely ranked a notice. The question was how are the corners of Fairfax Corner? How are the slopes of Random Hills?
Runners were more than adequately warned and though there were a few slick spots, the morning blossomed into a near perfect fall wonder. With the dominating Tezata Dengara over in Arlington winning the Marine Corps Marathon, Hirut Mandefro (right)had to be considered the favorite. She returned back in the area earlier this year after having been the top ranked runner for much of the last three years. Already this fall she had two solid wins, twice breaking 17:00. She also ran a swift 58:21 at the Virginia Ten Miler. Still, there was a new gunslinger in town and Anna Holt-Gosselin already has a fine reputation with a fall win at the Run! Geek! Run 8K and a smartly done Army Ten Miler in 59:19.
An even newer face on the scene, sub master Kristie Connelly, 36, made them both work hard on the roller coaster ride around the shopping center. Mandefro quietly secured another victory in a very nifty 17:42 on an honest course that is too hilly to be really fast.
Holt-Gosselin (left) was standing tall in second place with WRR summer cover man Bob Briggs, 54, close behind. Briggs, a former Olympic class racewalker as well as a 29:00 10K runner, must prefer the cooler weather as he improved on his 18:18 at the inaugural Let  Freedom Run 5K in July (18:18 2nd AG) to win his division in 17:57. He was the second best at the age graded table with 84.9%. Mandefro was fourth (83.6%) among the seven racers better 83%. Connelly took third overall in 18:05 with the seventh best age grade at 83%.
Two other women made that elite status and neither was a surprise. Top ranked master Alisa Harvey was sixth woman overall in 19:05 for an age graded 84.5%. Then there was Dee Nelson, 68. She capped off another excellent win for her 1,400th career race in an excellent 25:35, giving her the top age graded time for the event in 85.3%. Her best 5K of the year was more than two minutes faster.
At the awards ceremony, second place winner Gordon, 78, note, "I can't stay with Tami." Few can. Tami Graf has been looking to take down another Virginia State record. She has already raced faster but she has to have a certified course that also reports the race. Her 32:09 is more than two minutes faster than the current 34:26 and the more than generous Virginia has chosen to use net times, Graf's was 31:50, to enhance the record book.
Former masters ranking champion Andres Wright (left) is back and already starting to produce times that earned him the title. At 44, his 16:56 was third best man at 83.1% but the prize goes to the fastest not the best age graded. He knew second master, Mike Colaiacovo, was the only one close at 17:02. Still wary, he was confident he would win. The third master was Jean Christophe Arcaz. At fifty, he can still hang with the young guys, racing 17:43, a step ahead in the age grading with 83.2%.
After the race Alan Rider, 75, noted that maybe the generous five-year age groups might go one more from 70 to 99 and include a 70 to 74 with the eldest being 75-99. That would have worked for him this year. Next year both Chan Robbins (25:15) and John Gluck (25:45) will have aged up from 74 and be gunning for top dog Skip Grant.
For the top men, Seife Geletu had been third overall in 16:01 last year. For nearly all the race it looked as if he had a chance to take the crown. The final quarter mile features a sharp turn cresting the long hill followed by a steep hundred meter downhill. From there it is two sharp turns to the final straightaway. Ryan Hanson(below) made the break early enough and jetted away to win in 15:43. Though Geletu was only five seconds behind, it was clear he would not be able to catch up.
After the race, most of the cold had gone away. The large crowd in the square ate hot dogs and listened for their number for the dozens of random prizes. The final prize was Redskins tickets. It did take quite a long time to hand out all the prizes that went three deep in five-year age groups. There were also team awards and costume awards. Next year's event will be their 19th.
Awards Listing (No Duplicate Prizes)
FEMALE OVERALL
Place Num   Name                   Ag City                  Time  
===== ===== ====================== == ===================== ===== 
    1  1520 Hirut Mandefro         30 Washington DC         17:42 
    2   951 Anna Holt-Gosselin     23 Vienna VA             17:55 
    3   713 Kristie Connelly       36 Alexandria VA         18:05 

MALE OVERALL
Place Num   Name                   Ag City                  Time  
===== ===== ====================== == ===================== ===== 
    1  1540 Ryan Hanson            24 Bethesda MD           15:43 
    2  1519 Seife Geletu           29 Washington DC         15:48 
    3  1262 Jerry Greenlaw         23 Alexandria VA         16:26 

FEMALE AGE GROUP: NET TIME 40 - 99
    1     4 Alisa Harvey           46 Manassas VA           19:05 19:05  6:09 
    2  1436 Kim Isler              43 Oakton VA             20:17 20:17  6:32 
    3  1050 Karen Ashbrook-Barnes  41 Vienna VA             21:26 21:26  6:54 

MALE AGE GROUP: NET TIME 40 - 99
    1  1548 Andres Wright          44 Frederick MD          16:56 16:56  5:27 
    2  1535 Mike Colaiacovo        42 Ellicott City MD      17:02 17:02  5:29 
    3  1426 Jean-Christophe Arcaz  50 Rockville MD          17:43 17:43  5:43 

FEMALE AGE GROUP: NET TIME 01 - 14
    1   784 Morgan Wittrock        13 Vienna VA             21:23 21:23  6:53 
    2  1037 Emily Lichtenberg      12 South Riding VA       22:59 22:59  7:24 
    3  1298 Sierra Brooks          14 Clifton VA            23:07 23:07  7:27 

MALE AGE GROUP: NET TIME 01 - 14
    1  1036 Tyler Lichtenberg      14 South Riding VA       17:27 17:27  5:37 
    2  1459 Nati Digafe            13 Centreville VA        20:36 20:36  6:38 
    3  1033 Kai Stephens           14 Fairfax VA            20:59 20:59  6:46 

FEMALE AGE GROUP: NET TIME 15 - 19
    1   328 Christine Mayuga       15 Oak Hill VA           20:35 20:35  6:38 
    2   242 Jordan Lilly           19 Centreville VA        23:40 23:32  7:35 
    3  1538 Natalie Schlosser      18 Winchester VA         24:05 23:58  7:43 

MALE AGE GROUP: NET TIME 15 - 19
    1  1163 Daniel Anderson        16 Falls Church VA       19:14 19:14  6:12 
    2  1111 Neil Totten            15 Herndon VA            19:35 19:35  6:19 
    3  1186 Alex Min               15 Burke VA              21:00 20:48  6:42 

FEMALE AGE GROUP: NET TIME 20 - 24
    1  1215 Jenn Ennis             23 Richmond VA           18:35 18:35  5:59 
    2  1306 Maura Carroll          22 Washington DC         18:44 18:44  6:02 
    3  1094 Maria Cheshire         24 Bristow VA            21:44 21:44  7:00 

MALE AGE GROUP: NET TIME 20 - 24
    1    11 Sean McLaughlin        24 Centreville VA        19:25 19:25  6:15 
    2  1029 Brian Amaya            23 Herndon VA            22:03 22:03  7:06 
    3   402 Timothy Kutz           24 Fairfax VA            25:32 23:37  7:36 

FEMALE AGE GROUP: NET TIME 25 - 29
    1    96 Susan Hein             29 Chantilly VA          23:54 23:34  7:35 
    2  1319 Krystine Rivera        25 Ashburn VA            24:45 24:45  7:58 
    3   710 Martha Mishkin         28 Fairfax VA            25:01 25:00  8:03 

MALE AGE GROUP: NET TIME 25 - 29
    1  1406 Jason Myers            26 Alexandria VA         16:32 16:32  5:20 
    2   783 Ryan Werner            27 Washington DC         19:44 19:44  6:21 
    3  1448 Joshua Pinedo          26                       20:24 20:24  6:34 

FEMALE AGE GROUP: NET TIME 30 - 34
    1  1419 Jessica McGuire        31 Arlington VA          21:01 21:01  6:46 
    2  1255 Taylor Poling          30 Arlington VA          21:18 21:18  6:52 
    3  1185 Megan Brummer          32 Washington DC         22:09 22:09  7:08 

MALE AGE GROUP: NET TIME 30 - 34
    1  1420 Aaron Lyss             30 Washington DC         19:45 19:45  6:22 
    2   407 Jason Bryan            31 Springfield VA        19:53 19:53  6:24 
    3    51 James Brennan          32 Alexandria VA         20:29 20:25  6:34 

FEMALE AGE GROUP: NET TIME 35 - 39
    1   150 Melissa Hardt          35 Arlington VA          22:08 21:55  7:04 
    2   735 Margaret Albaugh       36 Falls Church VA       23:11 22:58  7:24 
    3  1168 Ann Wessel             37 Vienna VA             25:55 25:20  8:09 

MALE AGE GROUP: NET TIME 35 - 39
    1  1271 Keith Freeburn         37 Centreville VA        17:17 17:17  5:34 
    2   734 Bob Koeppen            35 Alexandria VA         18:13 18:13  5:52 
    3  1423 Tim Davis              37 Springfield VA        19:52 19:52  6:24 

FEMALE AGE GROUP: NET TIME 40 - 44
    1  1300 Missy Salisbury        42 Lorton VA             24:34 24:34  7:55 
    2   544 Stephanie Hammond      44 Springfield VA        24:34 24:34  7:55 
    3   160 Melanie Massiah-White  42 Fairfax VA            24:43 24:43  7:58 

MALE AGE GROUP: NET TIME 40 - 44
    1  1432 Rob Meadows            40 Leesburg VA           18:40 18:40  6:01 
    2  1275 James Lister           42 Falls Church VA       19:17 19:17  6:13 
    3  1508 Tom Powers             43 Kensington MD         19:22 19:22  6:14 

FEMALE AGE GROUP: NET TIME 45 - 49
    1  1515 Annie Downer           46 Herndon VA            22:28 22:28  7:14 
    2  1032 Yoko Stephens          46 Fairfax VA            22:54 22:54  7:23 
    3   698 Angelika Kirkland      45 Oakton VA             24:41 24:26  7:52 

MALE AGE GROUP: NET TIME 45 - 49
    1   927 Craig Greene           46 Manassas VA           20:15 20:13  6:31 
    2   472 Robert Martin          48 Fairfax Station VA    21:03 21:03  6:47 
    3   282 Tim Martin             47 Manassas VA           21:38 21:38  6:58 

FEMALE AGE GROUP: NET TIME 50 - 54
    1   284 Sushila Nanda          50 Arlington VA          23:22 23:22  7:32 
    2   401 June Ring              50 Fairfax VA            23:37 23:32  7:35 
    3  1107 Sarah Buckheit         51 Reston VA             24:25 24:25  7:52 

MALE AGE GROUP: NET TIME 50 - 54
    1  1505 Robert Briggs          54 Springfield VA        17:57 17:57  5:47 
    2  1506 Terry McLaughlin       51 Spotsylvania VA       18:21 18:21  5:55 
    3  1182 Peter Cini             53 Fairfax VA            21:22 19:55  6:25 

FEMALE AGE GROUP: NET TIME 55 - 59
    1  1546 Heather Sanders        56 McLean VA             23:16 23:16  7:30 
    2  1247 Merrilee Seidman       57 Alexandria VA         25:51 25:51  8:20 
    3   377 Pat Warren             55 Kensington MD         26:44 26:44  8:37 

MALE AGE GROUP: NET TIME 55 - 59
    1  1248 Paul Bousel            58 Alexandria VA         21:24 21:24  6:54 
    2   526 Stuart McFarren        55 Arlington VA          22:22 22:22  7:12 
    3    10 James Moreland         59 Gaithersburg MD       23:36 23:36  7:36 

FEMALE AGE GROUP: NET TIME 60 - 64
    1  1507 Gail Contreras         60 Fairfax VA            33:32 32:50 10:34 
    2    13 Maureen Babcock        61 Cambridge MA          34:39 33:33 10:48 
    3   192 Claudia Tuller-Brooke  60 Annandale VA          34:55 34:50 11:13 

MALE AGE GROUP: NET TIME 60 - 64
    1   850 Michael Wesbecher      63 Oakton VA             21:41 21:32  6:56 
    2   253 Gary Robinson          60 Bellaire TX           25:40 25:07  8:05 
    3   281 Paul Riede             60 Stafford VA           25:37 25:21  8:10 

FEMALE AGE GROUP: NET TIME 65 - 69
    1  1568 Dee Nelson             68 Gaithersburg MD       25:35 25:35  8:14 
    2   427 Mary Schade            65 Arlington VA          47:24 46:33 14:59 
    3   491 Joannene Maynard       65 Kingsville MD         48:50 48:08 15:30 

MALE AGE GROUP: NET TIME 65 - 69
    1   893 Mike Golash            68 Washington DC         24:06 24:03  7:45 
    2   189 Richard Wiley          67 Centreville VA        28:42 28:25  9:09 
    3  1132 James Verdier          69 Alexandria VA         29:54 29:47  9:35 

FEMALE AGE GROUP: NET TIME 70 - 99
    1  1422 Tami Graf              75 Lusby MD              32:09 31:50 10:15 
    2   186 Winnie Gordon          78 Fairfax VA            46:59 46:18 14:54 

MALE AGE GROUP: NET TIME 70 - 99
    1  1196 Chan Robbins           74 Arlington VA          25:15 25:15  8:08 
    2   916 John Gluck             74 Alexandria VA         25:45 25:34  8:14 
    3     9 Alan Rider             75 Reston VA             28:45 28:32  9:11 

MALE FIRST TIME RACER: NET TIME - NET PACE 1 - 99
    1   639 Andrey Gochev          26 M Springfield VA        22:46 20:48  6:42 

FEMALE FIRST TIME RACER: NET TIME - NET PACE 1 - 99
    1   242 Jordan Lilly           19 F Centreville VA        23:40 23:32  7:35
0
Comments