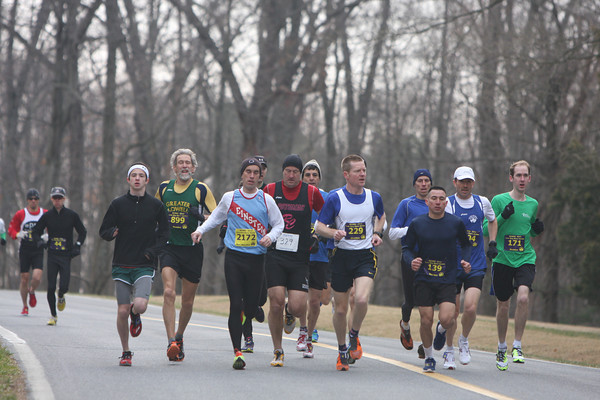 When runners registered for the most recent Montgomery Country Road Runners Club race, they were mistaken if they thought it would be a "piece of cake." Little did they know that they would have to conquer tough-rolling hills through Seneca Creek State Park in order to cross the finish line.
"It's a very challenging course," said Carol English of Germantown, Md. "But it's good. It builds character."
Since 1997, English has been involved with the Montgomery County Road Runners Club. She is currently enrolled in the club's speed development program, which included the club's Piece of Cake 10k.
"The club is an amazing group," English said. "They put on well-organized races."
MCRRC's Piece of Cake 10k, one of several races of the MCRRC championship series, attracted nearly 350 runners. The Piece of Cake title actually comes from the annual cake contest the MCRRC holds in celebration of the club's birthday. This year's race marked the club's 35th anniversary.
[button-red url="http://www.mcrrc.org/piece-cake-10k-cs-2″ target="_self" position="left"] Results [/button-red]
The race brought out several talented competitors, including Douglas Woods of Gaithersburg, Md. Woods trailed behind second-place finisher Eric DaSilva until the last 800 meters, when he passed DaSilva. "I just ran on his shoulder, he didn't want any help," Woods said. "I kicked the last half mile."
[button-red url="http://www.mcrrcphotos.com/2013Photos/Race-Photos/Piece-of-Cake-10K-2013/i-vLhX2nC" target="_self" position="left"] MCRR Photos [/button-red]Aside from the first-place title, Woods may have had another motivating factor waiting for him at the finish.
"Cake. Where's the cake?" Woods asked as he looked around.
But not all runners were able to reward themselves with delicious cake in celebration of the club's birthday.
"I gave up sweets for lent," said Tommy Young of Brookville, Md., who had just completed his first 10k.
Unlike sweets, Young was able to enjoy quiet roads through the woods near Clopper Lake during the race. His girlfriend,Katherine Young of Silver Spring (they're not related—they just happen to have the same last name), "pulled" Tommy in with the club earlier this year. Katherine has been involved with the club for two years.
Both of them plan on competing in the upcoming 10 Mile Cherry Blossom.
Cindy Conant of Kensington Md. was the first female finisher to cross the finish line with a time of 40:29. With Conant competing in races nearly every weekend, including the 10 Miler Cherry Blossom and the Boston Marathon, Conant said she prefers the low-key club races.
"I don't have to pick up my race-packet the day before," Conant said. "I want to end where I start."
As the club wrapped up it's 10k race, it was only the beginning of its annual meeting and awards brunch. Among the awards presented, four outstanding high school runner college scholarships were divvied up between Benjamin Withbroe of Einstein High School, Nick Simpson of Einstein High School, Isabelle Latour of Quince Orchard High School and Laura Nakasaka of Bethesda-Chevy Chase High School.
"We'll be living up to what they saw in us these past four years and will be working hard academically, in the community and in our sports," Nakasaka noted.
Though the club rarely hands the award out, Dee Nelson of Gaithersburg, Md. was presented a life-time achievement award. With 45 years of running under her belt, the Piece of Cake 10k marked her 1,487th race.
"I have found over the years that training less is actually working out," Nelson said.
Nelson is nearing her goal of hitting 1500 races and averages nearly 60 races per year.
Among other impressive award-winning runners was Joe Sangillo of Rockville, Md. He received the most improved runner of year award. Sangillo may look like another other seasoned runner, but that wasn't always the case. In two years, Sangillo weighed more than 100 pounds heavier and could barley complete a 12-minute mile. But just last year, after completing the MCRRC first time marathon program, Sangillo accomplished his goal: completing the Marine Corps Marathon in 3:40. Since 2006, Sangillo has lost a total of 130 pounds.
"Just don't underestimate yourself," Sangillo said. "I smashed any expectations that I had for myself."