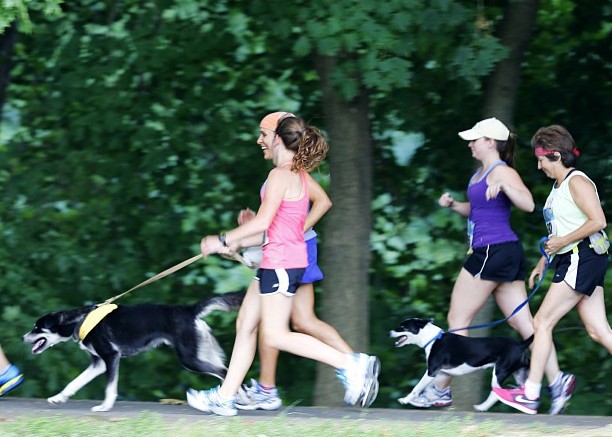 Water stops are largely a luxury at most 5k races. For the canine competitors at the Lost Dog 5k Friday night, they were a necessity.
When the evening weather Friday was markedly warmer than a week before, runners — with two legs or four legs — knew they'd have to adjust their expectations and race strategies. The second of the four-race series in August benefiting the Lost Dog and Cat Rescue Foundation saw 115 repeat runners from the first week. The out-and-back course on the Four Mile Run and W&OD trails included strips of natural surface along the paved trail, perfect for paws. This week, 60 dogs raced.
Runners were welcome to run with socially-adjusted dogs, and many did. Runners without dogs of their own had the opportunity to rent a pup for the race.
Cerbi took a few detours into the creek alongside the trail, to cool off, with owners  Maari Hanson and Jason Soules in tow.
"He gets along great with other dogs, if only for five seconds before he gets bored," Soules said.
Hanson said Cerbi has been the couple's training partner for a while.
"We usually do a few miles with him," she said. "We try to avoid the humidity–that was probably killing our times a bit. It's great for people to come out and see responsible pet owners, people who know how to handle a dog on a leash."
Greg Russell, of Centreville, took his dog, Taylor, to her first race, and it went well.
"During her initial bolt, when the gun sounded, I had to get her to slow down," he said. "She slowed down to walk, stopped to take care of business every once in a while, but she had a good time."
Russell is training for the Marine Corps Marathon. Taylor didn't get in before the race filled up.
"I was definitely a little slower from last week," said Colleen Lally of Alexandria. "Tonight was hot!"
She just started running a year ago and just got back into racing after finishing rehabilitation following foot surgery.
Sara Fiorini, of Alexandria, agreed with Lally's rough assessment, following the gift-like weather the first week.
"It was awful, I was dragging," she said. "The humidity kicked my butt. My goal was to not stop, and I met that goal. I guess I'm happy with that."
She runs to stay in shape for three different soccer leagues.
Not everyone suffered from the uptick in heat index. Overall winner Claire Hallissey of Arlington actually dropped six seconds from a her win on the cooler day, running 17:20. She took the lead at the turnaround and put 34 seconds on her closest pursuer in the second half. She went on to claim the top overall spot two days later at the DC Road Runners cross country three mile in Bethesda in 19:36.
Greg Hermanson, of Woodbridge, has been volunteering for the Lost Dog Foundation for more than 10 years, but he just started running last year.
"It was one of my slower times, but I still had a blast," he said. "Sequestration has kept me from traveling from work as much as I am used to, so maybe this is the time I adopt a dog of my own."
0
Comments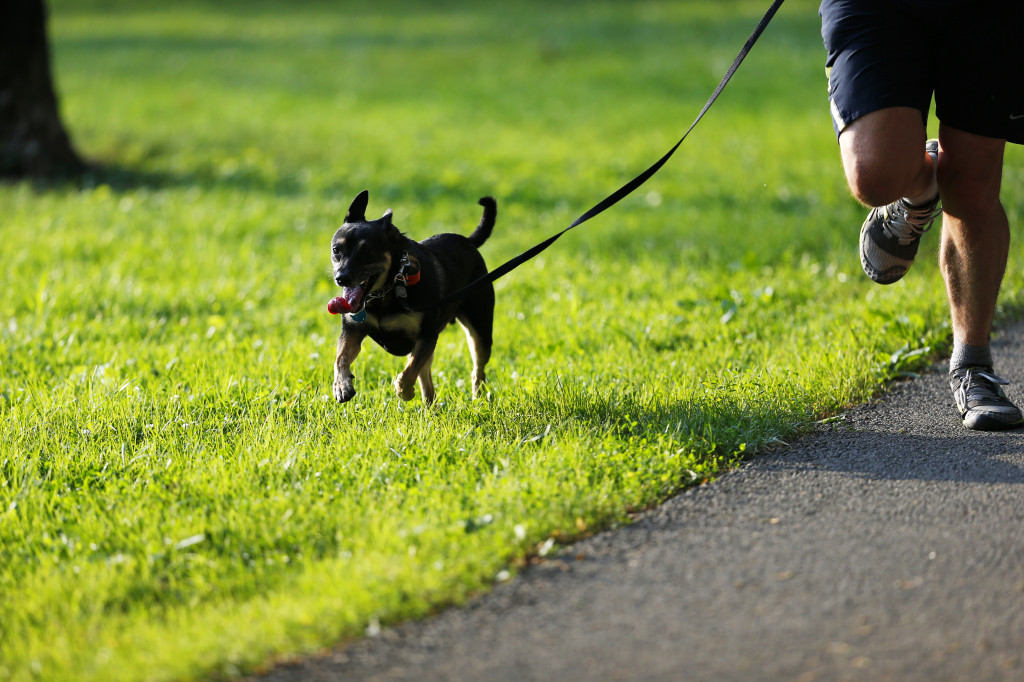 Barb Hutcherson from the Lost Dog and Cat Rescue Foundation offers some advice for keeping your four-legged training partner healthy.
Hot and muggy summer weather can be uncomfortable for humans and canines alike. While running with your pets can be a great form of exercise, there are a few things to take into account before heading out the door.
First, discuss any concerns about running with your dog with your veterinarian. He or she is your best source of information on your particular dog's suitability for running.
Second, there are several types of dogs who should not be running in this heat:
Very large dogs
Older dogs
Overweight dogs
Dogs with snub noses like pugs or shih tzus
Puppies under one year of age
Dogs with any kind of health issue
It is crucial that you are aware of the signs of heat distress and respond quickly if your dog is struggling.
Danger signs include:
Excessive panting
Excessive drooling and/ or foamy drooling
Limping or any change in gait
Bright red tongue and gums
Lagging behind or lying down
If you see any of these signs, or are at all worried about your dog's condition, slow down, walk and assess the situation. Take water with you and be cognizant of your pet's demeanor; cooling your dog down with cool water (particularly on the footpads and on the face) is the best way to help him/her cool down. Do not use ice water for cooling or drinking. Ice water can make the situation worse instead of better.
We want everyone- human and canine- to have fun and be safe out there, so let's remember our doggie pals might need some extra attention and caution.
2
Comments