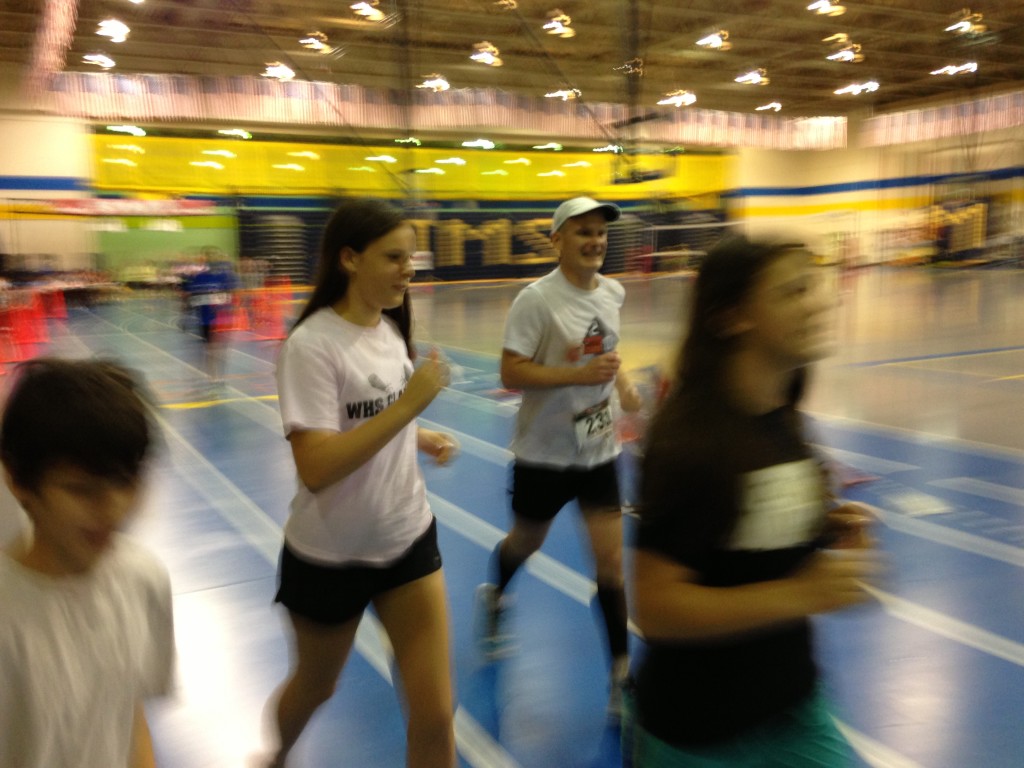 Cathy Ahn has been on the lookout for strange and unique races this year. She found one, a few miles from her Arlington home.
Though she had already signed up for the Grant-Pierce Indoor Marathon, she decided the morning of the race to go for the gusto and run the 50k instead. She ended up finishing second in 4:54:25.
[button-red url="http://racepacket.com/rsltwrap1.php?id=3836″ target="_self" position="left"] Unofficial Results [/button-red]
"I thought about running one more lap than the marathon so it would technically be an ultra, but I decided to just go for it," she said.
She was accompanied by a handful of Arlington Road Runners, several of whom raced with the rest cheering. Those spectators got to see their athletes a lot. With 210 laps of the 200 meter track for the marathon and 250 for the 50k, the race had almost a dozen lap counters, who tracked several racers to back up the electronic Racepacket timing system.
Eddie Valentine kept his eye on his friend Dave Lin, who was visiting from Manhattan. He was conscripted into the counting corps and limited himself to tracking four runners so he would be able to handle the workload.
"You second guess yourself when the electronic system doesn't match your count," he said.
The race started four years ago to give Michael Wardian an opportunity to shoot for the indoor marathon world record and added the 50k to give him an opportunity there, too. The race is named after his two sons. He came through again, running 3:12:13 to Russian Igor Tyazhkorob's 3:14:49 from 2002.
Wardian tried to run consistent 6:00 pace, hitting 45 seconds for each lap, despite winding through nearly 60 other runners.
"It's amazing to think it started with 10 people four years ago," he said. This year's race had 54 starters.
With wins in several races recently, including the Vermont City Marathon and North Face Endurance Challenge in consecutive weeks, he's recovered from the stress fractures that plagued his latter part of 2012.
"Just a little pain in my hip today, from the left turns," he said. "They just started the lap after I split the marathon; It was a little odd."
Women's marathon winner Alison Slade, of Odenton, Md. made a pair of comebacks, returning to the marathon after a decade away and racing once again in the Thomas Jefferson Community Center, where she ran many races as a student at the Thomas Jefferson School for Science and Technology. She initially signed up to take a shot at the world record for the women's indoor marathon, 3:05, but suffered a hamstring injury shortly after than left the goal harder to reach, but she persevered with breaks to massage it and finish in 3:33:21.
The Setash family from Centreville, Va. came to surprise Eric Setash and he went for his age group win to establish a 45-49 indoor 50k national record, which he did in 5:07:35.
"He thought we were home packing for our trip to Cancun," said his wife, Mary. "We probably should be, but we don't get to see his ultras."
His son Charlie and daughters Layne and Abby accompanied him for the last lap. He was ready for his massage, scheduled for Tuesday at their all-inclusive resort, and to demolish every meal that day.
"I'm usually ravenous two days after these races," he said.
He was disheartened to run over four hours for the marathon en route to the 50k, but he recovered well.
Runners weathered the eight-lap miles in a variety of ways. Lin played head games with the clock, trying to run consistent splits so every few laps, he would cross the starting line at the top of the minute. He didn't mind the weaving through the lapped runners, because it broke up the monotony of the race.
Steven Waldon on Brooklyn, N.Y. "just zoned out" for about 80 laps. He initially didn't think he'd have the luxury of doing so, because somehow, at the end of the first lap, he fell down.
"I've fallen in trail races, everyone falls in trail races," he said. "I still don't know how I fell on a track, on the first lap."
Making matters worse, he fell again during lap five.
"By my estimation, I was going to probably fall 50 or 60 times," he said. "I still don't know how I managed to fall."
He went on to finish third in 3:54:58.
0
Comments
Garret Martucci of Arlington, VA left plenty of cushion in his Father's Day win at Dash for Dad.  Right from the start, he proved to be the fastest competitor in the 820 person field, completing the 4 mile course in 20:59.  But it wasn't winning the race that was most special.  Martucci was running for his uncle, who has prostate cancer.   Dash for Dad, a 4 mile race starting at Pentagon Row in Arlington, VA was created by the Zero Project to End Prostate Cancer.
[button-red url="https://register.racedctiming.com/results/default.aspx?event=13004&r=2963″ target="_self" position="left"] Results [/button-red]Eddie Valentine of Arlington, VA was 2nd place in 22:22.  His father passed away when he was 14, and this was a special way to remember him. Rounding out the top 3 was Alex Roederer, 14, of West Bethesda, Maryland.
In the women's race, Jenny Fitzgerald of Woodbridge, VA took home the title in 24:28.  Looking to break 25 minutes, she was very pleased in achieving her goal.  Mary Beth Chosak from Arlington, VA was second place in 26:19 and Melissa Wisner rounded out the top 3 in 26:25.
Not everyone participated in the open division at Dash for Dad.  Runners had the option to stop at the first mile and put on a tie, a creative twist to today's race.  Andy Chosak of Arlington, VA selected this unique option.  As a new father, today was extra special to Andy.  He completed the race while pushing his 9-month old son, James, and watched his wife take home second place in the women's division.
A kid's dash preceded the run, with all ages and faces engaged on the starting line.  Leo Weber-Jones, 6, made a point to run all out for Dad and never quit.  Even his two year-old brother, Hugh, joined the fun.  Drinking an entire Gatorade after the race, he proudly showed off his medal.
Dash for Dad is a national movement, featuring 27 races throughout the US with over 15,000 participants.
0
Comments