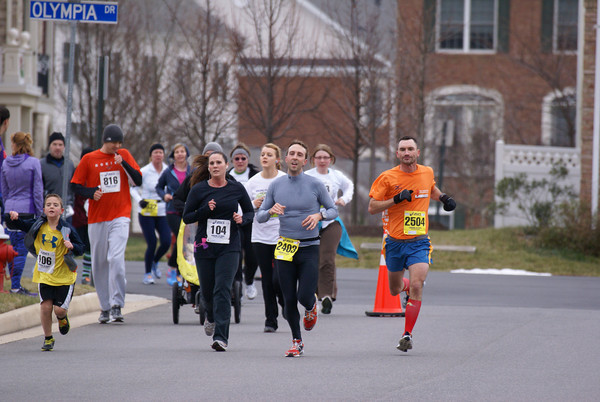 Catherine Mitchell bent down to remove the timing chip from her daughter's shoe at the Ringing in Hope 5k in Ashburn. She paused, stood up to face Emma.
[button-red url="http://prracing.racebx.com/files/results/4d9205ce-7a0c-46c1-8929-4f56c0a86522/50343fe8-8128-4689-bc5d-7633c0a8651f/ringing%20in%20hope%205k%20overall.htm" target="_self" position="left"] 5k Results [/button-red]Great job," she said. "I'm so proud of you," and hugged her daughter.
Catherine and her husband Lance are triathletes and Emma aspires to join them. Though she is adept at swimming, she hoped to improve her running and targeted the New Year's Eve race at Brambleton Town Center. At 10 years old, her goal was to break 30 minutes, which the trio, from Ashburn, did with 23 seconds to spare.
[button-red url="http://prracing.racebx.com/files/results/4d9205ce-7a0c-46c1-8929-4f56c0a86522/50343fe8-8128-4689-bc5d-7633c0a8651f/ringing%20in%20hope%2010k%20overall.htm" target="_self" position="left"] 10k Results [/button-red]
She beamed with pride when Catherine told her about her dramatic improvement over her practice runs.
"She broke 30 minutes 18 years before I did," Catherine said. The hometown race's 5k offered recent Brambleon transplant Karl Dusen a chance to race seriously for the first time since the USATF Half Marathon championships in Duluth, Minn. six months prior. He cleared the field within the first half mile and cruised to victory in 16:25 over Jim Nielson's 17:19, slightly ahead of Eric Sorenson five seconds later, who was led off the course.
It's been a busy few months for Dusen, who, since he last raced, turned 30, moved from Rockville, Md. and welcomed his second daughter with his wife Emily, who finished sixth in her first race back. Their daughter, Juliette, was on hand to, if not see her parents race, cheer for them, though that just as likely might have been crying.
"It was great to race out here," Dusen said. "I've been adjusting to training with the baby around, but we're getting a hang of it. Emily looked pretty good out there and we're just happy to represent Brambleton."
Women's winner Peggy Yetman, of Leesburg, was also shaking the rust off following a break after the world Ironman championships in Hawaii this past October, where she was top 10 in her age group.
"I had to start again sometime," she said. "He (her husband, Chris) pushed me out the door for this one,
if I was going to start up again I'd better just do it and stop worrying about it."
She exceeded her expectations of running 20 minutes when she finished in 18:28, nearly a minute and a half ahead of Columbia, Md.'s Tiffany Hevner (19:50). Reston's Lisa Johnston was third in 20:04.
The 10k started simultaneously with the 5k, which meant men's winner Andrew Ciarfalia had some company for the first half, but was left to his own devices as he ran off to a 34:39 win.
Springfield's Jeremy Lynch (35:08) and Ashburn's Kory Jessen (37:01) followed.
"I slowed down a bit in the second half," Ciarfalia said. "It got a little lonely and I just focused on catching 5k runners. It was fun, they cheered for me."
He'll be focusing on the Cherry Blossom Ten Mile Run, with the Reston Ten Miler along the way.
Melissa Saunders spent her 10k chasing down other runners, primarily D.C.'s Cris Burbach, whom she caught in the fifth mile.
"It was scarier when I passed her, because then she knew I was there and I was waiting for her to come back," Saunders said. "I knew she was gunning for me."
Saunders, of Potomac Falls, prevailed, 40:36 to 40:57, and both had a solid margin over Burke's Cathy Ross, who finished in 42:25.
Saunders ran the race for the third time, and found the flat course to be a dramatic improvement over the Charlotteville Fall Classic Half Marathon she won as a student at the University of Virginia.
"It seemed like we ran every hill in Charlottesville," she said. She is planning on the Shamrock Sportsfest Marathon in March in Virginia Beach.
The 5k gave Briar Woods High School runners Chris Schopper (18:21) and Brian Presler (19:20) a chance to check their fitness following their cross country season. Their team does not have an indoor track season, so they are just getting back into their workouts after their fall campaigns.
"It was a good benchmark," Presler said. "We're starting 2013 with a good idea of what we have to do to hit our goal times for track."
0
Comments