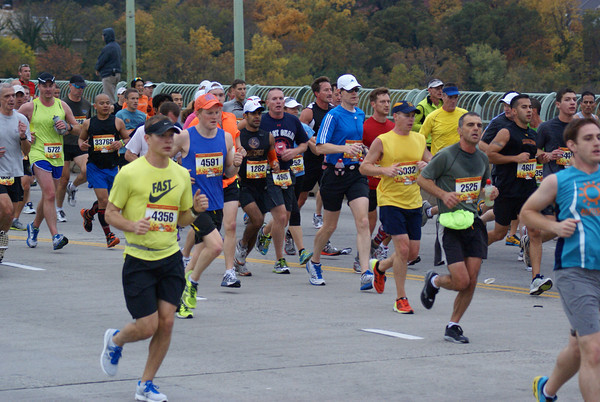 The Marine Corps Marathon will debut a registration lottery in 2014, a year after frustrations with registration management service Active caused thousands difficulty while they tried to register.
As announced in this year's race guide, the lottery will open Feb. 23 and close March 15, and runners selected for the race will be notified March 19. The marathon has agreed to a multi-year contract with Race IT to manage registration.
Race officials will comment on the switch to the lottery system during this year's race weekend, scheduled for Oct. 27.
The race sold out in just under two-and-a-half hours in March, faster (in 2:27) than all but six runners raced there last year. But for most people trying to register, it felt more like trying to sprint in the middle of a pacing group running 12-minute miles.
The error messages and frustrations with Active led many runners to question if the process for allocating 16,000 open registration spots was befitting an event that prides itself on efficiency. Traffic on the registration site overwhelmed the Active system, which may not have been upgraded following a similar incident.
The chaos meant that many of the aspiring registrants who had been trying since registration opened failed and others who came along later succeeded, discarding the race's "first-come, first-served" policy for registration.
| | |
| --- | --- |
| Type of registrant | Number |
| Open registration | 16,000 |
| Charity partners | 4,500 |
| Active duty military | c. 4,000 |
| Previous year's deferments | c. 3,000 |
| 17.75 k finishers | 2,200 |
| Frequent MCM runners | c. 1,000 |
| Sponsors | c. 500 |
| Approximate total | 31,000 |
Active pledged its proceeds from the signup, roughly $75,000, to two of the race's charity partners: the Wounded Warrior Project and Semper Fi Fund.
At the time, Race Director Rick Nealis promised a comprehensive examination of the race's registration process, with the prospect of a lottery system, similar to the Credit Union Cherry Blossom Ten Mile Run, the ING New York City Marathon and the Chevron Houston Marathon.
This followed Active's failure to successfully handle demand for the Bank of America Chicago Marathon Feb. 19, which Active blamed on outdated equipment and a coincidence with an upgrade, according to Runner's World. The Chicago Marathon suspended registration after four hours, with 30,000 successful entries processed, and allocated the remaining 15,000 bibs via lottery.
Problems started almost immediately for Marine Corps, two-and-a-half minutes in. Users reported reaching the checkout screen at the end of the process and receiving an error message. Others saw "system error," "system unavailable," and "it's an exciting day today. We have a sell-out event in progress" while trying any number of steps in the registration process.
"It  wasn't exciting for the people seeing (those messages)," Nealis said. "It was embarrassing for us. This wasn't up to our standards."
Before the technical problems arose, he predicted the race would sell out in 82 minutes. He was well aware of the problems Active had during the Chicago registration, but was hamstrung in his options to do anything about it.
"They had 30 days to prepare, and they said they were testing successfully at a high volume," he said. "You can't drop a government contract like that, and even so, (what happened in Chicago) didn't happen to us, so our agreement wasn't violated."
Marathon officials could not comment further on the state of the contract with Active.
Eric McCue, general manager of sports at Active Network issued a statement regarding the system failures:
"Active Network experienced system issues with registration for the 2013 Marine Corps Marathon today… for this, we sincerely apologize. We expected unprecedented interest for this iconic race but as the demand for registration shortened from hours to minutes, we experienced challenges. The race ultimately sold out in record time of 2 hours and 27 minutes.  At Active, our mission is to connect people with the activities they love and we didn't deliver on that promise today."
Representatives from Active have not responded to specific inquiries about the cause of the system breakdown, or whether they had finished upgrading its systems in the wake of the Chicago registration.
Tiffany Davis, of Ashburn, didn't get into the race last year, so she was sure to be at her computer well before noon, when registration opened.
"I was trying at 11:59," she said. "When I wasn't getting through, I tried every 10 minutes, then every five minutes. Nothing."
She has been running for six years, spurred by an effort to lose weight after the birth of her youngest son. She's worked her way up in distances and is determined to run a marathon in 2013. She chose Marine Corps because it was close to home and because of its reputation.
Erin Panzarella and her husband Mike registered successfully, but not without some trouble. The South Plainfield, N.J couple ran the race in 2010. He was set on racing again this fall, but she was content to watch. Until, that is, he successfully registered and she got the itch to run again.
"I started trying to register just to see if I could, but when it failed and kicked me out I got made and just wanted to register more," Erin said. "When I couldn't even get back in, I got angier and angier. Now I absolutely have to run this race."
After running the race the last two years, Washington resident Anastasia Robinson was hoping to qualify for the Boston Marathon this year.
"I like being able to sleep in my own bed, and I know the course really well," she said.
She slipped in under the deadline last year and knew she had to be ready at noon. She reached the Active sign in page before the site crashed on her. She refreshed as best she could while at work.
"I had a meeting at 1, so I had to step away," she said. "When I got back at 2:30, it was too late."
She ended up finding the charity partner Finish for Kids. She is a classical singer and her friend, also shut out of general registration, is a pianist, so the two are looking at venues for a fundraiser concert.
The marathon was an overwhelming winner of RunWashington's recent Best of Washington Running survey's "Best D.C. Race" and "Best Race to Spectate" categories.
Runners have a myriad of ways into the marathon. In June, a secondary market will open when the race administers open a bib transfer program. Registrants will likely advertise bibs for sale on Craigslist and other forums, including the marathon'sofficial Facebook page. More immediately, roughly 4,500 can commit to raising money for 130 different charities, with all of the proceeds going to the 501 (c) 3-registered nonprofits, in return for an entry.
Four thousand spots are reserved for active-duty military personnel, and approximately 3,000 runners will have deferred from the prior year's race. Finishers at March 23's 17.75k over the age of 14 earned guaranteed entries, approximately 2,200. The race sold out in an hour.
About one thousand runners who have done five Marine Corps Marathons get a longer window to register. Fewer than one thousand spots are given to race sponsors.
Nealis said that out of approximately 31,000 registrants, he expected 23,000 to finish. Last year, 23,519 runners finished Marine Corps, giving it the second most finishers in the United States, behind Chicago's 37, 455, though New York, which drew 46, 536 finishers in 2011, was cancelled. In 2010, 20, 855 runners finished Marine Corps.  The 2012 Marine Corps race sold out in 2:41, the 2011 race sold out in 28 hours and four minutes and 2010 took six days to sell out.
9
Comments