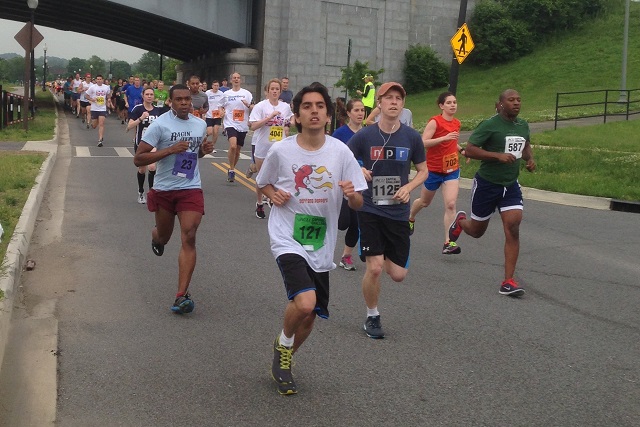 A lot of federal and media employees found out what their coworkers looked like in shorts at the ACLI Capital Challenge.
[button-red url="http://www.capitalchallenge.com/2001_cabinet/history2001.html" target="_self" position="left"] Results [/button-red]The annual three-mile run, a staple of many offices in Washington, featured strong individual performances from the Executive Branch, with Coast Guard's Patrick Fernandez edging House aide Paul Balmer, and Erin Taylor of the General Services Administration outlasting Rachel Beckmann, another Coast Guard team member. The out-and-back course in Anacostia Park featured a slight headwind after the turnaround. Both Fernandez and Taylor train with the Capital Area Runners. Balmer lead Rep. Earl Blumenauer's (D-Ore.) Red White and Blumenauer team to the House championship for the fifth consecutive year.
Taylor recruited four other GSA employees to join the Human "Capitol" Running Club.
"Everyone runs, in some capacity, but I think this is the first time we've had a GSA team," she said. "We didn't a chance to train together because we entered the team so late, but I'm hoping we have a few teams next year and will do some group runs."
Some runners surprise their colleagues with hidden talents. Jake Berube, who led the Daily Caller team (the Daily Ballers) to a second place finish in the Print Media division, was the "surprise fast guy" on his team that included a former collegiate runner. Though he was on the track team at the University of Southern Maine, he was a decathlete, with the longest running event spanning a mile. That's where he started.
"I ran the first mile really fast and I was just trying to survive the rest of the way," he said.
Sen. Rob Portman (R-Ohio) looks ahead to the race every spring.
"Everyone on my staff loves to run, and in order for them to run, I have to run, so two months before this race, I start running again," he said. Members of Congress have to participate in the race for their offices to field teams. "I'm 58 years old, so my knees and the back aren't great, but I try to run every two days. I always hope to run eight-minute miles."
The junior senator clocked just over 8:20 pace on his way to a 25:04 finish, for the top male finish in the upper house. Kay Hagan (D-N.C.) was the top female senator, in 35:15. Portman finishes jsut ahead of Kyrsten Sinema (D-Ariz.) the top female representative.
Portman's Communications Director Caitlin Dunn said most of her colleagues were active runners, with many completing the Cherry Blossom Ten Mile Run, the Rock 'n' Roll USA Half Marathon and the Philadelphia Marathon.
Tom Cotton (R-Ark.) was not only the fastest male representative, at 39th place out of 667, he was one of the fastest runners overall. His title came a day after he earned his party's nomination for this year's Senate race.
"I try to run most mornings, wherever I am," he said. "Arkansas is a great state for running, with the mountains, the river valleys, the plains. Between deployments, I was was stationed in Arlington, so I've gotten used to running here, too. I can be the fastest man in Congress, but if I was still in the Army, my soldiers would just call me a slow old man," he said.
Recently-confirmed U.S. Circuit Court Judge Nina Pillard won the women's Judicial Branch title in 23:20. She gathered three of her clerks and one of her fellow judge's clerks to form a team, after D.C. Circuit Court Judge Brett Kavanaugh told her about the competition shortly after she was confirmed. Kavanaugh's team led the Judicial standings.
"We chose our team on eagerness," she said. "We didn't train together, but we exchanged plenty of emails about running to get ready for this.
D.C. Superior Court Judge Robert Okun was the first male judge across the line in 20:47.
Nine-year-old Annie ran the race with her mom, All Things Considered Producer Justine Kenin. Annie is third-generation Capital Challenge, following in the footsteps of James Kenin, whose name now adorns the award for worst team name (WUSA-News Your Daddy won this year). NPR sported approximately 50 runners, making it one of the largest contingents at the race.
"She knew I ran this every year and she asked to do it last year," Kenin said. "I told her she could only run if she trained for it."
Annie felt it was one of her better races, riding high off of Saturday's Girls on the Run 5k, the culminating event for her elementary school training group.
"I like running with my mom and my friends," she said. "This wasn't my best race, but it was pretty good."
When she shared her motivational strategies, it sounded akin to what a lot of coworkers might have said to each other before grabbing a danish and heading back to the office.
"A lot of them break down and say they can't do it," Annie said. "I tell them, 'don't say can't, because can't never helps anything.'"
0
Comments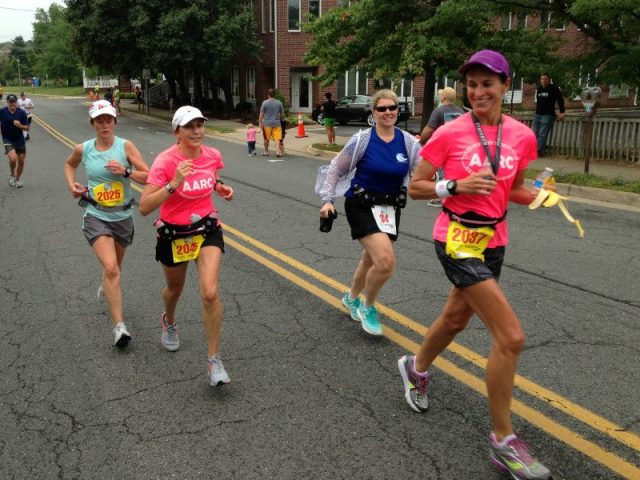 Any runner who understands the basics of delayed gratification — a principal so central to this sport — could appreciate the Leesburg 20k's new course, now in its second year. The rolling hills on Dry Mill Road are gone, replaced by a long, grinding grade on the W&OD Trail, one that snuck up on South Riding's Tatiana Sheptock.
"My eyes wouldn't see it, but my legs felt it," she said. "It definitely felt a lot better on the way back."
She made her return to the race after an eight-year absence. She's seen some change since then — when she ran she ran 1:40:47 on her way to finishing the Marine Corps marathon in 3:42:40 two months later.
This year, she ran 1:19:48 for third place, and will head into another marathon training effort with hopes of running 3:05 at Marine Corps.
"I'm a completely different runner now," she said. "The race feels different, and I'm running paces for long races I could barely keep up for shorter distances."
Both winners took advantage of the relief that came with the downhill to make their moves. Men's winner Sean Barrett pulled away from Kieran O'Connor after the turnaround and ran to a 1:06:18 finish. Women's winner Meghan Ridgley, of Ashburn,  broke away from Arlington's Erin Taylor after 7.5 miles to go onto an almost one-minute margin of victory- 1:17:16 to 1:18:12. Both are training for marathons, Ridgley Philadelphia and Taylor Richmond.
"I love this course," Ridgley said. "It's fun and you can see other people on your way out and back. A bunch of people I coach were out here and they did great."
Ridgley coaches, and races, with the Potomac River Running training program, as does Sheptock and hordes of other top finishers.
Barrett's race strategy changed as soon as he realized that his trainers were not going to cut it. In the rush to get out the door of his Arlington home to get to Leesburg for the 7:30 start, he forgot his racing flats.
"I tried to push off on my toes, but after a few miles it wasn't happening," he said. "I became a heel striker for the rest of the race."
He's looking ahead to the Rock 'n' Roll Philadelphia Half Marathon, Army Ten Miler, .US Road Racing Championships 12k and USATF Club Cross Country Championships in Bend, Ore., where he's headed with some of his Georgetown Running Club teammates in December.
O'Connor, who finished as the eighth American at the 2012 Boston Marathon, hadn't competed since that scorcher, but acquitted himself well on the course to run 1:06:40.
"I was freaking out trying to find a bathroom seven minutes before the race, and ended up not taking my inhaler," he said. "So I had my torso feeling pretty uncomfortable for a while."
Though runners from farther east cleaned up on the men's top spots, 249 of the 892 20k finishers were from Leesburg, Ashburn and Sterling, representing well at one of Loudoun County's top races.
Carole Jones estimated that the Ashburn Area Running Club had more than 30 runners out on the course, and many PRed.
"The camaraderie was incredible," she said. "It's hard not to run well when you have so much support out there. I felt like I saw people I knew every minute."
Jones ran 1:31:24 to finish 15th and second in her age group, second if only because Oak Hill's DeeDee Loughran ran 1:22:35 to dominatingly win the women's masters title.  McLean's John Zimmerman ran 1:11:41 to lead the male masters.
Kris Wolcott loved the opportunity to run near home.
"It was a home course advantage," she said. "I run here every day and knowing the course made the race a lot less nerve-wracking."
She was enthusiastic about seeing Ridgley, her coach, running so well.  Like Ridgley, she's headed to the Philadelphia Marathon in November — her first.
The race also included a 5k, won by Hugh Toland in 16:16 and Margie Shapiro in 18:19. That option appealed to Sterling's Jason Lovelady, who ran it while his wife, Suzanne, ran the 20k.
"I'm not a runner, but I like to come to races with her," he said. "The course was flat, so that appealed to me. It sounds like she wasn't crazy about the hills in the longer race."
The pair is considering their fall racing schedule, perhaps making a repeat trip to a costumed race, where last year the ran as Popeye and Olive Oil.
"Maybe not so much polyester this year," he said. "That wasn't really comfortable."
0
Comments
Claire Hallissey wasn't expecting to run an event record Saturday during the Lawyers Have Heart 10k.
"I did a track workout on Thursday," the 2012 British Olympian said.
Yet the 30-year-old Arlington resident still ran a 34:33, bettering the previous event record by 9 seconds on a cool, overcast morning in Georgetown.
In fact, Hallissey and second place finisher Susanna Sullivan of Falls Church are only the second and third women to break 35 minutes in the event's 23-year history, taking advantage of the good, June running conditions.
"She turned it on the last mile and just blew me away," Sullivan, 23, who won last October's Marine Corps 10k, said.
Sullivan finished in 34:48, just off the previous event record of 34:42 set in 1992 by Baltimore's Charlotte Thomas.Wayinshet Hailu, 26, came in third at 36:06.
Event organizers called the 1992 10k course much more difficult than Saturday's having trekked through many more hills around Georgetown's residential areas.
The course has changed several times in the event's history. This year's started on K Street under the Whitehurst Freeway in Georgetown. Runners looped up to the freeway, ran down Canal Street, and turned back near Georgetown's reservoir.
Hallissey's appearance on Saturday took runners and event organizers by surprise, not expecting the Olympian, who turned in a 2:35:39 marathon in last summer's London games, to run.
"I'm happy with how I'm running right now," Hallissey said, noting her last few 10ks were in the 34-minute range.
Sullivan was trying to sneak up on Hallissey after a slower start and moved just a few strides behind her at the race's turnaround point near the reservoir.
At that point, Capital Area Runner teammate and men's leader Chris Mills shouted encouragement, seeing her in second place.
"Then, it was game over," Sullivan said, referring to Hallissey's talent and experience. "I had to show my cards."
Hallissey said later she knew a female competitor was on her heels from the crowds yelling support to those behind her.
Mills, who went on to win the men's race, called the high 60 degree weather at the start the "perfect temperature."
Mills of Falls Church broke away from the pack after about 3.5 miles and cruised to a time of 31:15, better second place finisher Birhanu Mekonen by 26 seconds. Dave Burnham of Arlington came in third place with a 32:03.
The men were well off their event record of 29:51 set by Ethoipia's Gurmessa Kumsa in 2006.
Mekonen and Hailu said after the race they were hampered by a late arrival to the race site and didn't have a chance to conduct their full warm up.
Mills was proud of his running even splits, coming through the 5k at 15:38. The 23-year-old expected to run a great time, following a 29:09 performance at April 20's Pike Peek 10k in Rockville.
Women's fourth place finisher Barbara Fallon Wallace ran a 36:33 and called the conditions a bit muggy. The 39-year-old won last year's race just 18 months after giving birth to twins.
"At least it was cloudy," Fallon Wallace said. "It could have been 90 degrees."
In fact, extreme temperatures two years ago caused organizers to shorten the race to a 5k.
But the event hosted a 5k – aside from 2011's impromptu change – for the first time in several years in 2013.
The Capital Area Runners dominated the women's side, taking the top three spots. Erin Taylor, 31, of Arlington led the way with an 18:08, followed by Ashley Kollme of Chevy Chase in 19:07 and Mary Christopher of Washington in 20:32.
"Whenever you can get your teammates in the top three, that's great," Taylor said.
Jack Riely, 19, of Silver Spring won the men's 5k in 16:38.
Kristi Markowicz, 43, of Arlington was the women's masters winners with a time of 39:13. Edmund Burke, 43, of Burkesville, Md. won the men's masters race in 33:27.
The event, held annually since 1991, benefits the American Heart Association. Flocks of the law firms around the area organize teams to generate money for the group. So far, the event has raised more than $8 million for the cause.
So far this year, teams have raised in excess of $750,000, according to the event's website. McDermott Will & Emery raised nearly $20,000 as of Saturday.
"It's just nice to see some law firms — who don't have a reputation for promoting the common good — have one Saturday where we're out for the common good," Jones Day attorney Ben Katz, 28, said following the race.
His firm raised more than $2,600 for the American Heart Association.
"In the legal community you hear a lot about people who have heart disease," Jones Day's Owen Conroy, 30, said. "It's just nice to show support."
The backs of Krooth & Altman's bright yellow team shirts read "Run to remember, Run to Prevent," an ode to the event's well-being message.
"A lot of us have had family members or friends we've lost to heart disease," paralegal Kelly Behr said.
The grandfather of Jonathan Singer, 29, of O'Melveny & Myers had a stroke, and building awareness for that was important to him.
"We want to serve the community in a legal capacity, but also give back," Singer said, adding he ran his first ever road race Saturday, finish the 5k in 32:06.
His team had about twice as many people run this year with about 32 runners.
Many area attorneys run merely for the camaraderie.
"We've done this four years now, and every year have doubled in sized," Paul Brinkman of Quinn Emanuel said.
Lawyers competed in teams of based on law firm size and practice type. Individuals competed for awards based on time in categories such as private practice, corporate lawyer, government lawyer, non-lawyer legal professional, paralegal, law student, and summer associate.
[button-red url="http://results.bazumedia.com/event/results/event/event-4393″ target="_self" position="left"] Results [/button-red]
0
Comments