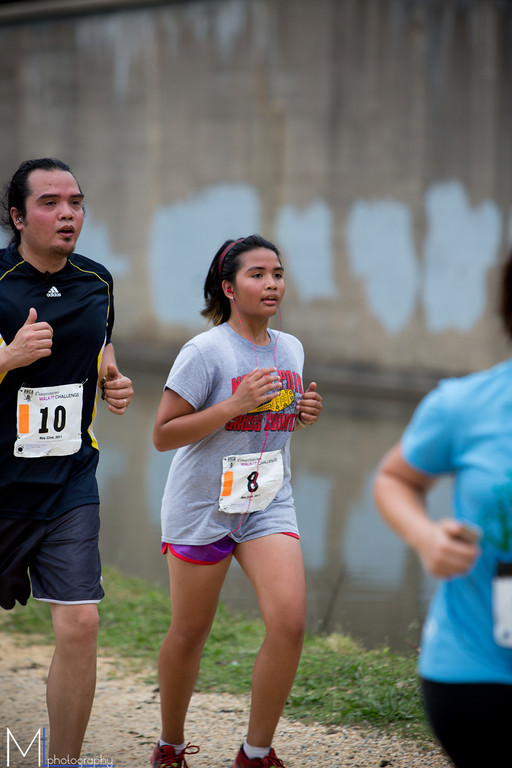 The Plank family spent most of Father's Day exploring Georgetown, kicking off a two-week vacation in Washington, D.C. Come evening, they were with more than 300 runners charging out and back on the C&O Canal Towpath for the fourth annual Father's Day 8k."I just grew up running. We all went on runs together," said Povi Plank, 13, of Flagstaff, Ariz., who was joined in the race by her father, Gary, and her younger sister, Sayti. [button-red url="http://www.safetyandhealthfoundation.org/20130616.html" target="_self" position="left"] Results [/button-red]
It was Povi and Sayti's first 8k.  And while Povi won her age group in 38:15, Gary, 56, was the top master in 30:05, making the duo the top father-daughter team.
Gary Plank, by the way, owns the second-fastest 1500 meter this year for his age group.
"4:34," Povi said proudly. "And that was just two weeks ago."
The top father-son team, Matthew and Dan Wittendorf of Alexandria, Va., started off with Matthew finishing second in his age group.
Meanwhile, another father-daughter team, Jeff Bernstein, 53, of Silver Spring, and
Julie Bernstein, 24, of D.C., typically run together three or four times a year. When it comes to racing, Jeff prefers 5Ks, while Julia has run half marathons.
"She can run further, so I bring her here to do an 8K," Jeff joked in the finish line area, where families-slash-sweaty runners reunited for cupcakes and checked out the Men's Health Network stand.
Running her third Father's Day 8K, Paula Fergusson, 56, of Vienna, Va., won her age group in 53:44. Her daughter, Elena, who runs cross country for Langley High School, finished in 49:07. Dad, though injured, was there to cheer them on, and for family dinner at Chadwicks, which hosted the awards ceremony.
Andrew Morton, 44, and his son Ari, who won the 9-and-under age group in 43:41, ran every step of the way together, just as they always do.
And for the Arya family, the Father's Day 8k was something of a reunion. Sisters Monisha and Anita and their father Suresh used to run a lot of local races together.  But Monisha now lives in Houston, while Anita lives in Las Vegas.
"It's a nice tradition to run on Father's Day with our father, so we both flew in," Monisha said.
Anita added: "We start together, end up separate, then we always go back for everybody."
Ryan Witters, 24, of D.C. and Claire Hallissey, 30, of Arlington, both defended their titles.  Witters clocked 25:47, while Hallissey's time of 28:15 was good for fourth overall.
Scott Anderson, 39, of D.C. was 2nd in 27:16, with Brian McMahon, 30, of D.C. taking 3rd in 27:37.
GRC's Avril Ogrodnick, 26, of D.C. was second female in 30:32. Arielle Elyse Davanzo, 23, of D.C. was 3rd in 33:48.
For Witters, one of GRC's top runners, Father's Day 8K was, on one hand, the last race of a long spring track season in which he lowered his 5K personal best to 14:31.  On the other, it's his way of remembering his father, who died when Witters was 13.
It was a humid night, and Witters suffered from it. Having his teammate Sebi Devlin–Foltz on the lead bike helped keep him focused, he said. When chills set in, he intentionally slowed down a bit.
"This is a way to really pay tribute," Witters said. "Even though it is the end of the season and I am ready to take a break, I can always muster something up for this race just because it means so much to me."
Count on him to return in 2014 and go for a three-peat.
0
Comments
Starting off the New Year on the right foot has become a tradition of many at the Leesburg Rotary Resolution 10k and 4k.
The course, described as challenging by winners Alex Hetherington and Peggy Yetman, starts at Ida Lee Park and runs through [button-red url="http://www.amazingracetiming.com/results/2013/rehau-rotary-resolution-10k-and-4k/165-results-10k.html" target="_self" position="left"] Results [/button-red]Historic Morven Park. The recent snow created a damp, muddy cross country type course for the 700 or so runners in both races.
Yetman, who won the Ringing in Hope 5k the day before was one of many runners who chose to race both on the last day of 2012 and also the first of 2013. She has been taking time off from serious training, but is racing anyway. Ending her 2012 season with an Ironman in October, Yetman hasn't run more than eight miles. Though she was pleased with her time of 38:44, she knew the course slowed her down. Once she knew had clinched the women's victory, she started to chase down some of the men to see how high she could finish overall. She was less than two minutes behind the overall winner Alex  Hetherington.
Hetherington, a Vienna resident and a father of four thought "the course was great – very challenging."
Having also run the day before at the Fairfax Four Miler, he said his time was on par for what he has been running lately.
"At my age the goal is to stay the same pace, I don't want to slow down, but I know I'm not getting any faster," he said.
His resolution for the New Year is to, "be more patient with my kids. Things can get a little crazy with four kids that include 11 year old triplet boys. Running is my chance to be alone doing something I love." The late start time was a draw for him as well as the lure of coming to Leesburg for the first time. "I'd definitely run this race again."
Carol Shuford, of Alexandria, and her friend Gina Welc both ran the Fairfax Four Miler the night before, but really wanted to start a new tradition of starting off the first day of the year by doing something healthy. Both women are Ironman finishers and will be training for Ironman Wisconsin in 2013. When asked why they chose to run the Leesburg race, "Because we can. It also keeps us out of trouble." Carol who raced the Rotary Resolution Race for the eighth time loves the race because it is low key and the terrain is unique from other local races. The pair of friends will be back in 2014 for the 17th running of the race.
For the Ashworth family the race was truly a family affair. Gary and Kim, parents' to 11-year-old twins Hannah and Jakoblove doing races together. Kim and Hannah chose the 4k, while Gary and Jakob ran the 10k. Leesburg locals, they chose this race because they wanted to "start the New Year off right and stay fit together as a family."
On course Kim, was seen cheering for her son and husband after her race was over. Running together is not the only family tradition this foursome has. They individually come up with their resolutions for the year and share them with each other before dinner that night. Not wanting to ruin their tradition they kept their goals and resolutions for the upcoming year closely guarded.
As the sound of the guitar echoed in the gym, runners like Paula Fergusson laughed when asked what her resolutions were for 2013.
"Hold on, let me think, I know I have one," she said. "Complete another half marathon!"
Was this a last minute goal or one she had in mind before? One can't be sure, but maybe sharing her goal, will help her achieve it in 2013. Fergusson's husband Ernie ran his first 10K. What better way to ring in the New Year than by accomplishing a goal in the first 12 hours.
Race Co-Director Carole Maloney wants to grow the race in 2014. The race raises money for eight different charities each year raised over $20,000. Unique to this year's race was every participant being toasted with sparkling cider as they entered the Ida Lee Gym after the race.
"We really pay attention to the small details and make this race one that participants want to return to year after year," she said. "Vie De France donated all the cookie dough for our post-race cookies and a gentleman in our Rotary Club baked them fresh New Year's Eve!"
The music, provided by Dave Berry, added to the hometown feel of the race and created an atmosphere of joy as runners shared their running dreams and goals for 2013. Berry, a former local, who started providing the race entertainment in 2004, drives up from South Carolina every year because of the numerous requests from participants.
"Overall we want to create an experience runners won't soon forget," he said.
0
Comments