To pin a label on George Banker, you'd have to get him to slow down first.
He's a runner, an organizer, a historian, a photographer, a speaker, a joker, a mentor, a problem solver, and whatever else anyone needs him to be.
But as Oct. 26 approaches, Banker is first and foremost a marathoner. The 64-year-old will run his 30th Marine Corps Marathon, and his hundredth marathon, overall.
"Is it a passion? Yes, it is," he said. "If you want something bad enough, you will do whatever it takes to get it done."
You've seen him: tall, a lean runner's build, short hair, notepad in hand and camera around his neck.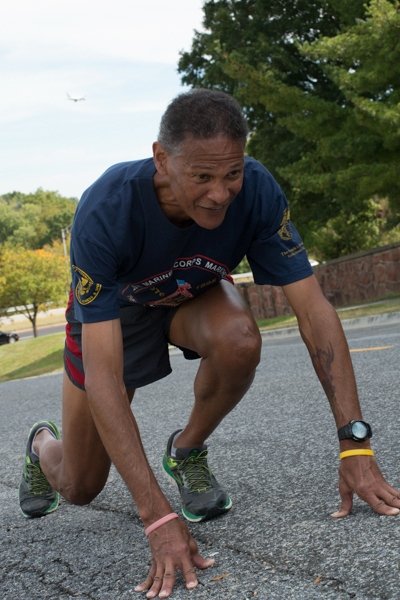 He grew up on the Quantico Marine Corps, the son of two Marines and the stepson of another. He went on to serve 20 years as a tech sergeant in the U.S. Air Force, eight in active duty from 1969 to 1977, which included service in Vietnam. While spending 12 years in the Air National Guard based in Washington, D.C., he studied accounting at George Washington University, began working for IBM. He worked at IBM for 25 years, while raising children Ronald, Yvette and Dre with his wife, Bernadette. They've been married for 43 years.
Banker's military upbringing and career shaped his outlook. "There is just a bond that the military has that is very difficult to duplicate in civilian life," he said.
His name is synonymous with the area's military-sponsored races. His job as operations manager for the Army Ten-Miler "pays the bills," but he also serves as the MCM historian and in an unofficial capacity on the board of many other local D.C. races, including the Navy-Air Force Half Marathon, the George Washington Parkway Classic and the Lawyers Have Heart 10k.
At other races, he works as an announcer and provides general support and troubleshooting to race directors.
Martha Merz, an elite masters runner and Navy spouse who has lived in the D.C. area on an off for the past 25 years, has known George since she began racing here after college. "He is the professional behind the scenes at so many races, getting things done and ensuring that race organizers understand runners and all the intricate details that go into a quality event," she said.
Writing race recaps for the Rock Creek Running Club in 1984 gave him his start in running journalism and he was hooked when he saw his byline in Runner's Gazette. For the next decade, Banker covered about 60 races per year, sometimes running in them, too. He followed the lead of Jim Hage and Steve Nearman, then developed his own style, becoming a race reporter for the masses.
"I would talk to anyone and everyone – front, middle, and back of the pack," he said. "Every race has a soul. But it takes the right person to write about it."
Documenting MCM's history, from its debut back in 1976, was one of his passions.
Those Runner's Gazettes, along with seemingly every other running artifact he has collected, are neatly filed in boxes that basically insulate the basement of his home in Fort Washington, Md.
"I'm an organized pack rat," he said. "When I die, there's going to be a U-Haul in the funeral procession, behind the hearse."
Those records helped Banker assemble The Marine Corps Marathon: A Running Tradition, published in 2008.
"This book was a labor of love, an ego trip," he said. "I wanted my name on the front cover and my picture on the back. I don't track sales; I don't go buy a truckload of books and park out by the Metro."
But writing the book was important to him, for the simple reason that he is the only one with as much knowledge on the history of the "people's marathon."
"He is the people," said MCM race director Rick Nealis. "I can't think of another individual in the D.C. area who does what he does for the sport of running. And from a historian's standpoint, he's been invaluable."
Nealis appreciates that Banker has been able to cross "party lines" by being a uniting force among race directors, race organizations and sponsors… even different branches of the military. "He is the definition of 'joint,' or purple, as we call it [in the military]," Nealis said.
His ATM duties include the role of community outreach director. He also sees himself as an advocate for runners. "I'm looking out for that runner, because no one else is going to," he said. "I may be bumping heads with the race director on some of my decisions, but frankly speaking, that's my job."
He's not shy about getting an elite runner into a race to help boost the quality of the fields. "I look at this as a way to validate everything these elite runners have been doing," he said. "And I'm going to bring in some talent to race with them."
But Banker also welcomes talent to races for other reasons: the great stories that emerge. He seeks to tell not just the running story, but the personal side, too. He has learned that writing about what makes runners tick, and how they balance the running, the personal, and the family side of things, is what people want to read – not just race results.
Masters ace and Potomac River Running owner Ray Pugsley, who won the masters title at the 2013 ATM, said in September that Banker was urging him to defend his title, despite recent back surgery. Pugsley had recovered, but had not quite fully regained his fitness.
"He's relentless," Pugsley said.
Pugsley has known Banker for 20 years. He remembers seeing George at the finish line of every race with a smile on his face, hoping to interview the finishers.
"He knew our names, he knew about us, about races we had run, about who we were," he said. "And in turn, we started to get to know George — not just as a reporter, but as a friend."
Throughout his many dedicated years of service to the sport, Banker has managed to keep up his own racing. Running well before dawn has always been routine, given his schedule.
His fastest marathon is a 3:04:37, run in Houston in 1988. Nowadays, Banker is happy just to finish, injury-free.
He has targeted Marine Corps for number 100 for some time, but ice on the George Washington Birthday Marathon course, which forced its cancellation in February, meant he had to improvise and run the Elkton Trail Marathon in Maryland to catch up and stay on pace. It did not go well.
"It was one of those races where I had to tell myself to stop looking at my watch," he said. "I have some unfinished business there."
In addition to running his hundredth marathon at MCM, he also plans to run his seventh JFK 50 Mile on November 22. He wants the sweatshirt given to runners who have finished 10 JFKs.
Banker has been "the heart and soul of military-related running in the region for decades," said Race Director Mike Spinnler.
Banker has long been advised by Joe Lugiano of Cary, N.C.  Banker thinks of Lugiano as more than a coach, but someone who embodies what running means to him.
"He has been my coach back to IBM days and I have known him since I have been running," Banker said. "We all have that person who knows your body and what you can do. He trains [me] by using my confidence in my abilities."
In his own coaching, Banker takes a demanding yet realistic approach.
"I will get inside your head; I want you to make a commitment. Take a look at your schedule. How much time do you have to devote? That's how much time you give. You need to get out of it what you want."
Local runner Elyse Braner met Banker several years ago. "He took me under his wing and quickly became of my most important mentors and role models," she said. "Many others can say the same of George. His commitment to volunteerism and the community is nearly unequaled.  On top of all of this, he finds the time to train for marathons and ultra-marathons. I only hope that one day I can have even a fraction of the impact on the community that George has had."
Chief Running Officer of Runner's World Bart Yasso first met Banker at a convention nearly three decades ago.
He described Banker as a "dear friend," and as someone who does a "bundle of everything for the sport." Yasso was particularly impressed, though, by Banker's efforts to promote diversity in running.
"He had so much insight on the future of the sport … and he's really had an impact in that way," he said.
5
Comments
By James Moreland
Arlington, VA
September 25, 2011
For the Washington Running Report
Wounded Warriors led the way at the 8th Navy 5 Mile.
In its eighth year the race was on pace for a big boost over last year's 1936 finishers. There were nearly 3,000 racers signed up. After being unmercifully dry in the summer, the last month has been swimmingly wet. One of the volunteers noted before the race, "The dew point and the temperature are the same. I don't envy you racing today." We had been promised rain all weekend and both mornings were essentially dry. It was going to be great to race!
Just after the racers lined up behind the ChronoTrack mats, the region's godfather of running, George Banker, announced the color guard. They marched up in dress whites and we proudly listened to our National Anthem. As in past years there was an early start for our Wounded Warriors. That field was not as large as last year but they were even more enthusiastic. The bell was rung and they were off. Three minutes later the rest of the massive field raced east along the channel for the fast first mile.
The field included many younger runners, perhaps more than most of the other local races. (It should be noted that the oldest age group did change this year from 60-99 to 70-99. If you build them a division they will come.) Also in an increasingly common manner, there were more women than men among the finishers. Enthusiasm got the best of many of the runners. By the time the field wrapped back on itself at 1,000 meters some of the runners were finding their feet as heavy as the moisture in the air.P
In last year's event Paul Hill, 21, of Annapolis, MD had a wonderful 27:43 to finish second overall behind Omari Daughtridge's 26:55. This year Hill had plans to run that winning time. He almost made it improving to 26:57, again coming up one place short of victory. It was just the ninth time a runner had broken 27:00. The event record was set in 2008 at 26:22 when the race was run in West Potomac Park. Rest assured that the half mile behemoth of a hill in the fourth mile cost race winner (left) Patrick Fernandez, 24, of Alexandria, VA (26:23) the event record. He does have the course record of course. Chas Ballew was third in a fine 27:51.
For the women, only once has the winner broken 31:00, when Martha Merz raced 30:39 in 2006. The next year Ofelia Perotti, 51, became the oldest winner.
Only one other time has the winner broken 32:00 when Makely Lyon crossed first in 2009 with 31:54. She was runner-up last year in 32:35.
This year she was absent so Christine Rehwald (below right) stepped up and finished the race in front of 1000 women. Her time of 32:12 was one of the top five fastest times, the second best of the new course. The next two racers were spaced out with Anna Bernal arriving second in 32:48, followed by Margaret Smith in 33:22.
The generous masters division went to the top three finishers. John Zimmerman reprised his 2010 win (30:25) with a much improved 29:00. That is even more impressive considering the much better racing weather last year. Last year both second place masters were in their fifties. This year Toby Warden won for the women. Second place Kris Barner, 46, of Rockville, MD is no stranger to masters wins. The day before she was tops at the Kensington 8K. That course's topography is amazingly like the Navy's, with a killer decelerator just past 3 miles.
All during the event there was a great band playing for the runners' enjoyment. It did seem to feature songs from an era favoring us older runners. Yes! There were water stops but Jack and Jill had to go up that hill to get a cup of water. Better still was to hydrate before and hope for the best. After the race, I was asked if maybe I should have worn some clothes with better wicking capability. After catching our breath, George Banker's loudspeaker asked, "If you are still smiling, then maybe you still have something left." Just turn and walk away; head over to the refreshments which included bottled water, fresh fruit, and the best muffins a race could have. At least the first three were.
Next year the weather will be cooler and the numbers will probably grow 50%.
The first two finishers go for the tie.
  1  2003 Patrick Fernandez      24 Alexandria VA         26:23 
    2  2603 Paul Hill              21 Annapolis MD          26:57 
    3   183 Chas Ballew            27 Washington DC         27:51 

                                FEMALE OPEN
    1  2585 Christine Rehwald      31 Arlington VA          32:12 
    2  2820 Anna Bernal            23 Quantico VA           32:48 
    3   437 Margaret Smith         31 Fort Belvoir VA       33:22 

                               MALE MASTERS
    1  1842 John Zimmerman         45 McLean VA             29:00 
    2  1845 Doug Perry             44 Alexandria VA         31:08 
    3  2326 Warren Djuric          49 Springfield VA        31:41 

                              FEMALE MASTERS
    1  2776 Toby Warden            44 Alexandria VA         36:42 
    2  2911 Kris Barner            46 Rockville MD          37:22 
    3  1052 Kimberly Person        46 Arlington VA          37:38 

                              MALE WHEELCHAIR
    1    10 Robert MacKey          48 Rockville MD          20:34 
    2    14 David Neumer           48 Rockville MD          20:34 

                             FEMALE WHEELCHAIR
    1  1648 Barbara Bowling        47 Vienna VA             33:36 

                         MALE AGE GROUP:  01 - 14
    1   940 Samuel Garner          11 Odenton MD            40:21 
    2   678 Zachary Sims           12 Owings MD             44:42 
    3  2208 Alexander Lee          12 Montclair VA          45:44 

                        FEMALE AGE GROUP:  01 - 14
    1  2198 Hunter Hullinger       11 Lorton VA             51:45 
    2  1712 Erykah Skinner         13 Great Mills MD        52:39 
    3   654 Gail Muggill           13 Arlington VA          53:56 

                         MALE AGE GROUP:  15 - 19
    1  2008 Shyheim Council        16 Germantown MD         36:37 
    2  2926 Dylan Houle            19 Washington DC         37:14 
    3   719 Michael Grieg          16 Arlington VA          39:19 

                        FEMALE AGE GROUP:  15 - 19
    1  2611 Jackie Chimiak         19 Annapolis MD          36:28 
    2  2612 Margaret Gilroy        19 Annapolis MD          39:05 
    3   172 Elena Alicea           16 Alexandria VA         42:16 

                         MALE AGE GROUP:  20 - 24
    1  2606 Brian Real             21 Annapolis MD          29:15 
    2  2602 Michael Haydell        21 East Jordan MI        29:30 
    3  2604 Mathew McIntyre        21 Annapolis MD          30:14 

                        FEMALE AGE GROUP:  20 - 24
    1  2610 Kimberly Bernardy      21 Highland CA           36:07 
    2     6 Theresa Funk           23 Rockville MD          37:06 
    3  2613 Whitney Irby           21 Annapolis MD          37:15 

                         MALE AGE GROUP:  25 - 29
    1  2930 Dwayne Rax             29 Washington DC         29:24 
    2  2901 Nicholas Brown         29 Arlington VA          32:00 
    3  2103 Brian Klesh            27 Arlington VA          32:47 

                        FEMALE AGE GROUP:  25 - 29
    1   577 Jessica Schwartz       25 Arlington VA          35:52 
    2  2862 Christine Monahan      25 Washington DC         35:59 
    3  2505 Colleen Mothander      29 Alexandria VA         36:08 

                         MALE AGE GROUP:  30 - 34
    1    21 Matthew Aberant        31 Vienna VA             30:42 
    2  2001 Scott McCann           30 Alexandria VA         30:47 
    3  2681 Kevin Hanson           31 Anacostia Annex DC    32:08 

                        FEMALE AGE GROUP:  30 - 34
    1  2871 Emily Reuter           31 Arlington VA          35:27 
    2  1576 Amanda Urquhart        32 Columbia MD           36:20 
    3   933 Susan Park             34 Washington DC         37:47 

                         MALE AGE GROUP:  35 - 39
    1  1342 Brian Heidt            35 Silver Spring MD      29:59 
    2  2609 Nathan Nudelman        35 Annapolis MD          30:07 
    3  2927 Brian Beary            35 Washington DC         30:20 

                        FEMALE AGE GROUP:  35 - 39
    1   448 Heather Barackman      36 Arlington VA          36:18 
    2  2312 Lauren Glaze           35 Baltimore MD          37:14 
    3  2054 Angel Boord            39 Washington DC         37:30 

                         MALE AGE GROUP:  40 - 44
    1  2729 Bryan McEnaney         42 Springfield VA        32:09 
    2  2734 Brett Surbey           43 Fairfax VA            32:17 
    3   811 Andres Rodriguez       40 Arlington VA          33:45 

                        FEMALE AGE GROUP:  40 - 44
    1   535 Jen Norris             40 McLean VA             37:39 
    2  1599 Yuki Riley             42 Bolling Afb DC        38:23 
    3  1876 Marie Godwin           41 Broadlands VA         41:02 

                         MALE AGE GROUP:  45 - 49
    1  1945 Kennie Edwards         45 Baltimore MD          32:36 
    2  1132 James Beckett          48 Fairfax VA            33:48 
    3  2141 Bob Rote               49 Geneva IL             35:39 

                        FEMALE AGE GROUP:  45 - 49
    1   532 Mary Bowman            46 Silver Spring MD      39:16 
    2  1424 Mery-Angela Katson     47 San Antonio TX        39:19 
    3  2918 Denise Coutlakis       47 Arlington VA          40:03 

                         MALE AGE GROUP:  50 - 54
    1  2026 Steven Desantis        50 California MD         32:41 
    2  1844 David Johnson          50 Burke VA              32:43 
    3   445 Kevin Fitzgerald       53 Washington DC         34:25 

                        FEMALE AGE GROUP:  50 - 54
    1  2079 Kathie Watson          52 Alexandria VA         39:05 
    2    65 Donna Hoffmeier        52 Arlington VA          41:48 
    3  2902 Marcia Hackney         50 Bowie MD              42:42 

                         MALE AGE GROUP:  55 - 59
    1  2554 Pete Scala             59 Fairfax VA            36:11 
    2  1760 Glenn Clemmons         59 Herndon VA            36:58 
    3  1409 James Riordan          57 Fredericksburg VA     37:44 

                        FEMALE AGE GROUP:  55 - 59
    1    61 Ray Nan Berry          55 Arlington VA          41:33 
    2   767 Ann Crane              57 Falls Church VA       43:43 
    3   684 Grace Rascati          55 Alexandria VA         43:52 

                         MALE AGE GROUP:  60 - 64
    1   814 Robert Taylor          61 Alexandria VA         38:52 
    2  1170 Mark Franken           60 Germantown MD         39:21 
    3  2422 David Weddel           61 Woodbridge VA         41:46 

                        FEMALE AGE GROUP:  60 - 64
    1  1229 Rita Jensen            62 Alexandria VA         51:24 
    2  2887 Jaine Summers          61 Annandale VA          53:08 
    3  1387 Susan Sweatt           60 Aldie VA              57:39 

                         MALE AGE GROUP:  65 - 69
    1  2906 Michael Golash         68 Washington DC         41:08 
    2  1979 Chuck Lascano          68 Charlottesville VA    49:49 
    3  2621 John Potts             65 New Orleans LA        50:43 

                        FEMALE AGE GROUP:  65 - 69
    1   228 Stephanie Stoll Dalton 67 Washington DC         60:25 
    2   338 Patricia Byrne         65 Falls Church VA       71:11 
    3   615 Rhoda Harpe            67 Alexandria VA         79:48 

                         MALE AGE GROUP:  70 - 99
    1   993 Albert Vanocker        73 Waldorf MD            74:48 
    2  1865 Charles Hurley         71 Burke VA              79:28 

                        FEMALE AGE GROUP:  70 - 99
Runners head past the starting line, also the 2K point in the race.
0
Comments
49th Washington's Birthday Marathon Will Have to Wait for 2011
By George Banker Arlington, VA January 21, 2010 For the Washington Running Report
We regret to announce that the 2010 George Washington Birthday Marathon has been  canceled.  The Race Directors are in the process of working out a refund  strategy and will communicate soon with all registered entrants.  Entrants may  contact the Race Directors at [email protected]
"This was my first time running this course. My decision to do it was a combination of the fact that in the last year or so I have switched my focus to running marathons and I live in Hyattsville, MD, which is almost next door, so I think of it as home turf. It's really an interesting setting for a marathon, with Greenbelt's unique history and vibe, the Agriculture research complex, and the momentarily disconnecting firing ranges that are audible from the course. It's intriguing to be part of this smaller marathon that's been around for so long. I hope it continues," stated 2008 winner Christopher Hamley (2:42:15).
On Sunday, February 14, 2010 (Canceled) the DC Road Runner's Club will host the 49th Washington's Birthday Marathon (WBM) and the 22nd three-person relay. The race is located in Greenbelt, Maryland on the grounds of US Department of Agriculture (USDA), National Agriculture Research  Center. This is the race your mother warned you about. The event does not offer the crowds of the Marine Corps Marathon or New York but you will find the hospitality and the small crowd flavor where runners are taken care of. You can be prepared for 18 hills and three loops with the excitement of a hill at mile 25. The race is a prime trainer for the Boston Marathon.
The USATF certified course has the three lops which run counter clockwise with a distance of 9.7 miles, 7.3 miles and the last 9.2 miles. The both events start at 10:30 a.m. and the common exchange point for the relay is the USDA  Visitor Center. There are course marshals at key intersections and fluid replenishment stations along the course. The strategy is to take advantage of the flat sections of the course and use moderation to negotiate the hills. The first loop is the confidence builder. The runners who respect the hills always finish strong. The course is ideal for training as it will point out your weak points and your ability to change your movements between flat and hill running.
The registration fees are $35 for the marathon and $48 for the three-person relay teams (Postmark February 4, 2010).  Race day registration is $40 (marathon) and $60 (team). On-line registration located at www.dcroadrunners.org.
Packet pick up and late registration will be at the Greenbelt Holiday Inn, Saturday, February 27, 2010, 5:00 p.m. – 8:00 p.m. Race day pick up will be 8:30 a.m. – 10:00 a.m. at the Greenbelt Youth Center (90 Centerway, Greenbelt, MD 20770). The start line is a five minute walk.
The host hotel is the Greenbelt Holiday Inn, 7200 Hanover Drive,  Greenbelt, MD 20770 (301-982-7000). Rates are guaranteed through February 2, 2010 and request the marathon rate.
To break the event records for the marathon will require a strong desire and determination:
Hamley adds, "For me, the three loop course is very psychologically helpful, it divides the race into distinct manageable sizes, helps with pacing and being cautious about the hills. I had driven and run the course once before, but still didn't have a sense of how hard it would be in a race. I had run a ½ marathon two weeks  before and then made sure to be really well rested, fed and hydrated…so the hills just  didn't seem too bad and I was surprised (and quite happy!) to still feel strong going up  them in the terrible 20's. I didn't take that for granted. I was hoping to finish somewhere between 2:40 and 2:45, and that's what happened. For a bit of wind, the weather was almost perfect. I like the course and its hills too."
"I am so honored to be first master woman. It was my first time running the race. I didn't know it had 18 hills. I do run in the mountains when I go back to Japan, where we have many serious hills. It is not because I was awarded, but I would strongly recommend this race to anyone if they don't mind the unpredictable weather. It was really challenging course and super well organized. I truly enjoyed the course and the people. If I will run the race again, I will train for hills more, so that I feel more comfortable dealing with it," stated Yoshiko Jo of Swarthmore, PA, 2008 master winner with a time of 3:37:30 (13th fastest winning time).
"This is my first DNF. I selected this race because I needed a training run and thought it would be good. I didn't know the difficulty of the course. That hill at the end is just not even funny! What's up with that? Oh, it was brutal to even walk up it and I train on hills in Frederick. I did learn a lot from the race as I need to pace myself better. I also learned that the last .2 miles of any marathon, whether I run the whole thing or not, is going to be the longest .2 of my life LOL," stated Jennifer Sheriff of Ijamsville, MD.
There are five division for the three-person relay, open men and women, master men and women, and coed.
Marathon runners are permitted to run on a relay team but they must run the first leg. A relay runner can only run one leg. The relay offers a good workout and the distances are 9.7 miles, 7.3 miles, and 9.2 miles.
Volunteers are an integral part of the race and on race day they are needed to serve as course marshals and to assist at the water stops. If you are not able to run your support is appreciated or passes the information along to others. The point of contact is Pat Brown or 703-576-5765.
Full race details and registration located www.dcroadrunners.org.
Author George Banker will be there for his 77th carreer marathon. In the brightroom.com photo below, he is seen taking an even longer trip through the woods at the JFK 50 Mile. This 2006 photo is the start of four straight years.
0
Comments