To pin a label on George Banker, you'd have to get him to slow down first.
He's a runner, an organizer, a historian, a photographer, a speaker, a joker, a mentor, a problem solver, and whatever else anyone needs him to be.
But as Oct. 26 approaches, Banker is first and foremost a marathoner. The 64-year-old will run his 30th Marine Corps Marathon, and his hundredth marathon, overall.
"Is it a passion? Yes, it is," he said. "If you want something bad enough, you will do whatever it takes to get it done."
You've seen him: tall, a lean runner's build, short hair, notepad in hand and camera around his neck.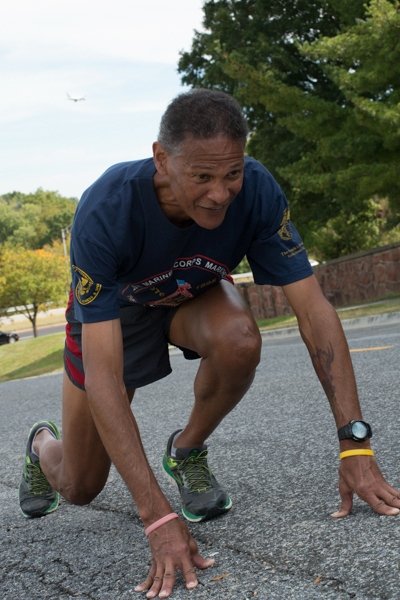 He grew up on the Quantico Marine Corps, the son of two Marines and the stepson of another. He went on to serve 20 years as a tech sergeant in the U.S. Air Force, eight in active duty from 1969 to 1977, which included service in Vietnam. While spending 12 years in the Air National Guard based in Washington, D.C., he studied accounting at George Washington University, began working for IBM. He worked at IBM for 25 years, while raising children Ronald, Yvette and Dre with his wife, Bernadette. They've been married for 43 years.
Banker's military upbringing and career shaped his outlook. "There is just a bond that the military has that is very difficult to duplicate in civilian life," he said.
His name is synonymous with the area's military-sponsored races. His job as operations manager for the Army Ten-Miler "pays the bills," but he also serves as the MCM historian and in an unofficial capacity on the board of many other local D.C. races, including the Navy-Air Force Half Marathon, the George Washington Parkway Classic and the Lawyers Have Heart 10k.
At other races, he works as an announcer and provides general support and troubleshooting to race directors.
Martha Merz, an elite masters runner and Navy spouse who has lived in the D.C. area on an off for the past 25 years, has known George since she began racing here after college. "He is the professional behind the scenes at so many races, getting things done and ensuring that race organizers understand runners and all the intricate details that go into a quality event," she said.
Writing race recaps for the Rock Creek Running Club in 1984 gave him his start in running journalism and he was hooked when he saw his byline in Runner's Gazette. For the next decade, Banker covered about 60 races per year, sometimes running in them, too. He followed the lead of Jim Hage and Steve Nearman, then developed his own style, becoming a race reporter for the masses.
"I would talk to anyone and everyone – front, middle, and back of the pack," he said. "Every race has a soul. But it takes the right person to write about it."
Documenting MCM's history, from its debut back in 1976, was one of his passions.
Those Runner's Gazettes, along with seemingly every other running artifact he has collected, are neatly filed in boxes that basically insulate the basement of his home in Fort Washington, Md.
"I'm an organized pack rat," he said. "When I die, there's going to be a U-Haul in the funeral procession, behind the hearse."
Those records helped Banker assemble The Marine Corps Marathon: A Running Tradition, published in 2008.
"This book was a labor of love, an ego trip," he said. "I wanted my name on the front cover and my picture on the back. I don't track sales; I don't go buy a truckload of books and park out by the Metro."
But writing the book was important to him, for the simple reason that he is the only one with as much knowledge on the history of the "people's marathon."
"He is the people," said MCM race director Rick Nealis. "I can't think of another individual in the D.C. area who does what he does for the sport of running. And from a historian's standpoint, he's been invaluable."
Nealis appreciates that Banker has been able to cross "party lines" by being a uniting force among race directors, race organizations and sponsors… even different branches of the military. "He is the definition of 'joint,' or purple, as we call it [in the military]," Nealis said.
His ATM duties include the role of community outreach director. He also sees himself as an advocate for runners. "I'm looking out for that runner, because no one else is going to," he said. "I may be bumping heads with the race director on some of my decisions, but frankly speaking, that's my job."
He's not shy about getting an elite runner into a race to help boost the quality of the fields. "I look at this as a way to validate everything these elite runners have been doing," he said. "And I'm going to bring in some talent to race with them."
But Banker also welcomes talent to races for other reasons: the great stories that emerge. He seeks to tell not just the running story, but the personal side, too. He has learned that writing about what makes runners tick, and how they balance the running, the personal, and the family side of things, is what people want to read – not just race results.
Masters ace and Potomac River Running owner Ray Pugsley, who won the masters title at the 2013 ATM, said in September that Banker was urging him to defend his title, despite recent back surgery. Pugsley had recovered, but had not quite fully regained his fitness.
"He's relentless," Pugsley said.
Pugsley has known Banker for 20 years. He remembers seeing George at the finish line of every race with a smile on his face, hoping to interview the finishers.
"He knew our names, he knew about us, about races we had run, about who we were," he said. "And in turn, we started to get to know George — not just as a reporter, but as a friend."
Throughout his many dedicated years of service to the sport, Banker has managed to keep up his own racing. Running well before dawn has always been routine, given his schedule.
His fastest marathon is a 3:04:37, run in Houston in 1988. Nowadays, Banker is happy just to finish, injury-free.
He has targeted Marine Corps for number 100 for some time, but ice on the George Washington Birthday Marathon course, which forced its cancellation in February, meant he had to improvise and run the Elkton Trail Marathon in Maryland to catch up and stay on pace. It did not go well.
"It was one of those races where I had to tell myself to stop looking at my watch," he said. "I have some unfinished business there."
In addition to running his hundredth marathon at MCM, he also plans to run his seventh JFK 50 Mile on November 22. He wants the sweatshirt given to runners who have finished 10 JFKs.
Banker has been "the heart and soul of military-related running in the region for decades," said Race Director Mike Spinnler.
Banker has long been advised by Joe Lugiano of Cary, N.C.  Banker thinks of Lugiano as more than a coach, but someone who embodies what running means to him.
"He has been my coach back to IBM days and I have known him since I have been running," Banker said. "We all have that person who knows your body and what you can do. He trains [me] by using my confidence in my abilities."
In his own coaching, Banker takes a demanding yet realistic approach.
"I will get inside your head; I want you to make a commitment. Take a look at your schedule. How much time do you have to devote? That's how much time you give. You need to get out of it what you want."
Local runner Elyse Braner met Banker several years ago. "He took me under his wing and quickly became of my most important mentors and role models," she said. "Many others can say the same of George. His commitment to volunteerism and the community is nearly unequaled.  On top of all of this, he finds the time to train for marathons and ultra-marathons. I only hope that one day I can have even a fraction of the impact on the community that George has had."
Chief Running Officer of Runner's World Bart Yasso first met Banker at a convention nearly three decades ago.
He described Banker as a "dear friend," and as someone who does a "bundle of everything for the sport." Yasso was particularly impressed, though, by Banker's efforts to promote diversity in running.
"He had so much insight on the future of the sport … and he's really had an impact in that way," he said.
Recent Stories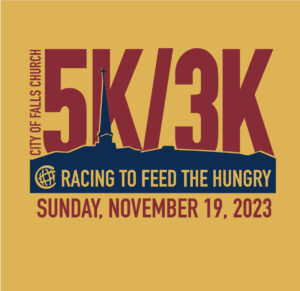 The out and back Falls Church City 5K/3K course is mostly flat on the W&OD Trail starting and finishing at 103 Columbia Street. Overall male and female winners earn free shoes and medals are awarded to all categories. Great family