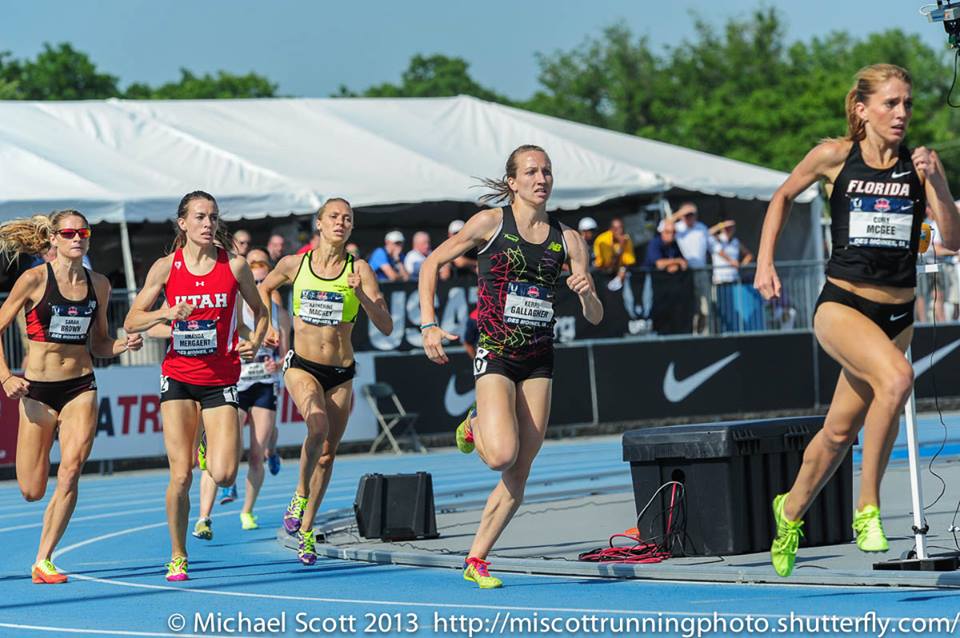 [button-red url="http://www.usatf.org/events/2013/USAOutdoorTFChampionships/results/track.aspx?EN=10&RN=2″ target="_self" position="left"] Results [/button-red][button-red url="http://www.youtube.com/watch?v=lhtFfdJyPgg" target="_self" position="left"] Watch the Race [/button-red][button-red url="http://mydigimag.rrd.com/publication/?i=154152&p=64″ target="_self" position="left"] More Info [/button-red]
Kerri Gallagher wanted to stay relaxed during her race, and as it turned out, that wasn't too hard.
The finals of the 1500 meter run at the USA Track and Field Championships went out at a crawl- 84 seconds for 400 meters and 2:40 for 800. Having run a personal record 4:12.58 two days earlier to qualify for the final, this felt more like an aggressive warmup to Gallagher, who lives in Chevy Chase, Md.
On a hot day in Des Moines, Iowa at Drake Stadium, the Pacers/New Balance runner didn't feel the temperature in the mid-90s was getting to her. She had raced on plenty of hot tracks as an undergrad at Fordham University, but never this kind of hot field, which included 2011 Diamond League champion Morgan Uceny, among others. Seven finalists had run more than four seconds faster this year than Gallagher had during her career.
"Nobody wanted to take the lead," Gallagher said afterward. "I've been in tactical races before and knew it would play to my strengths."
She would stay out of trouble and be ready to react, and she did just that, in the back of the pack. That is, until the bell lap approached. With a little more than 400 meters to go, she swung wide outside — in last place at that point — to move around and be ready for the long kick.
"Coach (Matt Centrowitz) told me I should make a gradual move, but the circumstance wasn't really right," she said. "I had to put myself in a position to compete, so that plan went out the window."
At the right time, too, because the whole 12-woman field was moving when the bell run.
"She was better than a New York City cab," Centrowitz remarked.
With 200 meters to go, the top five were pretty well shaken out- high school phenom Mary Cain trying to hold off 2004 Georgetown alumna Treniere Moser, with NCAA Championships runner-up Cory McGee in third and former world championships bronze medalist Shannon Rowbury in fourth, with Gallagher close behind. The only change over the last half of the lap was Moser edging out Cain for the win and her fourth U.S Outdoor title in 4:28.62. Two second back, Gallagher held her position to take fifth in 4:30.56.
"Coming into the meet, coach said I could probably finish between second and tenth, given how good the field was," Gallagher said. "I would have been happy with top six, but just making the final was amazing."
She hit the national qualifying mark with a 4:12:97 in Los Angeles at the Oxy High Performance Meet in May, then notched an 800 meter PR of 2:06.4 in New Jersey.
The door's still open on the rest of the season for Gallagher. She serves as an assistant track coach at American University.
0
Comments