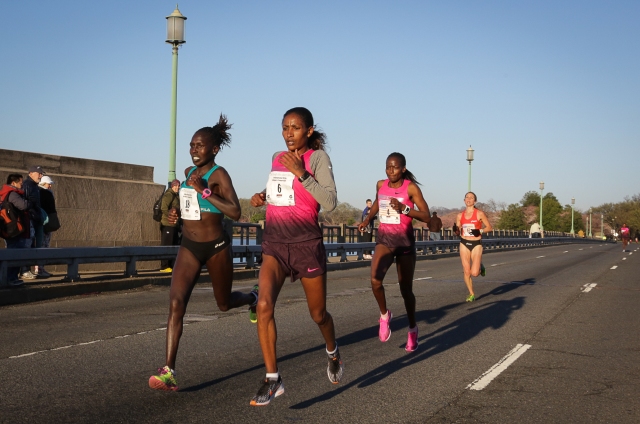 Janet Bawcom weighed her effort at the Cherry Blossom Ten Mile on going for the overall win and although she ran out of room to catch Ethiopian Mamitu Daska, she still came away with another national title and 52:12 finish that lopped 1:16 off the American Record she set last year, when she finished fourth.
[button-red url="http://www.runwashington.com/wp-content/uploads/2014/04/CB-2014.pdf" target="_self" position="left"] Results [/button-red]"I just wanted to run hard and be competitive in the race as long as I could. It worked out. Last year, I was alone on that straightaway from mile six to seven, running into the wind," she said. "This year, I told myself that no matter what I did, I couldn't be alone out there. If it meant hurting to catch up to someone else, it would be better than hurting on my own later. It's going to be the same amount of pain, so I might as well hurt more early and run faster."
Daska and Aliphine Tuliamuk–Bol would surge away when Bawcom would edge up to them, and Bawcom spent time catching up before the cycle would repeat. When Daska made a surged in the last mile, Bawcom tried to keep things going, but wasn't able to chase her down before Daska broke the tape in 52:05,for a seven-second margin.
Bawcom, along with second U.S. finisher Sara Hall, live in Flagstaff, Ariz. Hall, who has made much of her racing reputation on the track, had run a competitive half marathon and less-than competitive 15k, but felt adjusted to the 10 mile distance as she explores her longer-race options.
"I still plan to run on the track this year, as short as the mile, but I am eyeing the marathon in the near future," she said.
Having come back from training at 9,000 feet in Ethiopia, she "felt really strong down at sea level," she said. "I debated between running with the leaders or focusing on the U.S. race, but I decided to go for it and I'm glad I did."
Finishing in 52:54, she ran under the previous American record.
Hall encountered a lot of the surging that Bawcom did, and wound up on her own the last five miles.
"Not ideal when you're used to being on the track, but I'm getting better at it. Mentally, it can be easier because you're not running in circles. That, I enjoy."
Philadelphian Frances Koons ran what she called one her best races to finish as the third American.
She started as a miler in high school but is finding longer distances to her liking.
"I was injured a lot in 2012 and I spent a lot of last year getting back together, so this year I'm starting to see things coming back on track," she said. "I feel strong and I'm excited about running. I kept telling myself to think about 400 meters to go."
Susanna Sullivan of Falls Church finished fourth in the U.S. championship race and eighth overall, capping a stretch in which she ran what was at the time the fastest women's 8k time at the St. Patrick's Day 8k, qualified for the U.S. Olympic Marathon Trials at the Shamrock Half Marathon in Virginia Beach and finished second, to habitual D.C.-area racer Kellyn Johnson Taylor, at the Collegiate Running Association Championships in Richmond.
"It's been a lot to get a handle on," she said, after running 54:31 compared to last year's 58:41. "It's happened so fast, just a few weeks."
That improvement was part physiological development, part racing maturity.
"George (Buckheit, her coach) told me I just have to be brave and go for it," she said. "Last year I didn't, I played it safe."
She's looking forward to a few down weeks now.
Another local runner, Jen Bergman, had only been local for six days, having moved to Washington the prior Monday. Like Hall, she was making a transition to the roads, from her track background at the University of Arizona. She finished 25th in 57:13.
"Well, that was almost twice as long as I had raced before," she said. "It was nice and flat so I liked that. I haven't even been around long enough that I'd run down here yet, but I think I'm going to like living here."
U.S 10 Mile Championships (gun times)
1. Janet Bawcom         52:12
2. Sara Hall                    52:54
3. Frances Koons        54:30
4. Susanna Sullivan   54:31
5. Brianne Nelson       54:33
6. Jen Rhines                54:38
7. Heather Cappello  54:40
8. Meghan Peyton      54:42
9. Sara Slattery           54:14
10. Blake Russell        55:26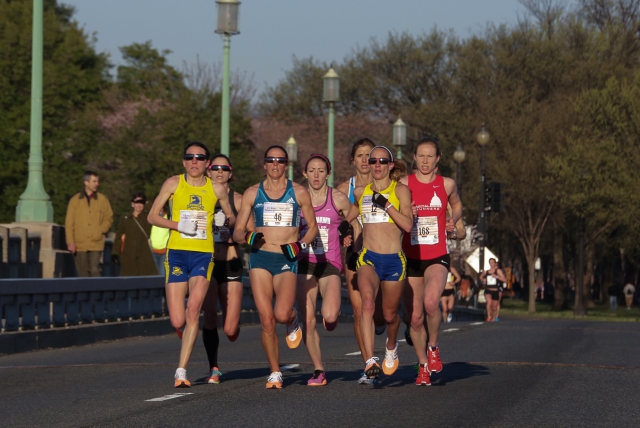 0
Comments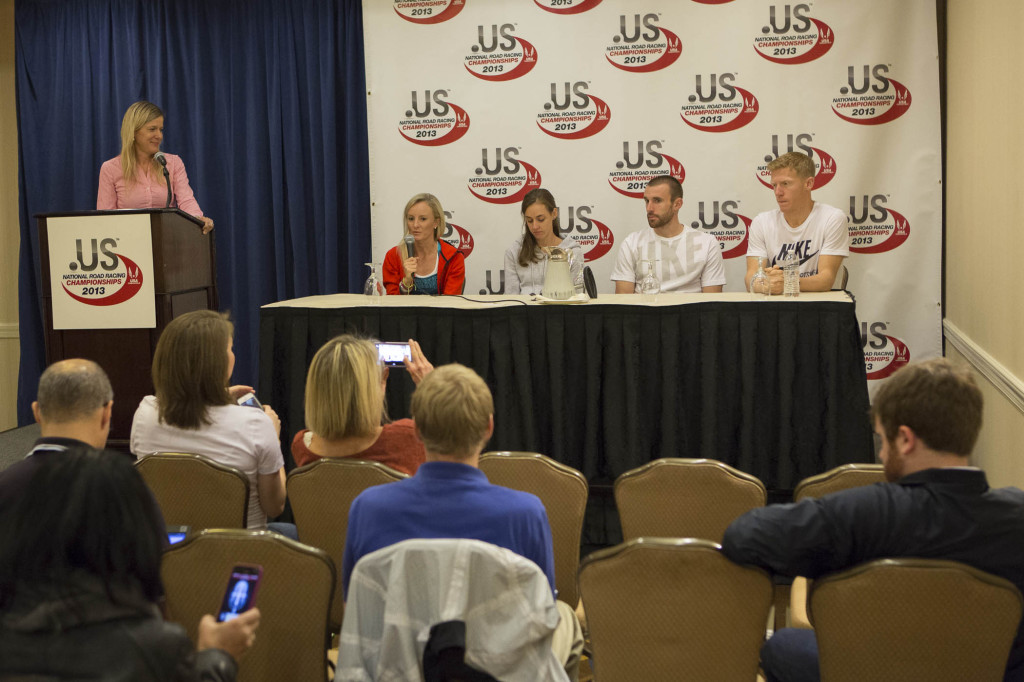 The 2013 USA Running Circuit (USARC) will culminate tomorrow morning on the streets of Alexandria, where some of America's best distance runners will compete for $100,000 in prize money, including $20,000 for the winners. The inaugural .US National Road Racing Championships – USA Track and Field's first wholly owned-and-operated road race – will take runners of all abilities on a 12k journey starting and finishing near Oronoco Bay Park, a spot local runners know well.
How it works: The road racing series includes national championships for races ranging from a mile to the marathon. The first 10 U.S. runners at each race earn points, with 15 points awarded for 1st, 12 for 2nd, and 10 for third. Tomorrow the top 10 finishers will earn triple points, which provides extra incentive for runners farther down on the leaderboard.
The top three on the men's side – Matt Tegenkamp (60 points), Shadrack Biwott (52), and Josphat Boit (50) – are entered. Among the top three women in the standings – Mattie Suver (47), Janet Bawcom (45), and Annie Bersagel (30) – only Bawcom is not entered.
As for tomorrow's favorites, keep an eye out for Shalane Flanagan (15) and Molly Huddle (15). On the men's side, Tegenkamp will be joined by training partner Chris Solinsky. Both fields are deep.
Brian Pilcher of Ross, Calif., and Kathryn Martin of Northport, N.Y., rank among the top entrants in the national masters championship.
Not Your Average Distance
Quick question for everyone running tomorrow: What's your 12k PR?
Exactly.
So how do you approach such an unfamiliar race distance?
Do you – as was suggested in a question to Huddle at a press conference this morning – race 10K and try to hang on for two more?
"More or less," said Huddle, who won the national 5k championships in September and the NYRR Dash to the Finish 5k two weeks ago (Flanagan was 3rd).
"This is pretty long for me," she said, "but I am excited to see what I can do over 12k and I think it is a pretty interesting distance for everyone else to try."
Asked to share his advice for taking on the 12k, Solinsky said to "find that comfortable rhythm that you are very confident you could do 10K or more at." If you feel good at halfway, go for it.
"Through the training," Tegenkamp said, "you have learned what you can handle in terms of pace." Late in the race, though, when things get tough, turn on the competitive switch. "That's what racing is all about," he said.
Flanagan won a national title this summer at 10,000 meters and went on to finish 8th in the world in Moscow. Tomorrow marks her debut at 12k.
"I am in the same boat as they are," said Flanagan, referring to the many runners who will race 12k for the first time tomorrow.
"It's a distance that I've never done. It's a brand new PR – so you have to just embrace it for the fun factor."
Flanagan's plan is similar to Tegenkamp's and Solinsky's: "I try to be smart the first half and then I switch over to being competitive – and that usually helps me pull out all the extra energy I have."
USATF spokesperson Jill Geer said 12k allows 5K specialists and marathoners to "compete on relatively even footing." But it's also a great distance for an event designed to celebrate both our sport's best runners and the many participants of all ages, levels of seriousness, and talent.
If you haven't run a 12k before, it's hard to cross the finish line, see the clock, and be disappointed. Take it from the first American to ever break 27 minutes for 10,000 meters.
"I've never run a 12k before so I know I'm going to get a PR tomorrow," Solinsky said.
Details
The women's championship race starts at 7:15 a.m. The men's championship, master's championship, and open race (also being referred to as the "community race") starts 10 minutes later. A 5k race starts at 7; a half-mile "Kids' Fun Run" starts at 9:30.
The 5K will include about 30 girls from the local Mount Vernon Woods Elementary School. The girls trained together for the race and Olympian Deena Kastor said she plans to meet them at the starting line for a pre-race pep talk. ("I think our greatest job as elite runners," she said at the press conference, "is to be able to inspire the Olympians of tomorrow.")
The race will be streamed live at USATF.TV.
RunWashington will cover both the men's and women's races.
0
Comments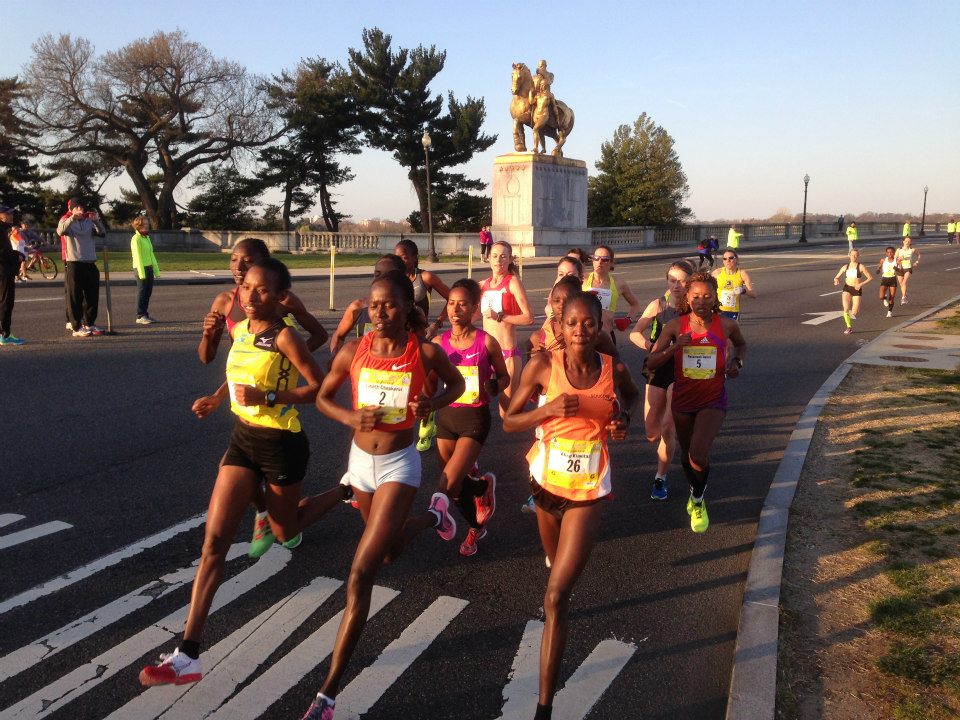 After a few years of calm, the wind was back for the Credit Union Cherry Blossom Ten Mile Run, but it didn't slow Janet Bawcom as she set an American record while winning her third consecutive USA Women's 10 Mile Championship.
The men, lead by Kenyans Daniel Salel with half-second victory over Allan Kiprono in 46:05 were off of Kiprono's winning 45:15 last year, but Kenyan Caroline Rotich (52:46) and her three-second lead over Ethopian Belaynesh Oljira broke a two-year tradition of the women's winner running 54:02.
0
Comments