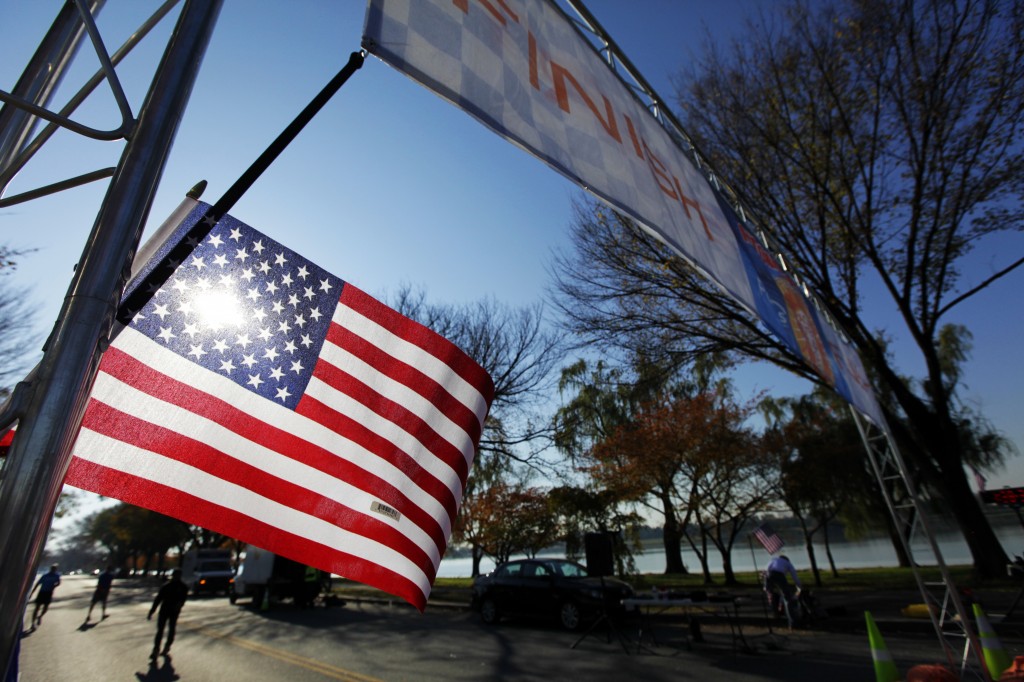 While racing the Veterans Day 10k last Sunday, runners felt a strange sensation as they rounded Hains Point — still air. It was a rare-enough occurrence that some may have wondered if they would later dine on a breakfast of dodo eggs and unicorn steak.
[button-red url="http://old.runwashington.com/veterans10k/race-history/event-records.htm" target="_self" position="left"] Results [/button-red]Just two weeks prior, runners dealt with four miles of variable winds as they rounded West Potomac Park, vulnerable to the breezes coming off the Potomac River in the middle of the Marine Corps Marathon. This morning, a pack of Pacers Racing Team members cruised along in the sun, exerting a measured effort that blew away last year's times.
Chris Kwiatkowski, a recent University of Oregon graduate in town to train under coach Matt Centrowitz, started to pull away after 5k on his way to a 29:47 victory.
In his first post-collegiate year, Kwiatkowski, of Chevy Chase, is trying to adjust to the lack of cross country racing to which he's become accustomed. The distance certainly isn't an issue for him, not with a 49:09 sixth place finish at the Army Ten Miler to his credit.
"I guess the closest thing to cross country is long races that force you to get strong," he said.
Columbia, Md. resident Joey Thompson edged last year's winner Frank DeVar to the finish line in just under 30 minutes, well ahead of his DeVar's 30:23 time then.
Kwiatkowski, DeVar, Jeff Brannigan, Matt Barressi and Kerri Gallagher led the Pacers New Balance team over the Georgetown Running Club, consisting of Jerry Greenlaw, Sam Luff, Ryan Witters, Alex Benway and Beth Young.
Canadian middle distance runner Carmen Hussar's family was in Washington for the weekend, which led her to the race. She's putting in high mileage between track seasons and the race fit comfortably into her schedule, as she won in 33:45 over Army Ten Miler champion Gallagher.
"I loved the course," Hussar said. "Running into the sun, the nice weather, and I had a good group to run with."
0
Comments