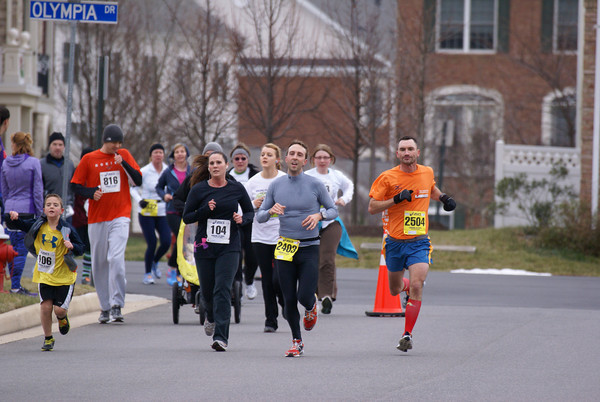 Catherine Mitchell bent down to remove the timing chip from her daughter's shoe at the Ringing in Hope 5k in Ashburn. She paused, stood up to face Emma.
[button-red url="http://prracing.racebx.com/files/results/4d9205ce-7a0c-46c1-8929-4f56c0a86522/50343fe8-8128-4689-bc5d-7633c0a8651f/ringing%20in%20hope%205k%20overall.htm" target="_self" position="left"] 5k Results [/button-red]Great job," she said. "I'm so proud of you," and hugged her daughter.
Catherine and her husband Lance are triathletes and Emma aspires to join them. Though she is adept at swimming, she hoped to improve her running and targeted the New Year's Eve race at Brambleton Town Center. At 10 years old, her goal was to break 30 minutes, which the trio, from Ashburn, did with 23 seconds to spare.
[button-red url="http://prracing.racebx.com/files/results/4d9205ce-7a0c-46c1-8929-4f56c0a86522/50343fe8-8128-4689-bc5d-7633c0a8651f/ringing%20in%20hope%2010k%20overall.htm" target="_self" position="left"] 10k Results [/button-red]
She beamed with pride when Catherine told her about her dramatic improvement over her practice runs.
"She broke 30 minutes 18 years before I did," Catherine said. The hometown race's 5k offered recent Brambleon transplant Karl Dusen a chance to race seriously for the first time since the USATF Half Marathon championships in Duluth, Minn. six months prior. He cleared the field within the first half mile and cruised to victory in 16:25 over Jim Nielson's 17:19, slightly ahead of Eric Sorenson five seconds later, who was led off the course.
It's been a busy few months for Dusen, who, since he last raced, turned 30, moved from Rockville, Md. and welcomed his second daughter with his wife Emily, who finished sixth in her first race back. Their daughter, Juliette, was on hand to, if not see her parents race, cheer for them, though that just as likely might have been crying.
"It was great to race out here," Dusen said. "I've been adjusting to training with the baby around, but we're getting a hang of it. Emily looked pretty good out there and we're just happy to represent Brambleton."
Women's winner Peggy Yetman, of Leesburg, was also shaking the rust off following a break after the world Ironman championships in Hawaii this past October, where she was top 10 in her age group.
"I had to start again sometime," she said. "He (her husband, Chris) pushed me out the door for this one,
if I was going to start up again I'd better just do it and stop worrying about it."
She exceeded her expectations of running 20 minutes when she finished in 18:28, nearly a minute and a half ahead of Columbia, Md.'s Tiffany Hevner (19:50). Reston's Lisa Johnston was third in 20:04.
The 10k started simultaneously with the 5k, which meant men's winner Andrew Ciarfalia had some company for the first half, but was left to his own devices as he ran off to a 34:39 win.
Springfield's Jeremy Lynch (35:08) and Ashburn's Kory Jessen (37:01) followed.
"I slowed down a bit in the second half," Ciarfalia said. "It got a little lonely and I just focused on catching 5k runners. It was fun, they cheered for me."
He'll be focusing on the Cherry Blossom Ten Mile Run, with the Reston Ten Miler along the way.
Melissa Saunders spent her 10k chasing down other runners, primarily D.C.'s Cris Burbach, whom she caught in the fifth mile.
"It was scarier when I passed her, because then she knew I was there and I was waiting for her to come back," Saunders said. "I knew she was gunning for me."
Saunders, of Potomac Falls, prevailed, 40:36 to 40:57, and both had a solid margin over Burke's Cathy Ross, who finished in 42:25.
Saunders ran the race for the third time, and found the flat course to be a dramatic improvement over the Charlotteville Fall Classic Half Marathon she won as a student at the University of Virginia.
"It seemed like we ran every hill in Charlottesville," she said. She is planning on the Shamrock Sportsfest Marathon in March in Virginia Beach.
The 5k gave Briar Woods High School runners Chris Schopper (18:21) and Brian Presler (19:20) a chance to check their fitness following their cross country season. Their team does not have an indoor track season, so they are just getting back into their workouts after their fall campaigns.
"It was a good benchmark," Presler said. "We're starting 2013 with a good idea of what we have to do to hit our goal times for track."
0
Comments
By James Moreland
Broadlands, VA
March 10, 2012
For the Washington Running Report
In its 20th year this popular 5 mile race upgraded yet again. First, they certified the course (over the years the race has started from a quite a few different sides of the course). The race has already been famous for its prolific random awards. This year the race expanded to five year age groups to make the age challenge even more fair. The food has always been fun with dozens of doughnuts and coffee to go along with the healthier apples and bananas. This year there were scores of commemorative cupcakes with eatable logos. Comparing the different types for taste was an enviable task.
Last year David Nightingale battled Karl Dusen for the title winning in 23:56. Dusen's 24:03 was solidly ahead of third place Gurmessa Megressa's 24:25. Last year the event was a week after the mammoth St. Patrick's Day 8K, which had been won by Demesse Tefera. Tefera started but dropped last year. This year Tefera battled New York's Teklu Deneke, pulling away in the final sixty meter down hill charge to finish in 24:55. Dusen finished third this year in 25:53, all alone with fourth place Charlie Ban arriving nearly two minutes later. The certified course was about 250 feet longer than last year but that hardly explains the slower times. The sunny day was cool with a more than just pleasant breeze. The top reason may be that tomorrow will be national class competition at the massive (7500 person) St. Patrick's Day 8K. Tefera will be there to defend his title.
On the women's side which has now become the larger of the two sexes in most races, the course saw seven runners more than a minute faster than last year's champion. Runner-up and former Runner Rankings champion Hirut Mandefro could not keep pace with Askale Merachi, a new face in town. Mandefro ran a very nice 29:02 but she was closely shadowed by two new faces, Anna Gosselin, 23, in 29:10 and Maura Carroll, 22, in 29:13. Merachi turned the final corner in seventh overall at 28:28. If the course had been a few meters longer she would have finished her rundown of sixth place man Bryan Young 28:26.
Peggy Yetman, 43 of Leesburg, VA was testing the waters again in her first race since surgery in December. Everyone in the field was amazed by her excellent 29:16, staying with the lead pack the whole way. She will tell you she was delighted with the race .She will thinking, "Another month of recovery and I could have one it all." One of her first races after she arrived from Texas was right here just five seconds short of the title in 29:01. Mandana Mortazavi, 48, (in photo) was the second master in 35:47.
After the race, there were lots of folks to thank for the race's continuous success and checks for Children's National Medical Center. The race won a special award to get an additional $75,000 to add to the already massive $106,000 they had gathered from the proceeds of the event.
Awards
FEMALE OVERALL
Place Num   Name                    Age City                  Time  
===== ===== ======================= === ===================== ===== 
    1     4 Askale Merachi           24 Washington DC         28:28 
    2   536 Hirut Mandefro           26 Washington DC         29:02 
    3   617 Anna Gosselin            23 Vienna VA             29:10 

MALE OVERALL
Place Num   Name                    Age City                  Time  
===== ===== ======================= === ===================== ===== 
    1     5 Teklu Deneke             32 New York NY           24:55 
    2     3 Demesse Tefera           29 Washington DC         25:00 
    3   615 Karl Dusen               29 Mt Airy MD            25:53 

FEMALE AGE GROUP: NET TIME 1 - 14
    1   556 Logan Cunningham         14 Ashburn VA            39:32 
    2   123 Campbell Brown           13 Herndon VA            44:21 

MALE AGE GROUP: NET TIME 1 - 14
    1   482 Jonathan Kerr            13 Ashburn VA            39:10 
    2   381 Andrew Bouras            13 Ashburn VA            39:29 

FEMALE AGE GROUP: NET TIME 15 - 19
    1   289 Melissa Saunders         19 Potomac Falls VA      32:04 
    2    26 Amelia Jones             17 Baltimore MD          33:16 

MALE AGE GROUP: NET TIME 15 - 19
    1   481 Alex Kerr                18 Ashburn VA            30:13 
    2   329 Steven Hurwitt           19 Ashburn VA            30:23 

FEMALE AGE GROUP: NET TIME 20 - 24
    1   613 Maura Carroll            22 Washington DC         29:12 
    2   270 Elisabeth Flores         21 Sterling VA           35:34 

MALE AGE GROUP: NET TIME 20 - 24
    1   107 John Baldwin             20 Reston VA             31:09 
    2   630 Jim Bradshaw Jr          20 Springfield VA        35:04 

FEMALE AGE GROUP: NET TIME 25 - 29
    1   616 Susan Hendrick           26 Washington DC         30:01 
    2   299 Jessie Yester            27 Richmond VA           30:31 

MALE AGE GROUP: NET TIME 25 - 29
    1   614 Charlie Ban              27 Falls Church VA       27:48 
    2   407 Nyandusi Omurwa          28 Kingston PA           28:02 

FEMALE AGE GROUP: NET TIME 30 - 34
    1   233 Erica Cline              33 Leesburg VA           35:59 
    2   247 Kathryn Hessen           32 Ashburn VA            37:07 

MALE AGE GROUP: NET TIME 30 - 34
    1   612 Brian Young              33 Washington DC         28:25 
    2   635 Ryan Parks               33 Fairfax VA            32:40 

FEMALE AGE GROUP: NET TIME 35 - 39
    1   239 Kathleen West            36 Chantilly VA          37:54 
    2   181 Sally Stevenson          38 Ashburn VA            38:38 

MALE AGE GROUP: NET TIME 35 - 39
    1   601 Gregory Stemberger       35 South Riding VA       28:43 
    2   602 Brian Szabos             38 South Riding VA       29:33 

FEMALE AGE GROUP: NET TIME 40 - 44
    1   494 Peggy Yetman             43 Leesburg VA           29:15 
    2   323 Jill Benhart             43 Broadlands VA         40:06 

MALE AGE GROUP: NET TIME 40 - 44
    1   467 Andrew O'Brien           41 Centreville VA        30:51 
    2   550 Atle Nesheim             43 Ashburn VA            32:42 

FEMALE AGE GROUP: NET TIME 45 - 49
    1   604 Mandana Mortazavi        48 Leesburg VA           35:27 
    2   487 Stephanie Cappiello      48 Ashburn VA            39:27 

MALE AGE GROUP: NET TIME 45 - 49
    1   619 Jim Nielsen              46 Ashburn VA            29:11 
    2   549 Jeff Gilliland           47 Clifton VA            32:34 

FEMALE AGE GROUP: NET TIME 50 - 54
    1    25 Judy Graham              54 Baltimore MD          37:03 
    2   399 Sarah Buckheit           51 Reston VA             37:59 

MALE AGE GROUP: NET TIME 50 - 54
    1   542 Martin Calhoun           50 Herndon VA            30:18 
    2    24 Nicholas Jones           52 Baltimore MD          32:37 

FEMALE AGE GROUP: NET TIME 55 - 59
    1    40 Elizabeth Baumgarten     55 Stone Ridge VA        38:14 
    2   497 Carol Beaupre            55 Ashburn VA            45:50 

MALE AGE GROUP: NET TIME 55 - 59
    1   129 Kevin Apsley             55 Herndon VA            35:22 
    2   448 Rob Colburn              56 Ashburn VA            37:01 

FEMALE AGE GROUP: NET TIME 60 - 64
    1   310 Linda Leatherbury        60 Great Falls VA        69:20 

MALE AGE GROUP: NET TIME 60 - 64
    1   334 Bill Koetter             63 Ashburn VA            42:36 
    2   434 Ting Yi Oei              63 Reston VA             43:56 

MALE AGE GROUP: NET TIME 65 - 69
    1   254 John Baxter              65 Fairfax VA            41:37 
    2   219 Donald Burnham           65 Aldie VA              48:42 

MALE AGE GROUP: NET TIME 70 - 99
    1   362 Chan Robbins             74 Arlington VA          40:20 
    2   125 James Chapman            71 Herndon VA            41:17 

MALE FIRST TIME RACER: NET TIME - NET PACE 1 - 99
    1   390 Dimitri Shanin          35 M Springfield VA       34:16

FEMALE FIRST TIME RACER: NET TIME - NET PACE 1 - 99
    1   389 Regina Pace             41 F Springfield VA       41:05
0
Comments