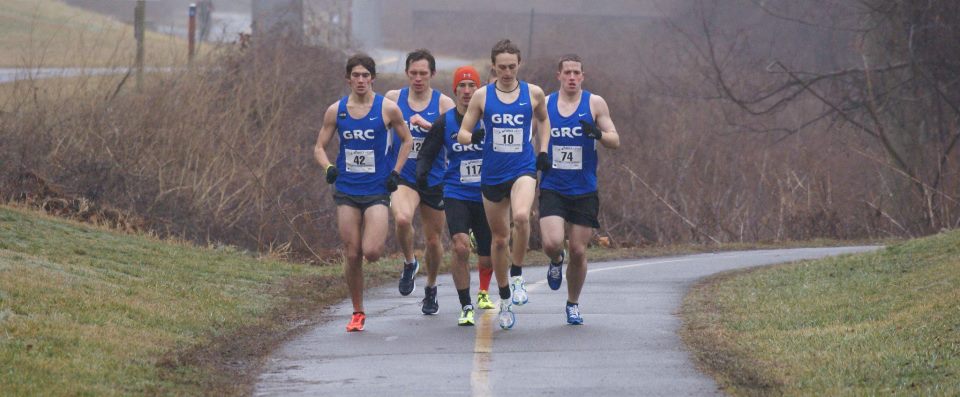 Friendly competition among teammates helped make the Have a Heart for Boston-Hoffman Elementary School 5k a fast race, despite chilly temperatures and a light drizzle.
[button-red url="http://www.safetyandhealthfoundation.org/20130223.html" target="_self" position="left"] Results [/button-red]The Georgetown Running Club came out en force for the second straight year, sweeping the top five men's spots and five of the six top women's spots, including the top three. They showed up to support teammate and race director Samantha "Kirby" Cole, a teacher at the school. Cole credited Suzanne Paul with bringing the race together.
[button-red url="http://youngrunner.smugmug.com/Race-Photo-Galleries/Have-a-Heart-for-Hoffman/i-v7c92fh" target="_self" position="left"] Photos [/button-red]Alex Benway, of Reston, led the blue-clad harriers out in a pack that split close to five minutes for the first mile of the out-and-back course on the Four Mile Run and W&OD trails, starting and ending in Arlington's
Bluemont Park. The group slowed in the rolling middle mile, and Benway (15:47) took his leave of defending champion Arlingtonian Dave Wertz (16:00) with a mile to go. Third-place finisher Matt Hassett (16:11), of Washington, predicted as much before the race, "It will wind up being a two-mile warmup and one mile race," he said.
"It is rare to find a person that enjoys racing when it is cold and raining," Benway said. "But when your team comes out and does it with you, it makes it a lot more manageable."
Centreville's Keith Freeburn, off a two-week respite with a back injury, came to the race with a pair of buddies from The Running Store's racing team. He was familiar with the course after having run the Kinhaven 5k and gave it high marks.
"It's a straightforward course and you can run pretty fast on it if you do it right," he said after finishing.
Fourth place finisher Natalie Young(18:15), of Dumfries, led the five-woman GRC pack through the first half beforeCatherine Campbell (18:01) of Bethesda moved ahead on the way back and and Lindsey O'Brien (18:08) and Maura Carroll (18:12) of Washington caught her in the stretch.
"It was a great opportunity for us to test out racing shape and gague what work needs to be done come spring," Campbell said. "I particularly enjoyed having a great group of girls to run with for over half of the race."
Boston-Hoffman teacher's aid Liz Houston, who lives close enough to the park to run there regularly, finished her first 5k race that morning. She volunteered in 2012 and decided to run as part of her effort in the school's "biggest loser" fitness challenge.
"It was very exciting to finish," she said. "They put down mile markers, so I knew where I was in the race and it let me know I was pacing myself well."
She ran by herself, tagging along with other runners at times but focusing on her music to motivate her. Nerves before the race forced her to forgo breakfast, so she appreciated the heart-shaped bagels awaiting finishers.
The experience has her sold on racing again.
"It made the rest of the day more cheerful," she said. "All those endorphins…"
The race raised money for physical education equipment and to help fund Can You Imagine Me, an after school program which encourages children to make healthy choices and help them train toward running a 5k.
0
Comments
By James Moreland
Burke, VA
November 26, 2011
For the Washington Running Report
No times for brakes as the race starts at the top of the hill.
The glorious weather continues to reign (not rain) throughout the busiest weekend of the year. Many runners took a break from the busiest racing day of the year to eat dinner and go out shopping. Friday seemed like Sunday. Then Saturday was almost perfect. Locals even thought it was almost too warm, while a few slender Caribbean transplants announced that anything colder than 70 degrees was too cold.
The sun was already warming up the day as runners lined up just above Burke Lake and released by the magic 'G' word plunged down the fast first half mile. From there the course circled around the lake like a necklace with only a few gentle hills. The weather had been dry but not enough to make the gentle layer of leaves crackle.  Some of the lead runners played traffic cop and warned unsuspecting hikers that an avalanche of runners would soon be heading their way. Everyone wanted to be out on this day.
Many of the Thanksgiving weekend races are called fun runs as nearly 10% of all the racers for the year come out to play. Still, lots of the top racers are eager to try out their stuff. Early in the race Keith Freeburn, 37, took over the lead duties. Freeburn has been coming on strong for the last year though rarely at the very front of the pack. He knew Rob Bell, 22, was right there with him and that helped propel both of them to very solid times, especially for a course that is half cross country. Right at four miles the runners headed up a steady incline and Bell made his move. The final half mile is mostly a quick downhill but the final 100 meters is the steepest hill on the course. Bell held on to win in 28:42; Freeburn was next in 28:48.
Usually youngsters do best on cross country and, being generally lighter, fly up hills better. Today six of the top 13 men were masters. Fifth place Kevin Lynch, 44, (right)was earliest the top master in 30:06.  David Pinnick, 55, commanded the grandmaster field, finishing 20th overall in a swift 33:47.
Looking around the field Laura Ramos, 32, (left) must have felt like the favorite. However, this is a traveling weekend and you never know when a ringer is going to come into town. Olivia Poblacion, 25 of Corvallis, OR came in from the west coast to set the new standard for the event in an excellent 30:59 that made her the eight finisher overall. Ramos followed her in with a very nice 32:42.  Before the race Sushila Nanda, 50, smiled and said yes her leg was still bothering her but she had a few more races that she wanted to do before she would fix it. She blasted out with the lead women covering the first mile in about 6:30. After that she settled in some but still had a very nifty 37:14 to finish as the second master and the first runner older than fifty, Cathy Ross was the first master at fourth overall in 34:26. The grandmaster and 20th overall was Janet Janas. Janas is coming off her first WRR Runner Ranking in the fall season.
After the race there were bagels and bananas to go with gallons and gallons of hot coffee with real cream and bottled water. One runner said as he offered his young daughter a cinnamon raisin bagel, "I ran in the race; you eat the food."
OVERALL MALE  (GUN TIME)

Place Num   Name                Age City                  Time    
===== ===== =================== === ===================== ======= 
    1   212 Rob Bell             22 Gainesville VA          28:42 
    2   211 Keith Freeburn       37 Centreville VA          28:48 
    3   232 Adam Roggia          26 Stafford VA             29:47 

OVERALL FEMALE  (GUN TIME)
Place Num   Name                Age City                  Time    
===== ===== =================== === ===================== ======= 
    1   109 Olivia Poblacion     25 Corvallis OR            30:59 
    2   265 Laura Ramos          32 Silver Spring MD        32:42 
    3   206 Leah Stiegler        21 Vienna VA               33:32 

MALE AGE GROUP:  1 - 19   (NET TIME)
    1   297 Steven Kool         17 Vienna VA               31:11 
    2   267 Joe Brough          16 McLean VA               31:25 
    3   328 Steven Harokopus    15 Vienna VA               36:30 

FEMALE AGE GROUP:  1 - 19   (NET TIME)
    1   319 Tara Landy          18 Burke VA                35:06 
    2    89 Kayla Grimmett      18 Burke VA                37:02 
    3   249 Mary Pollin         15 Burke VA                37:16 

MALE AGE GROUP:  20 - 29   (NET TIME)
    1   207 Jason Dods          22 Vienna VA               33:05 
    2    55 Alec Rosenman       23 Fairfax Station VA      34:25 
    3    54 Mark Brier          26 Wilmington DE           35:33 

FEMALE AGE GROUP:  20 - 29   (NET TIME)
    1   170 Emily Williams      29 Arlington VA            38:47 
    2    53 Lauren Rosenman     25 Fairfax Station VA      38:49 
    3   163 Heather Hunter      25 Fairfax VA              40:47 

MALE AGE GROUP:  30 - 39   (NET TIME)
    1    85 Michael Feeney      34 Burke VA                29:59 
    2   359 Frank Gold          34 Warrenton VA            30:28 
    3   345 Oscar Tiglao        34 Lorton VA               31:48 

FEMALE AGE GROUP:  30 - 39   (NET TIME)
    1   397 Laura Barringer     35 Fairfax VA              38:41 
    2   269 Mary Blair          32 Springfield VA          39:08 
    3   281 Romana Johnson      37 Dumfries VA             39:22 

MALE AGE GROUP:  40 - 49   (NET TIME)
    1   331 Kevin Lynch         44 Chantilly VA            30:04 
    2    30 Dennis Billings     42 Woodbridge VA           30:54 
    3   322 Matt Anderson       45 Fairfax VA              31:04 

FEMALE AGE GROUP:  40 - 49   (NET TIME)
    1    73 Cathy Ross          40 Burke VA                34:25 
    2   136 Barbara Murillo     46 Fairfax VA              39:20 
    3   338 Mary Maver          46 Springfield VA          39:57 

MALE AGE GROUP:  50 - 59   (NET TIME)
    1   370 David Pinnick       55 Manassas VA             33:44 
    2   233 Myron Kremer        54 Winchester VA           36:09 
    3    80 Malcolm Carlyle     54 Leesburg VA             36:17 

FEMALE AGE GROUP:  50 - 59   (NET TIME)
    1   324 Sushila Nanda       50 Arlington VA            37:13 
    2   155 Janet Janas         50 Clifton VA              41:04 
    3    61 Cynthia Martin      54 Springfield VA          41:13 

MALE AGE GROUP:  60 - 69   (NET TIME)
    1    35 Robert Taylor       61 Alexandria VA           38:11 
    2   364 Jim Avila           63 Arlington VA            42:12 
    3   246 Rick Rice           65 Burke VA                43:56 

FEMALE AGE GROUP:  60 - 69   (NET TIME)
    1   263 Carolyn Rice        66 Burke VA                45:18 
    2   259 Kathryn Fanelli     62 Annandale VA          1:00:39 
    3     4 Nancie Becker       61 Rockville MD          1:16:59 

MALE AGE GROUP:  70 - 99   (NET TIME)
    1    10 Chan Robbins        74 Arlington VA            40:58 
    2   111 Robert Gurtler      76 The Plains VA           53:01 
    3   226 Dick Nanto          70 Clifton VA            1:01:11
The final climb to the finish was no "walk in the park."
0
Comments
By James Moreland
Kensington, MD
September 24, 2011
For the Washington Running Report
Julie Sapper finishes fourth overall.
Walking down Fawcett Avenue in old town Kensington towards the start of the race, two young kids were talking about the race. One said, "There must be a thousand runners here today," "No way," replied the older one. She was wrong and the little boy was right. The event has three parts and three different starts off the circular Carroll Place. At 7:45 a.m. close to five hundred 2 mile walkers and runners headed south around the circle. At 8:30 a.m., the main event 8K bolted from the south side of the Noyes Library toward Connecticut Avenue. They would cross the finish line for the first time at just less than a half mile. Three minutes after they got under way, the 1K fun run charged after them from the north side of the library.
Nearly everyone was in a good mood on the cool but humid morning for the first racing weekend of the fall. There were a couple of the hundreds of young runners that got overwhelmed by the pressure but all the fun runners collected a beaded necklace at the finish. Dry your eyes and keep on running. The rain rumored to be done around ten, missed the event entirely.
Many of the runners had run the Run! Geek! Run! 8K last week in West Potomac Park. All of them found the 4th mile hill on East Bexhill that climbed parallel to the Mormon Temple Hill shut out any possibly of matching last week's time. The race in its 18th year also had many returning runners. Perhaps the most often seen face is women's winner Cindy Conant, 50, of Kensington, MD. She admitted to knowing the course very well. After all she had run the race every year since at least 2002. She moved up to fifth in 2004 and after that never finished lower than second overall, winning in 2006 as well. This year when she won it all again was her fastest time of any of those years as she dipped under 32 to finish in 31:59. That was 17thrunner overall.
Edi Turco had run the Geek race, finishing solidly in fifth place in 26:55. Today in his 25th race since Memorial Day he battled Gareth Alberto and Steven Moore through most of the flat first three miles. By the time he charged past the starting line at 4.5 miles he knew he had the win. The final 100 meters up Armory Drive he weaved back and forth waving to the crowd. Alberto had a closer battle and charged through in 27:56 just ahead of Moore's 28:04. Keith Freeburn has not been racing a long time so he did not know that he was supposed to slow down on a hilly course and nearly matched his Geek time with a very solid 28:53.
After Conant finished there was a bit of a wait by the next three women rushed in like a fast conga line, behind each other but weaving up and back in an effort to change places. Trish Stone, 36, held the runner-up spot and ahead of Sandra Bonilla, 35, by three seconds 32:47 to 32:50. Fourth place Julie Sapper, 39, of Rockville was tops in her division.
While eight of the top nine women were from Kensington or Rockville, many runners came from as far away as Richmond (70-74 age group winner Mary Kate Berglund confessed that she has family in Kensington) and Fayetteville, PA, home of 79-year-old Bob Archibald. The oldest finisher in the race was Eileen Hobsongarcia, 81, who was joined by a contingency also from San Pedro, CA.
There race awards go three deep in ten year age groups but first there was a top master. Jean Christophe Arcaz had been at the race for the last six years. Often he finished just close enough to touch the shoulder of Ted Poulos just ahead of him. Always both of them finished faster than 29:00. This year Arcaz, now 50, gutted out the final yards to hold off Dan'imal' Murphy (left) 29:43 to 29:58 to win fifth overall and the top master award. Last year he had been fifth in 28:54 with Poulos tops in 28:51 and Murphy winning second age group in 29:26.
The top women master after Conant's overall victory was Kris Barner, 46 of Rockville in 36:44. After that there were some amazing age group times. The grandmaster women were all just 50, led by Sushila Nanda. Nanda has 14 age group victories since Memorial Day. For the men Roland Rust, 59, is taking his last few races in the fifties very serious, putting all the younger grandmasters away with a marvelous 31:09. Alice Franks put away the 60-69 women by more than a mile in 40:43. She gave us a pretty smile and said humbly something like, 'The times aren't very fast but after all we are just running for fun.'
Fourth place Keith Freeburn proudly noted that his mother Susan finished third in her division. Skip Grant, 76 of Washington, DC  ran an amazing 40:53 to top his division.
Before, during, and after the races Poison Ivy was the band playing music in the adjoining park.
                   Awards Listing (No Duplicate Prizes)
FEMALE
Place Num   Name                Ag City                  Time    
===== ===== =================== == ===================== ======= 
    1   114 Cindy Conant        50 Kensington MD           31:59 
    2   487 Trish Stone         36 Kensington MD           32:47 
    3    61 Sandra Bonilla      35 Kensington MD           32:50 
MALE
Place Num   Name                Ag City                  Time    
===== ===== =================== == ===================== ======= 
    1   517 Edi Turco           38 Arlington VA            27:41 
    2    13 Gareth Alberto      32 Annandale VA            27:56 
    3   348 Steven Moore        33 Kensington MD           28:04 

FEMALE AGE GROUP:  40 - 99
    1    42 Kris Barner         46 Rockville MD            36:44 

MALE AGE GROUP:  40 - 99
    1    24 Jean-Christophe Arc 50 Rockville MD            29:43 

FEMALE AGE GROUP:  1 - 12
    1   757 Adriana Rosas       11 Silver Spring MD        38:33 
    2   253 London Kazor         2 Kensington MD           44:52 
    3    80 Jordan Bryon        12 Alexandria VA           49:44 
    4   133 Maddie Deye         12 Kensington MD           53:50 

MALE AGE GROUP:  1 - 12
    1   134 Brian Diamond       12 Bethesda MD             43:07 
    2    83 Andrew Burklow      12 Kensington MD           45:35 
    3   476 Kemper Stearns      11 Kensington MD           46:50 

FEMALE AGE GROUP:  13 - 19
    1   496 Taylor Swift        17 Rockville MD            33:33 
    2    92 Sarah Caggiano      13 Bethesda MD             36:58 
    3   265 Charlotte Kirwan    17 Bethesda MD             38:25 

MALE AGE GROUP:  13 - 19
    1   236 Mark Jacobson       15 Rockville MD            31:32 
    2   266 Lewis Kirwan        13 Bethesda MD             33:29 
    3   100 Kasey Carroll       13 Bethesda MD             34:41 

FEMALE AGE GROUP:  20 - 29
    1   169 Miranda Forte       26 Gaithersburg MD         35:54 
    2   567 Chelsea Gibson      22 Bethesda MD             37:04 
    3    37 Briana Balsam       27 Gaithersburg MD         38:02 

MALE AGE GROUP:  20 - 29
    1   637 Micheal Fizdale     23 Bowie MD                31:44 
    2   151 Alex Emery          23 Rockville MD            32:11 
    3   331 Chris McGrath       23 Burtonsville MD         32:21 

FEMALE AGE GROUP:  30 - 39
    1   739 Julie Sapper        39 Rockville MD            32:53 
    2   127 Anne Delp           36 Kensington MD           35:36 
    3   257 Ellen Kennedy       39 Kensington MD           36:40 

MALE AGE GROUP:  30 - 39
    1   173 Keith Freeburn      37 Centreville VA          28:53 
    2   754 Marco Rosas Galicia 36 Silver Spring MD        30:01 
    3   610 Daniel Shanley      37 Chevy Chase MD          31:45 

FEMALE AGE GROUP:  40 - 49
    1   170 Lisa Fox            41 Bethesda MD             37:25 
    2    11 Ann Adkinson        42 Chevy Chase MD          39:20 
    3   582 Beth Krupinski      44 Kensington MD           40:47 

MALE AGE GROUP:  40 - 49
    1   352 Dan Murphy          47 Bethesda MD             29:57 
    2    22 Matt Anderson       45 Fairfax VA              31:06 
    3    21 Mark Anderson       45 Burtonsville MD         31:11 

FEMALE AGE GROUP:  50 - 59
    1   359 Sushila Nanda       50 Arlington VA            37:07 
    2   628 Patty Tschideser    50 Chevy Chase MD          39:02 
    3   627 Babby Landon        50 Chevy Chase MD          40:55 

MALE AGE GROUP:  50 - 59
    1   431 Roland Rust         59 Bethesda MD             31:09 
    2   737 Peter Cini          53 Fairfax VA              31:28 
    3   393 David Pinnick       54 Manassas VA             33:14 

FEMALE AGE GROUP:  60 - 69
    1   171 Alice Franks        63 Rockville MD            40:33 
    2   111 Vallerie Codrington 60 Lanham MD               48:43 
    3   174 Susan Freeburn      60 Kensington MD         1:00:13 

MALE AGE GROUP:  60 - 69
    1   110 Joe Coblentz        61 Silver Spring MD        42:19 
    2    74 Pim Brouwers        63 Silver Spring MD        45:51 
    3   303 Alan Madison        62 Gaithersburg MD         46:35 

FEMALE AGE GROUP:  70 - 79
    1    49 Mary Kate Berglund  70 Richmond VA             57:19 
    2   765 Jamie Wollard       73 Rockville MD          1:11:53 

MALE AGE GROUP:  70 - 79
    1   619 Skip Grant          76 Chevy Chase MD          40:51 
    2   498 Nils Borje Tallroth 70 Bethesda MD             48:12 
    3    25 Bob Archibald       79 Fayetteville PA         48:51 

FEMALE AGE GROUP:  80 - 99
    1   223 Eileen Hobsongarcia 81 San Pedro CA          1:30:57 

MALE AGE GROUP:  80 - 99
    1   333 Jack McMahon        80 Silver Spring MD        49:27
0
Comments