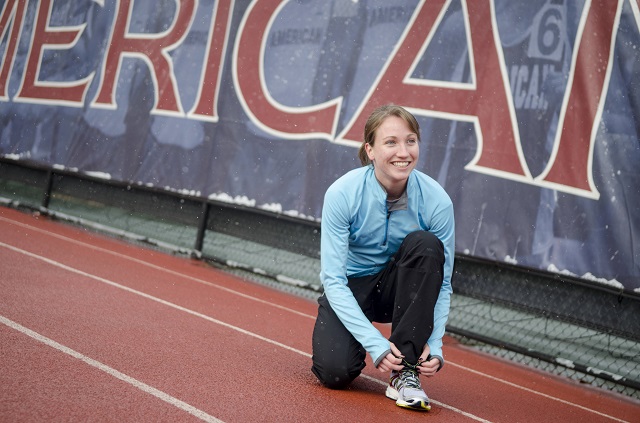 The road under her feet still felt odd to  while she held a slim lead in the 2012 Army Ten Miler.
She wasn't hugging the inside lane, her shoes were spikeless and there was no chance an official would restart the race if someone fell in the first stretch.
She was racing 10 times longer than her preferred distance, and she evaluated how she felt.
"I didn't plan to go to the front but I was there and figured if I could lead the Army 10 mile, that alone would be a story," she said. "I never thought I'd be in this position, and nobody would notice if I was first or 20th. I knew if I was going to compete seriously, I was going to have to keep the pace honest and keep pushing."
Four miles in, after hanging back in the lead back with training partner Erin Koch, she surged to the lead and to her surprise, nobody challenged her. Ethiopian Aziza Aliya-Abate trailed her by three seconds at 10k and passed her after seven miles.
She thought for a split second that it was okay, her time in the lead was over. Why shouldn't it be? She wasn't supposed to be up there, she's just building strength for track with these races. Then, her competitive instinct kicked in, the reason she raced, and her mind moved onto something else, maybe two lines of a Ke$ha song. The doubts were gone, never to resurface.
Gallagher held that lead, one second, to the finish, and made it the second closest finish the race had ever seen. Her 56:09 was also the third fastest women's time.
She discovered she was more than a four-lap phenom.
"I'm more of a distance runner than I could have ever imagined," she said.
Gallagher's transition to longer distances has paralleled her transformation to a Washingtonian after living in New York for her entire life. She grew up in Queens, went to college in the Bronx and worked in Manhattan.
Her day job, as an assistant track coach at American University, is a world away from her first job after graduating from Fordham University — working in client services in a financial services company.
After a tepid race at the NCAA championships first round, she figured her serious racing career was over. Ninety minute-long track practices made way for commutes that long each way.
After a few weeks, she talked to her Bishop Kearny high school track coach John Lovett, and mentioned the track-sized gap in her life. Matt Centrowitz, the former American Record holder and coach at American University and a friend of Lovett's, found a place for her on the Pacers New Balance training group and it was goodbye Big Apple, hello nation's capital.
"I recruited Kerri when she was looking at colleges and really wanted her to come to American," he said. "I understood when she chose Fordham, she wanted to be close to home, but I still followed her progress and maturation on and off the track. I knew I wanted to work with her and I finally got my chance."
Gallagher's introduction to summertime in Washington in 2011 was not . The heat, humidity and the miles were staggering, but she found herself adjusting to her new home pretty well. Living with Centrowitz's daughter, Lauren, helped, Centrowitz said, because she helped Gallagher adjust mentally and emotionally.
"She's been living at home or in the dorms all her life, there was going to be an adjustment," he said. "She comes from a close- knit family, so I was a little worried about her being homesick. I wasn't worried about her fitness."
Gallagher acquitted herself of the Washington area's running amenities quickly.
"D.C. has a lot of things going for it that New York can't match," she said. "A lot of New Yorkers wouldn't admit it, but it's working out pretty well for me."
Chief among them is her easy access, from her home in Chevy Chase, to miles of trails within a few minutes of running.
"If I wanted to run on grass, my option was pretty much Van Cortlandt Park," she said. "Six minutes of running gets me to Rock Creek Park."
She got her introduction to running from her mother, Patricia. Neither she nor her father John ran, but they saw some dissatisfaction from her when she was on the JV basketball team, keeping the bench safe for when her teammates came off the floor.
"I don't know where she came up with the idea, but I'm glad she did."
Now four of her nine siblings, one brother and three sisters, are serious about running. Mary ran for Saint Francis College in New York, Conor is a sophomore at Malloy College in New York and Jackie and Tess are sophomores at Bishop Kearny. They're all working on Vincent, a fourth grader, to join them on the track someday. Liam, a high school senior runs cross country, but favors baseball.
Despite not thinking much of running around in circles, as she regarded track, she was a hit in the middle distances, and became seriously interested in running in 11th grade. Lovett told her she can run in college, someway. Fordham was interested, and she found her place on the 4×800 meter relay, safely ensconced in the team.
"I was the fourth leg of the 4×8," she said. "They needed me to race, but I wasn't a difference maker."
As in high school, her enthusiasm jumped during her junior year, when she started focusing on the 1500. Her times had been dropping steadily, 5:03 as a freshman, hitting 4:48, 4:36, 4:20 each successive year.
She ran cross country, too, but barely approached the girls she would race to the finish line on the track.
That track runner's offseason got more serious in Washington. Centrowtiz had her run in races much longer than her college cross country jaunts. The Army Ten, Philadelphia's Rothman 8k, some cross country races. She was already improving dramatically, running 5:38 pace for a 6k cross country race at the USATF Club Cross Country Championships in 2011, compared to her 5:57 pace for 5k at the Atlantic 10 championships the year before, a race that was only 5k.
Her 2012 spring season topped off at the Swarthmore Last Chance Meet, when she ran 4:16.07 to finish fourth, behind
two women who would run in the Olympics that summer — Canadian Sheila Reid and American Julie Culley — and one who would end up being the only woman to beat her that fall– Carmen Hussar.
She adjusted her racing tactics dramatically.
"I was running toward the back a lot," she said. "You can get away with that in the Atlantic 10, but at this level, you can't do that because they'll get away from you."
Last summer, she added more mileage, hitting 80 miles a week at times. Centrowitz said he noticed a distinct change in her focus and attitude when she started her second year in Washington.
"If I want to run faster, I'll have to push the envelope," she said. "Coach has been really good about identifying what I need to do and when I need it."
What she needs, Centrowitz says, is to learn to change her outlook to benefit her training.
"If you want to be a top runner, you have to be self-centered," he said. "That's a challenge for her because she's such a generous person, she tends to put herself behind the needs of others. There's a way to work around that, but she still has to be able to put herself first."
She loves the 1500 because it's half speed and half strength.
"It's unique, other races don't have that," she said. "It's where strength and speed meet.
A fast person can reach and run the 1500, a strong person can gut one out. I've had the same 200 meter times since high school, but the difference has been my strength in the last year."
That showed when she went back to racing out of character in the fall. The Clarendon Day 10k– where she beat British Olympic marathoner Claire Hallissey. The New York 10k. The Jingle All the Way 8k. Hussar beat her at the Veterans Day 10k, but that was after she made her mark at the Army Ten, where she ran her college 5k PR more than three times in a row.
In addition to her added endurance, she's now confident enough to lead, to race from the front, something she's picked up from Koch.
"I've gotten tougher just trying to be like Erin," she said. "I need to push my comfort zone, I need to be confident enough to make a move and go with it, and she's helped me learn how to make that happen."
Despite all she's achieved with her running in the latter months of 2012, Centrowitz sees plenty of room for improvement.
"I don't think she's scratched the surface," he said. "Her speed, her strength, the mental side of racing, she has a lot she can improve on, and she's hungry for it. If we work together four or five years, she's going to get somewhere. She's extremely coachable and that's a credit to Lovett and (Fordham Coach Tom) Dewey, she had great experiences with them and it's easy for her trust me."
All of that came together on a hot day in June, when Gallagher made a big move with a lap to go to finish fifth at the USA Track Championships in Des Moines. 
When she's not running or helping manage the Eagles' runners, she yearns to hear good live music, especially Celtic.
As an undergrad at Fordham, she hosted an Irish music program on the college's radio station, called Ceol na Gael, one to which her grandparents introduced her as a child.
"I got to meet musicians, talk about what I liked," she said of the show. "It was a unique college experience, one not a lot of people got to have. Having listened to it so long made it more special."
0
Comments