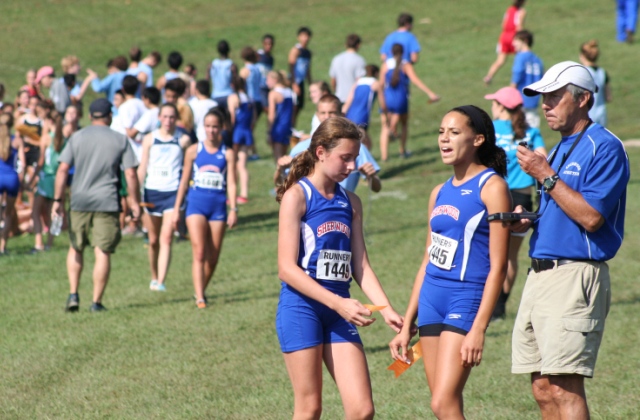 Dan Reeks believes in running. He knows what running did for him, and knows what running can do for others.
He started coaching in Montgomery County 43 years ago, during his early 20s. Back then he was a volunteer assistant for Paint Branch High School, and not necessarily volunteering by choice, either. Reeks, then a national-class runner, said he was concerned about an Amateur Athletic Union rule limiting how much money one could earn through coaching.
This was 1971. A year later, Frank Shorter would win gold in Munich, igniting the first running boom. Reeks — now heading into his 13th season with Sherwood High School — has not missed a Montgomery County cross country season since.
During his first decade of coaching, Reeks not only led Northwood High School's girls cross country team to three state championships, but launched girls running in the county with the help of fellow coaches Kerry Ward and Greg Dunston.
Ward had guided Reeks while he was a senior at American University, and coached in the county for decades, leading Bethesda-Chevy Chase and Walt Whitman high schools to numerous state championships. Ward, while at BCC, also hosted the county's first official girls cross country meet.
Dunston started coaching in the county in 1971, as well. The Georgetown Prep Coach, who previously coached at Walter Johnson, described their support for girls cross country thusly: "It was more a matter of thinking that you want equal rights for everyone."
Dunston and Reeks got in the habit of bashing out Sunday long runs together. These days, they go for bike rides instead. The point is, these two have spent countless hours — many decades, even — talking shop, and fine-tuning a common approach to coaching.
"We want [our athletes] to have fun," Dunston said, "and realize this is a sport you can do for a long time after high school."
An interviewer described Reeks' coaching streak as "amazing."
"But it's not," Reeks said, "because, one thing, it's fun. … I look forward to going to practice. I just like being around the kids." He added: "It's great to see them mature."
At the end of each season, the Sherwood coach asks his junior and seniors for feedback on his coaching.
"And while it might be a benevolent dictatorship," Reeks said, "the dictator does listen."
Making the Team
Heading into his junior year, Reeks transferred to Palos Verdes Peninsula High School in Los Angeles County, where he quickly made friends with members of the track team.
Reeks tried out for the team, and was cut. Senior year, he tried to change that.
"I trained and trained," he said. A few days a week, he said, he would run from his house up a big hill to the main road and meet up with a friend for training runs, an experience that taught him the value of group training.
Reeks made varsity cross country, "and that was it." He knew what his passion was.
At Los Angeles Harbor Community College, Reeks started running twice a day to improve, following the lead of a teammate who had won Los Angeles' city championship.
"He'd run, golly, I think he'd run in the high 9:30s [for two miles], and he got me to train with the coach who had coached him … and that got me down to 9:20 and 4:20 [for the mile]," Reeks said.
Those performances helped Reeks earn a scholarship to American University.
And as Reeks immersed himself in the sport, he quickly developed an interest in coaching.
"In college I liked supporting my teammates, and watching them, and just trying to figure out [what they were doing]," he said.
During his junior year at AU, Reeks mostly coached himself.
"I just followed the workouts I did the year before," he said, "because I kept a training diary." Then, as a senior, he met and was coached by Ward, who, like his first high school coach and others, had a big influence on Reeks' coaching philosophy.
"I still use a few of those workouts," he said. "I don't make my athletes run 10 miles on the track, though."
Years of Coaching
Reeks and his wife, Barbara, have been married for 40 years, and have two children, David and Emily.
His second coaching job, after Northwood, was at Eastern Middle School. From 1983 to 1998, he coached at Montgomery College — or "the MC," as he calls it — where he started the indoor track program and each year qualified athletes for the NJCAA championships. He coached 17 junior college All-Americans.
Los Angeles Harbor Community College had enabled Reeks, who had only been running for one year at that point, to develop in athletics and academics and earn a scholarship to AU.
At Montgomery College, he saw his job as helping others do the same: to balance work, training and school. He takes pride in knowing that many of his athletes transitioned successfully to four-year colleges.
From the fall of 1999 through Spring 2002, Reeks coached at Winston Churchill. In his last cross country season there, the boys and girls teams both finished third in the state meet.
The decision to leave Winston Churchill was difficult. Reeks cried while breaking the news to the team.
But he also taught social studies in the county for 39 years – mostly at Wheaton – and wanted to close out his career coaching and teaching at the same school to reduce his commute. He was able to do that at Sherwood, where, at that time, the boys hadn't won a dual meet in outdoor track in more than five years and the girls cross country team was at a low point.
This was the fall of the sniper shootings. John Allen Muhammad and Lee Boyd Malvo shot at people indiscriminately, causing widespread fear. Training was missed; many meets were canceled.
Still, that fall, two girls and two boys represented Sherwood at the state meet. That spring, the boys track team broke its losing streak.
Since then, in cross country, both teams have qualified for the state meet almost every year. In 2003, the Sherwood boys cross country team was second in the county, first in the regional meet, and won a state championship.
Reeks "always puts together competitive cross country teams," said Kevin Milsted, the founder of MoCo Running, which chronicles the county's high school running scene. "He has the technical knowledge to develop runners of all body types, and he has the personality and dry humor to engage athletes of all backgrounds."
It has worked for junior Gary Confrey. As his mother Jackie put it, his motivation was lacking in areas where he did not already show skill. That changed after one talk with Reeks.
"He told him that if you want to do well, you have to put in the work," she said. "It was simple but it flicked a switch. Now he doesn't want to miss school if he's sick because it means he can't go to practice." The first day of the school year, she said, "kids line up to see him and give him a hug."
Reeks understands his athletes have a lot on their plate.  They are focused not only on excelling at running and academics, but perfecting SAT scores and college applications. "You have to get as much as you can out of them during practice," he said, "and remind them that life is short." (Dunston said almost the exact same thing.)
Reeks puts team captains in charge of summer training, assigning mileage goals for each class. To that end, early in the summer, the captains choose a location for team members to meet up each morning for runs, said senior captain Courtney Nakamura.
"He just cares a lot about the team and each individual person. It makes us all want to work harder," Nakamura said.
Early in the season, they start with general workouts before gradually branching off into different training groups. A computer program called Running Trax, packed with performance charts, helps him individualize workouts.
"I have always written [out the workouts], printed them, and given them to the kids," he said
A staple workout for Sherwood is a tempo followed by 12 200-meter intervals. To prepare for the state championship at the punishing Hereford course, the team goes to Lake Needwood and practices in an area known as "the dip."
"His biggest priority," said Ariel Mahlman, who graduated from Sherwood in 2013, "is definitely to provide his athletes with an understanding and passion for the sport … He is very easy to talk to and always offers great advice whenever you ask a question."
Reeks' athletes describe him as "silly," as a "character," as someone who makes them laugh with "cheesy puns."
When athletes ask him how they can improve, though, Reeks gets down to business.
"You got to work," he said. "Distance running, I always tell the kids, and I have for years, is the Puritan work ethic. You get better because you train."
The MoCo Scene
One day in the late 2000s, Reeks was at his desk, grading papers, when, as he remembered it, "this exceptionally good-looking couple is at my doorway with a security guy who says, 'This guy wants to come to Sherwood and run.'"
This guy was Solomon Haile, who in 2009 would win the Foot Locker Cross Country Championship. Haile had been training in his native Ethiopia, and had come to the United States for two reasons: to run and go to school.
"He was always centered, he had a goal, and he was smart," Reeks said.
Asked to recollect highlights from 43 years of coaching, Reeks mentioned Haile setting the national record in the 5,000. He mentioned Northwood winning its first state cross country title in 1975. He mentioned, in 2003, the Sherwood principal running up to him on the Hereford hill and exclaiming, "We've won!"
But Reeks is well known and respected by Montgomery County coaches and runners for others reasons.
"I always thought it was really cool how supportive he was of me, even though I ran at a rival school," said Sean O'Leary, who ran for Walter Johnson.
O'Leary got to know Reeks through the Concord Retreat Cross Country Camp, which Reeks has run for 30 years.
"Bottom line," O'Leary said, "it doesn't matter if you're Solomon Haile gunning for the Footlocker National Championship or a freshman wearing basketball shoes running for a different team — Coach Reeks wants you to be successful."
When Kyle Gaffney, a committed runner at Blake High School, needed coaching and training partners, Reeks – thinking of his own experiences running at AU – provided it.
Reeks is matter-of-fact about it.
"You just do that," he said, "because you want to see the sport grow and you want to see kids run and do well."
All the while, Coach Reeks' legend in Montgomery County — whether he realizes it or not — grows with it.
"I have never seen anyone yell louder than him at meets," said Owen Miller, Sherwood's boys cross country captain. "He is incredibly enthusiastic."
2
Comments