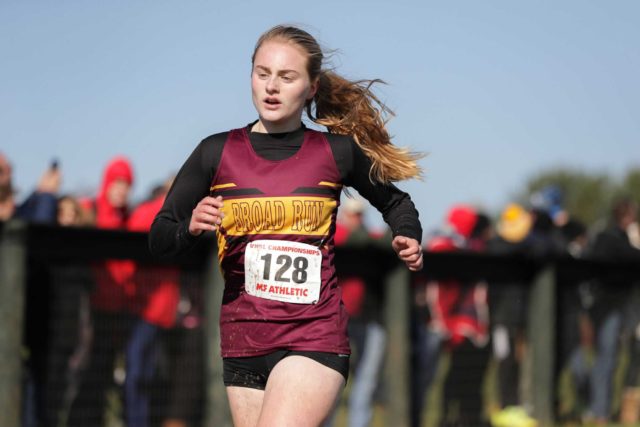 Successful partnerships between coaches and runners all involve some give and take. Regardless of how established a coach is, two-way communication is crucial to keeping runners healthy and improving. For a new coach whose native sport is soccer, like Lauren Brewer at Broad Run, having a runner who knows the ropes helps a lot.
Senior Ellie Desmond has been doing her fair share of teaching.
"When last year started winding down, she saw how many seniors we were losing and knew she had to step up," Brewer said. "As soon as the track season ended, she asked if she could take on more responsibility and help guide the team."
Brewer had been an assistant cross country coach the previous two years, but was still new to the structure of distance running training programs. Fortunately Desmond was a voracious student and willing to offer her experience.
"We got the coaches and captains together and came up with a program together — the long runs, tempo runs, track work, why it's important to schedule things a certain way," Brewer said. "She's absolutely put her footprint on the way we run the team. She's setting the standard, and she knows how to communicate to the other runners how I want to run this team."
0
Comments