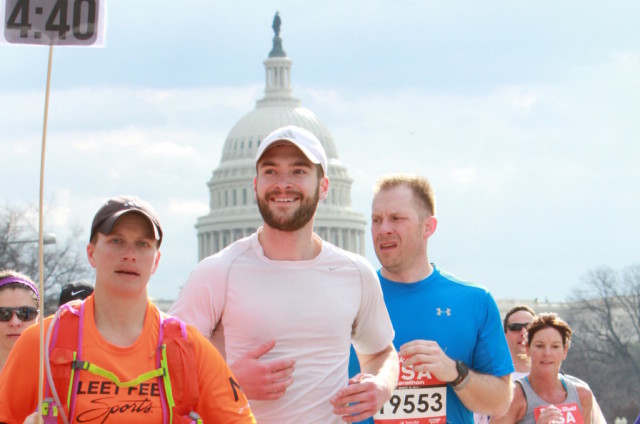 The number — 4:40 — looked like it belonged with a Bible verse. It bounced above Erica Ferrell, attached to a long stick, as she toted that sign through Columbia Heights, NoMa, Capitol Hill and Anacostia, her disciples followed.
In the end, her message was indeed the truth. She crossed the line at the Rock 'n' Roll USA Marathon in 4:40:06, right on schedule.
"I lost the last few people around mile 23," she said. "They stopped to get water. I slowed down, but they started walking."
Least she seem uncompassionate, it wasn't Farrell's job to hold her runners' hands for 26.2 miles. She worked in some flexibility in her pacing for hydration, but she was to be the metronome that runners would be able to look to for consistency.
"When I was on my own, there were times that I thought about running ahead to finish it up," she said. "But that wasn't why I was here. I stuck to the plan."
Pacing groups are marathon mainstays, and crucial for many novice marathoners to complete the race. Among the string of solitary runners, they pack up and their dozens of footsteps announce their presence. Spectators use them as reference points when trying to locate friends and family members in the middle of the race.
"People really look for them, either to hang on as long as they can or to gauge their pace," she said. "I've run with plenty of pacing groups in my own racing and they're good at helping you chill out and not rush. When you're in the early miles of a marathon, you get eager and you want to see what you can do, but signing up for that group means a reminder that you need to run a pace you can maintain the whole way."
Ferrell, a Thurmont, Md. resident came to the job at the behest of Nate Nudelman, coach of the Navy Academy Marathon Team. He has a core group of pacers that have worked the Rock 'n' Roll USA Marathon and Half Marathon and its previous incantation as the National Marathon, a crew he supplements with Midshipmen who cut their spring breaks short to come and pace. For Ferrell, a 3:40 marathoner who has run more than a dozen and qualified for Boston at the California International Marathon (with the help of a pacing group), it was a chance to give back.
"I've run a lot of my PRs thanks pacing groups," she said. "It's a great opportunity to help someone else out."
A four-hour marathon is pretty comfortable for her, so Nudelman's initial assignment, for her to lead the 4:25 group, seemed like no sweat. When he moved her back to 4:40, she was a little concerned.
"They were looking for someone who can run four hours pretty comfortably, without any trouble," she said. "But 4:40 was a little harder to maintain. I'm not used to that pace."
Sure enough, she started out a little fast, just a few seconds per mile, but a few of her runners let her hear about it.
"They definitely know what the pace feels like, or is supposed to feel like," she said. "They've been training at that pace for a while. I just told them to trust me. I made the adjustments after a few miles, shortened my stride, and [got back] on track."
That banked time came in handy when the group hit mile seven's uphill on Shorham Drive, climbing out of Rock Creek Park into Woodley Park. Running the hill can throw runners' confidence askew, but Ferrell's instructions aimed at defraying the curveball the incline threw at any attempts at an even pace.
"We tried to maintain that 10:40 pace, but I was more willing to slow down to keep the group together," she said. "We had a long way to make up that time, and there wasn't going to be anything to gain from dropping anyone that early in pursuit of the goal time. I just told them: Head up! Shoulders back! Relax! Keep your arms moving! I reminded people of their mechanics, because when you're focusing on that, you're not thinking about the dreaded hill."
It turns out the time the group had sped up early on was closely offset by the climb. When they hit the top, they had broken even. Not bad for someone who had never run the course before.
"I can usually tell where I am with a pace," she said. "If I'm going a little faster or slower, I can feel it."
She ran with a Garmin watch to aid her pacing, but rarely consulted it.
The Rock 'n' Roll USA Marathon sets the pacing group target times based on the historical demand for pacers throughout the entire Rock 'n' Roll Marathon series. This year's Rock 'n' Roll USA paces included 3:10, 3:30, 3:40, 3:55, 4:00, 4:10, 4:25, 4:40 and 5:00. The accompanying half marathon has 1:45, 2:00, 2:15, 2:30, 2:45 and 3:00 pace groups.
When the course flattened out in the second half, Ferrell saw her runners lock into a consistent pace, but she lost her pacing partner to injury. At the same time, some of her runners were also starting to tire and she saw herself as much a cheerleader as a pacer.
"Later on in that race, you just have to keep people going," she said. "It get a little lonely in Anacostia and you have long stretches where you can see how far you have to go."
Her secret weapon at that point was distraction.
"When they start to get negative, you just have to tell them, 'you just have a little bit to go,'" she said. "Take it one mile at a time. I tell them the same things I tell myself when it gets rough, that I'm getting closer every step."
She is considering running other races as a special needs guide, such as with the visually impaired runners at the Woodrow Wilson Bridge Half Marathon.
Ferrell made her own marathon debut in Portland, Ore. while her now-husband was deployed and she, then a military police officer in the U.S. Army, was looking for something to do.
"I didn't know anything about marathons," she said with a laugh. "I definitely didn't know about pace groups. I sure would have learned a lot faster if I had one."
With that in mind, along with her pacing, she hoped to leave her runners with some lessons she could impart about running technique and motivation during the marathon. And, the basics of how to run the time they want, especially if it means running her pace. That means speeding up a little before the water stops or toilets and getting back in the pack
"Just tell them to try to get ahead, because we're going to keep going," she said. "That's the best you can do in those situations."
Because the train doesn't wait.
0
Comments