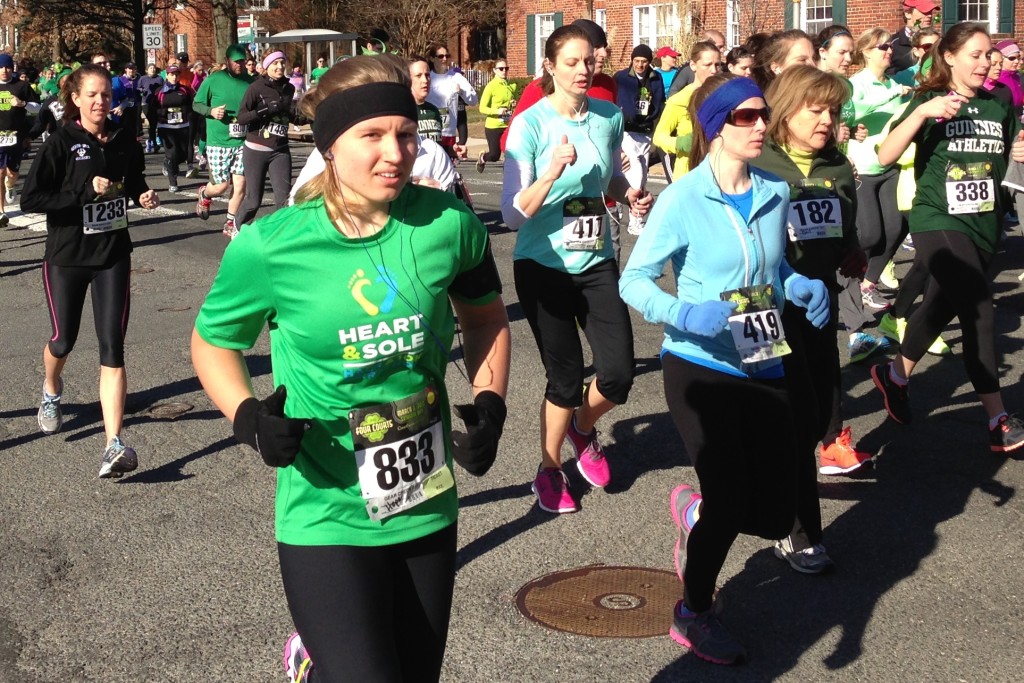 It all came back in a hurry for Phoebe Markle.
After a few months of no running while she rested her IT band, muscle memory took over as soon as the horn sounded for the Four Courts Four Miler and she tore down Wilson Boulevard. The kind of muscle memory that develops after running two marathons, a half marathon, a half ironman and a 10k in a little more than a month.
"I was on a running high," she said about her busy competitive schedule last October and November. "I was starting to know what my capabilities were and I didn't want to stop. I heard about people getting overuse injuries, but I thought I was invincible.
"I wasn't, not by a long shot."
With about a month of running under her belt, Markle, of Arlington, pieced together enough raw fitness to finish as the third overall woman, in 25:55, following Claire Hallissey (22:56) and Kristi Markowitz (25:22), both of Arlington.
"I wanted to just get into a race and see how my knee felt," Markle said. "Once I was running, everything felt fine, so I went for it."
If all goes well over the next month and a half, she'll be racing the Nike Women's Half Marathon.
The course allowed many runners to race with unbridled enthusiasm down Wilson Boulevard and Jefferson Davis Highway before turning around and returning from whence they came. At that point, they faced the consequences of what they had done earlier, climbing back to the Arlington Courthouse Plaza near the eponymous pub. It was good  preparation for St. Patrick's Day festivities a week later.
Terry Gricher, of Burke, has done the race before but made the same mistake.
"I start out too fast, even though I know better," he said. "I'm out in 14 (minutes), back in 16. It never seems as bad on the way down as it does on the way back up."
He tried to warn Kenny Rayner, of Arlington, on the starting line. His words were unheeded. Rayner went out in 4:40 leading Matt Barresi, of Falls Church. Close to the turnaround, Barresi blew by and took the lead to the finish, in 20:18. Burtonsville, Md.'s Edmund Burke also moved ahead to take second in 21:54, with Rayner finishing third in 22:16.
Barresi chose to race to avoid running too hard otherwise. He's racing the Rock 'n' Roll USA Marathon and aside from using it as a tuneup, he hoped it would keep him under control.
"I figured hopping in the race would prevent me from getting antsy and going on a 16 mile run or something like that on my own," he said.
After finishing third in this race last year, he wanted to run faster and to win.
"I pushed the pace the first two miles to give myself a time cushion and knew that I wouldn't fall apart too much in the end because I'm strong from all of the marathon training," he said.  "It was tough running uphill into the wind to finish, but I was able to run 13 seconds faster than last year with nobody to chase.  The race gives me a lot of confidence going into the marathon this weekend."
0
Comments