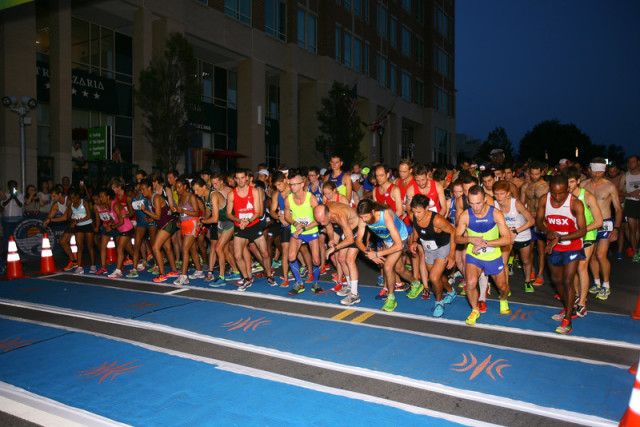 Susanna Sullivan narrowly missed a first-place finish in the 2014 Rockville Rotary Twilight Runfest when Etaferahu Temesgen shattered a race record to edge her by 10 seconds. This year, Sullivan made sure she ended up on the other end of a close race.
[button-red url="https://www.mcrrc.org/race-results/2015/07/twilight-runfest-8k-women/" target="_self" position="left"] Women's Results [/button-red]"Last year I lost in a kick so I really wanted to be conservative early and make sure that I was ready to kick at the end," Sullivan, 24, said. "One of my teammates asked me if I looked back in the last half mile. I told her I didn't, because I didn't want to see where (runner up Elfinesh Melaku) was and didn't want to see her right over my shoulder and panic."
Sullivan, a Capital Area Runners club member and Falls Church resident placed first among female runners in the 2015 race Saturday night in downtown Rockville, running 27:22. Melaku ran 27:45
The race was Sullivan's first since she ran 2:35:37 at Grandma's Marathon in Duluth, Minn. on June 20 , but the 28-day layoff didn't have a negative impact on her performance. That happens when you've hit the Olympic A standard for the marathon.
"I took some time off after the marathon from working out and just really gotten into the workouts in the past week and a half. But they went well," she said.
[button-red url="https://www.mcrrc.org/race-results/2015/07/twilight-runfest-8k-men/" target="_self" position="left"] Men's Results [/button-red]In the men's portion of the 8k, Abu Kebede staved off Chris Sloane and the humidity to finish first among male runners, 25:02 to 25:04. Race spectators lined North Washington Street and cheered on the two men as Kebede cruised through the white finish line tape a step ahead of Sloane. The two hit the asphalt together shortly after.
"The last mile was very hard for me," Kebede, 27, who lives in New York City, said. "It was very hot. The heat and up-and-down hills made it very difficult."
High temperatures and humidity added another element to the already competitive race. Sloane, 32, vacationed in Southwest Florida in June and said he used some of his time there to prepare.
"I was in Florida for ten days last month and did a lot of training down there so that really helped," Sloane, who lives in Gaithersburg, said. "I think it helped me today. I feel good about the way I ran. We started surging at probably about the last half mile and both realized that we were fighting for this. It went right down to the end."
Third-place 8k women's finisher Julia Roman–Duval, 32, of Columbia, said Saturday's weather was perhaps the worst she's encountered in her running career.
"I'm not used to it – I don't usually do well in the heat so I had to kind of push through today," she said with a laugh. "It definitely wasn't my fastest time, but I'll take it."
Exavier Watson joined more than 15 of his Montgomery County Road Runners teammates for the popular night race. The Germantown resident said he already logged 75 miles over the week, but used Saturday's race as a primer for the Atlantic City Marathon he plans to run this October.
"I used this as a training run and I also like the competition element, too. I feel like competition always prepares you for what's coming down the road," Watson, 36, said. "I'm really bad at hills and this was a hilly course. I thought about quitting a few times but I knew there was a flat finish at the end so I kept pushing. And I also didn't want to look bad in front of my coworkers who are on the team. They're training, too, and I didn't want them to talk trash to me on Monday at work."
While the race attracted some of the region's most competitive runners, it offered variants – including a fun run/walk – for runners of all levels.
Olney, Md. residents Kira Bursaw and Laura Portillo signed up for the 2013 race but severe weather forced officials to call it off. Despite the heat, Saturday's weather was more cooperative.
"We ran the two miler and it was a really neat route," Bursaw, 26, said. "There were a lot of hills but it just was really nice. It was kind of intimidating, though, when you neared the finish and ran towards all of the people doing the 8k. It makes you feel like you're out of shape. We're going to sign back up and do it again next year."
Portillo, 26, said she and Bursaw often participate in color and electric runs, but she chose Saturday's race as a training exercise. She aspires to tackle some of the longer courses.
"I love running but I'm trying to work myself up to running longer distances," she said. "The uphill parts of the course were challenging, so that's a good start. It was all downhill at the end so that was nice."
Middle school student Leilani Nti convinced her mother to sign her up for the two-mile, fun run/walk event after she stumbled across an ad for the race in The Gazette newspaper. Her aunt, Gabriella Fernandez, joined her.
"I like the course and it was really fun, but it was very overwhelming because I was one of the first five to finish," Leilani, 11, said. "It was fun to look back and see such a big crowd behind me. Next year I want to do the 8k."
0
Comments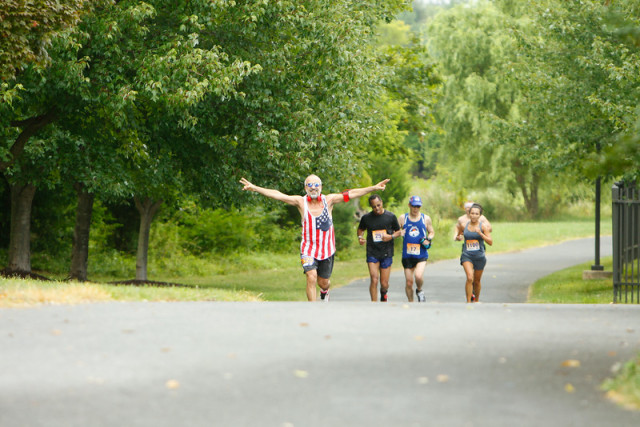 When most race registration websites encourage runners to sign up their particular event, Riley's Rumble Half Marathon cautions participants.
"Don't be seduced by the lush bucolic countryside of rural Montgomery County," it said. "This race will challenge the best runners. If you want the 3 H's (hills, heat, and humidity), this is the race for you."
[button-red url="http://www.mcrrc.org/rileys-rumble-1″ target="_self" position="left"] Half Marathon Results [/button-red]Despite all of this discouragement, more than 400 participants showed up to the starting line at 7 a.m. to conquer what they knew and expected to be a tough course. In fact, those words of warning were part of the draw.
"If another guy suggests to do something challenging or possibly stupid, I don't back away," Sasha Rourk of Washington, D.C. said. "It's definitely tougher on country roads with a lot more hills. But there's fewer tourists than the Mall."
Rourk said his colleague, Arie Heijkoop, recommended the race to him in preparation for the Marine Corps Marathon he plans to run in this fall.
"It's probably the toughest thing I'm going to do this year," Heijkoop said. "I think everything they say about these races are true — Park's Half Marathon is the 'nice half.' And this is the race 'your mother warned you about.'"
The race used to take place along the C&O Canal at Riley's Lock (the race's namesake). But after logistical difficulties, race director Joel Carrier said, the course moved to its current location in Boyds, near the South Germantown Recreational Park. Carrier said he prefers the new course but added "I wait until the fall to run it."
"It's the nicest day we've had in years," he said while talking about the temperatures, which were in the low 70's with a few sprinkles of rain. "Usually it's hot and humid."
Riley's Rumble is one of several events among MCRRC's low-key race series. While there were no awards, t-shirts or finisher medals, one of the temptations to sign up for the race was the low cost: free for club members or a $21.40 registration fee for everyone else—a steal for a half marathon near Washington, D.C.
The low cost was what lured Scott Smith of Bellaire, Md. into signing up. He's currently in the midst of attempting 13 half marathons in 13 months. He said he's running three of these halves in August, solely because they were the most affordable.
"This was a bargain and I try to do as many bargains as possible," Smith said.
Smith is also training for numerous marathons in between his half marathon challenge.
"It's gonna be a tough week," Smith, who has another half marathon coming up next week, said. "But Maryland in general is a hilly place and it will toughen me up for the marathons."
Though the race website recommended first timers steer away from Riley's Rumble, the event marked Nicole Dawson's first half marathon. She'll not only remember her first half marathon because of the course, but also because of the fact that she was the first woman to come through the finish.
At only 19 years old and a junior at the University of Maryland, Baltimore County, won the women's division by nearly two minutes, with a time of 1:32:28. She ran the first half of the race with her UMBC teammate, Sarah Zielinski, then broke away.
Megan Haberle of the Dojo of Pain was also among one of the top women to come through the finish. She felt like she was in a state of shock at staying upright for 13 miles after being dogged by injuries all spring. She added one of her favorite things about the low-key race series is how supportive the other runners in the race were.
"I'm a small town girl at heart and this recaptures that same feeling I remember when I watched my dad run small 10k races," Haberle said.
She added that she also enjoyed the rural scenery.
"It's a beautiful course," she said. "You're not breathing in car exhaust, you're just looking out in the landscape. It's a nice distraction."
Jim Dahlem of Silver Spring said he was quite surprised to see how rural Montgomery County actually was.
"This is by far the most rural half marathon I've ever done," he said. "We passed through farms and cows all on country roads."
That wasn't the only aspect of the race that surprised him.
"When you're going downhill in the beginning you don't realize how steep it's going to be coming back because you're not tired yet."
Though Dahlem had a few surprises, he still managed to finish third in his age group.
The top finisher in the race, who's now a back-to-back first place finisher winning this year's and last, MCRRC racing team member Nicolas Crouzier passed through the finish line at 1:17:03 — a 4:37 lead over second place finisher Miles Aitken. Crouzier said he aimed to run each mile a little quicker than his marathon pace.
"I started out with 5:45 per mile then eased up a little after a few miles," Courzier said.
The MCRRC competitive team recruited Courzier after he won this race last year . He added that the low-key races series put on by the club is a favorite of his.
"I just love these small local races," he said. "You don't have to worry about medals or anything like that, it's just pure and simple racing—and that's what I like."
2
Comment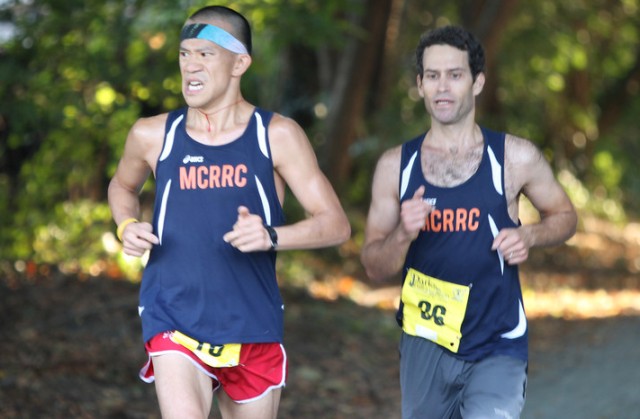 The debut of a grand pianist in a full tuxedo complete with tails at mile six was not the only new tradition that the Montgomery County Road Runner Club's Parks Half Marathon started in its eighth year. The runners themselves were determined to mark new ground by crushing the old course record by more than a minute.
Filled with hills, scenic parks and trails, the race included an elite class of runners, many from the local area.
Clocking in less than two minutes after the women's finish line tape broke, Etaferahu Temesgen of Silver Spring, Md. clenched second place followed by Tezata Dengersa of Washington, D.C., who took third. Meseret K Tolwak of New York, N.Y. won the women's competition with a time of 1:16:25.
Haile Teg Mengesha from New York, N.Y. took the overall first-place title with a time of 1:04:31, which was 20 seconds faster than Ernest Kebenei of Norfolk, Va., who finished second. The elite competition also featured professional ultra-marathoner Michael Wardian of Arlington, Va. 
But even with the cost of attracting more runners and providing unique entertainment, Race Director Mike Acuña and the Montgomery County Road Runners Club have not lost sight of the club's goal established eight years ago to provide a high-quality race at a good value.
"It's a local race with a big feel to it," Acuña said. "We've figured out a way to make it grow without making it too crowded."
Acuña also mentioned the race's other priority—giving runners a chance to get a race under their belt before the marathon season begins.
"We've got people who [want to] race half marathons," Acuña said. "And then we've got a lot of marathoners that use this race a tune-up for fall marathons."
Many runners who tuned up for a marathon hoped to achieve a certain time and looked to Run Farther & Faster coach Julie Sapper as their pacer. While celebrating her birthday with 13.1 miles and a ribbon filled with glitter, Sapper noted that the day was not about her.
"It's about everyone else," Sapper said. "You don't want to disappoint people and not have them get the time they want. Although you sometimes lose people along the way, you know there are some people that can see you from far away and are using you as a marker. So I just tried to stick with my pace."
Despite feeling the pressure, Sapper successfully led her group into the finish line to their goal time.
Among the thousands of athletes who competed on the hilly course through the parks, some competitors had a home-field advantage.
"I normally run on the trails during the week," said Robert Palmer of Silver Spring, Md. "So it's like a home course for me."
Rob Hannon also had a home-turf advantage.
"[The course] is in the neighborhood," Hannon said. "I can see my house from the trail."
The race started near the Rockville Metro station and winded through Chevy Chase and Bethesda, took runners along Rock Creek Park paths and Capitol Crescent and Georgetown Branch Trail. Finishing in Elm Street Park in Bethesda under humid conditions, runners were greeted at the finish with commemorative beanies, refreshments and massage therapists.
0
Comments