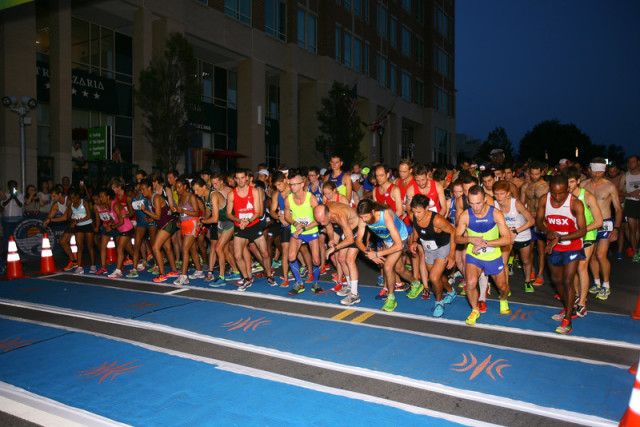 Susanna Sullivan narrowly missed a first-place finish in the 2014 Rockville Rotary Twilight Runfest when Etaferahu Temesgen shattered a race record to edge her by 10 seconds. This year, Sullivan made sure she ended up on the other end of a close race.
[button-red url="https://www.mcrrc.org/race-results/2015/07/twilight-runfest-8k-women/" target="_self" position="left"] Women's Results [/button-red]"Last year I lost in a kick so I really wanted to be conservative early and make sure that I was ready to kick at the end," Sullivan, 24, said. "One of my teammates asked me if I looked back in the last half mile. I told her I didn't, because I didn't want to see where (runner up Elfinesh Melaku) was and didn't want to see her right over my shoulder and panic."
Sullivan, a Capital Area Runners club member and Falls Church resident placed first among female runners in the 2015 race Saturday night in downtown Rockville, running 27:22. Melaku ran 27:45
The race was Sullivan's first since she ran 2:35:37 at Grandma's Marathon in Duluth, Minn. on June 20 , but the 28-day layoff didn't have a negative impact on her performance. That happens when you've hit the Olympic A standard for the marathon.
"I took some time off after the marathon from working out and just really gotten into the workouts in the past week and a half. But they went well," she said.
[button-red url="https://www.mcrrc.org/race-results/2015/07/twilight-runfest-8k-men/" target="_self" position="left"] Men's Results [/button-red]In the men's portion of the 8k, Abu Kebede staved off Chris Sloane and the humidity to finish first among male runners, 25:02 to 25:04. Race spectators lined North Washington Street and cheered on the two men as Kebede cruised through the white finish line tape a step ahead of Sloane. The two hit the asphalt together shortly after.
"The last mile was very hard for me," Kebede, 27, who lives in New York City, said. "It was very hot. The heat and up-and-down hills made it very difficult."
High temperatures and humidity added another element to the already competitive race. Sloane, 32, vacationed in Southwest Florida in June and said he used some of his time there to prepare.
"I was in Florida for ten days last month and did a lot of training down there so that really helped," Sloane, who lives in Gaithersburg, said. "I think it helped me today. I feel good about the way I ran. We started surging at probably about the last half mile and both realized that we were fighting for this. It went right down to the end."
Third-place 8k women's finisher Julia Roman–Duval, 32, of Columbia, said Saturday's weather was perhaps the worst she's encountered in her running career.
"I'm not used to it – I don't usually do well in the heat so I had to kind of push through today," she said with a laugh. "It definitely wasn't my fastest time, but I'll take it."
Exavier Watson joined more than 15 of his Montgomery County Road Runners teammates for the popular night race. The Germantown resident said he already logged 75 miles over the week, but used Saturday's race as a primer for the Atlantic City Marathon he plans to run this October.
"I used this as a training run and I also like the competition element, too. I feel like competition always prepares you for what's coming down the road," Watson, 36, said. "I'm really bad at hills and this was a hilly course. I thought about quitting a few times but I knew there was a flat finish at the end so I kept pushing. And I also didn't want to look bad in front of my coworkers who are on the team. They're training, too, and I didn't want them to talk trash to me on Monday at work."
While the race attracted some of the region's most competitive runners, it offered variants – including a fun run/walk – for runners of all levels.
Olney, Md. residents Kira Bursaw and Laura Portillo signed up for the 2013 race but severe weather forced officials to call it off. Despite the heat, Saturday's weather was more cooperative.
"We ran the two miler and it was a really neat route," Bursaw, 26, said. "There were a lot of hills but it just was really nice. It was kind of intimidating, though, when you neared the finish and ran towards all of the people doing the 8k. It makes you feel like you're out of shape. We're going to sign back up and do it again next year."
Portillo, 26, said she and Bursaw often participate in color and electric runs, but she chose Saturday's race as a training exercise. She aspires to tackle some of the longer courses.
"I love running but I'm trying to work myself up to running longer distances," she said. "The uphill parts of the course were challenging, so that's a good start. It was all downhill at the end so that was nice."
Middle school student Leilani Nti convinced her mother to sign her up for the two-mile, fun run/walk event after she stumbled across an ad for the race in The Gazette newspaper. Her aunt, Gabriella Fernandez, joined her.
"I like the course and it was really fun, but it was very overwhelming because I was one of the first five to finish," Leilani, 11, said. "It was fun to look back and see such a big crowd behind me. Next year I want to do the 8k."
Recent Stories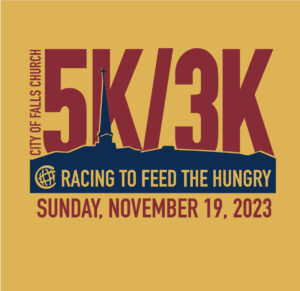 The out and back Falls Church City 5K/3K course is mostly flat on the W&OD Trail starting and finishing at 103 Columbia Street. Overall male and female winners earn free shoes and medals are awarded to all categories. Great family