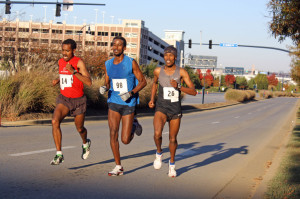 The history of the Woodrow Wilson Bridge Half Marathon is short but impressive.
Four years ago, in its debut year, the women's race was won by Catherine Ndereba, better known as "Catherine the Great."  In its second year, a new course record was set (1:02:37) and four American men notched qualifiers for the U.S. Olympic Marathon Trials.
The prize purse includes $1,200 for the male and female winners and $600 for top Americans. The race also hosts the  Road Runners Club of America National Half Marathon Championships, the Potomac Valley Association USATF Championship and the National Industries for the Blind Visually Impaired National Half Marathon Championships.  And with a fun yet challenging course that starts with eight miles on the George Washington Memorial Parkway, climbs over the Woodrow Wilson Bridge, and finishes with a big loop around National Harbor, the race draws more than 3,000 runners of all abilities.
Oh, but those eight opening miles on GW Parkway, a national park …
On day two of the federal government shutdown – four days before the Woodrow Wilson Bridge Half Marathon – Race Director Steve Nearman was forced into making a tough decision.
Due to the shutdown, the race was postponed until November 10, more than a month after the original date. Deferrals to next year's race were offered and about 600 were processed, Nearman said, while 1,739 runners came out to race on the new date.
Meanwhile, Nov. 10 was as good as Oct. 6 for Kellyn Johnson. The 27-year-old professional runner claimed her second straight win in 1:13:02 and earned prize money in both the overall and American-only divisions.
"It just gave me a little more time to train," she said. "It was something that was on my schedule before and then it happened to fit perfectly into it after."
Johnson trains in Flagstaff, Ariz., with Team USA Arizona and said she is still experimenting with distances between 5K and the half marathon. She ran the 5,000- and 10,000-meter races at the 2012 U.S. Olympic Track and Field Trials, and was 4th in this year's national 10-mile championship hosted by the Cherry Blossom 10 Mile Run. She will return to the area Nov. 17 for the .US National Road Racing 12K Championships.
Johnson was followed by Desta Tadesse of Ethiopia (1:13:53). Waynishet Abebe, an Ethiopian runner who lives in D.C., was 3rd in a personal best time of 1:14:10, just a few weeks after winning the Atlantic City Marathon.
Lindsay O'Brien of Washington, D.C., in her second half marathon, finished 7th overall and was 2nd American. Her time, 1:18:54, was more than a minute faster than her last attempt at the distance.
O'Brien was a three-time cross country All-American at Yale who took a break from competitive running and now trains with Georgetown Running Club.
"I'm trying not to be daunted by the distance," she said. "This was a good step in the right direction."
The men's race was led by a pack of three: Girma Gebre, Siraw Kebede, and Nahom Mesfin, all from Ethiopia.
They raced side by side, charging together up a tough hill in National Harbor. But at the 12-mile mark, Gebre made a strong move to win decisively in 1:04:40.
Gebre has been living in New York with his manager, Alem Kahsay, who said Gebre's background is in the middle distances. Mesfin, though, is no slouch in the leg speed department, either:  He has competed in two Olympics in the steeplechase, and said he spent most of the past nine months training at altitude in Flagstaff, Ariz. Mesfin, however, admitted that Gebre's move was simply too strong to match.
"Anyway, I'm happy," he said, smiling after his third-place finish.
The men's chase pack of four included Georgetown Running Club's Kieran O'Connor.
O'Connor, 26, has only been running competitively for a few years. But he has already won a marathon and was the 8th American in Boston in 2012. After earning a master's degree at a university in Cairo, Egypt, O'Connor recently moved to D.C., joined Georgetown Running Club, and – for the first time – started doing speed work under the eye of coach Jerry Alexander.
Going into today's race, O'Connor's half marathon best was in the 1:09s. He took it out easy, he said, on the opening downhill from the start in Mount Vernon; men and women were flying ahead of him. But then they started coming back – 5:05 miles clicking away.
At the top of the hill in National Harbor, O'Connor knew his goal of breaking 1:07 was within his reach. And rather than be intimidated by the professional runners surrounding him, O'Conner dropped them on the way to running 1:06:49 – good for 4th overall and top American.
In the visually impaired national championships, Aaron Scheidies, like Johnson, appreciated having extra time to train.
Scheidies won the men's division last year in 1:18:05. This year, in the week's before the original race date, Schiedies finished 2nd in the visually impaired division of the triathlon at the London Paralympics. Afterward he took a vacation.
Guided by Georgetown Running Club's Dave Wertz, Schiedies won his second straight national championship and claimed a new personal best and event record of 1:16:24.
"I didn't expect it, so I'm really happy with the time," he said.
Adjusting to a New Race
The Wilson Bridge Half Marathon was supposed to be Briana Whelan's tune-up race for the Marine Corps Marathon, her first attempt at 26.2 miles.
When it was postponed, Whelan did not find a replacement race. She nonetheless had a great experience in her first marathon, which she ran with her cousin and uncle.
As for this morning, the Washington, D.C., resident and running newbie ended a two-week break to finish her third half marathon of 2013.
Chris Beeler, a U.S. Army colonel on a year-long assignment in the District, has been training with DC Road Runners and planned to use the Wilson Bridge Half Marathon as a confidence booster for the Army Ten Miler, held on October 20. Her goal race complete, it was hard to stay motivated to run another race, she said.
"But in the end," she said, "it is what it is, and it was a beautiful day today."
Miguel Gonzales of Manassas, Va., said the shutdown and the postponement it forced derailed his training. In the 1990s, he ran professionally, but with a busy job and four daughters between 2 and 9, Gonzales – until about a year ago – had more or less stopped running altogether.
"I got to 200 pounds and said I need to lose some weight," he said. And while today was tough for him and he "felt horrible," Gonzales said he thought of today's race as a fresh start.
Mark Geiger of Waldorf, Md., finished his first half marathon, culminating several months of training. He said he could not remember the exact reasons he started running about a year ago – only that he started with walking and, week by week, added a little more running.
"I think it worked out better because the weather today was better," said Geiger, referring to the rescheduled date.
The weather this morning was perfect for racing. October 6 in Washington, D.C., on the other hand, was a hot day. And let me tell you: This runner has woken up on many such race days and thought to himself:  Man, if there's any way this race could be postponed …
0
Comments