By Dickson Mercer
Alexandria, VA
October 2, 2011
For the Washington Running Report
Ten kilometers into last year's New York City Marathon, Kenyan Moses Kigen Kipkosgei made what proved to be a smart move. He let the lead pack go. "The pace was high, so I set my own," Kipkosgei recalled today after winning the 2nd annual Woodrow Wilson Bridge Half Marathon in 1 hour 2 two minutes 37 seconds.
In New York, the strategy worked, as a game Kipkosgei went on to seize third place. His best ever result, he said. But today, as Kipkosgei passed 10K along the rolling George Washington Memorial Parkway, the 28-year-old professional had the opposite feeling: the pace was too slow. He already had command of the race; still, he pushed.
Kipkosgei's winning time was a couple minutes slower than his personal best, but it lowered the event record set by Ethiopian Derese Deniboba, who this year finished 2nd though in an even better time of 1:02:56. Kipkosgei said the Woodrow Wilson Bridge Half Marathon had served as a fine tune-up for his return to New York on November 6. "This year I am in better shape," said Kipkosgei, who flew in from Eldoret, Kenya on Friday and will return there Monday to put the final touches on his marathon training.
The women's runaway winner, Bekelech Bedada, (right) arrived in New York from Ethiopia just weeks ago. A member of Ethiopia's national team, Bedada plans to get a taste for the American road racing scene for a little while longer before returning to Ethiopia to focus on the track, specifically the 5,000 and 10,000 meters. Unchallenged, she cruised to the win in 1 hour 12 minutes 44 seconds, besting Gladys Asiba by more than three minutes. "I'm happy," she said.
Whether it was to prepare for an upcoming 26.2-mile romp through the Big Apple or the month-away Marine Corps Marathon, the Woodrow Wilson Bridge Half Marathon offered runners of all abilities an apt practice venue. Jennifer Yang, 29, of Alexandria, VA, for instance, took advantage of familiar terrain—she does most of her running on the bike paths surrounding the race's finish—to sneak in her first half marathon before her first attempt at 26.2 at the MCM.
For big city marathons, just getting to the start can be a challenge. Gracefully dealing with all the logistical challenges to minimize stress can ultimately make a big difference.
The point-to-point Woodrow Wilson Bridge Half Marathon attuned a runner to such an experience. Before 6:00 a.m., runners were arriving in National Harbor, where the race finished and boarding buses bound for Mount Vernon, where the race started. Once the race got going, runners were met by a course that, much like those aforementioned marathons, allows for reasonably fast running … so long as you run smart.
The opening mile featured a big downhill. From there, runners met a mix of subtle climbs and drops. That was until between miles 8 and 9, when they hit a challenging hill on the Woodrow Wilson Bridge, which returned the runners to Maryland. This hill, however, was really only a prelude to the tough climb still to come as runners rounded National Harbor toward the finish.
"I find this hill … very challenging," Marirose Jarvis, 37, of Springfield, VA, said while waiting in line for a free massage at the post-race festival. She was shivering a bit, but, like the thousands there—plenty of whom had a complimentary beer and took in a band—did not seemed to be bothered by it.
Three days ago, though, as humidity spiked, Race Director Steve Nearman almost put in an order for a couple tons of ice. Good thing he did not pull the trigger. Rather than heat, runners wound up taking on the first legitimately chilly day of the year. Conditions, all told, were favorably cold and blustery.
The elite field Nearman assembled for today's race included a mix of top-notch international runners, members of McMillan Elite/Team USA Arizona and top locals such as Michael Wardian, who finished 8th in 1:09.16, and Michelle Miller, who finished 3rd in 1:19:43.  She was also the top American female.
Miller's (left) performance was tops for Georgetown Running Company's racing team, which also offered guides for the race's National Industries for the Blind National Half Marathon Championships. The winner of that event, Amy McDonaugh, 34, of Irmo, SD, was also fifth overall among women and second American in 1:24:01.
Rebounding from an injury, Miller ran 1:19:43, a 6:05 pace she said indicates her fitness level is on the right track as she prepares for November's Philadelphia Marathon. Her plan was to run conservatively the opening 10 miles and then pick up the pace if she felt good, she said. "I'm in better shape than I thought, so that was a great confidence booster."
Prize money ran five spots deep, with the overall winners pulling in $1,000. American-only prize money went five deep as well, with $800 going to winner. While Wardian picked up the top American-only check in the race's inaugural running, this year he was fifth in a deeper field.
With the U.S. Olympic Marathon Trials just months away, Nearman offered a special incentive of a $1,000 bonus to any runner who dipped under the trials-qualifying standard of 1:05:00. Afterward, Nearman could not have been more pleased: The top four American men in today's race all qualified for the trials.
The group was led by Jordan Horn, 26, and Danny Mercado, 23. Both train with Team USA Arizona. Both were pleased with their results.
Horn, who was 3rd overall, joined Greg McMillan's program about four years ago, not long after it was founded. Mercado, however, only joined two months ago, not long after he graduated from the University of Oregon.
Mercado, who was 4th overall and sports a Prefontaine-esque mustache, said he was not initially sure what direction he wanted to go with his running after Oregon. He thought about quitting, he said, but Horn was among McMillan's athletes who encouraged him not to give up.
Horn, in turn, has been focusing on the mile the last couple of years. While this was Mercado's first half marathon, it was only Horn's second. Still, the older runner nonetheless served as a guide of sorts for Mercado, who admitted after the race that, on the starting line, he was nearly overcome with nerves.
"Right before the race I thought I was going to drop out," he said. "As soon as we started taking off it felt so much better. I got in right behind him and it felt just like practice."
The two ran together all the way until the bridge, where Horn, who clocked 1:03:53, gapped his buddy on the downhill. Mercado came through in 1:04:03. Though he now has a qualifier, he said he is not quite ready to tackle the marathon. Horn, on the other hand, is all set to debut at the trials.
"It's a little scary," he said, "but I'm excited."
Third place Jordan Horn (10), fifth place Danny Mercado (11), sixth place Bobby Mack (12), and seventh place Ricky Flynn (647).
Top Male Finishers
1. Moses Kigen Kipkosgei, KENYA, 1:02:37 (breaks event record of 1:04:44 set by Derese Deniboba in 2010), $1,300
2. Derese Deniboba, ETHIOPIA, 1:02:56, $800
3. Jordan Horn, Flagstaff, AZ, 1:03:53, $2,350
4. Abiyot Endale, ETHIOPIA, 1:04:01, $500
5. Danny Mercado, Flagstaff, AZ, 1:04:03, $1,900
6. Bobby Mack, Raleigh, NC, 1:04:13, $1,600
7. Ricky Flynn, Lynchburg, VA, 1:04:15, $1,500
8. Michael Wardian, Arlington, VA, 1:09:16, $300
9. Seife Geletu, Washington, DC, 1:10:08
10. David Burnham, Arlington, VA, 1:10:51
Top Masters
1. Patrick Kuhlmann, Arlington, VA, 1:14:14, $200
2. Alex Hetherington, Vienna, VA, 1:17:11, $150
3. Paul Willis, Bronx, NY, 1:19:16, $100
Top PVA
1. Wardian, $300
2. Hetherington, $200
3. Lavar Curley, Washington, DC, $100
Top PVA Masters
1. Hetherington, $250
2. Robert Britain, Wayzata, MN, $150
3. Jack Beach, Nottingham, MD, $100
Top Female Finishers
1. Bekelech Bedada, ETHIOPIA, 1:12:44, $1,300 (breaks course record of 1:13:17 set by Catherine Ndereba in 2010)
2. Gladys Asiba, KENYA, 1:15:57, $500
3. Michelle Miller, Damascus, MD, 1:19:43, $1,050
4. Mekides Bekele, ETHIOPIA, 1:20:04, $200
5. Amy McDonaugh, Irmo, SC, 1:24:01, $600
6. Lisa Cron, Herndon, VA, 1:24:03, $300
7. Michelle Harburg, Washington, DC, 1:26:55, $200
8. Lauren Woodall, Washington, DC, 1:29:37, $100
9. Laura Greeson, Alexandria, VA, 1:30:33, $200
10. Sarah Brown, Arlington, VA, 1:30:45
Top Female Masters
1. Greeson, $200
2. Susan Graham Gray, Greencastle, PA, 1:33:47, $150
3. Gillian Walker, Springfield, VA, 1:35:17, $100
Top PVA
1. Kara Christenson, Alexandria, VA, 1:46:42, $300
2. Valerie Bambha, Alexandria, VA, 1:55:01, $200
3. Jessica Orozco, Arlington, VA, 1:55:29, $100
Top PVA Masters
1. Joann Johnson, Herndon, VA, 2:06:54, $250
NIB Visually-Impaired National Half Marathon Championships
1. Amy McDonaugh, Irmo, SC, 1:24:01
2. Matthew Rodjom, Alexandria, VA, 1:24:23
3. Susan Graham Gray, Greencastle, PA, 1:33:47 (in photo below)
4. David Kosub, Washington, DC, 1:34:37
5. John Morgan, Adelphi, MD, 1:43:16
6. Joseph Aukward, Bethesda, MD, 1:45:33
7. Thomas Panek, McLean, VA, 1:52:14
8. Rodan Hollins, Washington, DC, 2:10:07
9. Tim Paul, Chicago, IL, 2:21:34
10. Cassandra Dozier, Chicago, IL, 2:29:54
11. Doug Powell, Falls Church, VA, 2:33:01
Recent Stories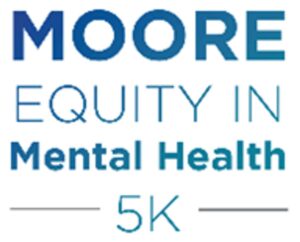 About APA's MOORE Equity in Mental Health 5k
The APA's Division of Diversity and Health Equity invites you to join us in combating mental health inequities facing young people of color and in honoring mental health advocate Bebe Moore Campbell.