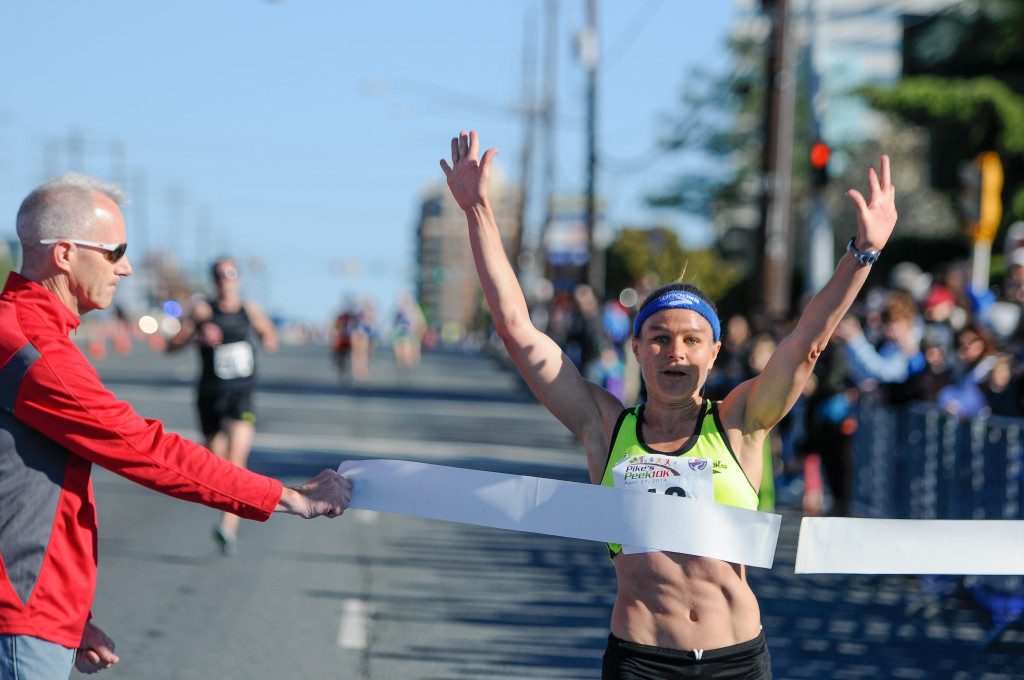 The fourth try was the charm for Christine Ramsey, who broke the tape at the Pike's Peek 10k Sunday morning in 34:43.
The Baltimore runner debuted here in 2008, finishing 5th in 36:19.  Four years later, she returned, running more than 90 seconds faster but finishing two spots lower. Last year, another solid showing got her 11th.
Enter 2014.  This morning, two miles in, Ramsey, 31, found herself in the lead pack with about half a dozen women all running well under six minutes per mile. "I felt pretty strong, so I picked it up," she said. "They were still pretty close behind me, but nobody went with me."
[button-red url="https://www.mcrrc.org/pikes-peek-10k-8″ target="_self" position="left"] 10k Results [/button-red] At mile 4, Ramsey surged again, holding onto a slim lead over Alexandria's Lindsay O'Brien, on the way to a new personal best of 34:43 and a $500 pay day. "It was great because we pushed each other," she said of her competitors.
Ramsey, as of late, has been more focused on reaching the finish line of her PhD program than on trying to win races. She recently turned in her dissertation; the defense is in two weeks. "So it felt good to have a good race," said Ramsey, who will move to New Haven, Conn., soon to start a post-doctoral position.
All but 70 seconds separated Ramsey from Selamawit Lemma in 5th. O'Brien was 2nd; it was her second-straight sub-35-minute showing here. Columbia's Julia Roman-Duval was 3rd in 35:05, followed by Loring Crowley of Winston Salem, N.C., in 35:23. Kensington's Cindy Conant, 53, was the top master in 38:08.
On the men's side, Nahom Mesfin, running his first Pike's Peek, took the lead early and never looked back. He was all alone, pumping his arms on the long downhill to the finish line and waving to the crowd, winning in a net time 28:28, 22 seconds off Julius Kogo's event record set in 2011.
Mesfin, a former Olympic steeplechaser, is living in Alexandria, and is transitioning to longer races, he said.  To that end, he recently returned from a four-month training trip to his native Ethiopia.
Early in the race, Mesfin questioned the feedback he was getting from his watch, he said. He was seeing kilometer splits in the low 2:30s, but the pace felt a slower than that, he said. "I was not in a good mood."
Less than a half hour later, his mood had changed.
"I am so excited, and so happy," said Mesfin, who had been disappointed with his performance at the Cherry Blossom Ten Mile Run earlier this month.
Baisa Moleta, also of Alexandria, was 2nd in 29:04, followed by Dereje Deme of Silver Spring in 29:09. Gurmessa Megerssa, a Washington, D.C., resident via Ethiopia who reigned supreme over the local roads in 2006 and 2007, closed hard down the final straight to clock 29:19. Getachew Asfaw of Silver Spring rounded out the top five.
Bethesda's Conrad Laskowski, 7th in 30:12, ran with the lead pack early on alongside Gaithersburg's Chris Sloane, 8th in 30:33.
"I was trying to run under 30," Laskowski said. "Came up a little short, but I am happy with it. It's a PR."
Philippe Rolly, 41, of McLean, was top master in 31:37.
Downhill, fast, and cool
For Pike's Peek, runners start on Redland Road near the Shady Grove Metro station, make a quick left on Route 355 and bee-line it south past the White Flint station, where a big downhill covers the last .2 miles. "It is probably the fastest 10k you can get without going on the track," Ramsey said.
That, as it happens, is only part of its appeal. In addition to professional-level competition, former race director Jean Arthur can only remember two years when this Montgomery County Roads Runners event had bad weather. This year, the temperature was cool, and the way the finish line banner was flapping, you knew the wind was at runners' backs.
"I ran it for the first time last year, and I thought it was so good I came back again," said Brian Carlson, a nine-time marathoner who started running in 1988. The Reston Runners member, who is 67, likes the net-downhill course. Plus, he said, "It's a very well-run race."
"You know it's net downhill, so you know you're going to get a pretty good time," said Jody Gil, who came close to achieving her goal of breaking 53 minutes.
Gil ran with her longtime friend Jared Sher for six-plus miles. "He turned on the guns at the end," she said.
Leland Hao ran the race with his son, Kelvin Hao, 11. It was Kelvin's first 10k, and the smile on his face afterward suggested he'll have no problem finishing the Disneyland 10k in late August.
When Kelvin's younger sister was hospitalized for cephalitis, he met other kids his age fighting a rare childhood disease called ataxia-telangiectasia, also referred to as Louis-Bar syndrome, Leland Hao said. In Anaheim, Calif., Kelvin's race will raise money for the A-T Children's Project, which seeks a cure.
The race had a wave start to accommodate about 2,500 participants, and for the first time offered pacing teams. Bethesda's Danny George, typically a 36-minute 10k runner, helped about 10 runners meet their goal of breaking 45 minutes.
"I just wanted to stay even and give them a little head start," George said. "That way, once they got to the top of the hill, they could just coast right in."
0
Comments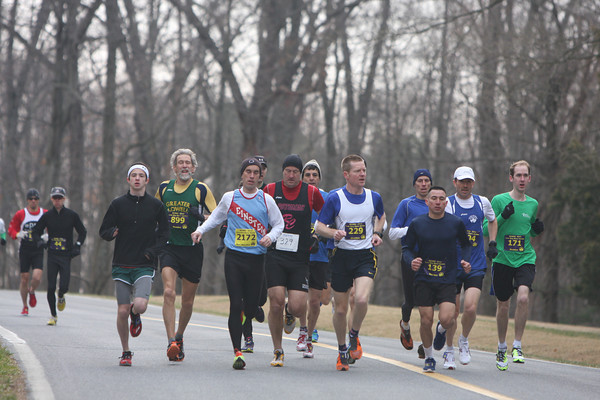 When runners registered for the most recent Montgomery Country Road Runners Club race, they were mistaken if they thought it would be a "piece of cake." Little did they know that they would have to conquer tough-rolling hills through Seneca Creek State Park in order to cross the finish line.
"It's a very challenging course," said Carol English of Germantown, Md. "But it's good. It builds character."
Since 1997, English has been involved with the Montgomery County Road Runners Club. She is currently enrolled in the club's speed development program, which included the club's Piece of Cake 10k.
"The club is an amazing group," English said. "They put on well-organized races."
MCRRC's Piece of Cake 10k, one of several races of the MCRRC championship series, attracted nearly 350 runners. The Piece of Cake title actually comes from the annual cake contest the MCRRC holds in celebration of the club's birthday. This year's race marked the club's 35th anniversary.
[button-red url="http://www.mcrrc.org/piece-cake-10k-cs-2″ target="_self" position="left"] Results [/button-red]
The race brought out several talented competitors, including Douglas Woods of Gaithersburg, Md. Woods trailed behind second-place finisher Eric DaSilva until the last 800 meters, when he passed DaSilva. "I just ran on his shoulder, he didn't want any help," Woods said. "I kicked the last half mile."
[button-red url="http://www.mcrrcphotos.com/2013Photos/Race-Photos/Piece-of-Cake-10K-2013/i-vLhX2nC" target="_self" position="left"] MCRR Photos [/button-red]Aside from the first-place title, Woods may have had another motivating factor waiting for him at the finish.
"Cake. Where's the cake?" Woods asked as he looked around.
But not all runners were able to reward themselves with delicious cake in celebration of the club's birthday.
"I gave up sweets for lent," said Tommy Young of Brookville, Md., who had just completed his first 10k.
Unlike sweets, Young was able to enjoy quiet roads through the woods near Clopper Lake during the race. His girlfriend,Katherine Young of Silver Spring (they're not related—they just happen to have the same last name), "pulled" Tommy in with the club earlier this year. Katherine has been involved with the club for two years.
Both of them plan on competing in the upcoming 10 Mile Cherry Blossom.
Cindy Conant of Kensington Md. was the first female finisher to cross the finish line with a time of 40:29. With Conant competing in races nearly every weekend, including the 10 Miler Cherry Blossom and the Boston Marathon, Conant said she prefers the low-key club races.
"I don't have to pick up my race-packet the day before," Conant said. "I want to end where I start."
As the club wrapped up it's 10k race, it was only the beginning of its annual meeting and awards brunch. Among the awards presented, four outstanding high school runner college scholarships were divvied up between Benjamin Withbroe of Einstein High School, Nick Simpson of Einstein High School, Isabelle Latour of Quince Orchard High School and Laura Nakasaka of Bethesda-Chevy Chase High School.
"We'll be living up to what they saw in us these past four years and will be working hard academically, in the community and in our sports," Nakasaka noted.
Though the club rarely hands the award out, Dee Nelson of Gaithersburg, Md. was presented a life-time achievement award. With 45 years of running under her belt, the Piece of Cake 10k marked her 1,487th race.
"I have found over the years that training less is actually working out," Nelson said.
Nelson is nearing her goal of hitting 1500 races and averages nearly 60 races per year.
Among other impressive award-winning runners was Joe Sangillo of Rockville, Md. He received the most improved runner of year award. Sangillo may look like another other seasoned runner, but that wasn't always the case. In two years, Sangillo weighed more than 100 pounds heavier and could barley complete a 12-minute mile. But just last year, after completing the MCRRC first time marathon program, Sangillo accomplished his goal: completing the Marine Corps Marathon in 3:40. Since 2006, Sangillo has lost a total of 130 pounds.
"Just don't underestimate yourself," Sangillo said. "I smashed any expectations that I had for myself."
0
Comments