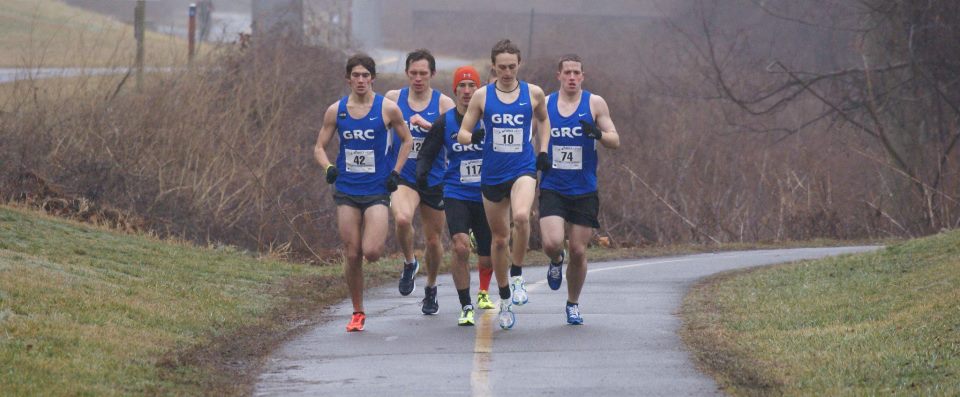 Friendly competition among teammates helped make the Have a Heart for Boston-Hoffman Elementary School 5k a fast race, despite chilly temperatures and a light drizzle.
[button-red url="http://www.safetyandhealthfoundation.org/20130223.html" target="_self" position="left"] Results [/button-red]The Georgetown Running Club came out en force for the second straight year, sweeping the top five men's spots and five of the six top women's spots, including the top three. They showed up to support teammate and race director Samantha "Kirby" Cole, a teacher at the school. Cole credited Suzanne Paul with bringing the race together.
[button-red url="http://youngrunner.smugmug.com/Race-Photo-Galleries/Have-a-Heart-for-Hoffman/i-v7c92fh" target="_self" position="left"] Photos [/button-red]Alex Benway, of Reston, led the blue-clad harriers out in a pack that split close to five minutes for the first mile of the out-and-back course on the Four Mile Run and W&OD trails, starting and ending in Arlington's
Bluemont Park. The group slowed in the rolling middle mile, and Benway (15:47) took his leave of defending champion Arlingtonian Dave Wertz (16:00) with a mile to go. Third-place finisher Matt Hassett (16:11), of Washington, predicted as much before the race, "It will wind up being a two-mile warmup and one mile race," he said.
"It is rare to find a person that enjoys racing when it is cold and raining," Benway said. "But when your team comes out and does it with you, it makes it a lot more manageable."
Centreville's Keith Freeburn, off a two-week respite with a back injury, came to the race with a pair of buddies from The Running Store's racing team. He was familiar with the course after having run the Kinhaven 5k and gave it high marks.
"It's a straightforward course and you can run pretty fast on it if you do it right," he said after finishing.
Fourth place finisher Natalie Young(18:15), of Dumfries, led the five-woman GRC pack through the first half beforeCatherine Campbell (18:01) of Bethesda moved ahead on the way back and and Lindsey O'Brien (18:08) and Maura Carroll (18:12) of Washington caught her in the stretch.
"It was a great opportunity for us to test out racing shape and gague what work needs to be done come spring," Campbell said. "I particularly enjoyed having a great group of girls to run with for over half of the race."
Boston-Hoffman teacher's aid Liz Houston, who lives close enough to the park to run there regularly, finished her first 5k race that morning. She volunteered in 2012 and decided to run as part of her effort in the school's "biggest loser" fitness challenge.
"It was very exciting to finish," she said. "They put down mile markers, so I knew where I was in the race and it let me know I was pacing myself well."
She ran by herself, tagging along with other runners at times but focusing on her music to motivate her. Nerves before the race forced her to forgo breakfast, so she appreciated the heart-shaped bagels awaiting finishers.
The experience has her sold on racing again.
"It made the rest of the day more cheerful," she said. "All those endorphins…"
The race raised money for physical education equipment and to help fund Can You Imagine Me, an after school program which encourages children to make healthy choices and help them train toward running a 5k.
0
Comments