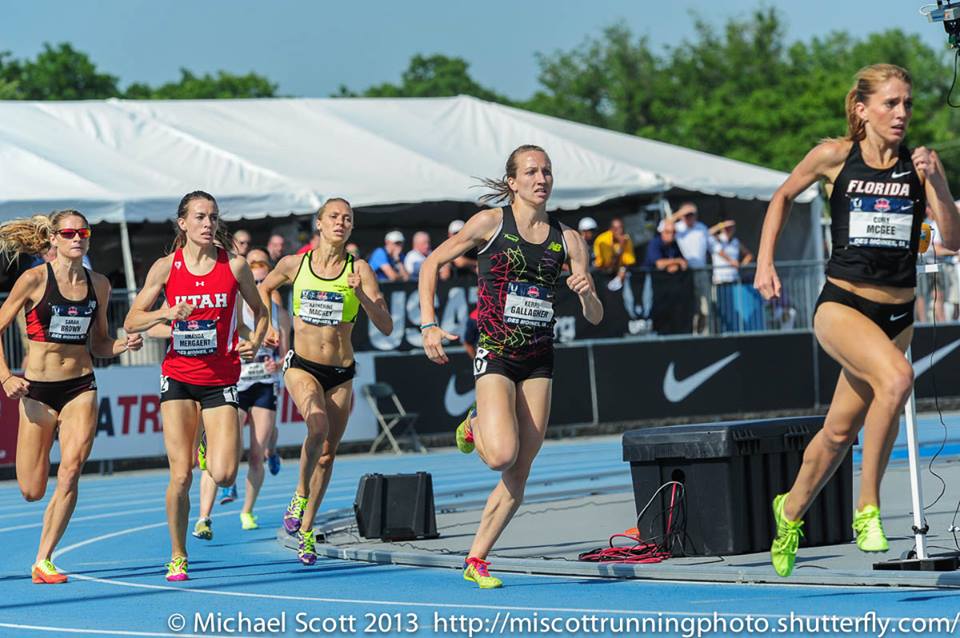 [button-red url="http://www.usatf.org/events/2013/USAOutdoorTFChampionships/results/track.aspx?EN=10&RN=2″ target="_self" position="left"] Results [/button-red][button-red url="http://www.youtube.com/watch?v=lhtFfdJyPgg" target="_self" position="left"] Watch the Race [/button-red][button-red url="http://mydigimag.rrd.com/publication/?i=154152&p=64″ target="_self" position="left"] More Info [/button-red]
Kerri Gallagher wanted to stay relaxed during her race, and as it turned out, that wasn't too hard.
The finals of the 1500 meter run at the USA Track and Field Championships went out at a crawl- 84 seconds for 400 meters and 2:40 for 800. Having run a personal record 4:12.58 two days earlier to qualify for the final, this felt more like an aggressive warmup to Gallagher, who lives in Chevy Chase, Md.
On a hot day in Des Moines, Iowa at Drake Stadium, the Pacers/New Balance runner didn't feel the temperature in the mid-90s was getting to her. She had raced on plenty of hot tracks as an undergrad at Fordham University, but never this kind of hot field, which included 2011 Diamond League champion Morgan Uceny, among others. Seven finalists had run more than four seconds faster this year than Gallagher had during her career.
"Nobody wanted to take the lead," Gallagher said afterward. "I've been in tactical races before and knew it would play to my strengths."
She would stay out of trouble and be ready to react, and she did just that, in the back of the pack. That is, until the bell lap approached. With a little more than 400 meters to go, she swung wide outside — in last place at that point — to move around and be ready for the long kick.
"Coach (Matt Centrowitz) told me I should make a gradual move, but the circumstance wasn't really right," she said. "I had to put myself in a position to compete, so that plan went out the window."
At the right time, too, because the whole 12-woman field was moving when the bell run.
"She was better than a New York City cab," Centrowitz remarked.
With 200 meters to go, the top five were pretty well shaken out- high school phenom Mary Cain trying to hold off 2004 Georgetown alumna Treniere Moser, with NCAA Championships runner-up Cory McGee in third and former world championships bronze medalist Shannon Rowbury in fourth, with Gallagher close behind. The only change over the last half of the lap was Moser edging out Cain for the win and her fourth U.S Outdoor title in 4:28.62. Two second back, Gallagher held her position to take fifth in 4:30.56.
"Coming into the meet, coach said I could probably finish between second and tenth, given how good the field was," Gallagher said. "I would have been happy with top six, but just making the final was amazing."
She hit the national qualifying mark with a 4:12:97 in Los Angeles at the Oxy High Performance Meet in May, then notched an 800 meter PR of 2:06.4 in New Jersey.
The door's still open on the rest of the season for Gallagher. She serves as an assistant track coach at American University.
0
Comments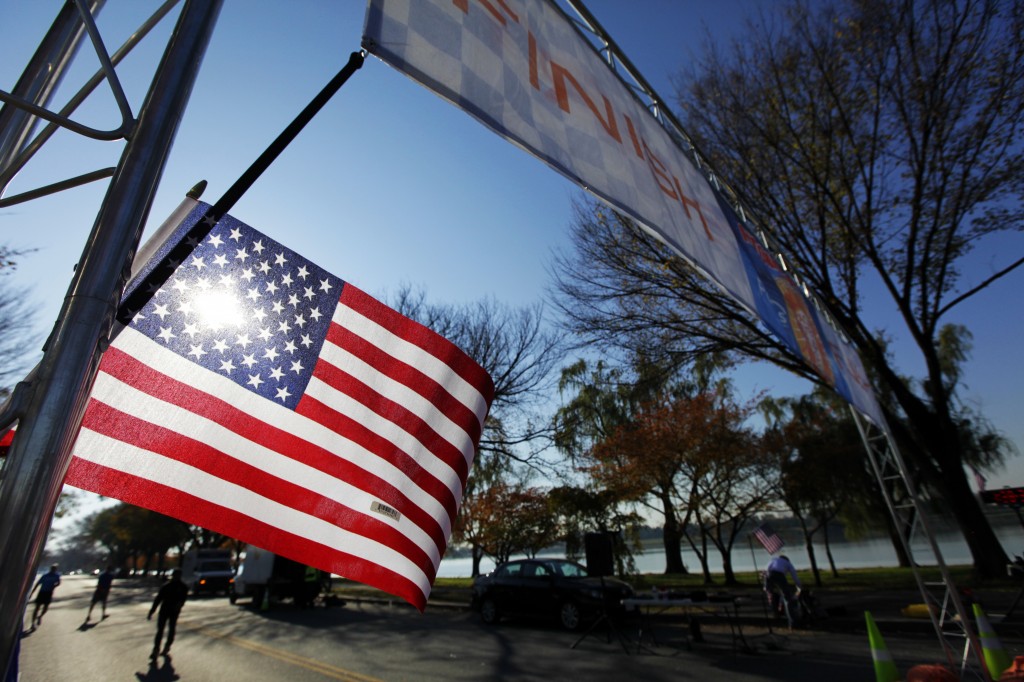 While racing the Veterans Day 10k last Sunday, runners felt a strange sensation as they rounded Hains Point — still air. It was a rare-enough occurrence that some may have wondered if they would later dine on a breakfast of dodo eggs and unicorn steak.
[button-red url="http://old.runwashington.com/veterans10k/race-history/event-records.htm" target="_self" position="left"] Results [/button-red]Just two weeks prior, runners dealt with four miles of variable winds as they rounded West Potomac Park, vulnerable to the breezes coming off the Potomac River in the middle of the Marine Corps Marathon. This morning, a pack of Pacers Racing Team members cruised along in the sun, exerting a measured effort that blew away last year's times.
Chris Kwiatkowski, a recent University of Oregon graduate in town to train under coach Matt Centrowitz, started to pull away after 5k on his way to a 29:47 victory.
In his first post-collegiate year, Kwiatkowski, of Chevy Chase, is trying to adjust to the lack of cross country racing to which he's become accustomed. The distance certainly isn't an issue for him, not with a 49:09 sixth place finish at the Army Ten Miler to his credit.
"I guess the closest thing to cross country is long races that force you to get strong," he said.
Columbia, Md. resident Joey Thompson edged last year's winner Frank DeVar to the finish line in just under 30 minutes, well ahead of his DeVar's 30:23 time then.
Kwiatkowski, DeVar, Jeff Brannigan, Matt Barressi and Kerri Gallagher led the Pacers New Balance team over the Georgetown Running Club, consisting of Jerry Greenlaw, Sam Luff, Ryan Witters, Alex Benway and Beth Young.
Canadian middle distance runner Carmen Hussar's family was in Washington for the weekend, which led her to the race. She's putting in high mileage between track seasons and the race fit comfortably into her schedule, as she won in 33:45 over Army Ten Miler champion Gallagher.
"I loved the course," Hussar said. "Running into the sun, the nice weather, and I had a good group to run with."
0
Comments
By Helen Russell
Springfield, VA February 16, 2010
For the Washington Running Report
Metro Run & Walk in Springfield, Virginia celebrates its one year anniversary with new owners, Mark & Helen Russell. The Russells purchased the store in February 2009 from long-time owner Lea Gallardo and is now the only Metro Run & Walk store in the Washington metropolitan area.
The Russells and the entire staff at Metro Run & Walk will be celebrating their anniversary with a day-long in-store event. Join them on Saturday February 20, 2010 anytime between 10:00 a.m. and 6:00 p.m. They are offering refreshments all day, an anniversary cake cutting at 1:00 p.m. and various special guests on hand throughout the day.  All Metro Run & Walk staff will be there, so long-time customers can look forward to reconnecting with the specialists who have been serving them for years.
Every half hour, starting at 10:30 a.m., there will be a drawing for free giveaways including:
Shoes      from Nike, Brooks, New Balance, and Saucony
Apparel      from Asics, Moving Comfort, and SportHill
Timex      Wireless Fitness Tracker and 50 lap Ironman Watch
Nike      and New Balance accessories
A Who's Who of Community and Active Lifestyle Leadership will be there, offering customers the chance to pick a time to visit and have some great conversations.
10.00      a.m. – Melissa Dalio, Exercise Physiologist and Owner, Endura Coaching (pending)
11.00      a.m. – Jim Harman, Race Director and Owner, EX2adventures
12.00      noon – Martin Jones, Functional Training Expert and Owner, Active Duty      Fitness for Women
1.00      p.m. – Dr Kathy Coutinho, Chiropractor and Owner, Positively Chiropractic
2.00      p.m. – Dan La May, President, Springfield      Chamber of Commerce
3.00      p.m. – Kimberly Linton, "DC's Toughest Trainer", Owner,  Fitness 4      Life
4.00      p.m. – Mary Perry, Registered Dietician and Owner, Dynamic Nutrition
5.00      p.m. – Anne Mader, Owner, The Bike        Lane
As always, customers are invited to discuss 2010 activity and fitness goals with Metro Run & Walk staff who offer real-world experience as casual and competitive athletes in all running distances, racewalking, and triathlons.  Information will also be available about Good FormTM clinics, running club activities, and plans for the Metro Run & Walk Springfield Days 15K/5K race to be held June 6, 2010.
Metro Run & Walk, 7261 Commerce Street, Springfield VA 22150 (703) 913-0313 www.MetroRunWalkSpringfield.com
0
Comments