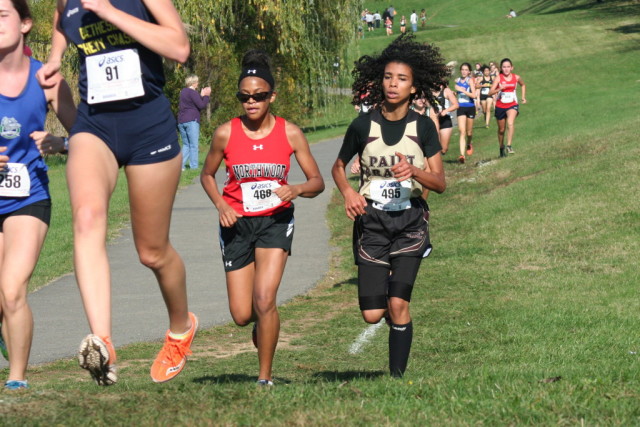 In spite of a tough season, Northwood's girls have a lot to celebrate. Even with two top runners missing time because of injuries, one the entire season, they're on their way to the state championship for the first time in almost 30 years.
Lest that sound like a long futility streak, know that from 1987 to 2004, the school itself was closed and the building used as a haven for other school's students during renovations. Prior to that, the team scored state championships in 1975, 1977 and 1978.
[button-red url="http://www.mpssaa.org/cross-country-state-qualifiers-head-to-hereford-saturday/" target="_self" position="left"] See who's going to states [/button-red]But none of the nine runners who started this season healthy knew they would be headed to Hereford. After every practice, they talked about going to states, but, Gabriella Armanda said, even though it was "definitely a goal we had throughout the entire season, I didn't think we'd make it."
But with their fifth place finish in the 3A West Region Championships last week, they stamped their ticket.= for Hereford High School in Parkton Saturday. Races start at 10 a.m. with the 4A girls.
Their outstanding performance at Watkins Mill was turned out to be indicative of the team's ability to rise to challenges and exceed even their own expectations of this season.
Despite (or, perhaps, because of) the difficulty of the course, three of the five scoring runners had season or career best times.  When asked about their performance, they said they just knew they had to come together.
"All of our times improved, regionals was supposed to be a harder course, and all of us ran faster, just because everyone was trying to make it to states," said sophomore Manpreet Dajal.
Their training this year has consisted of going out and finding out the biggest hill around and pounding hill workouts along with track workouts.  It's made a difference.
"Now, it's to the point where we, like can't run flats," said sophomore Medalia Adhanon.  Hill work is a hallmark of cross country running, but is especially necessary for the state championship course at Hereford.  The infamous course, containing two passes through a punishing ravine referred to as "The Dip" is the a real life horror store with which upperclassmen torture freshman.
The Northwood girls have raced the course already and have decided that "it's fine."  It may be hard, but at least they know what to expect.  That attitude gives them a decided edge going into this weekend's meet.  They have the confidence that they are masters of the incline, and that they've met every setback this season has brought head on.  On and off the trails, they have a strong bond as teammates, which continues to push them to make the right choices.
Other than coach Michael Sauter's commitment to grueling hill work, there has been no magic formula that got the girls pushing it harder and running better.  Run a lot of hills, race harder the more it counts, repeat.  Throughout September and early October, the team had five meets over 15 days, all of them on hilly courses, which prepared them for the challenge of Watkins Mill and has them ready for the infamous Dip.  The extra racing gave the non-injured players they advantage of getting to tour some of the regions toughest inclines.
Junior Brody Harkness adds that learning how to manage speed on hills improves their racing "now we can take advantage, you try to push yourself harder." There doesn't seem to be much that the Northwood girls cross country team is afraid of, but hills are the least of their fears.  They do hills.
Junior Alexis Dune has been the fastest Northwood runner during her entire tenure there, and owns her team's all-time fastest time on the state meet course. Of Hereford and The Dip, Dune says simply "It's a good course, it works your legs."
That may be a slight understatement.  Dune has battled hamstring injuries this season.  She shrugs it off, attributing it to the transition from track to trails. When she mentions it, she calls it a "minor injury," saying, "well, I didn't break anything."
Her teammates are quick to chime in to say that she's downplaying what she's come back from.   She thinks if she can control her breathing going up the hills then she'll be fine.  Senior captain Laura Goldman is excited, even though it's a hard course, and not just because she know she won't have to run it again after Saturday.
The team has a knack for approaching challenges head on, in a matter of fact way.  They credit their bonds as teammates outside of competition for helping them get through the season.  The tougher the circumstances, the more difficult the course, the stiffer the odds, the better the Northwood girls seem to fare.  Going into states with their top runner healthy and a season worth of hill-conquering racing under their belts bodes well for this group.
The girls made t-shirts this year that pretty much sum up their attitude towards racing.  They read: "It's a hill….get over it."  They credit the challenges of the season – their early tough schedule and their injuries, for bringing them together as a team and creating the obvious strong rapport that helps drive their performance.
The girls team aren't the only ones having outstanding seasons in cross country this year.  Coming off a national championship at the Junior Olympics in the 3,000 meters this summer, junior Michael Abebe is having an outstanding season.  Abebe has only been running cross country for two seasons, after playing tennis, and he will be one to watch at the state meet.
When asked who on the girl's team would be the first to pass Abebe, the girls universally nominated Alexis Dune, but on any given day, the team seems to be able to do exactly what they put their minds to.  Their performance in states will undoubtedly contain excitement, tenacity, and team spirit.  And, of course, hills.
0
Comments