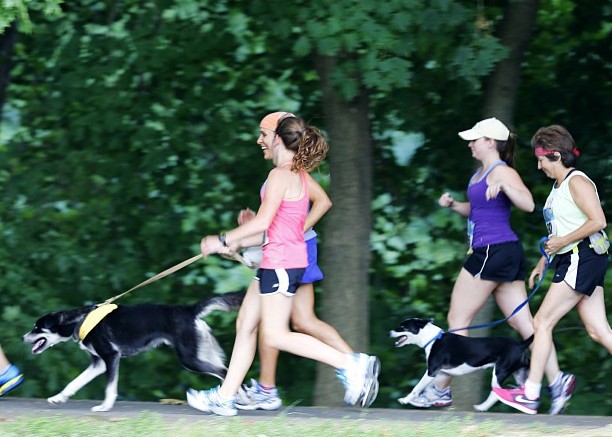 Water stops are largely a luxury at most 5k races. For the canine competitors at the Lost Dog 5k Friday night, they were a necessity.
When the evening weather Friday was markedly warmer than a week before, runners — with two legs or four legs — knew they'd have to adjust their expectations and race strategies. The second of the four-race series in August benefiting the Lost Dog and Cat Rescue Foundation saw 115 repeat runners from the first week. The out-and-back course on the Four Mile Run and W&OD trails included strips of natural surface along the paved trail, perfect for paws. This week, 60 dogs raced.
Runners were welcome to run with socially-adjusted dogs, and many did. Runners without dogs of their own had the opportunity to rent a pup for the race.
Cerbi took a few detours into the creek alongside the trail, to cool off, with owners  Maari Hanson and Jason Soules in tow.
"He gets along great with other dogs, if only for five seconds before he gets bored," Soules said.
Hanson said Cerbi has been the couple's training partner for a while.
"We usually do a few miles with him," she said. "We try to avoid the humidity–that was probably killing our times a bit. It's great for people to come out and see responsible pet owners, people who know how to handle a dog on a leash."
Greg Russell, of Centreville, took his dog, Taylor, to her first race, and it went well.
"During her initial bolt, when the gun sounded, I had to get her to slow down," he said. "She slowed down to walk, stopped to take care of business every once in a while, but she had a good time."
Russell is training for the Marine Corps Marathon. Taylor didn't get in before the race filled up.
"I was definitely a little slower from last week," said Colleen Lally of Alexandria. "Tonight was hot!"
She just started running a year ago and just got back into racing after finishing rehabilitation following foot surgery.
Sara Fiorini, of Alexandria, agreed with Lally's rough assessment, following the gift-like weather the first week.
"It was awful, I was dragging," she said. "The humidity kicked my butt. My goal was to not stop, and I met that goal. I guess I'm happy with that."
She runs to stay in shape for three different soccer leagues.
Not everyone suffered from the uptick in heat index. Overall winner Claire Hallissey of Arlington actually dropped six seconds from a her win on the cooler day, running 17:20. She took the lead at the turnaround and put 34 seconds on her closest pursuer in the second half. She went on to claim the top overall spot two days later at the DC Road Runners cross country three mile in Bethesda in 19:36.
Greg Hermanson, of Woodbridge, has been volunteering for the Lost Dog Foundation for more than 10 years, but he just started running last year.
"It was one of my slower times, but I still had a blast," he said. "Sequestration has kept me from traveling from work as much as I am used to, so maybe this is the time I adopt a dog of my own."
0
Comments
Pacers Events Acquires Capital Running Company
by Kathy Dalby
Pacers Events, the region's leading boutique race management company, has acquired Capital Running Company, the area's most esteemed road race management and promotions company. The merger of these two companies will result in the creation of the area's largest road race management and promotions company with a portfolio of more than 60 road races, 75,000 yearly participants, and the Mid-Atlantic region's primary source for running news and events through the Washington Running Report: The Runner's Source for DC, MD, and VA and www.runwashington.com.
"We are beyond thrilled to have Capital Running Company as part of the Pacers family," said Kathy Dalby, Managing Partner of Pacers Events. "Rick and Kathy [Freedman] have created an impressive multi-platform business and we are excited to continue their tradition of delivering great service, events, and reporting to the DC running community."
"We purchased Capital Running Company (formerly Colonial Running Company) in 1994 and are now passing the torch to Kathy [Dalby] and her team," said Rick Freedman, President of Capital Running Company. "We look forward to working with Pacers Events and have thoroughly enjoyed our years of working with our staff, volunteers, charity partners, and the hundreds of thousands of fitness enthusiasts who have participated in one or more of the hundreds of races we've produced."
Previous owners Rick and Kathy Freedman will continue to oversee major Capital Running Company events and the Washington Running Report. The two companies will continue to operate under their respective banners.
About Pacers Events
Pacers Events LLC is a Washington, DC-based road race management company. Pacers Events is a sister corporation to Pacers Running Stores, a family owned and operated six door specialty retailer in the greater Washington DC area. Pacers Events hosts the area's largest race series, the National Guard Pacers Events Race Series, with more than 35,000 annual registrants.
About Capital Running Company
Capital Running Company is a professional race management and promotion company that has been producing road races in the Washington, DC metropolitan area, Maryland, and Northern Virginia for 30 years. Capital Running Company also publishes the Washington Running Report: The Runner's Source for DC, MD, and VA represented nationally by the Endurance Sports Media Group.
0
Comments