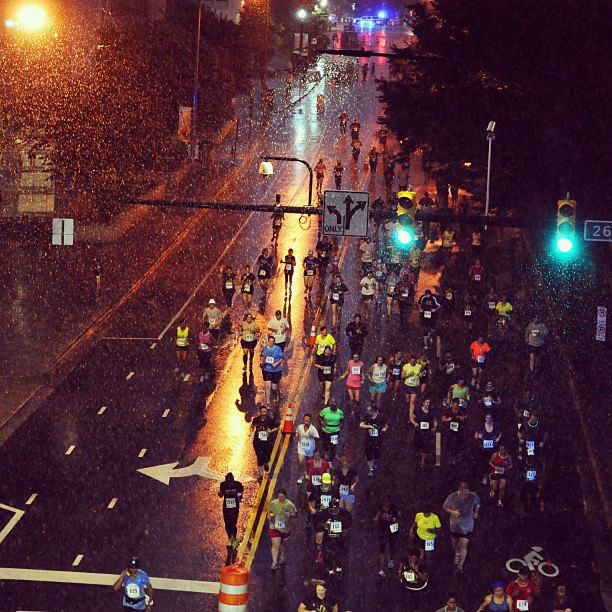 [button-red url="http://youngrunner.smugmug.com/Race-Photo-Galleries/Crime-Solvers-5k-2013″ target="_self" position="left"] Pictures [/button-red] [button-red url="https://runsignup.com/race/results/?raceId=3638″ target="_self" position="left"] Results [/button-red]
The clouds were apparently waiting for the gun to go off at the Crystal City Twilighter 5k Saturday night, because as soon as the runners started, so did the rain.
Increasing to a downpour within the first few minutes of the race, the deluge kept the race decidedly cooler than in years past, when the mercury pushed 100 a few years ago.
Ben Blankenship, no stranger to a drizzle in Eugene, Ore. where he runs for the Oregon Track Club, used a stop in Washington on his way home from the summer track circuit in Europe to score a one-second win over Demissi Gulti in 15:10.
"It affects the times a little bit, but you're coming out here to run the best you can, it's on the roads and you're mainly just stacking up to the people next to you," he said. "I wasn't too concerned with the pace of what we were doing. I was just hanging out with the front group."
Paul Thistle followed in 15:20. Also of note, Edison High School's (Va.) Louis Coulson finished sixth in 15:37.
In the women's race, Arlington's Claire Hallissey ran 16:45 for a comfortable margin over Waynishet Abebe (17:08) and Kerri Gallagher (17:27).
0
Comments