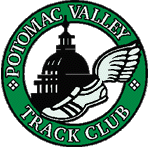 When it comes to Fourth of July racing, the Potomac Valley Track Club (PVTC) Go Fourth 8k is about as humble as a summer family barbecue. There are a number of Independence Day road races in the DC area, but PVTC's 8k is the D.C. area's best mile-per-dollar deal.
The weather was merciful early in the morning. Cloudy skies and a gentle breeze kept things fairly comfortable in the mid-70's despite the humidity.
"Well, we've got about 10 minutes. Maybe we should mosey on down to the start line." With those words from a race official, the crowd walked from the registration site to the race's starting point, a simple sign standing over a chalk line near the 12-mile marker on the W&OD trail. Brian O'Hara of Arlington liked this race for its distance; according to him, 8k is a good distance, especially for the $8 early registration price (race-day registration still only cost $20). He and his group of three other Arlington residents ran at the Go Fourth 8k last year, when it was in Bluemont Park.
The decades-old race has jumped around the D.C. area, with former locations in Alexandria, Hains Point, and Arlington before this year's debut in Vienna. PVTC President Craig Chasse said the W&OD trail worked well for the expected crowd size of 100-150 racers. Caitie Meehan of Alexandra liked the location. "Vienna is beautiful," she said, adding that she liked to get up and do something fun before the holiday celebrations.
The PVTC hosts five road races each year and a series of popular all-comers outdoor track meets throughout the summer. The Go Fourth 8k is third in the road race series, with the Cranberry Crawl 5k and 10k scheduled for November 23 and the Christmas Caper 5k and 10k in December.
The club has about 250 members, and race volunteers noted that it's nice to see regulars at events. The Go Fourth race itself was started decades ago by racewalkers in the club, a group still represented in this year's Go Fourth. John Morrison of Essex was the first place racewalker.
This is definitely a no-frills race. Participants were assigned leftover race bibs from past local competitions. The group sang the national anthem together on the starting line, while bikers and other trail runners stopped and joined in. The water station featured a single volunteer standing on the side of the trail. The short finish chute allowed another volunteer to string finishers' tags in order. The post-race festival offered cookies and watermelon.
Kristin Lubeck was in town for the holiday, and said she chose this race to fulfill her "one race a month" goal; plus, she used to run on the W&OD trail when she lived in Falls Church. She looked forward to a day of barbecue, pools, and, her favorite, fireworks.
Jonathan Baker of Cambridge, Mass., had at least a 60-second lead with two miles left, and opened the gap to win by nearly 3 minutes to finish in 27:15. Craig Chasse of Reston and Luis Navarro rounded out the top three finishers. DC's Rachel Clattenburg also won handily with a time of 33:16, finishing fifth overall. Macy Louise Warren of Springfield came in second place (35:55), closely followed by Gillian Livingston of Vienna (36:02).
There were almost 100 racers scattered along the trail, but you couldn't miss Irene Gillenwater. Decked out in red, white, and blue from head to toe, he visitor from Wheelersburg, Ohio, said her wide skirt and patriotic headband didn't slow her down; the spirited runner said she always dresses up for the holidays. After the race, she planned to go forth and watch the fireworks downtown that night.
[button-red url="http://pvtc.org/20130704.html" target="_self" position="left"] Results [/button-red]
2
Comment
Trying to schedule a friendly get together in the past four months with Monique Young has been no easy task. In order to meet her weekly mileage goal in preparation for the 50 Mile North Face Endurance Challenge, her days started at 5 a.m. and ended at 8 p.m. But waking up and going to sleep that early to get enough miles under her legs has been worth the trade off for her.
While she described the course through the woods of Algonkian Regional Park, her face lit up. "Amazing" was a common word for Young to describe the mostly dirt and gravel course that she said smelled like honeysuckle.
[button-red url="http://results.bazumedia.com/event/results/event/event-4201″ target="_self" position="left"] Results [/button-red]While Young left road running for trail running to be closer to nature two years ago, the North Face Endurance Challenge marked one of several 50 mile trail races that she has completed.
Laura Coogan, first place finisher in the women's marathon with a time of 3:57:31, conveyed a similar nightlife situation—which she said has been on the decline since college. While balancing a time-demanding training schedule and nursing school life, Coogan took great delight in indulging in the North Face Endurance Challenge post-race festival, which consisted of ice baths, food, beer and many other activities.
"It's like a big party," Coogan said. "Except that you have to run a marathon. But at least you earned that party."
The North Face Endurance Challenge consisted of an entire weekend of trail racing. And with a eight different events, including a 50 mile, 50k, marathon and marathon relay race, there was something for everybody.
All that George Johnson could remember from last year's North Face Endurance Challenge marathon relay were trees, shade and cool temperatures. But all that Johnson could remember from this year's race was the sun beating down on him.
While Johnson appreciated the lack of rain that muddied up the course in last year's course, he said the start and finish that took place in an open field with no shade was quite the challenge this year.
Above the Potomac River, the well-marked courses included three miles of tip-toeing and hopping along bluffs on the River Trail with climbs up to 300 feet. In return for their brave climbing skills, the shaded areas of the park blocked them from temperatures that steadily rose to the mid-90's.
Potatoes, salt, chicken broth and chips were served throughout the race to keep runners fueled. Gallons of water and sport drinks were guzzled down all in an effort to conquer the heat and finish the race.
Among the several local note worthy athletes that competed in the Endurance Challenge included Elite Ultra Runner Michael Wardian of Arlington, Virginia, who took first in the 50 mile race with a time of 6:45:36. In the women's 50k, Rachel Clattenburg of Washington, DC won first place with a time 5:05:05.
0
Comments