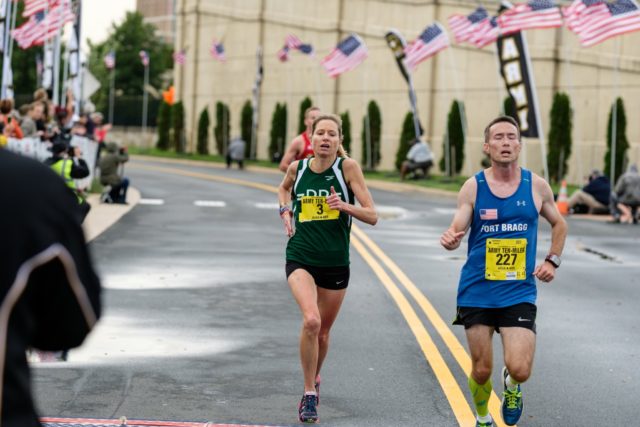 "I love running."
Those three words by Perry Shoemaker explain a lot about her success at the age of 45. She's won the .US National 12k master's championship three years in a row. In 2016 she was one of the top 10 American women at the Cherry Blossom Ten Miler. In 2015 she was the second-place woman at the Army Ten-Miler and just missed the 1:15 qualifying time for the Olympic marathon trials with a 1:16:01 half marathon in Philadelphia.
"I love running," she says. "It's not a chore at all. It's my peace."
At the top of the local race results, she has become a bit of a local celebrity.
"Perry runs a lot of local races," said Ray Pugsley, owner of Potomac River Running and a PRR DC Elite teammate. "To see Perry continue to improve and excel through her 40s is an inspiration to me and the Potomac River Running community."
Shes somewhat legendary in local racing circles, as of late July third overall in the RunWashington rankings, behind only Olympic Trials marathoners Susanna Sullivan and Julia Roman–Duval.
Overheard by Roland Rust at a race: "I got second to Perry, but I don't really count her."
Up until five years ago, though, running took the backseat to her other athletic pursuits.
Her high school in Annapolis didn't offer cross country or track, so she focused on field hockey, lacrosse, basketball and sailing. Throughout it all, running helped her stay in shape. But winning her age group at the Governor's Bay Bridge 10K back then was an early sign of the success to come later in life.
She was a two-time All-American in sailing at St. Mary's College of Maryland and coached lacrosse after graduation, but through it all she continued running. When she and her family lived in Pittsburgh, racing for Perry mostly consisted of small community 5ks through the neighborhood. It wasn't until the Shoemakers moved to Vienna in 2011 that Perry began running competitively.
It started with a small 5k at her middle daughter's high school, which she won. Then there was the Run with Santa 5k, which she won, followed by their New Year's Day 5k, which — you guessed it — she won. It didn't take long for the Shoemakers' oldest daughter — "she's the research girl," according to Perry — to find the Potomac River racing team application online. The seventh grader encouraged her mother to fill it out. The race locations were convenient and the community was a great fit. By April 2012, Perry was on the team, complete with a pair of racing shoes, courtesy of her husband.
Perry trains on her own, averaging 45-70 miles per week on top of cross-training, core work, and strength training. She says the solo workouts suit her fine.
"I'm very much an introvert," she said. "I don't talk a lot when I run, I'm just kind of in my own space."
"You're not much fun to run with," her husband once told her.
She keeps in touch with her Potomac River Running teammates over email during the week, offering words of encouragement and congratulations for weekend race results and warms up and cools down with them on race days.
"Conversations during those runs are usually about families and how other people are doing, other race plans, and injuries, but never about how Perry was beating everybody, and she's always modest about anything she has done," said teammate Steve Crago.
A preschool teacher during the day, Perry saves speedwork for her half-days, often running on the track at her middle daughter's high school.
"I'm very competitive in my own person. I'm probably my worst and best competitor," she said. That drive has helped her shave time off her Army Ten Miler finish year after year, culminating in an incredible 57:31 last year. She has finished second there in 2015 and 2016 and claimed four masters' titles.
"That race let me know that she could rise to another level on occasion when there was top competition," said Rust.
Perry and her husband talked about what could come next. They considered the Philadelphia Half Marathon the following month, where Perry would need to drop over seven minutes from her half marathon PR to get into the Olympic Marathon Trials in January.
"Is it really ridiculous if I think about trying to qualify for the Trials?" she remembers asking him. "It's a big long shot," he told her, "but let's think of a plan. Let's try to do it." As with all her races, he designed a workout plan and coached her through the training. She missed the qualifying time by a minute, but has no regrets.
"We tried. We came close. Good experience and a lot of hard workouts. Glad I did it."
Because of an injury, she spent the morning of the marathon trials watching the race on TV from a spin bike.
Some of her proudest races haven't necessarily been her fastest. At this year's Cherry Blossom Ten Mile, awful weather and a nagging injury left Perry questioning whether she'd even attempt the race. It would be her first run in two weeks.
"I was dreading it," she said. "It was freezing cold, it was blowing head-on wind the last two miles of the race and I did it! I didn't have the best time, but it was great. I'm very proud I did that race."
While she trains alone, Perry often relies on her family and team to get her through tough races. At the 2012 Marine Corps Marathon, Perry heard her husband and her three daughters cheering five times along the course and ran with a Potomac River teammate for the last seven miles on her way to a 2:52:22 finish and fourth place. She calls it a "fulfilling day" that ended with a fifth birthday party for her youngest daughter.
All three of the Shoemaker daughters are now runners, with the oldest two running on their high school cross country and track teams and already wielding USATF National Junior Olympics XC and Track and Field Championship experience.
"Running's always been part of our entire family," she said. She brings her youngest daughter to the pool when she cross-trains; she texts her husband to let him know if a workout goes particularly well.
She even incorporates running into work. Recess at her preschool includes students racing around the playground and field and show-and-tell includes Perry's race medals. Last October, her students barely stood taller than her Army Ten-Miler Master's Trophy and thought it would make a good bowl to hand out candy in for Halloween later that month.
"Wow I love your jacket! Where did you get it?" one student exclaimed when he saw her brightly colored Boston marathon jacket one day. Perry spent the next few minutes explaining that running 26.2 miles would be like going back and forth to school about a hundred times.
Last year, Perry hit a PR at every distance she attempted, but remains humble in her accomplishments. Balancing family, her work, and her training has left her thankful to have the opportunity to compete. Looking ahead, she is open to whatever racing opportunities come up in the next few years, but she knows she'll run Army Ten-Miler again because it has a special place in her heart.
"I start at the front so I get to see the marching in of the colors, see the singing of the national anthem, and watch the wounded warriors at their start. Inspiring," she said. "The [Army Ten-Miler] is always a favorite for me."
This story originally appeared in the Fall 2016 issue of RunWashington.
0
Comments