This map tracks assaults on people running or on popular running routes in the Washington, D.C., region going back to 2010. Each description includes a link to an article or press release about the incident.
NOTE: Pins are placed in approximate locations marking the general area an incident occurred. In most cases these are not exact locations.
The map is incomplete and relies mostly on media reports. If you have an incident to report, email [email protected].
She took to running for its simplicity.
One foot in front of the other.  No need for a gym membership. Plenty of bike paths and trails. Her only real goal was to stay in shape; as incentive, she signed up for a 5k.
One of her favorite loops took her to Arlington's Marine Corps War Memorial, or Iwo Jima Memorial.  She typically ran through the dark of early morning, and usually alone (at this point, she was reluctant to join a group, worrying she'd be too slow). Meanwhile, she always saw plenty of other runners and pedestrians.
She was wearing headphones, but still heard someone coming up from behind her.
A passing runner?
About as soon as she could tell something wasn't quite right, a man grabbed her around her waist and pulled her to the side of the path.
What happened next probably only lasted a few seconds, though it "seemed like an eternity," said the runner, who wished to remain anonymous.
She fought back, got herself loose, and yelled out for help.
When he ran away, she ran in the opposite direction. She asked someone to borrow their cell phone and called the police.  The report, however, was difficult to file: she didn't get a good look at her attacker.
That day on the path, as a result of the incident, she met another runner who invited her to join a twice-a-week morning running group.  Several days later, still shaken from what happened, she returned to running by joining her new friend for her first group run.  These days, she rarely runs alone, and always carries a cell phone.
For a time, a runner coming up behind her would cause her body to recoil.  A couple years later, she thinks about the incident less and less. At the same time, her experience made it clear to her that, when out running, women face another layer of risk that men give little thought to.
"That's the way of things," she said. "I don't have to like it. I resent it.  But because I am a woman I do have to have this extra check list."
For another local runner, Meghan Ridgley, early morning hours – her typical training window – limit her route options, even in suburban Virginia. Runners who train in the dark are typically advised to wear reflective or bright clothing to make themselves more visible to drivers.  But because Ridgely finds it difficult to vary where she runs, she does the opposite, preferring instead to keep a low profile.
She often runs loops "over and over again" near her home, where she knows the traffic patterns and her safety zones.
"I am always in an area where I can run to safety if need be," she said.
Shawn McIntosh, of Catonsville, Md., works for the American Public Health Association, through which she supports the U.S. Department of Health and Human Services' Community Transformation Grants program.
Nationwide, there are many areas, she said, where it is not safe to be physically active due to issues like crumbling sidewalks or bad lighting. And these are some of the issues that McIntosh is trying to address through the Community Transformation Grants program, which provides funding to a variety of initiatives aimed at creating healthier communities.
But while pedestrian paths lower the chances of being struck by a vehicle, McIntosh, who recently returned to running after a long break and is training for a half marathon, prefers not to run on them by herself, or with her typical training partner: her four-year-old in a stroller.
In these instances, she would rather stick to runs in her neighborhood – like Ridgely, close to home.
Meanwhile, Washington's Celia Riley prefers the paths of Rock Creek Park, a nearly 3,000-acre park bisecting northwest Washington, D.C. She typically runs alone and in the early morning, comforted by the sight of another runner every few minutes.
She runs at an hour when her visibility is good and wears a bracelet with identification. For weekend long runs, she takes a phone and Metro card, in case she were to injure herself.
Recently, Riley strayed from her routine, heading into Rock Creek Park on a Saturday night.
She knew right away it was a mistake.  Though armed with a headlamp and pepper spray, she was scared, felt unsafe and fixated on the possibility of an attack.
She wrote on her blog, "All the alerts and reminders I see on news feeds and Twitter for runners to be cautious flashed through my mind and I thought, 'I'm going to be another headline.'"
Riley's only run-ins that night were with deer. But she learned her lesson.
"I absolutely will not do it again solo," Riley said, who offered that having a running partner might have raised her comfort level.
Keep in mind, Rock Creek Park is only open during daylight hours.
Fighting Back
Laurie Porsch's self defense teachings stress the importance of avoiding dangerous scenarios but also not avoiding the fact that one can do everything right and still get attacked.
The active-duty U.S. Marine Corps Sergeant (she has served two deployments) teaches martial arts – including Muay Thai and Brazilian jiu-jitsu – at BETA Academy in Washington, D.C. She also teaches self defense classes upon request, applying her martial arts training to teaching her students how to fend off an attacker.
Porsch's self defense philosophy is heavily influenced by an essay called "On Violence," whose author, Sam Harris, puts forth three principals: avoid dangerous people and dangerous places; do not defend your property; respond immediately and escape.
"[Attacks] happen really quickly," she said. "Even though you know you are going to be surprised, know what you are going to do. Know that you won't freeze up."
If attacked, she said, respond violently and immediately. Focus on the eyes, the throat, the knees – on taking away their ability to see, walk, or breathe.
The next step is to run away.
"You're not there to give them an educational beatdown," she said. "You don't want to risk it. Your goal is escape."
The Drivers
Thirteen years ago, Rebecca Samson, then a teenager living in Ellicott City, Md., was running one evening through a neighborhood close to her home. Suddenly, a car pulled up beside her and slowed down, and the driver, a male, asked her if she wanted to get in.
When Samson turned down his request, he aimed the car at her, she said. She took off running as fast as she could, while the car turned around and sped off.
After that, Samson started carrying mace while she ran.  She started varying her routes and the time of day she did her runs.
The South Riding, Va., resident and two-time marathoner no longer carries mace. But she does prefer to do her early-morning runs with friends. If she runs alone, she wears a reflective vest so she can be seen and a headlamp so she can see others. She lets her husband know her route, and keeps a tag on her shoe with contact information.
Running brings Samson joy. A run-in with a creep, on the other hand, illuminated the need to be careful.
Same for Meg Ashton, of Quantico, who likes to drive up to Lake Ridge, Va., to her do long  runs. Her parents live near there, she said, and don't mind watching her 9-month-old son while she trains.
This spring, Ashton was putting in a 16-miler, mostly on a path running along Prince Williams Parkway, before the Marine Corps Historic Half.
At a certain point, she noticed a man in a car passing her four or five times, she said, every time he had a way to turn around. "The next time I noticed him," she added, "he had pulled off to the side of the road and parked" about 100 yards away from her.
Ever since her son was born, Ashton started carrying a phone with her when she ran: mostly in case she needed to be reached in the event of an emergency, not in the event she was in an emergency.
She held the phone up to her ear, as if she was about to make a call, and watched the man drive away. Lacking a license plate number, she did not report the incident. She did, however, finish the run – more uneasy and alert than she'd ever felt.
Ashton now makes sure to stick to busy routes and tell her mom or husband where she plans to run.
Reston's Holly Kearl, a runner and the founder of a nonprofit organization called Stop Street Harassment, points out that women are mostly well aware of the best ways to avoid a potential attacker or harasser.  But that doesn't mean it's entirely avoidable: Every run has its risks.
For Kearl, being harassed while running was a big influence on her decision to make street harassment the focus of her master's thesis at George Washington University. Back then she lived in Fairfax on Lee Highway. Mostly, she explained, it was honks, whistles, and comments yelled from windows. Another time, in Leesburg, she was chased through a park at dusk, she said.
Kearl, whose favorite race distance is 10K, has had fewer problems in Fairfax.  What has helped, she said, was that she and her husband bought a home near a track and trails. Some might say trails offer more risks, but Kearl said she prefers them to "men in cars."
While Stop Street Harassment has global aims, its partner organization, Collective Action for Safe Spaces, is focusing on building a community free from public sexual harassment and assault in Washington, D.C.
Julia Strange, the all-volunteer's staff's director of policy and programs, said, for runners who encounter harassment, "there is no wrong way to respond." She added, "you really just have to do a gut check to decide what you are comfortable doing." And in some cases, responding might simply not be safe.
Runners who observe other runners being mistreated might be in a better position to step in and say something, Strange said.
Running on
Ashton's frightening encounter on Prince William Parkway has made her more cautious about where and when she trains, but it hasn't dulled her tenacity.
At the Lehigh Valley Health Network Via Marathon last month, she ran 3:13, a 16-minute personal best.
The runner who was attacked on her run to Iwo Jima?
Passing by the spot on a run triggers the memory.  But at this point, what she thinks about is how fortunate she was and how much worse it could have been.
She has been running now for two and a half years. Her weekly training mileage continues to climb.
"I knew in my head," she said, "that if I let this incident really become a big thing, then maybe I would not run at all."
In October 2013, she finished her fourth marathon in Chicago.
This first appeared in the November/December 2013 issue of RunWashington.
10
Comments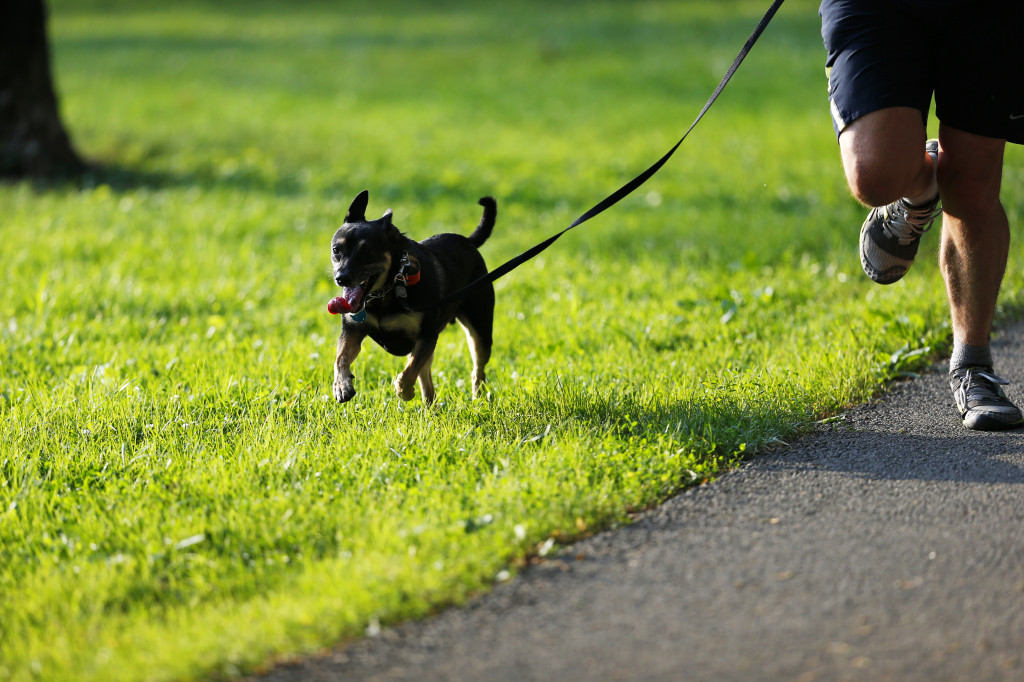 Barb Hutcherson from the Lost Dog and Cat Rescue Foundation offers some advice for keeping your four-legged training partner healthy.
Hot and muggy summer weather can be uncomfortable for humans and canines alike. While running with your pets can be a great form of exercise, there are a few things to take into account before heading out the door.
First, discuss any concerns about running with your dog with your veterinarian. He or she is your best source of information on your particular dog's suitability for running.
Second, there are several types of dogs who should not be running in this heat:
Very large dogs
Older dogs
Overweight dogs
Dogs with snub noses like pugs or shih tzus
Puppies under one year of age
Dogs with any kind of health issue
It is crucial that you are aware of the signs of heat distress and respond quickly if your dog is struggling.
Danger signs include:
Excessive panting
Excessive drooling and/ or foamy drooling
Limping or any change in gait
Bright red tongue and gums
Lagging behind or lying down
If you see any of these signs, or are at all worried about your dog's condition, slow down, walk and assess the situation. Take water with you and be cognizant of your pet's demeanor; cooling your dog down with cool water (particularly on the footpads and on the face) is the best way to help him/her cool down. Do not use ice water for cooling or drinking. Ice water can make the situation worse instead of better.
We want everyone- human and canine- to have fun and be safe out there, so let's remember our doggie pals might need some extra attention and caution.
2
Comments