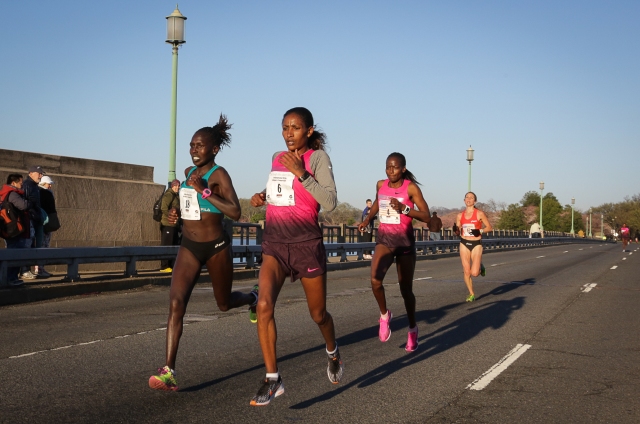 Janet Bawcom weighed her effort at the Cherry Blossom Ten Mile on going for the overall win and although she ran out of room to catch Ethiopian Mamitu Daska, she still came away with another national title and 52:12 finish that lopped 1:16 off the American Record she set last year, when she finished fourth.
[button-red url="http://www.runwashington.com/wp-content/uploads/2014/04/CB-2014.pdf" target="_self" position="left"] Results [/button-red]"I just wanted to run hard and be competitive in the race as long as I could. It worked out. Last year, I was alone on that straightaway from mile six to seven, running into the wind," she said. "This year, I told myself that no matter what I did, I couldn't be alone out there. If it meant hurting to catch up to someone else, it would be better than hurting on my own later. It's going to be the same amount of pain, so I might as well hurt more early and run faster."
Daska and Aliphine Tuliamuk–Bol would surge away when Bawcom would edge up to them, and Bawcom spent time catching up before the cycle would repeat. When Daska made a surged in the last mile, Bawcom tried to keep things going, but wasn't able to chase her down before Daska broke the tape in 52:05,for a seven-second margin.
Bawcom, along with second U.S. finisher Sara Hall, live in Flagstaff, Ariz. Hall, who has made much of her racing reputation on the track, had run a competitive half marathon and less-than competitive 15k, but felt adjusted to the 10 mile distance as she explores her longer-race options.
"I still plan to run on the track this year, as short as the mile, but I am eyeing the marathon in the near future," she said.
Having come back from training at 9,000 feet in Ethiopia, she "felt really strong down at sea level," she said. "I debated between running with the leaders or focusing on the U.S. race, but I decided to go for it and I'm glad I did."
Finishing in 52:54, she ran under the previous American record.
Hall encountered a lot of the surging that Bawcom did, and wound up on her own the last five miles.
"Not ideal when you're used to being on the track, but I'm getting better at it. Mentally, it can be easier because you're not running in circles. That, I enjoy."
Philadelphian Frances Koons ran what she called one her best races to finish as the third American.
She started as a miler in high school but is finding longer distances to her liking.
"I was injured a lot in 2012 and I spent a lot of last year getting back together, so this year I'm starting to see things coming back on track," she said. "I feel strong and I'm excited about running. I kept telling myself to think about 400 meters to go."
Susanna Sullivan of Falls Church finished fourth in the U.S. championship race and eighth overall, capping a stretch in which she ran what was at the time the fastest women's 8k time at the St. Patrick's Day 8k, qualified for the U.S. Olympic Marathon Trials at the Shamrock Half Marathon in Virginia Beach and finished second, to habitual D.C.-area racer Kellyn Johnson Taylor, at the Collegiate Running Association Championships in Richmond.
"It's been a lot to get a handle on," she said, after running 54:31 compared to last year's 58:41. "It's happened so fast, just a few weeks."
That improvement was part physiological development, part racing maturity.
"George (Buckheit, her coach) told me I just have to be brave and go for it," she said. "Last year I didn't, I played it safe."
She's looking forward to a few down weeks now.
Another local runner, Jen Bergman, had only been local for six days, having moved to Washington the prior Monday. Like Hall, she was making a transition to the roads, from her track background at the University of Arizona. She finished 25th in 57:13.
"Well, that was almost twice as long as I had raced before," she said. "It was nice and flat so I liked that. I haven't even been around long enough that I'd run down here yet, but I think I'm going to like living here."
U.S 10 Mile Championships (gun times)
1. Janet Bawcom         52:12
2. Sara Hall                    52:54
3. Frances Koons        54:30
4. Susanna Sullivan   54:31
5. Brianne Nelson       54:33
6. Jen Rhines                54:38
7. Heather Cappello  54:40
8. Meghan Peyton      54:42
9. Sara Slattery           54:14
10. Blake Russell        55:26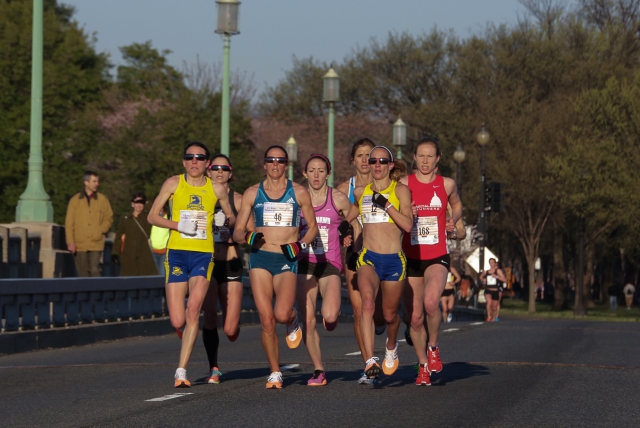 0
Comments