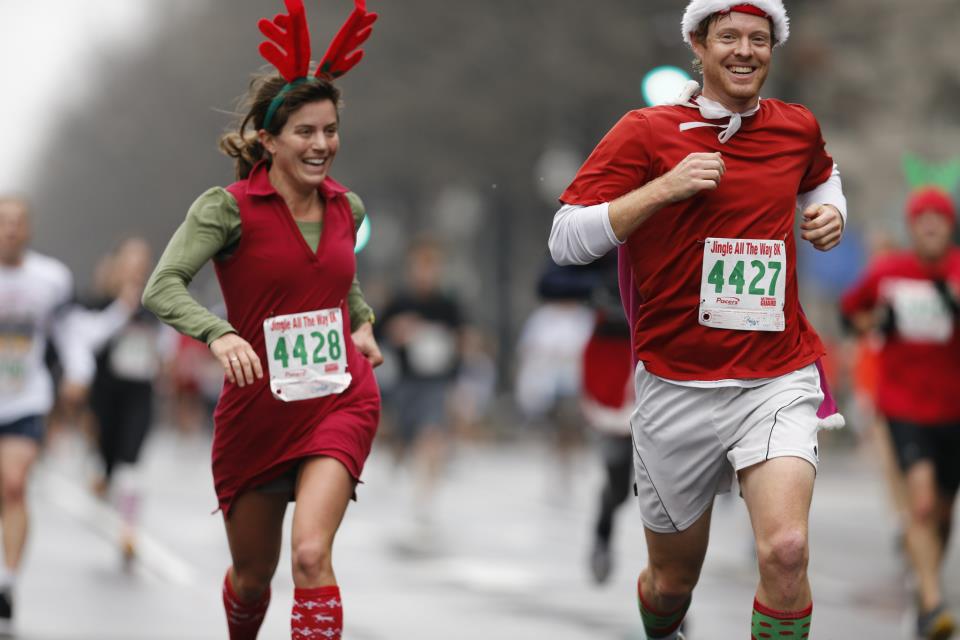 Just because Chris Kwiatkowski was running 4:50 pace for the Jingle All the Way 8k, it didn't mean he didn't take time to look around.
[button-red url="http://results.bazumedia.com/event/results/event/event-2402″ target="_self" position="left"] Results [/button-red]While he was  pulling away from Jeff Brannigan and Dereje Girma to win in 24:00, he glanced around at the Capitol and Pennsylvania Avenue, which he said made the race go by a little faster.
"In college, you run a lot of the same courses year in and year out, you see them so often that they get longer and longer," he said. "Since moving here, I've run three races in the city and each one has an incredible setting. I really enjoy those settings and they make the race go by quicker."
That wasn't all he saw. Lining up next to the former University of Oregon Duck, Pacers owner Chris Farley was dressed as Santa Claus, beard and all, and still managed to run 6:13 pace.
"I don't know how he did it," Kwiatkowski said. "I would have torn that beard off a mile in."
His plan was to run hard without straining, and that's what he got. Dropping Brannigan and Girma in the third mile, he cruised in to a 22-second victory in a light misting, following a lot of cold rain.
"Before any competition I make sure I have a goal and my coach (Matt Centrowitz) agrees that it will take me where I need to go," he said. "December is an important month for getting strong aerobically and this race gave me a chance to do that."
Kwiatkowski may run the Fairfax Four Miler on New Year's Even before switching his efforts to the track.
Kerri Gallagher also kept on a lookout for remarkable costumes while she was running away from Claire Hallissey and Erin Koch to win in 27:21.
Her favorite, among many, was a family dressed as Joseph and Mary, pushing a jogging stroller ostensibly carrying the baby Jesus. That variety spectators something to enjoy, just in case the Christmas costumers were tending to be too "commercial."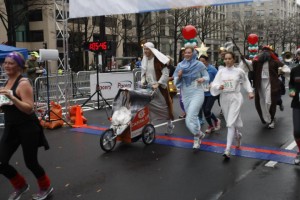 Gallagher also got away from her pursuers after two miles, and she confirmed what she had learned about herself as she raced well above her primarily middle distance events.
"I learned I can put myself out there, take charge and take risks in a race," she said. This fall, she also won the Army 10 Miler and Clarendon Day 10k (also over Olympian Hallissey) and finished second at the Veterans Day 10k. She'll also compete in several indoor track races this winter under Centrowitz's tutledge.
Back in the pack, Sarah Morgan struggled to get out of bed for the race, and had a tougher time rousting her friend Melissa Dorn to join her, given the rain that intimidated them.
"We almost didn't go," Morgan said. "It looked pretty awful outside. I don't even know how I got Melissa to go."
The pair of old high school rowing chums have run countless races together over the years. They arrived just in time for the rain to stop and the race to start. Though they found the race less crowded than last year, when the race was first moved from Hains Point and cut down to an 8k to meet registration demands, but they saw a dramatic improvement in the quality of costumes.
Among Morgan's favorites:
Santa's sleigh, led by nine reindeer tied together
A man with a tuba, playing Christmas carols
Twelve runners, dressed as the gifts from the 12 days of Christmas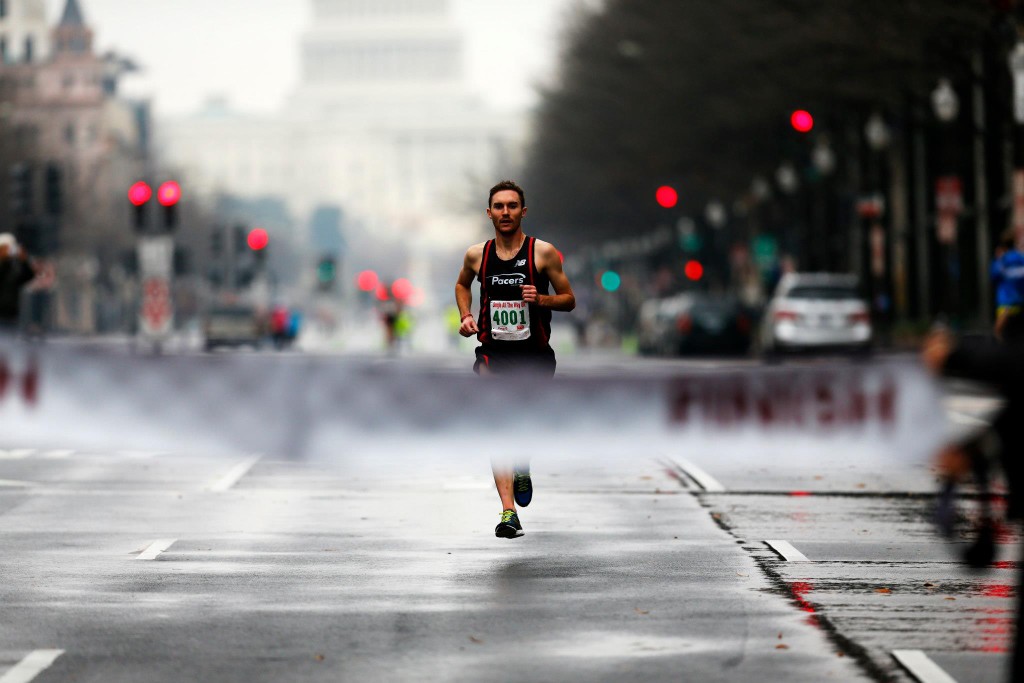 0
Comments