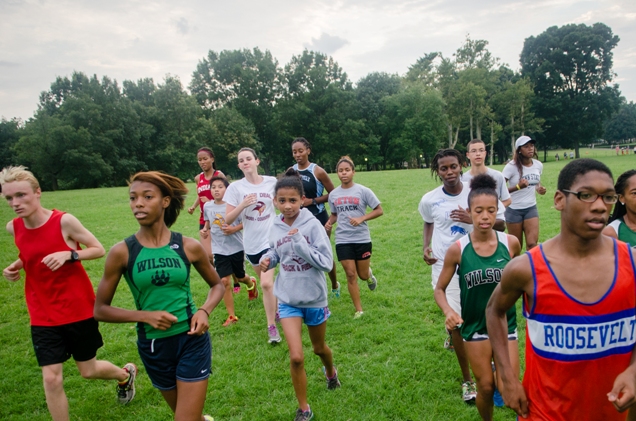 By Dustin Renwick
Around the region, high school athletes log sweaty summer miles in preparation for the 2013 cross country season.
Pavement, trails and maybe a track or two keep these runners in shape for a fall that will hold several changes, all of which affect the postseason. Washington, D.C., has a date for a real state championship. State qualifiers in Maryland will test a new course. Realignment kicks in for Virginia high schools. For the most part, regular seasons remain intact, but that means these shifts are all the more important because runners will test them at a time when the biggest trophies and the brightest glories are in reach.
DC finds a date
College coaches looking for top recruits have an easy starting point in the state meet results. A champion doesn't guarantee success, but a state meet title provides a glimpse of talent. Washington, D.C., hasn't been able to provide a definitive champion in the past because the city doesn't host an official state meet.
The mayor's office created the District of Columbia State Athletic Association in 2012 with the idea that sports should have parity and athletes should play by the same standards in the postseason.
This year, the DCSAA will host a meet on November 2, a date between the championship races for the public and private schools in D.C.
"We want to have a state championship at the end of the year like every other state does," said Kenny Owens, DCSAA statewide special events coordinator of athletics. "With this type of structure, we're able to give kids more exposure rather than the regular league championships."
The organization hosted its first state meet last year at Fort Dupont Park, but the date coincided with the Maryland and Washington, D.C., Private School Cross Country Championships. Teams were forced to choose between races, an untenable position for any event claiming to hold a definitive state title contest. Only a dozen schools attended.
Owens noted that one goal of the combined meet is to allow athletes to showcase their skills and give them a higher profile for college recruiters.
"You might be the best in your league, but there's another league or school across the city that has great athletes, too. It brings up the level of competition."
Right now, strictly comparing times between the events for the D.C. Interscholastic Athletic Association and the private school championships remains almost impossible.
That in itself stands as an illustration of the difficulty any athlete encounters when trying to claim the title of best runner in D.C.
"I think people have bought into what we've created and what we're trying to do," Owens said. "They see structure is being built where people are playing by the same rules."
The DCSAA has named 46 schools in D.C. eligible to play under its guidelines. The organization encompasses public schools, public charter schools, private schools and parochial schools in the District.
Membership is voluntary, and there's no guarantee of everyone showing up at the start line in November. Yet a fair opportunity presents itself this year.
"Our goal and our hope is that if you have a cross-country team, you want to participate," Owens said.
Marvin Parker, head coach at Dunbar, said the race makes sense given that D.C. stretches a mere 68 square miles.
"It's important to have our kids run together," he said. "If you're going to make an All-Met team, it's easy to make when everybody's had the opportunity to see each other."
His team competed in the inaugural DCSAA championship last year, held at Fort Dupont Park on a different course than the DCIAA meet. A site has not yet been determined for this year's race.
Hereford won't host in Maryland
"When you think Maryland cross-country, you think Hereford High School," said Seann Pelkey, head coach at Quince Orchard and this year's meet director for the 4A West region.
The school has held every cross-country state championship since 1980 with the exception of two years. Exception number three comes in 2013. Hereford Athletic Director Mike Kalisz sent an email detailing the changes. Pelkey received the email on July 5 and sent it to local running websites to post.
Kalisz wrote that "extensive school renovations" at the high school will force the cancellation of the Bull Run Invitational in September. The course itself won't experience any changes until November, according to the email, but Kalisz wrote that other elements of the construction process "will not allow us to guarantee a safe environment for all athletes and spectators."
The Maryland Public Secondary Schools Athletic Association has not yet identified a new course for this year's state championship.
"We've been spoiled at Hereford," Pelkey said. "The staff at Hereford do everything to get that course ready. Anyplace else we go is going to involve a lot more work, I'd imagine."
With the course out for at least this year, though, coaches who have lobbied to move the meet in the past have another opportunity. Complaints against the course have focused on the challenging layout that includes plenty of hills and the
fact that slower times at the event could negatively influence college recruiters or national meet selections.
"It'll be interesting to see if those people have more of a voice," Pelkey said. "Hereford is one of those courses that never lets you settle into a rhythm. Teams may be physically gifted and ready to roll come state time, but the course beats them mentally."
Quince Orchard took second in the girls 4A race last year, and Pelkey said the new course won't alter regular season training. But travel could become a factor in planning for the fall. He said the team might switch around its schedule to get a feel for a new course if there is a regular season race held at what would be the state site.
Virginia shuffles postseason structure
More than 300 high schools in Virginia all face the implementation of a statewide postseason overhaul. The changes come as part of the Virginia High School League's realignment plan for the 2013-14 and 2014-15 school years.
The most distinct modification is  that the state will switch from a three-group system to a six-class system.
Under the old arrangement, schools were separated into the three groups. Schools with the smallest enrollments comprised Group A. Each group had four regions composed of districts, each with up to 11 schools.
Now schools will be placed into classes, starting with the smallest enrollments in Class A. Classes A through 3A will split into east and west regions. Classes 4A through 6A will divide into north and south regions. All regions will contain four conferences, each with up to eight schools.
Such semantic changes do carry actual consequences.
For example, the Chantilly Chargers won the boys Group AAA state cross-country title in 2012. Chantilly ranks as the seventh-largest school in the state, according to March 2012 enrollment figures used by the VHSL's executive committee. That puts the school in the new Class 6A, the designation for the largest high schools.
"I don't consider these changes to be an advancement," said Chantilly head coach Matt Gilchrist. "I'm not happy about it. I think the realignment is a football- and basketball-motivated switch. From a track and cross-country opinion, if it isn't broke, don't fix it."
Several potential problems could arise with the new system when viewed from a cross country standpoint.
The state championship for cross-country will hold six races instead of three, meaning a two-day meet. Plus, six teams from each region now qualify for the state race instead of four. That math increases the total number of teams running on the state course to 72, from 48 in the old structure.
"What happens on Friday if it's raining, and the course really gets destroyed?"
Individual standards also undergo a revision in the VHSL guidelines. In the old setup, the top 15 runners in each region qualified to race at state. The new policy will cut the number of spots to 10, but those 10 individuals cannot be members of the six teams that qualify.
"Now that kid in 17th, you wait until meets over, and did I get one of the 10 spots?" Gilchrist said. "Maybe that's a blessing in disguise. I've had enough kids finish in my career in the 16th to 20th spots."
However, Gilchrist said the new rules need to be tweaked. If five runners from the same school were to qualify as individuals this fall, they could not score as a team at the state meet.
"Don't let them bring a full seven," Gilchrist said, "but if you have five individuals, you should be able to score as a full team just like any other team."
Gilchrist said he'll prepare his team as usual in light of the modifications.
"You train the same way. You race the same way. You assess your team based on what you think they can do, and hopefully come postseason, that's good enough to move on."
The realities of these changes mean area coaches and school administrators have to think about new schedules, different travel plans, and the general sense that questions might outnumber answers until closer to the start of the school year.
0
Comments