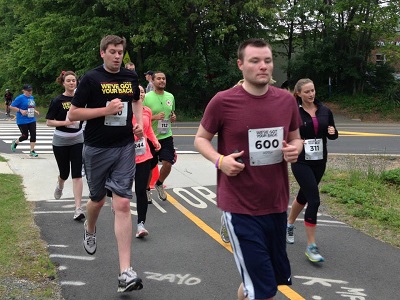 While Josef Tessema and his three pursuers were sprinting through the streets of Reston in hopes of first prize at the We've Got Your Back 5k, Carly Rebeiz of Sterling, Va. was thrilled to just be running.
[button-red url="http://prracing.racebx.com/files/results/4d9205ce-7a0c-46c1-8929-4f56c0a86522/51978d1c-157c-4a3e-845b-7d23c0a86524/2013%20We've%20Got%20Your%20Back%20Overall.htm" target="_self" position="left"] Results [/button-red] Three years ago, she ran into a goalie while playing soccer and herniated two discs in her neck. Her husband, Alex was there and saw her fly back six feet. After 10 months of testing and conservative treatment options, she opted for spinal fusion surgery, and bone from her hip replaced those discs. With therapy, strengthening and additional treatment, she has reclaimed her life and gotten back to [button-red url="https://www.facebook.com/media/set/?set=a.660884560605446.1073741847.189448104415763&type=1″ target="_self" position="left"] Photo [/button-red]where she can play soccer several nights a week.
"It got to the point where it was so painful, you have to do something about it," she said.
"My life was on hold for a few years, but I missed soccer too much to give it up, it was too much of a part of my life."
Having that treatment option motivated her to come out to run the race, which benefitted the Spinal Research Foundation. Alex ran with her, a partner to her accident, treatment and recovery.
"I ran the whole time, I completed it," she said. "Alex was with me through this whole three year journey: driving me to appointments, taking care of dinner, walking the dog. He was there for so much."
She was excited by the number of people who came out to the race, and hopes they took the cause's message to heart.
"It's so important to have the right treatment options," she said. "Living with that kind of pain should not be necessary you just want to live your life.
Up front, Tessema, of Springfield, gunned it, with good reason. With $300 in prize money, he was anxious to see if he had shaken an illness that had kept him under the weather for two weeks. He found out less than four minutes in that he was just fine. Splitting 4:30 for the mile and 9:11 for the two mile, he eased in to finish in 14:49, 21 seconds ahead of Reston's Abu Kebede and Washington's Demissia Gulti, who edged Washington's Takele Gebrelul by one second to shut him out of the prize money.
Barbara Fallon Wallace of Alexandria returned to the race and retook her top spot in 17:27 from Vienna's Anna Holt–Gosselin, who had defeated her here the year before. Holt-Gosselin moved up in the second mile ahead of Clifton's Jackie Gruendel.
Fallon Wallace, a physical therapist, sends some of her patients to the Spinal Research Foundation and wanted to celebrate the cause.
Some of the foundation's physicians helped bring the Stanciu family from Vienna out to the race. Michelle brought her children, Victoria and Daniel, who impressed her with their efforts.
"I'm so proud of them," she said. "They didn't train for it other than their normal daily activity, they got up early, chose to run the 5k instead of the mile, it's so incredible."
Victoria, who loved the portion of the race on the W&OD Trail, was so enthusiastic about finish that she sprinted from her mom, who was left holding her long-sleeved shirt with her timing bib on it, prompting Michelle to chase after her so her finish could be recorded.
Daniel ran ahead of them, capitalizing on the fitness he gained playing basketball and reveling in the event.
"I mostly like the running part," he said. "I got to see my friends, it was fun."
0
Comments
By Mark Russell
May 26, 2010
Springfield, VA
For the Washington Running Report
All race activities moved to Lake Accotink Park.
The inaugural running of the Springfield 15K/5K race will be held the morning of June 6 in conjunction with the Springfield Days weekend festival. The race location has been moved from Lee High School to Lake Accotink Park.
For more than 20 years, Springfield Days has been an annual celebration of all that Springfield has to offer. Starting this year, the weekend also features a Sunday morning running event that will add an exciting boost for the surrounding community.
The new Lake Accotink Park location will make for a terrific running event and the race features some special touches always appreciated by race participants:
* Race day HQ and the start/finish line will be in the marina area
* The 5K route is on scenic, shaded roads in the park and the surrounding Crestwood neighborhood and is suitable for both the competitive and casual participant
* The 15K runners continue on to take in the Lake Accotink trail, a beautiful rolling lakeside trail offering soft footing and lake vistas
* Park shelters overlook the finish area, providing a great amphitheater for watching the finish
* Post race food will provided by Panera Bread and Trader Joe's
* A massage tent will be available courtesy of Positively Chiropractic
* Live music
The race is directed by Mark Russell, who, with his wife Helen, owns Metro Run & Walk, a running & walking specialty retail store in Springfield Plaza. Mark envisions an annual signature event for the southern county area,
"The response to this race has been outstanding. The community has really come out in support of this idea in terms of financial and in-kind sponsorships, community enthusiasm, and race registrations. We're looking at 400-500 runners for our inaugural year, and quality races can easily double and then double again for the first couple of years."
Bruce Waggoner, Springfield Civic Association Vice President and Course Marshal for the race, explains a special feature for this year's event, "Our race is run on D-Day this year. Given the intertwined nature of the Springfield and military communities and our proximity to Ft. Belvoir and other federal installations, we thought it only natural to commemorate the day and honor our Armed Forces."
Runners can register by mail, at Metro Run & Walk, or online.
Silver and Bronze sponsors include Positively Chiropractic, Rocket Communications, and T-Mobile, as well as Capital Running Company, Marriott, Panera Bread, Trader Joe's, and the Washington Mystics.
0
Comments