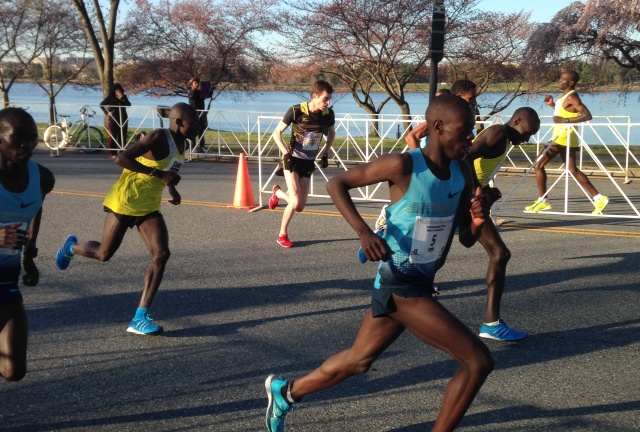 Chasing Greg Meyer's American record put Christo Landry in contention at the Cherry Blossom Ten Mile, and though he fell short of the 46:13 standard, the Falls Church native came away with his first national championship in 46:41. His finish put him sixth overall.
Now a professional runner for Mizuno living in Ann Arbor, he came home to the D.C. area to tune up for the 10k at the Peyton Jordan invitational next month at Stanford University and ended up lobbing off a chunk from his previous 10 mile time, a racing distance of relative obscurity away from the east coast.
[button-red url="http://www.runwashington.com/wp-content/uploads/2014/04/CB-2014.pdf" target="_self" position="left"] Results [/button-red]"That American record was within reach," he said. "If I had just had someone to push the pace and hang onto the last three miles…I would have just had to run 4:40 miles, which was slower than I was going, but I was doing a lot of leading into the wind. I'm really happy to get the overall American win."
He ran at William and Mary following a high school career at Thomas Jefferson Science and Technology.
"Just landing and seeing the metro, I was like, 'I'm home!'" I heard 'go Christo' a lot. With a name like that, you know they're yelling for you and not a 'Chris' or 'Christopher.'"
His parents moved to Seattle years ago, but he still has an aunt and uncle in Capitol Hill.
Ahead of him, Stephen Sambu improved from his fourth place finish last year to edge defending champion Daniel Salel, both timed at 45:29.It was the second consecutive year two Kenyans finished in the same time at the front of the race. In 2013, Salel outleaned Allan Kirprono. Kiprono finished third this year in 45:47.
"It was a tough race," Sambu said. "Really, really tough, from the start, people were hammering."
He had a slight advantage with 300 meters to go, marked by a sign with the distance left in the race that Sambu was thankful to see, despite having run the race twice before.
"I didn't have to guess how much we had left, I knew I could pull it off," he said. "I knew he had a good kick, but in the middle of the race, if I still feel good, I knew I could do it."
The course, now in its sixth year of the current layout, played to his strengths.
"Perfect flat, not too many hills, and no wind," he said. "Last year was tough."
His improvement between the two races, 90 seconds, was a testament to the improved conditions, and Sambu's improvement. Salel's time was 37 seconds faster than last year.
Sambu ran at the University of Arizona and lives in Tuscon.
Matt Tegenkamp, of Portland, was the second American until roughly 1200 meters remained, when his calf seized up and he struggled to the finish line in 15th place, the fifth American. He ran the 5k at the 2008 Olympics and the 10k in 2012.
"It was a pretty crazy race," he said. "The first mile was pretty tame, then things picked up in the second mile, then three to five was just crazy fast. I was just trying to fight the war of attrition, find a comfortable rhythm and I did around 10k. Then there were enough guys blowing up from the early pace that they were coming back."
That worked, up until close to the end.
"I spent three miles catching up to Girma (Mecheso) then after mile nine, my calf went bad and (Mecheso and) three other Americans (Mo Trafeh, Ben Bruce and frequent Cherry Blossom runner Tim Young of Fredericksburg) passed me."
After his first go-round at Cherry Blossom, Tegenkamp came away with an observation about the course. "To compete well in this race, you have to be in track shape," he said. "I wasn't there and I could tell. It's really a race where you feel like you're on a track."
Luke Meyer, three years ago the top U.S. finisher, lead the local running contingent, finishing 20th in 48:45 and 10th in the U.S. championship race, a mere 19 seconds slower than when he was training in law sch0ol.
 U.S 10 Mile Championships (gun times)
1. Christo Landry         46:41
2. Girma Mecheso       47:22
3. Mo Trafeh                 47:27
4. Ben Bruce                  47:33
5. Tim Young                47:45
6. Matt Tegenkamp    47:57
7.  Joe Gray                    48:04
8. Tyler McCandless  48:21
9. Ian Burrell                 48:42
10. Luke Meyer            48:46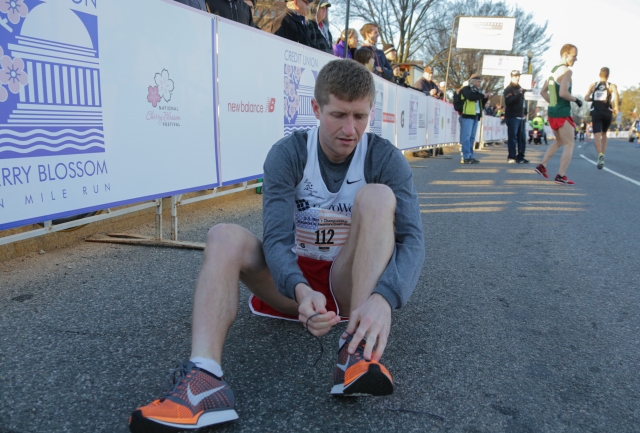 0
Comments