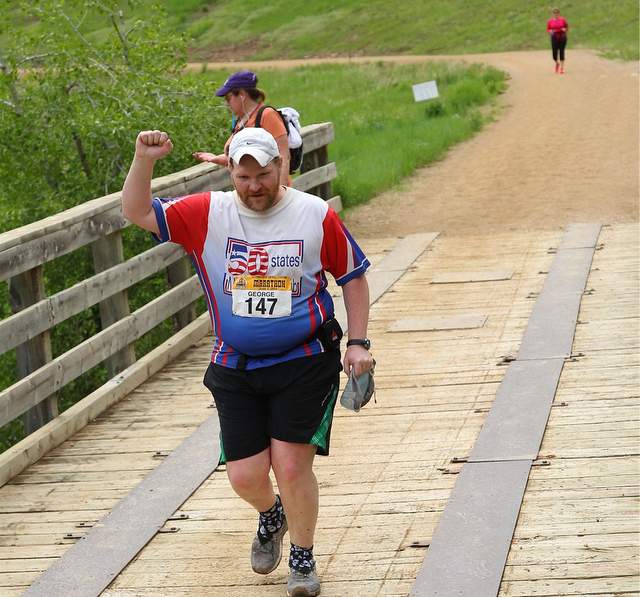 The bananas and bagels are almost gone and the band, if there is one, is wrapping things up. The finish line is about to come down, but here comes Ted Hobart.
The native Arlingtonian's size would throw off most people if they guessed his sport — he was a football player at Washington-Lee High School —  but with more finishes than most in the running-crazed D.C. area, Hobart is undoubtedly a marathoner. He hit number 66 in early June at the Deadwood Michelson Trail Marathon in South Dakota and 67 at the Run4Troops marathon in Iowa four weeks later. He typically runs under the name George.
Often, he's the race's encore, finishing last in 12 of his marathons. At the Clarence DeMarr Marathon in New Hampshire, he was awarded with a turtle trophy, painted on a rock by seven-time Boston Marathon champion DeMarr's daughter. It was the first time he had won an award for a DFL. "D" stands for "dead," "L" stands for "last." Use your imagination on "F."
"They played the Olympic theme as I crossed the finish, with all the volunteers cheering me on," he said. "Usually everyone is gone when I get to the finish, but this race was something pretty special."
But he embraces it. His modesty won't allow him to admit it, but it's hard to believe that he doesn't take some delight in knowing that he proves people wrong.
"It's never been easy for me," Hobart said with a laugh. "When I go to marathons, people will look me up and down and ask if I'm running the 5k. Then when I tell them that I'm here to run a marathon, they assume it's my first one."
He looks like a bearded Andy Richter, with hair that, at 47, has migrated from the top of his head down into a long ponytail.
"You might wonder how I can continue to run in the back of the pack and still have a smile on my face," he said. "It's because I have so many things to be thankful about, like having the ability to go the distance and my determination is never an issue it's my passion to keep going and I hope to continue running for many more years."
Sometimes he turns some noteworthy performances with those DFLs. The 2011 Mad marathon in Vermont gave him bib number one, the opposite of his finish position. Six days later, and at the Grant-Pierce Indoor Marathon in Arlington, he managed last place and a top-10 finish.
In 2013 alone, he finished 16, in 16 states, on his way to finishing a 50-state marathon quest he's been running in memory of his friends Julie Williams and Lollie Winans, who were murdered while hiking the Appalachian Trail in 1996. The brutal crime remains unsolved.
Hobart and Winans met as students at Vermont's Sterling College in the '90s, and a strong friendship quickly ensued. When Winans and Williams began to date, Hobart wasted no time befriending Williams. He even asked the two to come visit him in North Carolina at some point during their hike, but they didn't make it that far.
Their lasting memories give Hobart the steam that keeps him going. He dedicates a marathon each year in their honor, which, for him, is far more meaningful than any finish time or medal he wins.
"I think of Lollie and Julie every day," Hobart somberly said. "Their strength and love for life motivates me every time I run a marathon."
He started running after seeing an advertisement for an AIDS marathon training course plastered on the wall of a Metro car in 2004. He's the event and corporate fundraising coordinator for Whitman-Walker Health, a community health center that focuses on serving the LGBT community. Hobart never considered long distance running, and hadn't been athletic since junior varsity football, but something about the advertisement piqued his interest. So he embarked on a new adventure: training for his first marathon in New Orleans.  After eight months of rigorous training, the vision morphed into reality as he ran his first marathon. And while he claims that he and his family don't share the same passion for long-distance running, he says they have come to a mutual understanding.
He plans to complete his 50-state journey in Maine, where Winans and Williams met, at the 2016 Mountain Desert Island Marathon.  The race will fall on the 20-year anniversary of their deaths. Hobart will also celebrate his 50th birthday that year, and though he is on pace to finish his 50 marathons ahead of time, he is holding up to coincide with that anniversary.
"It's going to be an amazing and emotional time," Hobart said. "I wish I picked an easier way to honor my friends' lives, but then again, running 26.2 miles across America is a pretty awesome way to show (them) how dedicated I am to finding strength and peace."
He's coming up on 10 years of these races. His Marathon Maniacs page, on which he nicknames himself "Dead Last Monkey," chronicles each race. His remarks for races demonstrate why his times don't faze him — he clearly loves a challenge and relishes overcoming tough conditions.
"Running marathons gives me a sense of peace, that Zen moment to myself," Hobart said. "I am not a fast runner, but it's the courage and determination that I bring to all my marathons that allows me to finish strong and with a smile on my face."
In Deadwood, he found himself in the running for another DFL when he came across a first-time marathoner, Cynthia. She was having a rough time, and he drew on his 65 marathons of experience and counseled her through it.
"I told her that even if I moved ahead, she should just keep me in sight," he said. "In the last few miles, I got away from her, but she finished."
Elton Hayes contributed to this story.
This story originally appeared in the July/August 2014 RunWashington.
0
Comments