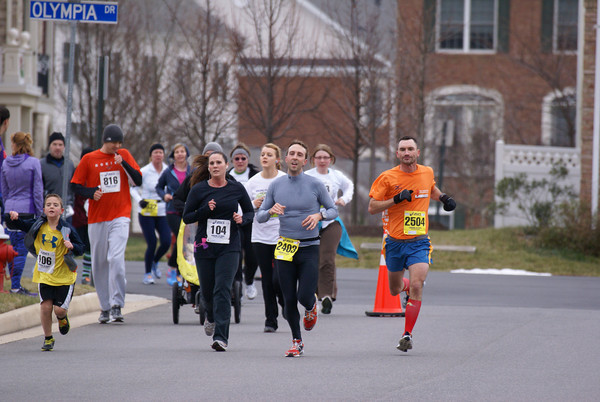 Catherine Mitchell bent down to remove the timing chip from her daughter's shoe at the Ringing in Hope 5k in Ashburn. She paused, stood up to face Emma.
[button-red url="http://prracing.racebx.com/files/results/4d9205ce-7a0c-46c1-8929-4f56c0a86522/50343fe8-8128-4689-bc5d-7633c0a8651f/ringing%20in%20hope%205k%20overall.htm" target="_self" position="left"] 5k Results [/button-red]Great job," she said. "I'm so proud of you," and hugged her daughter.
Catherine and her husband Lance are triathletes and Emma aspires to join them. Though she is adept at swimming, she hoped to improve her running and targeted the New Year's Eve race at Brambleton Town Center. At 10 years old, her goal was to break 30 minutes, which the trio, from Ashburn, did with 23 seconds to spare.
[button-red url="http://prracing.racebx.com/files/results/4d9205ce-7a0c-46c1-8929-4f56c0a86522/50343fe8-8128-4689-bc5d-7633c0a8651f/ringing%20in%20hope%2010k%20overall.htm" target="_self" position="left"] 10k Results [/button-red]
She beamed with pride when Catherine told her about her dramatic improvement over her practice runs.
"She broke 30 minutes 18 years before I did," Catherine said. The hometown race's 5k offered recent Brambleon transplant Karl Dusen a chance to race seriously for the first time since the USATF Half Marathon championships in Duluth, Minn. six months prior. He cleared the field within the first half mile and cruised to victory in 16:25 over Jim Nielson's 17:19, slightly ahead of Eric Sorenson five seconds later, who was led off the course.
It's been a busy few months for Dusen, who, since he last raced, turned 30, moved from Rockville, Md. and welcomed his second daughter with his wife Emily, who finished sixth in her first race back. Their daughter, Juliette, was on hand to, if not see her parents race, cheer for them, though that just as likely might have been crying.
"It was great to race out here," Dusen said. "I've been adjusting to training with the baby around, but we're getting a hang of it. Emily looked pretty good out there and we're just happy to represent Brambleton."
Women's winner Peggy Yetman, of Leesburg, was also shaking the rust off following a break after the world Ironman championships in Hawaii this past October, where she was top 10 in her age group.
"I had to start again sometime," she said. "He (her husband, Chris) pushed me out the door for this one,
if I was going to start up again I'd better just do it and stop worrying about it."
She exceeded her expectations of running 20 minutes when she finished in 18:28, nearly a minute and a half ahead of Columbia, Md.'s Tiffany Hevner (19:50). Reston's Lisa Johnston was third in 20:04.
The 10k started simultaneously with the 5k, which meant men's winner Andrew Ciarfalia had some company for the first half, but was left to his own devices as he ran off to a 34:39 win.
Springfield's Jeremy Lynch (35:08) and Ashburn's Kory Jessen (37:01) followed.
"I slowed down a bit in the second half," Ciarfalia said. "It got a little lonely and I just focused on catching 5k runners. It was fun, they cheered for me."
He'll be focusing on the Cherry Blossom Ten Mile Run, with the Reston Ten Miler along the way.
Melissa Saunders spent her 10k chasing down other runners, primarily D.C.'s Cris Burbach, whom she caught in the fifth mile.
"It was scarier when I passed her, because then she knew I was there and I was waiting for her to come back," Saunders said. "I knew she was gunning for me."
Saunders, of Potomac Falls, prevailed, 40:36 to 40:57, and both had a solid margin over Burke's Cathy Ross, who finished in 42:25.
Saunders ran the race for the third time, and found the flat course to be a dramatic improvement over the Charlotteville Fall Classic Half Marathon she won as a student at the University of Virginia.
"It seemed like we ran every hill in Charlottesville," she said. She is planning on the Shamrock Sportsfest Marathon in March in Virginia Beach.
The 5k gave Briar Woods High School runners Chris Schopper (18:21) and Brian Presler (19:20) a chance to check their fitness following their cross country season. Their team does not have an indoor track season, so they are just getting back into their workouts after their fall campaigns.
"It was a good benchmark," Presler said. "We're starting 2013 with a good idea of what we have to do to hit our goal times for track."
0
Comments
By James Moreland
Reston, VA
October 8, 2011
For the Washington Running Report
Running is a sport for the young and even more so the young at heart. Running in races has increased every year in the last decade. With the economic down turn in the last few years, runners are coming out in even greater numbers. The annual Great Pumpkin 5K was blessed with a picture perfect autumn day and brought out big time racing numbers. Waiting for the race to start, one runner asked another if she was going to race with her. "Oh no, I don't really run. I just came out for the fun." The reply was, "Well next year, I will run with you." The oldest runner of the race was Larry Dickerson, 80. He was wearing a bright yellow pair of running shoes that enviously caught the eye of one of the youngsters. Dickerson always near the top of the rankings, smiled and said, "I'll will them to you."
Colorful costumes were on display. One runner at the front of the pack was painted like a Halloween skeleton. Further back in the pack a woman was decked out in a full Batman costume. The Oktoberfest celebration at the Reston Town Center was set for the whole weekend with the race as a centerpiece. This year the late summer rains did a number on the pumpkin crop, so we missed out on a giant pumpkin like the half ton monster at the 2009 event. Still, there was lots of smaller pumpkin, often with faces designed on them.
Top ranked Henry Wigglesworth, 54, had scouted the course and found it to his liking. He was looking for another sub 17:00 minute race. A number of the older runners such as Jean Christophe Arcaz, 50, and Steve Robinson, 56, (coming back from a year layoff), were looking for some competition to spur on the fast times on a perfect racing morn. The first two, Wigglesworth (17:15) and Arcaz (17:44), both finished in the top eight overall. Arcaz noted that the top three just disappeared. He knew he would have to work hard to catch Wigglesworth. Wigglesworth noted after the race that he would have preferred Arcaz up on his shoulder pushing him to a faster time. He had been really impressed by Arcaz's Credit Union Cherry Blossom 10 Mile (He had been first in 58:48). "Sub 60:00 is pretty good!" he exclaimed.
Third grandmaster Peter Cini (18:58) speculated that Arcaz was better the longer the race. Both he and Wigglesworth discussed where the best (fastest) 5Ks might be found. Late October offered one of the best choices at the Valvoline Instant Oil Change Goblin Gallop 5k & 1k Fun Run in Fairfax, VA at the end of the month. Robinson was so eager to be back on the circuit that he ran out quickly with the top dogs. After the race he was ecstatic. "I was hoping to break 21:00 and I almost broke 20:00," he said with a wide grin of his new 55-59 event record in 20:05. Amazingly, after Wigglesworth's 17:15 record, the next two fastest grandmaster age groups were set in the first year (2009) by Jason Page, 64, (19:27) and Bill Joyce, 65, (19:58). The master record was set by open class runner Ray Pugsley in 15:28.
The first year was Steve Magness upset reigning rankings champion Steve Crane by fifty meters in 15:05. The next year the course changed a bit and the top two runners dipped under 15:00 with third place Frank DeVar just missing in 15:03. This year the clear favorite was Abiyot Endale (left). In the spring he upped his game racing three of the fastest 10Ks in the region, finishing in the top three every time. His slaying of the field at the Pike's Peek 10K in 28:19 gave a strong hint that Gurmessa Megeressa's event record of 14:51 would soon be history. Today three more age groups would break 15:00 minutes. Looking relaxed, Endale always seems to be toying with the competition, winning easily in 14:25. Second place Girma Desta at thirty-five is still racing in excellent form for a marvelous 44:44. DeVar was again third but this time it was also the third fastest event time in 14:48.
There was cash for the top three overall but for some reason they decided not to pass out age group prizes on race day. Endale (89.5%) led five runners with age graded performances higher than 87%. Dee Nelson, 68, was third overall at 88:1% with her 24:45 finish.
In the women's race Kayley Byrne, 23, took over early and won in a sparkling 19:05. The next two places were decided later in the race. Runner-up Karina Lubell posted a 19:44 with Tiffany Hevner not far behind in 19:56. Of the first dozen runners these two, at 31, were the only ones older than thirty. Last week at the McLean 5k Jen Norris (right) was fourth overall and top master. (The overall winner was Win Persian, 51,). That course was a similar rolling course with turns but it featured some misty showers that turned torrential for those who lingered on the course. Today Norris plowed ahead for the top masters spot in 22:20. Not far behind her were the top two grandmasters. Sushila Nanda, 50, ran a very credible 22:33 for the event record. She also stopped about every half mile with leg cramps. She started up again as some of the slower runners caught up. After the raced she was thanking them for helping to pace her. "I saw one woman who I thought might be in my age group and I wanted to beat her." That runner was 55-year-old Elizabeth Baumgarten who just missed catching her in 22:37. That gave her the second highest age graded rating for the women at a national class 79.9%.
Female runners comprised 59% of the field. With all the racing competition of forty races a weekend and the massive Army 10 miler on tap tomorrow, the numbers were less than might have been expected for this wonderful race. Still, there were 1100 timed finishers, plus untimed runners as well. The kids' race consisted of hundreds of little ones divided by age with four different colors of bibs.
Many volunteers worked long and hard to make this event work. Race morning started at 3:00 a.m. to get everything in place for the runners. At packet pickup whole families came out to help deliver the goods to the racers. On Friday, the Chen family had three young boys about 6 to 11 years old. They quickly took over the jobs with alacrity. Mom was able to just watch most of the time. The youngest made sure everyone got an Anthem bag while the oldest diligently marked off bibs before dispensing with the shirts. They really went to town when they got the chance to stuff the bag with race fliers, the more the merrier. Once a packet of fliers was finished they reached for more, exulting when more were provided. After the pick-up closed for the evening, we surprised them with an early Halloween, a bag of chocolate candies. It is a safe bet they will be back net year.
FEMALE OVERALL
Place Num   Name                   Ag City                  Gun T Net T Pace  
===== ===== ====================== == ===================== ===== ===== ===== 
    1   467 Kayley Byrne           23 Oak Hill VA           19:05 19:03  6:08 
    2  1221 Karina Lubell          31 Washington DC         19:44 19:44  6:22 
    3   846 Tiffany Hevner         31 Columbia MD           19:56 19:56  6:25 

MALE OVERALL
Place Num   Name                   Ag City                  Gun T Net T Pace  
===== ===== ====================== == ===================== ===== ===== ===== 
    1     3 Abiyot Endale          26 Bronx NY              14:25 14:25  4:39 
    2     2 Girma Desta            35 Washington DC         14:44 14:44  4:45 
    3     1 Joseph Devar           23 Washington DC         14:48 14:47  4:46 

FEMALE AGE GROUP: NET TIME 1 - 12
    1  1135 Emily Landeryou        12 Reston VA             22:22 22:16  7:10 
    2   613 Kate Brunotts          11 Ashburn VA            25:22 25:21  8:10 
    3  1134 Sophia Landeryou        9 Reston VA             25:55 25:47  8:18 

MALE AGE GROUP: NET TIME 1 - 12
    1   669 Ian Whitfield           9 Potomac Falls VA      20:42 20:42  6:40 
    2   660 Joshua Kay             11 Leesburg VA           23:08 22:46  7:20 
    3  1217 Owen Walker            12 Reston VA             24:13 24:13  7:48 

FEMALE AGE GROUP: NET TIME 13 - 15
    1  1177 Mary Pollin            14 Burke VA              22:07 21:58  7:04 
    2  1157 Morgan Witcock         13 Herndon VA            22:26 22:26  7:14 
    3   938 Kacey Hirshfeld        15 Reston VA             24:07 24:03  7:45 

MALE AGE GROUP: NET TIME 13 - 15
    1   719 Lewis Millholland      15 Falls Church VA       17:50 17:50  5:45 
    2  1191 Mikey Peterson         14                       21:32 21:27  6:54 
    3  1218 Eli Lifland            13 Fairfax VA            22:30 22:10  7:08 

FEMALE AGE GROUP: NET TIME 16 - 19
    1   780 Erin Geraghty          19 Woodbridge VA         20:50 20:50  6:43 
    2  1210 Gabrielle Merritt      16 Elon NC               21:55 21:55  7:04 
    3   483 Lisa Bell              18 Vienna VA             24:38 24:35  7:55 

MALE AGE GROUP: NET TIME 16 - 19
    1  1184 Chris Zapple           19 Falls Church VA       18:02 18:02  5:49 
    2  1208 Zachary Dailey         16 Great Falls VA        18:20 18:18  5:54 
    3  1068 John Tiernan           16 Reston VA             20:12 20:02  6:27 

FEMALE AGE GROUP: NET TIME 20 - 24
    1  1183 Natalie Anble          22 Fairfax VA            20:29 20:29  6:36 
    2   482 Julie Bell             21 Vienna VA             20:53 20:50  6:43 
    3   504 Amara Lewis            23 Alexandria VA         21:00 20:54  6:44 

MALE AGE GROUP: NET TIME 20 - 24
    1   873 James McLaughlin       23 Herndon VA            20:11 20:06  6:29 
    2  1058 Nate Perry             23 Herndon VA            20:12 20:07  6:29 
    3  1250 Benjamin Burnheimer    24 Ashburn VA            20:58 20:57  6:45 

FEMALE AGE GROUP: NET TIME 25 - 29
    1   785 Stephanie Manchin      27 Arlington VA          22:10 21:26  6:54 
    2   763 Melanie Clairy         29 Reston VA             22:14 21:39  6:58 
    3   841 Jayme Dorsett          25 Reston VA             23:37 23:07  7:27 

MALE AGE GROUP: NET TIME 25 - 29
    1    65 Charlie Ban            29 McLean VA             16:15 16:15  5:14 
    2   939 Andrew Ciarfalia       28 Reston VA             16:55 16:55  5:27 
    3   424 Sean McLaughlin        25 Centreville VA        17:28 17:28  5:38 

FEMALE AGE GROUP: NET TIME 30 - 34
    1   708 Dana Drever            34 Ashburn VA            23:56 23:23  7:32 
    2   862 Karen Preston          34 Ashburn VA            24:59 24:35  7:55 
    3   681 Jessica Sartorius      34 Vienna VA             25:52 25:52  8:20 

MALE AGE GROUP: NET TIME 30 - 34
    1   311 Dan Petouvis           33 Fairfax VA            18:10 18:09  5:51 
    2   684 Titus Mott             34 Reston VA             19:44 19:41  6:20 
    3  1027 Auberde Merilan        31 Reston VA             20:35 20:30  6:36 

FEMALE AGE GROUP: NET TIME 35 - 39
    1  1067 Paula Knepper          38 Reston VA             23:02 23:00  7:24 
    2  1003 Tia Roy                36 Ashburn VA            23:34 23:25  7:33 
    3   692 Holly Khatchadurian    37 Reston VA             24:03 23:55  7:42 

MALE AGE GROUP: NET TIME 35 - 39
    1  1196 Joshua Doan            37 Arlington VA          18:37 18:36  5:59 
    2   748 Glen Case              36 Ashburn VA            18:52 18:51  6:04 
    3   107 Michael Rohlf          36 Washington DC         19:25 19:25  6:15 

FEMALE AGE GROUP: NET TIME 40 - 44
    1   824 Jen Norris             40 McLean VA             22:20 22:14  7:10 
    2  1141 Jill Jaggard           43 Great Falls VA        23:42 23:42  7:38 
    3   184 Terry Short            40 Reston VA             25:04 24:22  7:51 

MALE AGE GROUP: NET TIME 40 - 44
    1  1147 Tom Powers             43 Chevy Chase MD        19:11 19:10  6:10 
    2  1143 Shawn Flaherty         40 Herndon VA            19:54 19:54  6:25 
    3  1109 Matt Tourville         40 Alexandria VA         21:35 21:35  6:57 

FEMALE AGE GROUP: NET TIME 45 - 49
    1   937 Diana Hirshfeld        45 Reston VA             24:08 24:04  7:45 
    2   776 Chana Richitt          47 Manassas VA           25:30 24:05  7:46 
    3  1146 Suzanne Powers         45 Reston VA             25:04 24:43  7:57 

MALE AGE GROUP: NET TIME 45 - 49
    1   818 Robert Sichau          47 Alexandria VA         20:15 20:09  6:30 
    2  1105 Thomas Marks           45 Ashburn VA            20:31 20:31  6:36 
    3  1046 Robert Barlow          45 Reston VA             21:02 21:02  6:47 

FEMALE AGE GROUP: NET TIME 50 - 54
    1  1043 Sushila Nanda          50 Arlington VA          22:33 22:33  7:16 
    2   886 Carla Freyvogel        54 McLean VA             23:59 23:58  7:43 
    3   419 Daniela Micsan         52 Reston VA             26:03 25:59  8:22 

MALE AGE GROUP: NET TIME 50 - 54
    1  1004 Henry Wigglesworth     53 Washington DC         17:15 17:15  5:34 
    2  1170 Jean-Christophe Arcaz  50 Rockville MD          17:44 17:44  5:43 
    3  1187 Peter Cini             53 Fairfax VA            18:58 18:58  6:07 

FEMALE AGE GROUP: NET TIME 55 - 59
    1   396 Elizabeth Baumgarten   55 Stone Ridge VA        22:37 22:35  7:16 
    2   990 Cindy Beyer            55 Reston VA             24:59 24:49  7:59 
    3   553 Peggy Corley           55 Fairmont WV           25:01 25:01  8:04 

MALE AGE GROUP: NET TIME 55 - 59
    1  1207 Steve Robinson         56 Oak Hill VA           20:05 20:05  6:28 
    2  1239 Kenyon Erickson        57 Vienna VA             20:31 20:29  6:36 
    3  1169 Rod Devan              58 Alexandria VA         20:50 20:47  6:42 

FEMALE AGE GROUP: NET TIME 60 - 64
    1  1055 Catherine Kemper       60 Des Moines IA         28:59 28:53  9:18 
    2   403 Jane Blong             61 Potomac MD            34:49 34:45 11:11 
    3   147 Linda Echard           60 Reston VA             36:22 35:40 11:29 

MALE AGE GROUP: NET TIME 60 - 64
    1  1059 Jack Kehoe             63 Burke VA              25:08 25:05  8:05 
    2   550 Ting-Yi Oei            62 Reston VA             27:42 26:25  8:30 
    3   831 Jack Harvey            60 Centreville VA        26:53 26:45  8:37 

FEMALE AGE GROUP: NET TIME 65 - 69
    1  1220 Dee Nelson             68 Gaithersburg MD       24:45 24:45  7:58 
    2  1112 Rebecca Brown          67 McLean VA             36:06 34:38 11:09 
    3  1037 Feryal Barakat         67 Rockville MD          57:45 56:32 18:12 

MALE AGE GROUP: NET TIME 65 - 69
    1   509 Fred Kohut             66 Cold Spring NY        32:51 32:11 10:22 

FEMALE AGE GROUP: NET TIME 70 - 74
    1  1128 Abigail Edwards        71 Reston VA             40:34 39:09 12:36 
    2  1251 Yuidgard Deitrich      70 Washington DC         43:52 41:43 13:26 

MALE AGE GROUP: NET TIME 70 - 74
    1   676 John Gluck             74 Alexandria VA         25:04 24:58  8:02 

MALE AGE GROUP: NET TIME 75 - 79
    1   246 An Duong               75 Centreville VA        32:18 30:59  9:59 
    2   592 Bendy Viragh           77 Washington DC         32:38 32:30 10:28 
    3   976 Dick Coogan            79 McLean VA             38:27 38:01 12:14 

MALE AGE GROUP: NET TIME 80 - 99
    1   408 Larry Dickerson        80 Burke VA              28:43 28:36  9:13
0
Comments