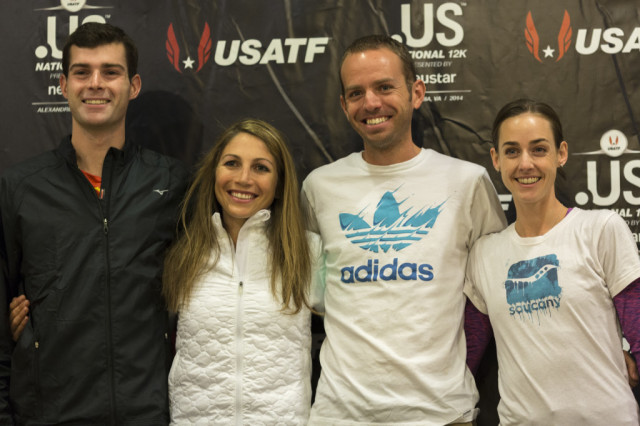 For the second year, the .US National 12K championships will be held in Alexandria, capping off the 2014 USA Running Circuit (USARC).
How it works: The USARC each year hosts national championships at distances ranging from one mile to the marathon. The first 10 U.S. runners at each race earn points, and also qualify for the 12K, which features $100,000 in prize money. Points are doubled at both the 12K and in the marathon.
***
Heading into tomorrow, Falls Church native Christo Landry, with 76 points, has an insurmountable lead in the men's standing. Landry is entered; Tyler Pennel, second in the USARC standings, is not.
Pennel established himself on the national stage at last year's 12k, finishing 3rd. In October, he won his first national title in his debut marathon.
For Landry, 2014 has been nothing less than a breakthrough year. In April, he won his first of three national championships on his home turf at the Cherry Blossom Ten Mile Run, prior to capturing titles at 10K and 25K. Five weeks ago, Landry was 13th in 2:14:30 at the Chicago Marathon. The result disappointed him.
Tomorrow, though, Landry, a graduate of Thomas Jefferson Science and Technology then William & Mary, who recently moved from Michigan to Charlotte, N.C., will give it his best shot, and, no matter the result, claim a USARC title and savor the opportunity to race in northern Virginia. "It's just great to come home," he said. "I grew up right nearby and anytime I get to come back to this area it just feels like coming home again, regardless of where I live at the moment."
During a press conference today, Kevin Ullman of RunnerSpace pointed out that Landry and Molly Huddle have a shot at becoming the first runners to ever claim four USA titles in one year.
Landry, after noting how special that would be, said, "It's more likely to be Molly's chance to do it first than mine tomorrow."
Huddle, the defending 12k champion and clear favorite, is just two points behind Sara Hall in the women's USARC standings. Both will race tomorrow.
"That's a pretty detailed stat," said the understated Huddle, to Ullman's question, "but I think it would be pretty special [to win four titles]."
Huddle has raced three USARC races and won as many times, claiming titles at 7 miles, 20K, and 5K. Last year, for Huddle, 12k, as a distance, seemed both strange and too long, even if she covered it in a national record time. This year, though, Huddle said she has a good "pace memory" for the distance and is focusing on winning a national championship. "Hopefully however fast we have to go I'm ready to do that," she said.
Hall, throughout her career, has had tremendous success in the middle distances on the track, but said she has had fun – not to mention success – experimenting with longer distances this year. She was the second American finisher at the Cherry Blossom Ten Mile Run, which hosted the national championship, and won and set a course record at the EQT Pittsburgh 10 Miler last weekend.
Had it not been for a burst appendix in August, Hall, who is married to American marathoner Ryan Hall, planned to run her debut marathon earlier this fall. That plan has simply been postponed.
"After this race I'll probably be turning the corner to more marathon specific training," she said.
***
After many near misses, Aaron Braun won his first national title at last year's 12k, "getting over the mountain," he said.
Braun added: "Once I know that I've done something once, then I have a lot more belief that I can do it again."
Braun's 2014 has been up and down. His debut marathon didn't go well. And in July, Braun, feeling overly fatigued, took a long break to recharge.
But Braun has since won the Great Cow Harbor 10K and San Jose Rock 'n' Roll Half Marathon, and is now focused on defending his 20K title. "I feel like I'm in as good of shape, if not better shape, than last year, so I should be able to pull it off again this year," he said.
Believing gait inefficiencies contributed to his difficulties in the marathon, Braun worked on his form, starting with a visit to Mark Plaatjes, a former world marathon champion and physical therapist, for video analysis.
"As soon as I watched the video, I was kind of like, 'Oh, gosh, that's pretty bad.' You always feel like you are the most beautiful runner, but when you actually see, actually critique yourself, it was kind of a good view into what was actually happening," he said.
Braun has been doing strengthening drills and has been more conscientious of not leaning too far back while running.
"Hopefully it pays off tomorrow and in my future marathons," he said.
***
A USATF spokeswoman said 1,300 runners will participate in tomorrow's race. It will be run on a different, and out-and-back, course, but will start and finish in the same place, near Oronaco Bay Park. (See map.)
The elite women will start at 7:15 a.m. The elite men, masters, and open race will start at 7:25. To watch online, see the live stream.
Lucas Meyer, a lawyer living in Washington, D.C., is in the men's elite field. See both elite fields.
RunWashington will cover both the elite men's and women's races. Follow @runwashington and @dicksonmercer for updates.
0
Comments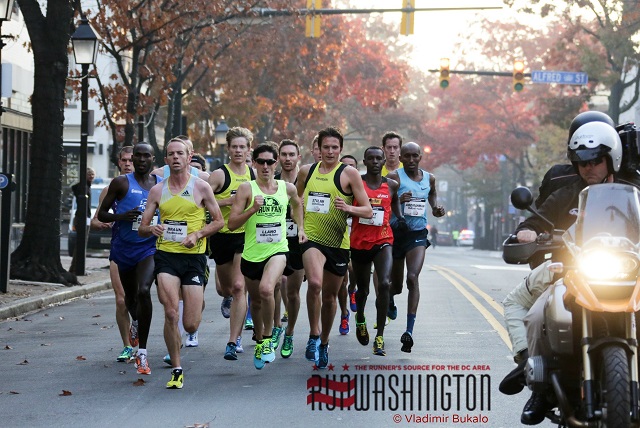 Season after season, on the track, on the roads – at one national championship after another – Aaron Braun has been in the mix, establishing himself as one of the top distance runners in the country.
Braun, 26, broke through to the top this morning on the streets of Alexandria – taking firm control at the 10k mark of the .US National Road Racing Championships to win his first national title. Results
The inaugural championship race capped the 2013 USA Running Circuit (USARC), a road racing series that includes national championships for races ranging from the mile to the marathon. The first 10 U.S. runners in these races earn points, with 15 awarded for a win.
The .US National Road Racing Championships, however, offered triple points, not to mention $100,000 in prize money.  And it was contested at the uncommon distance of 12k, an unfamiliar distance serving as something of a middle ground for 5k specialists and marathoners.
What made today's race interesting, though, was not so much the unique race distance; it was the time of year the race was held. Some of the pros entered in today's race had run marathons the month prior. Some had been racing relentlessly since January (and coming off a marathon), thus operating on fumes. Others, like Braun, came in focused and fresh.
The lead pack was at least a dozen strong through 5k. But Braun – from the very beginning on Union Street – seemed to be the one tugging the strings, injecting fresh pace at mile marks or surging off some of the course's tight and even 180-degree turns.
The opening pace through the first few mostly-flat miles was about 4:40. Spectators lined the intersections to cheer, and Abdi Abdirahman and Shadrack Biwott at times moved out into the lead.
Pre-race favorites Matt Tegenkamp, leading the USARC standings, and Chris Solinsky tucked into the group. Solinsky, who dropped out, started to fall off first, shortly around 5k. Tegenkamp started slipping back closer to a turnaround near five miles.
"Coming off the marathon, I was just locked into those 4:50s, 4:55, five-minute miles," said Tegenkamp, an Olympian who debuted in the marathon Oct. 13 in Chicago, clocking 2:12:28. "Trying to run any faster than that for a sustained amount of time, there was just never a comfort zone."
Tegenkamp fought through a tough day to finish eighth.
Braun, meanwhile, lowered the pace into the 4:30s. He said he knew dropping the field wouldn't happen and focused instead on staying aggressive: "… I just had to keep my foot on the pedal and keep it nice and steady, be able to hold that pace all the way to the finish."
Braun's time, 34:28, was two seconds shy of Steve Spence's American record. Maybe if Braun had not looked back in the closing stretch and waved to the crowd and enjoyed the moment … maybe then the record could have been his.
But the Englewood, Colo.-based runner was not the least bit concerned about that. His only goal, he said, was to win: "It's just so great to finally cross the line and be U.S. champion."
Braun recently returned to a former coach and his native Colorado, where he also attended running powerhouse Adams State College. He made the change, he said, out of concern that his performances had leveled off.
"To keep in this sport," Braun said, "you have to keep getting better – because everyone else is getting better, too. So if you're staying the same, you're getting passed. I am just determined to keep getting better year after year."
Sensing Braun was on his game, Shadrock Biwott – second in the standings – focused on not letting him get too far away.
Biwott has been racing without a break since January, he said. Six weeks ago he finished third in the national marathon championships – and afterward took just two days off. ("I'm exhausted," he said. "My legs are tired right now. I have never been so tired in the race.")
His near-breaking point came while heading up the bridge between miles five and six. There was a tight turn to make at its end – and Biwott, entering his rough patch, said his focus was further thrown by seeing Abdirahman take a hard fall there that ended his race.
But Biwott successfully re-grouped to hold on for second, seven seconds behind Braun – a result that earned him the USARC series title.
Next in the 12k was Tyler Pennel, 25, of Blowing Rock, N.C., finishing third in 34:37.
It was Pennel's first race since Peachtree in July, and his first race in a new season he hopes will peak in January at the national half marathon championships.
"It kind of validates the training I am doing with my coach," he said. "I know I can compete with these guys. I can go out here and run toe to toe with them."
Local Connections
Chris Kwiatkowski of Washington, D.C., recently finished fourth at the Army Ten-Miler in a new personal best of 48:17. He is coached by Matt Centrowitz and runs for the Pacers-New Balance team.
Kwiatkowski ran confidently this morning in the thick of the lead pack. He started to lose contact around five miles but held on to finish 12th.
"It's a different world the way these guys race," he said. "You got to be strong; you got to stay relaxed. So I'm working on it, and it was a good learning experience."
Matt Llano trains in Flagstaff, Ariz., but attended Broadneck High School in Annapolis and competed for the University of Richmond.
He finished seventh today in 34:49, matching his place at the national 20K championship in September and continuing his recovery from an injury that sidelined him for most of 2012. His parents, sister, college teammates and even his former college coach were there to see him race.
Llano hoped to crack the top five, but "I'm just confident that my fitness is still coming along," he said.
Thomas Jefferson High School graduate Christopher Landry, who now trains in Ann Arbor, Mich., finished fourth to cap a USARC season that also included top five finishes in the national championships for the marathon and 25k.
The College of William and Mary graduate wasn't sure how he would fare at 12k six weeks after a marathon. But today's race – "a homecoming," he said, with his family there supporting him – wasn't one he wanted to miss.
"This exceeded all my expectations," he said.
—
RunWashington's story on women's race.
0
Comments