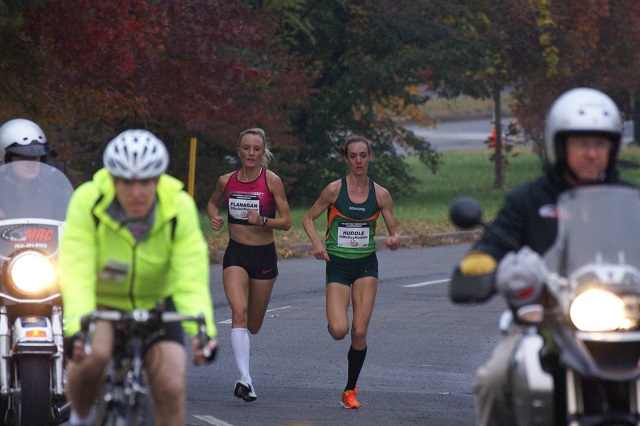 The size of the women's elite field, impressive as it was, didn't matter at the inaugural .US National Road Racing Championships. Within a half mile, it was down to two — Shalane Flanagan and Molly Huddle, dueling side-by-side over 12k of winding roads in Old Town Alexandria. Shortly after 10k, split in 31:38, Huddle got a few steps on Flanagan and widened her lead to eight seconds to win in 37:50 in an American record.      Results
Though Huddle won the $20,000 prize for first place, both were well under Deena Kastor's 38:24 American record for the infrequently-run distance, a record Kastor ran en route to the Berlin Half Marathon in 2006. Race announcers declared it a world record, though the International Association of Athletics Federations doesn't certify 12k road records.
"It's a bit long distance for me, so I just wanted to be patient for 10k," Huddle said. "We knew we were on record pace so I thought no need to surge and fade. I figured I could hold on for two more kilometers so I pushed it."
Shortly after making her move, Huddle opened up some lateral space from Flanagan, moving to the other side of Fairfax Street shortly before the seven-mile mark. Shortly after, Flanagan subtly eased up and Huddle put ground on her.
"I was saving a little bit in case she had a kick, but with 600 left I didn't hear her, so I started focusing on the record," Huddle said.
It was a few blocks from where the two of them had put their pursuers away. Early in the race, by the time the pair climbed the short, steep hill on Gibson Street, even early pursuer Lindsay Scherf had fallen off. They passed the first mile in 5:03 and had a 10-second lead on the pack.
"I didn't hear anyone after the mile, so I figured it would be just us two the whole way and we'd end up with a fast couple kilometers," Huddle said. "We knew 5:05 was American Record pace so we both had it in our mind to try it for half way and see how we do."
The looping course featured an average of three turns per mile, with a 180-degree turn in mile five.
"I wouldn't have anticipated it being that fast, but obviously it was," Flanagan said. "I thought the turns would slow us down but we actually gained momentum by trying to compensate for it. It was a great setup for fast times."
Despite losing, Flanagan was upbeat. Huddle came in on a hot streak, having won the New York Road Runners 5k two weeks prior when she outleaned Emily Infeld, the former Georgetown star, in 15:27. Flanagan had finished 11 seconds back.  Sunday, she was eight seconds behind on a longer course.
"I didn't really have a plan," Flanagan said. "I don't really know my fitness because I'm just getting back into shape, I'm pretty pleased by how fast I ran. I knew Molly would be tough, but I didn't anticipate her being there that late."
Infeld sat the race out with a back injury that has not been diagnosed yet. Huddle also edged Infeld at the USATF 5k championships in late September.
Kellyn Johnson, a frequent racer in the D.C. area, finished fifth in 39:48 seven days after winning the Woodrow Wilson Bridge Half Marathon in 1:13:02. She flew back and forth between her home in Flagstaff, Ariz., but didn't feel like the trips took too much out of her.
"I wasn't too sore, wasn't too beaten up from it," she said. "I was just basically running and did some strides. I was pretty drained by the last mile but I have felt that way at the ends of all kinds of races."
Runners specializing in "all kinds of races" showed up for the race,  which invited top 10 finishers from USA Running Circuit — USATF championships in cross country, the mile, 5k, 10k, 15k, 20k, half marathon, 25k and marathon, with bonus points for the marathon and 12k. Huddle had won the 5k and Flanagan cross country, with Meghan Peyton (ninth for the 12k in 40:32 ) winning the 20k and Annie Bersagel (eighth in 40:27) the marathon.
Renee Tomlin showed up after getting notice she had qualified thanks to her performance at the mile championships in April.
"I wrote back and asked if it was a mistake," she said with a laugh. "I'm definitely a miler so a 12k is kind of a stretch, but it wasn't nearly as bad as I thought."
She's never raced more than four miles, but figured the race would be an opportunity to do a hard long run.
"This is a marathon for me," she said. "But it was fun to work with (fellow Georgetown alumnae) Kristen (Kasper) and Liz (Maloy). Kristin was my workout and training buddy in college."
Kasper, a redshirt senior at Georgetown, had run one 10k on the track, but dipped into longer racing in October, finishing fifth in 57:14. At Army, she split 35:23 for 10k; during the 12k, she split 34:56.
"I just wanted to have fun, run with Renee and that's what I did," she said. "I was in awe of the field, being able to step on the line with record holders and Olympians was incredible."
Maloy( 19th ,41:33) Tomlin (20th, 41:43) and Kasper (21st, 41:47) ran consistently between 5:30 and 5:35 per mile.
"We kept trying to raise the intensity, but didn't swing the pace too much," Kasper said.
Army Ten-Miler champion Kerri Gallagher, a 1500 meter specialist based in Arlington, tried the 12k as a medium distance and finished 14th in 40:59.
"I was a little disappointed with how I finished, but I got out the way I wanted to," she said. "There are a lot of great runners in this race so it was a tossup whether I was going to be able to hang or not."
She hung in the pack for 2.5 miles, stuck off the back for 1.5 more, and ran alone for the rest of the race trying to stay focused, with mixed results.
"I was trying to keep it in my head that the race wasn't gone yet," she said. "I don't think it really was at any point; I just never started gaining places back."
—
RunWashington's story on men's race
Recent Stories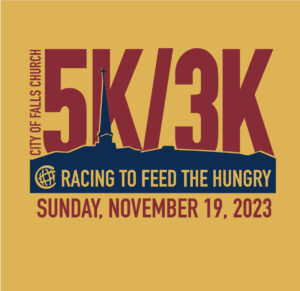 The out and back Falls Church City 5K/3K course is mostly flat on the W&OD Trail starting and finishing at 103 Columbia Street. Overall male and female winners earn free shoes and medals are awarded to all categories. Great family