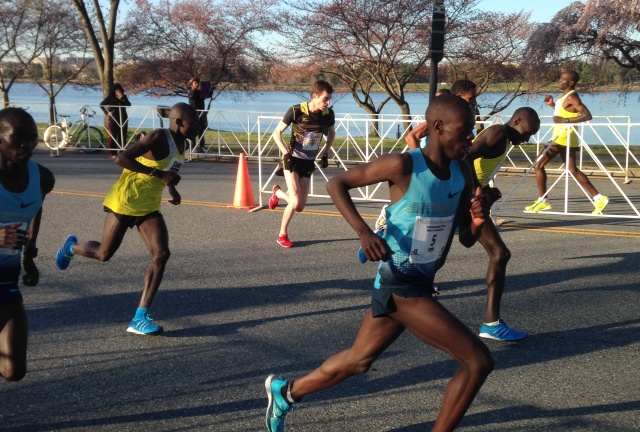 Chasing Greg Meyer's American record put Christo Landry in contention at the Cherry Blossom Ten Mile, and though he fell short of the 46:13 standard, the Falls Church native came away with his first national championship in 46:41. His finish put him sixth overall.
Now a professional runner for Mizuno living in Ann Arbor, he came home to the D.C. area to tune up for the 10k at the Peyton Jordan invitational next month at Stanford University and ended up lobbing off a chunk from his previous 10 mile time, a racing distance of relative obscurity away from the east coast.
[button-red url="http://www.runwashington.com/wp-content/uploads/2014/04/CB-2014.pdf" target="_self" position="left"] Results [/button-red]"That American record was within reach," he said. "If I had just had someone to push the pace and hang onto the last three miles…I would have just had to run 4:40 miles, which was slower than I was going, but I was doing a lot of leading into the wind. I'm really happy to get the overall American win."
He ran at William and Mary following a high school career at Thomas Jefferson Science and Technology.
"Just landing and seeing the metro, I was like, 'I'm home!'" I heard 'go Christo' a lot. With a name like that, you know they're yelling for you and not a 'Chris' or 'Christopher.'"
His parents moved to Seattle years ago, but he still has an aunt and uncle in Capitol Hill.
Ahead of him, Stephen Sambu improved from his fourth place finish last year to edge defending champion Daniel Salel, both timed at 45:29.It was the second consecutive year two Kenyans finished in the same time at the front of the race. In 2013, Salel outleaned Allan Kirprono. Kiprono finished third this year in 45:47.
"It was a tough race," Sambu said. "Really, really tough, from the start, people were hammering."
He had a slight advantage with 300 meters to go, marked by a sign with the distance left in the race that Sambu was thankful to see, despite having run the race twice before.
"I didn't have to guess how much we had left, I knew I could pull it off," he said. "I knew he had a good kick, but in the middle of the race, if I still feel good, I knew I could do it."
The course, now in its sixth year of the current layout, played to his strengths.
"Perfect flat, not too many hills, and no wind," he said. "Last year was tough."
His improvement between the two races, 90 seconds, was a testament to the improved conditions, and Sambu's improvement. Salel's time was 37 seconds faster than last year.
Sambu ran at the University of Arizona and lives in Tuscon.
Matt Tegenkamp, of Portland, was the second American until roughly 1200 meters remained, when his calf seized up and he struggled to the finish line in 15th place, the fifth American. He ran the 5k at the 2008 Olympics and the 10k in 2012.
"It was a pretty crazy race," he said. "The first mile was pretty tame, then things picked up in the second mile, then three to five was just crazy fast. I was just trying to fight the war of attrition, find a comfortable rhythm and I did around 10k. Then there were enough guys blowing up from the early pace that they were coming back."
That worked, up until close to the end.
"I spent three miles catching up to Girma (Mecheso) then after mile nine, my calf went bad and (Mecheso and) three other Americans (Mo Trafeh, Ben Bruce and frequent Cherry Blossom runner Tim Young of Fredericksburg) passed me."
After his first go-round at Cherry Blossom, Tegenkamp came away with an observation about the course. "To compete well in this race, you have to be in track shape," he said. "I wasn't there and I could tell. It's really a race where you feel like you're on a track."
Luke Meyer, three years ago the top U.S. finisher, lead the local running contingent, finishing 20th in 48:45 and 10th in the U.S. championship race, a mere 19 seconds slower than when he was training in law sch0ol.
 U.S 10 Mile Championships (gun times)
1. Christo Landry         46:41
2. Girma Mecheso       47:22
3. Mo Trafeh                 47:27
4. Ben Bruce                  47:33
5. Tim Young                47:45
6. Matt Tegenkamp    47:57
7.  Joe Gray                    48:04
8. Tyler McCandless  48:21
9. Ian Burrell                 48:42
10. Luke Meyer            48:46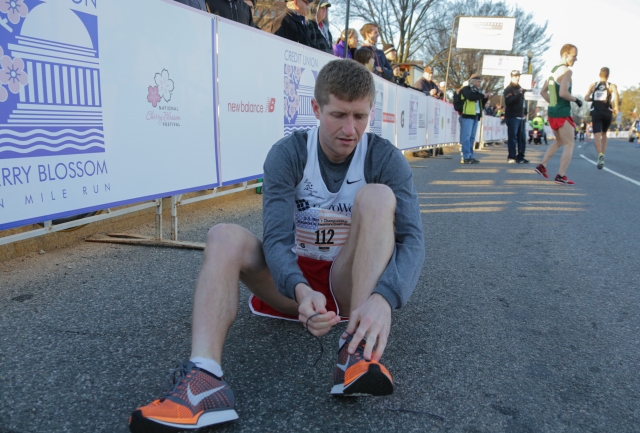 0
Comments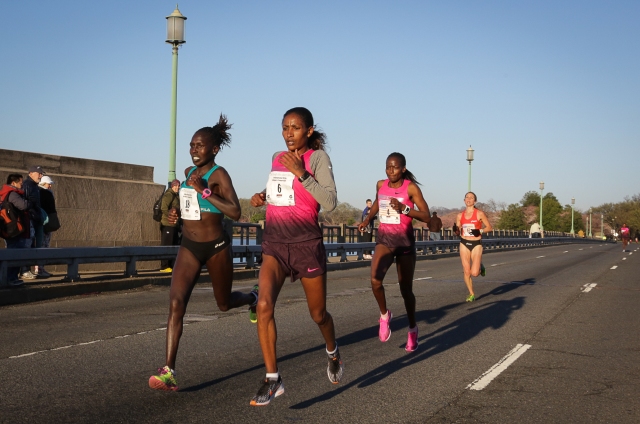 Janet Bawcom weighed her effort at the Cherry Blossom Ten Mile on going for the overall win and although she ran out of room to catch Ethiopian Mamitu Daska, she still came away with another national title and 52:12 finish that lopped 1:16 off the American Record she set last year, when she finished fourth.
[button-red url="http://www.runwashington.com/wp-content/uploads/2014/04/CB-2014.pdf" target="_self" position="left"] Results [/button-red]"I just wanted to run hard and be competitive in the race as long as I could. It worked out. Last year, I was alone on that straightaway from mile six to seven, running into the wind," she said. "This year, I told myself that no matter what I did, I couldn't be alone out there. If it meant hurting to catch up to someone else, it would be better than hurting on my own later. It's going to be the same amount of pain, so I might as well hurt more early and run faster."
Daska and Aliphine Tuliamuk–Bol would surge away when Bawcom would edge up to them, and Bawcom spent time catching up before the cycle would repeat. When Daska made a surged in the last mile, Bawcom tried to keep things going, but wasn't able to chase her down before Daska broke the tape in 52:05,for a seven-second margin.
Bawcom, along with second U.S. finisher Sara Hall, live in Flagstaff, Ariz. Hall, who has made much of her racing reputation on the track, had run a competitive half marathon and less-than competitive 15k, but felt adjusted to the 10 mile distance as she explores her longer-race options.
"I still plan to run on the track this year, as short as the mile, but I am eyeing the marathon in the near future," she said.
Having come back from training at 9,000 feet in Ethiopia, she "felt really strong down at sea level," she said. "I debated between running with the leaders or focusing on the U.S. race, but I decided to go for it and I'm glad I did."
Finishing in 52:54, she ran under the previous American record.
Hall encountered a lot of the surging that Bawcom did, and wound up on her own the last five miles.
"Not ideal when you're used to being on the track, but I'm getting better at it. Mentally, it can be easier because you're not running in circles. That, I enjoy."
Philadelphian Frances Koons ran what she called one her best races to finish as the third American.
She started as a miler in high school but is finding longer distances to her liking.
"I was injured a lot in 2012 and I spent a lot of last year getting back together, so this year I'm starting to see things coming back on track," she said. "I feel strong and I'm excited about running. I kept telling myself to think about 400 meters to go."
Susanna Sullivan of Falls Church finished fourth in the U.S. championship race and eighth overall, capping a stretch in which she ran what was at the time the fastest women's 8k time at the St. Patrick's Day 8k, qualified for the U.S. Olympic Marathon Trials at the Shamrock Half Marathon in Virginia Beach and finished second, to habitual D.C.-area racer Kellyn Johnson Taylor, at the Collegiate Running Association Championships in Richmond.
"It's been a lot to get a handle on," she said, after running 54:31 compared to last year's 58:41. "It's happened so fast, just a few weeks."
That improvement was part physiological development, part racing maturity.
"George (Buckheit, her coach) told me I just have to be brave and go for it," she said. "Last year I didn't, I played it safe."
She's looking forward to a few down weeks now.
Another local runner, Jen Bergman, had only been local for six days, having moved to Washington the prior Monday. Like Hall, she was making a transition to the roads, from her track background at the University of Arizona. She finished 25th in 57:13.
"Well, that was almost twice as long as I had raced before," she said. "It was nice and flat so I liked that. I haven't even been around long enough that I'd run down here yet, but I think I'm going to like living here."
U.S 10 Mile Championships (gun times)
1. Janet Bawcom         52:12
2. Sara Hall                    52:54
3. Frances Koons        54:30
4. Susanna Sullivan   54:31
5. Brianne Nelson       54:33
6. Jen Rhines                54:38
7. Heather Cappello  54:40
8. Meghan Peyton      54:42
9. Sara Slattery           54:14
10. Blake Russell        55:26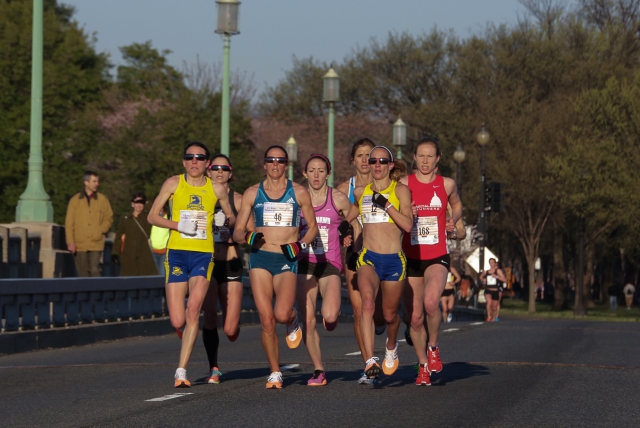 0
Comments