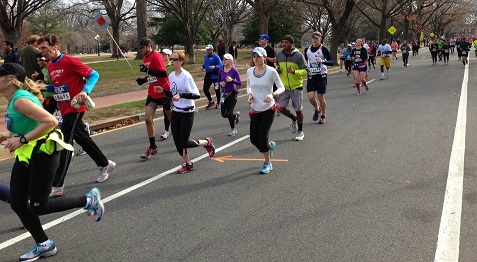 Saturday was full of surprises for runners at the Rock 'n' Roll USA Marathon and Half Marathon.
[button-red url="http://running.competitor.com/cgiresults?eId=54″ target="_self" position="left"] Results [/button-red]Chief among them was the weather — unexpectedly delightful despite days of resignation that the forecast for Saturday, a 70 percent chance of rain, according to the Running Weatherman, would leave runners soaked, chafed and miserable.
[button-red url="https://www.facebook.com/media/set/?set=a.628521877175048.1073741833.189448104415763&type=3″ target="_self" position="left"] Photos [/button-red]Some, like Washington's Sumona Mujumdar, had pleasant surprises, that she was able to perform as well as she did, given what happened a few months before. At the end of December, she was on Mount Etna in Sicily with her fiancé, celebrating their engagement. When a rock bounced down the volcano and struck her shin, splitting the skin open, she immediately thought of one of the last things she did before leaving for her vacation — signing up for the half marathon.
"I couldn't run all of January, and I had to start really lightly in February," she said. "I didn't I'd be able to run very fast, just finish."
Instead she beat her optimistic expectations and ran about 40 seconds per miles faster than she had hoped.
"I didn't expect that at all," she said. "It just kept getting better and better as I went on."
The course redesign surprised some runners. Gone was the long climb up Connecticut Avenue to Adams Morgan, now replaced by a few miles on Rock Creek Parkway and a shorter, but steeper, climb to Calvert Street. That certainly gained the ire of a few.
Half Marathoner Kristie Adams of Washington knew the hill was coming but wasn't prepared for it.
"I made it up it, but by mile nine my legs were shot," she said.
Her friend Katie McGinley, another half runner from Washington, pushed up the hill and was rewarded with what seemed like a hallucination, possibly for overexertion.
"I saw someone I knew from college," she said. "I didn't expect to see him, of all people."
It was funny because she runs races and looks around in hopes of seeing people she knows.
"I'm from New Jersey, so I'm probably not going to see anyone, but it's fun anyway," she said.
Marissa and Vladamir Djukanovic traveled from Richmond to run and arrived at the expo to retrieve their bibs 15 minutes before it closed Friday night.
"We didn't train too much, but we also didn't do too bad for training as little as we did," Vladamir said. "The hill (to Calvert) was brutal."
Marissa liked the course's scenery, especially the monuments.
"It was nice to be able to see a lot of the city along the way."
John Peyrebrune of Takoma Park didn't have a fantastic time running the marathon, but he was happy to get out on the course, having spent much of the preceeding week sick.
"It wasn't great," he said, worn down more than he expected. "I'm doing an ultra this spring, so I want this to feel easier than it did."
He still had support from his wife and children along the course.
0
Comments