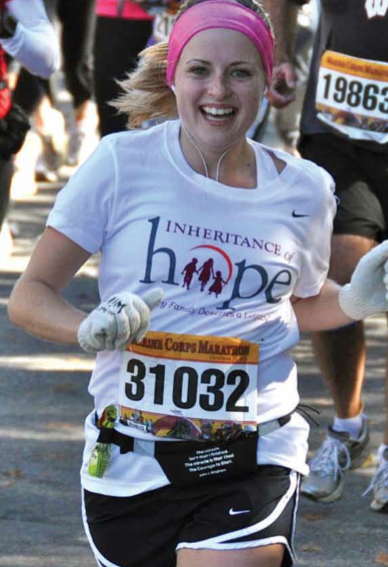 For runners who missed out on general registration for the Marine Corps Marathon, the Charity Partners Program offers a chance to enter late and raise money for a good cause.
Marine Corps is unique among marathons because it does not require its participating charities to pay any kind of fees or premiums, meaning all money raised through the charity program running goes directly to the organizations. This year, 4,674 runners will raise money for 101 different 501 (c) (3) organizations, from the longstanding MCM team for Injured Marines Semper Fi Fund to the brand new to MCM Alergy & Asthma Network Mothers of Asthmatics team.
"The partners can really do it however they want," says MCM Public Relations Coordinator Tami Faram. "We just direct people to our website and they can choose a team, we don't have any preferences."
The race is put on by the U.S. Marine Corps, runners race for honor rather than prize money, and satellite races (called MCM Forward) at military bases and on aircraft carriers around the world meant that in 2011 a total of 30,000 runners were able to participate in this momentous marathon event.
Though raising money may seem like a lot of work, Faram explains that new technologies make the process much easier than in the past. "People are not having to pound on doors any more, they can Facebook and email their friends to raise money and spread the word."
Runners at this year's MCM will see Charity Partners organizations setting up tents and booths in two locations: teams as small as 25 and as large as 800 will meet on "Charity Hill" at the start near Iwo Jima Memorial, and on "Charity Street" (i.e. Kent Street) in the finish festival in Arlington.
The opportunity to snag a much-coveted entry into this prestigious race, the coaching and support provided by an organized team, and of course the venue to raise money for a good cause, draw many runners into the Charity Partners Program.
"I did my first marathon back in 2009 just because I wanted to do it," said local runner Perry Rosen. "But I wish I'd done that one for charity because it's such a strong motivating force to have a cause you believe in in the back of your mind while you're running."
Rosen will lead one of the Washington Humane Society teams in their third year of raising money through MCM. He coaches 30 runners who all believe in the WHS cause. The $35,000 raised by his team will fund law enforcement investigations, a justice fund to stop animal cruelty, education in local schools, and WHS's shelters and foster care program.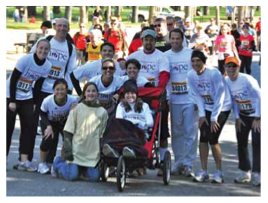 "Our team has a whole range of people, from those who have run 10 plus marathons to novices," he said. "I jumped at this opportunity be- cause marathons are a daunting task. It can be easy to lose focus, but having the animals as a motivating force and knowing that the money we raise goes directly towards their benefit really helps."
The Charity Partners Program has proven itself beneficial to runners and MCM alike. Farrah explains that the charities are "really great about disseminating information to their runners and guiding new marathoners through the process." And like many of the charity runners in this year's MCM, Rosen's primary goal is not a personal record (though he'd like to run in the 3:30-45 hour range), but a more selfless goal — to raise money for a cause he cares about and to support his teammates.
0
Comments