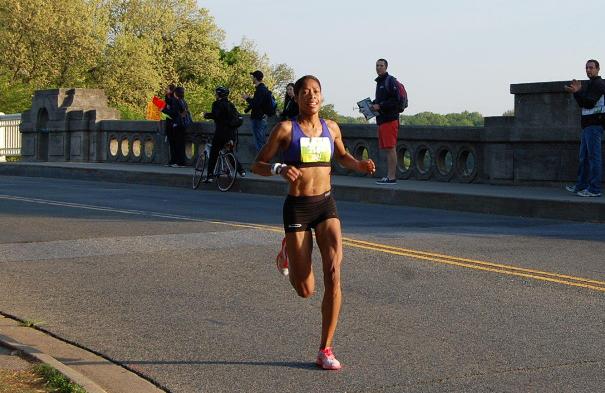 Almost 15,000 runners had a perfect day for the inaugural Nike Women's Half Marathon, though one stood out more than others.
Leading the packs of first-time half marathoners and visitors seeing the nation's capital on foot for the first time, Alexandria'sSamia Akbar felt happy to run again.
[button-red url="http://werundclive.com" target="_self" position="left"] Results [/button-red]As she ran far ahead of her competition from the first mile, having the city to herself, on her way to winning in 1:19:32 over McLean's Wendi Robinson's 1:21:06, Akbar felt each step bringing her closer to the kind of appreciation for the sport that had worked itself out through repeated workouts, races and seasons.
"I got really nervous on the starting line because I've run for a living for years and I'd have such an ultra-competitive mindset before the gun," she said. "This was a really nice chance for me to just go out and enjoy what I was doing. For the first time in a long time in a road race, I was able to actually hear the people cheering and it was fun seeing bands and step teams."
It's not as though running was bad for Akbar, who started running at Oakton High School before earning All-American honors at 10k at American University and running professionally for Reebok, including an Army 10 Miler win and qualifying for the 2008 Olympic Marathon Trials. But the routine that went into that training wore on her, and she hasn't raced much lately.
"Had I run this a few years ago, I don't think I would have appreciated it the same way," she said. "It had a lot of switchbacks that slow you down, but those switchbacks gave you a chance to hear cheering on the other side every step of the way."
Impressive as her pace was, Akbar served as a warmup act for nearly 14,500 others, many of whom were thrilled to finish.
Elainna Wright, of Alexandria, had never run more than 10 miles before, but with the help of coworker Samantha Bennett, she conquered the vicious 11th mile and broke through to the finish.
When confronted with the distance she had never run before, she gained a lot of motivation from the music in the 9th Street tunnel under the mall and a point when she told herself: "I can do this. I know I can, I'm just going to do this."
The crowds on Pennsylvania Avenue pumped her up, and she got a lot of support from the volunteers.
"I'm not great at pacing myself, so Sam helped a lot," Wright said. "She stayed back with me."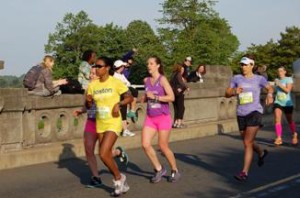 Among those who stayed back were 1984 Olympic Marathon champion Joan Benoit Samuelson and Olympic distance runner Shalane Flanagan, who ran with Samuelson's daughter, Abby, all finishing in 1:32.
The race partnered with the Leukemia & Lymphoma Society's Team in Training program, which attracted many visitors to the race. A group of four women from Ottawa all delighted in what the race had to offer.
"It was unreal," said LeeAnne Ashfield. "You feel a real sense of community with all of these runners. It's a special and emotional race for everyone."
Nadia Maruschak got to see a single cherry blossom on a tree, her goal for the trip.
Sisters Alisha Prater and Chandra Von Tiechman ran in memory of their mother, whom they lost to multiple myeloma 10 years ago.
The course started at Freedom Plaza and after a trip through the Ninth Street tunnel, followed much of the Cherry Blossom course, come back through the tunnel after a trip around Hains Point for a loop around the Capitol reflecting pool before finishing back at Freedom Plaza. Prater enjoyed the trips across the Alrington Memorial Bridge in mile three, being able to see runners ahead of and behind her. The race's entry fee was steep–$160 for most with a  $40 college student discount, but much of that went to cover the silver Tiffany's necklace awarded to all finishers.
RunWashington's Maggie Lloyd wrote about working the finish line
Though it was billed as the women's half marathon, the race was open to men, and more than 538 ran. Some, like Arlington'sMatt Meldroum, were pressed into service when friends or significant others couldn't make it. His girlfriend, Kristin Salvatora, prepared for the race with Team in Training, and made it to her 11-mile training run before spraining her ankle two weeks ago. Concerns that she could also be suffering a stress fracture led her to drop out, a decision she called "heartbreaking," and have Meldroum run for her. Except she didn't tell him it was a primarily female race.
"I was a little overwhelmed on the metro, all the women," he said. "I definitely stood out, people were looking at me a little weird, but I kept going on strong.
"There were a lot of signs for free high fives. I cashed in on that, I was just trying to raise the energy!"
Some, like North Bethesda's Darren West, ran to lend support. His wife, Elizabeth, was running her first half marathon and he wanted to be there with her. Though they ran separately, he got to see her on the course and said she was doing great.
"I didn't feel weird at all, there was fantastic energy," he said. "She was really excited to take her running to the next level. The Tiffany's 'bling' was definitely an incentive."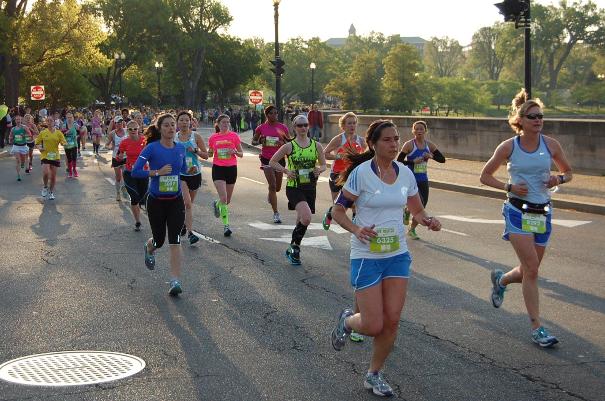 0
Comments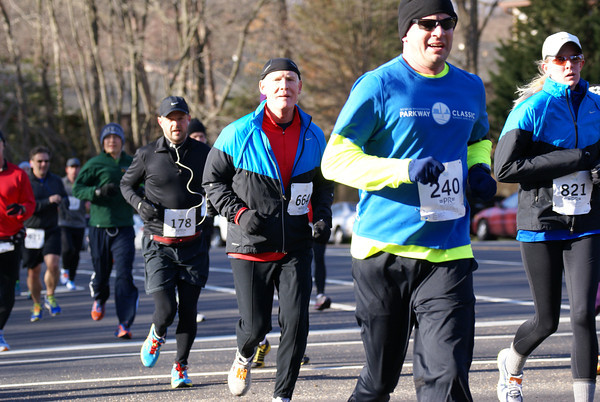 March definitely had "in like a lion" down pat.
One look at the sell-out crowd at the Reston 10 Miler demonstrated that. Among the 1,040 finishers, there was barely any exposed skin outside of a few nutcases, like PR Racing teammates Andrew Ciarfalia, Andrew Whitacre and Noah Zaring, who decided to [button-red url="http://prracing.racebx.com/files/results/4d9205ce-7a0c-46c1-8929-4f56c0a86522/4f6b2f94-68cc-4f16-bc36-62fac0a86522/2013%20Reston%2010%20Mile%20Overall.htm" target="_self" position="left"] Results [/button-red]forgo long pants, and the former two long sleeves, on their way to top-five overall finishes.
"You came, you conquered and sure worked hard for that finisher medal," the race announcer shouted through the microphone as [button-red url="http://prracing.racebx.com/files/results/4d9205ce-7a0c-46c1-8929-4f56c0a86522/4f6b2f94-68cc-4f16-bc36-62fac0a86522/2013%20Reston%2010%20Mile%20Overall.htm" target="_self" position="left"] Photos [/button-red]runners finished the last 300 meters on the South Lakes High School track. The Reston 10 Miler was one of 18 races that are part of the Potomac River Running 2013 Trophy Series.
Leading the female division pack with a time of 1:00:15 was Peggy Yetman, a Potomac River Running club member.
"I'm getting over a little bronchial thing this week so my strategy was to not be too aggressive and lie back a little," said Yetman who took the lead at mile three.
Yetman, 44 of Leesburg, Va., has been training for Ironman Texas but the Cherry Blossom 10 miler is on her list for top priorities.
"I didn't want to leave everything out there today because I really wanted to be there for Cherry Blossom," Yetman said while she stood at the awards ceremony receiving congratulations from her family and friends.
Yetman got her start in running while conditioning for gymnastics. She continued to run through college, though wasn't expecting to.
Wendi Robinson, 25, of McLean Va., took third place in the female division with a time of 1:02:05.
"I ran faster than I thought I was going to," Robinson said. "I was pleasantly surprised."
Robinson got her start in the Potomac River Running Club when she began working for the PR store nearly two years ago. The last 200 meters of the race, which finished on South Lakes High School track, took Robinson down memory lane to her high school and college years.
"I liked finishing the 200 meters on the track," she said. "It's that feeling like you're used to of sprinting in at the end of a race."
Before the last 200 meters on the track, runners enjoyed two miles of down hills, which Matthew Clark, 29 of Reston, Va., said was a nice break.
"The last two miles on the downhill comes off of a couple really hard miles and you can really push 30 or 40 seconds faster for each mile," Clark said.
He mentioned that many people use the Reston 10 Miler to tune up their legs after the winter season. Clark was tuning up to compete in the Rock 'n' Roll Marathon USA and the Boston Marathon.
Barry "the juggler" Goldmeier, 48 of Rockville Md., was also using the Reston 10 miler to prepare for the season ahead. Goldmeier, who said he has juggled during his runs for the last 25 years, has several marathons planned for the spring.
"It's just what I do," Goldmeier said of his unique talent. "I had to stop sometimes to see the cones and where I was going, but this race one of the easiest. I have a lot of marathons lined up."
The proceeds from the Reston 10-Miler will benefit the South Lakes High School Track & Field program.
0
Comments